In our What to Buy series, I shop our reader's favorite retailers' new arrivals and round up the best options to help build out your wardrobe.
Today, we're circling back to Talbots at your request.
Talbots is tricky. It has a distinct look, so the same advice you hear from me applies here: avoid mannequin shopping.
Why is mannequin shopping such a no-no?
Stores like Talbot's, Ann Taylor, LOFT, J.Crew, etc., all adhere to a particular look. It's what makes them popular and reliable.
But you run the risk of looking like the BRAND instead of YOURSELF when you wear them head-to-toe.
Since our goal is to help you create a chic and modern wardrobe on a regular person budget, these posts highlight the best options that will add value to your closet. When making our selections, I consider everything we know about our readership and what you already have in your closet.
Basically, it's what I would put in your fitting room if we were shopping together.
Talbot's Style
Scatter throughout Talbot's inventory are some real head-scratchers. Every season I wonder what the heck their designers were thinking.
Does anyone over the age of five need a tee shirt with an embroidered bumblebee that reads, "Just Bee You"?
No, they don't.
Many of their prints and color combinations lack sophistication, so avoid them. Also, some of their cuts are a bit dated.
That said, they offer a solid selection of basics, like bottoms, dresses, or button-downs. And, as you'll see below, a few gems that will elevate your style.
Below are my top picks of Talbot's new arrivals, a combination of classic pieces with a little bit of a twist.
What to Buy a Talbots in May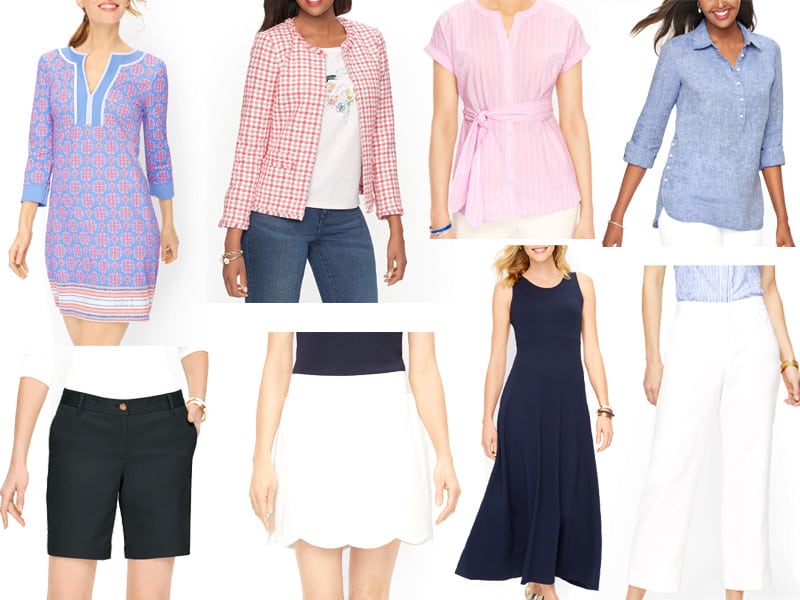 Sizing and Fit
Where Talbots doesn't get enough credit is in their long-standing commitment to size inclusiveness. They have been offering a full-size range for years. So almost every item is available in missy, petite, plus, and plus-petite.
Regarding fit, they run full depending on where you typically shop. For example, if you wear an 8 in J.Crew, you are probably a 6 in Talbots.
Let's jump in.
Linen Popover Shirt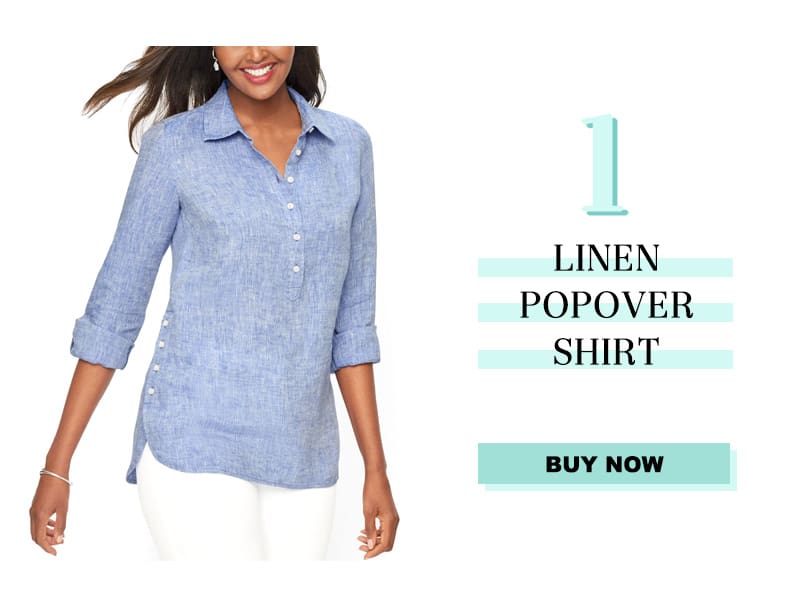 Linen Popover Shirt, $89.50
One of the things that makes The Well Dressed Life different is that I know (or at least feel like I know) so many of our readers. So when I start to curate a collection, I have actual people in mind for certain items. I can see this lovely, high-low hem linen shirt working well in many of your wardrobes.
It's one of those pieces that comes finished. So you don't have to add much of anything to it complete the look, just paired it with either skinny or straight leg bottoms, in white or navy.
Available in Missy, Petite, Plus and Plus Petite, $89.50
Linen Straight Leg Crop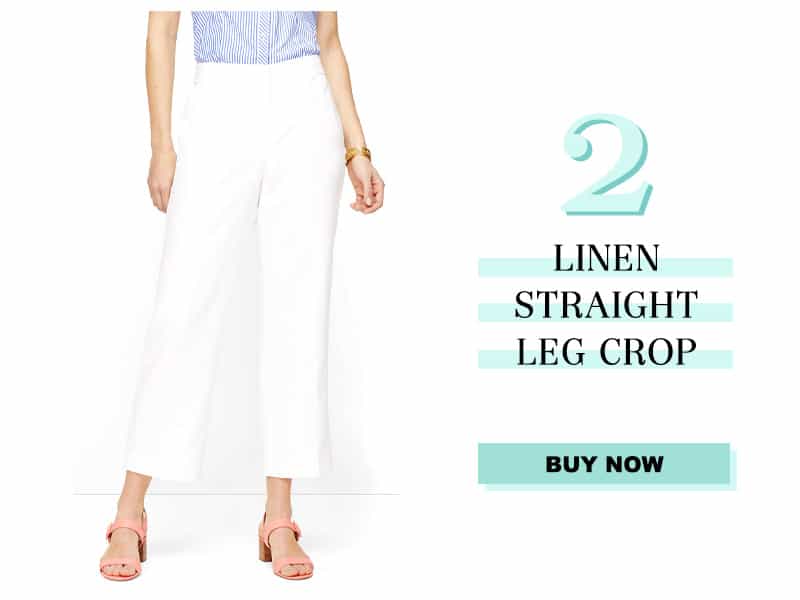 We feature many linen bottom options because they are a nice alternative to shorts and a go-to for our readers in year round warm climates. I'm highlighting these linen straight le crops because they are a dressier version than the very casual, drawstring options you're seeing everywhere.
Available in Missy, Plus and Plus Petite, $99.
Twist Back Maxi Dress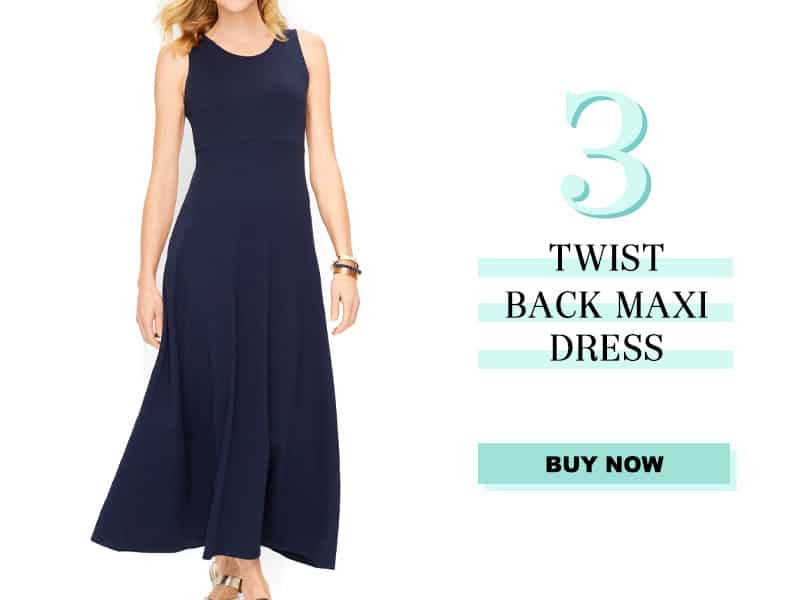 I love a maxi dress. But sometimes, I feel like the less expensive ones fit funny like their cut is for a slimmer, less curvy body. I ordered this one for our trip to Greece this summer, and it's pretty much perfect. It's simple, but elegant, the twist in the back is a nice detail and it's bra friendly.
Available in black and navy in Missy, Petite and Plus, $99.
Fringe Trim Twee Jacket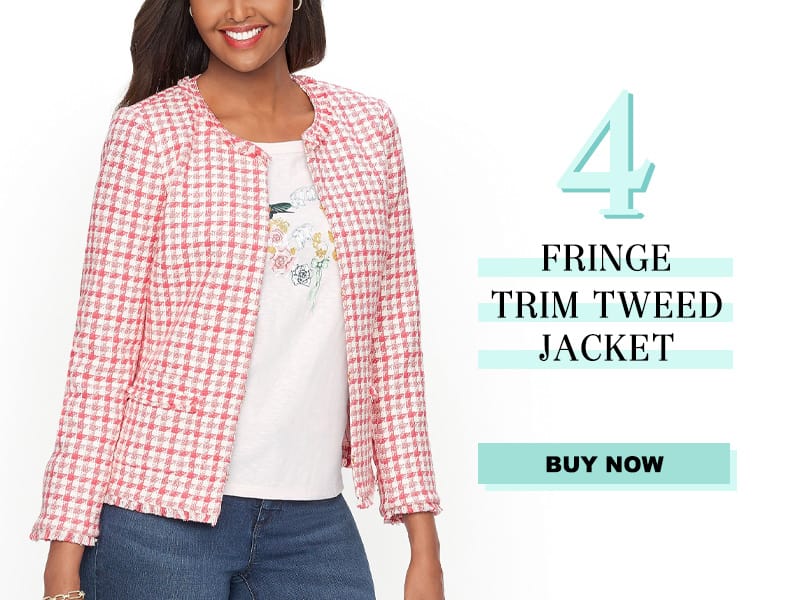 Fringe Trim Tweed Jacket, $189
Ok, I adore this bright tweed jacket for spring and summer, but I HATE the stupid tee shirt they are showing underneath. No wonder why so many women are baffled at how to wear things.
Instead, wear this jacket with a pair of dark jeans and a simple white tank or body suit. If you're brave, go with all white with a pair of white jeans or trousers and a modern sandal. For added edge, pick a bottom with raw hem, or a touch of distressed detail.
Available in Missy, Petite, Plus and Plus Petite, $189
Relaxed Chino Shorts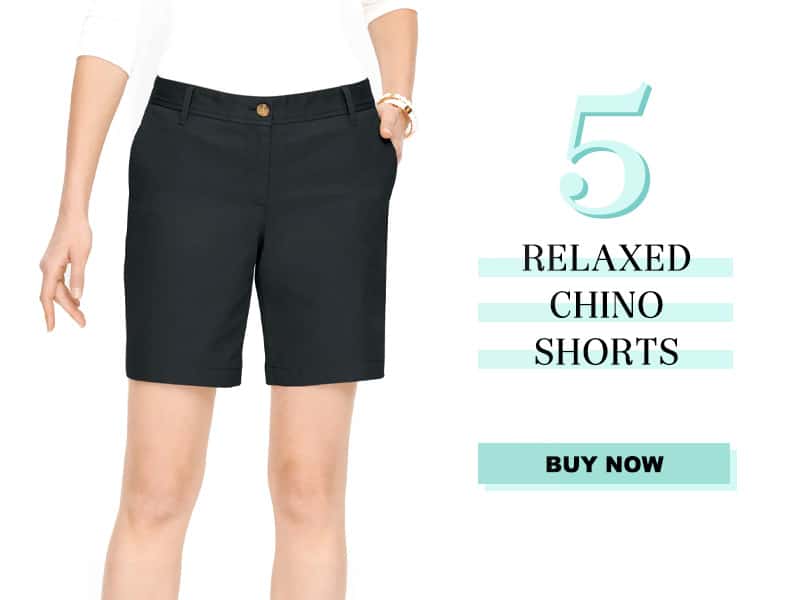 Relaxed Chino Shorts, $54
Shorts are such a challenge. A good guideline to follow when looking for a good pair that fits well is to make sure they are no longer than fingertip length on your leg.
You can always go shorter, but when you go longer than your fingertips, you'll run the risk of awkwardly cutting off the line of your body and looking frumpy.
These relaxed chinos are a lovely option if you prefer your shorts on the longer side, available in Missy, Petite, Plus and Plus Petite in several colors including black (above), white, tan and navy.
Cotton Tie Waist Top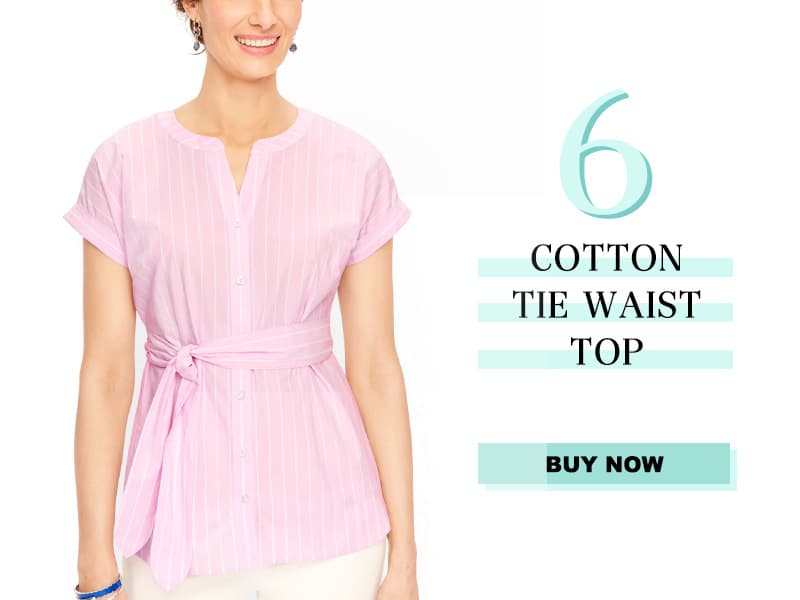 Cotton Tie Waist Top, $79.50
The big trend right now is a puff sleeve. And while I like the look, I don't remember the last time a trend felt so overwhelming. So when I find something that works for the season and doesn't have an exaggerated shoulder, I get excited.
This cotton tie waist top works wonderfully with a straight leg ankle pant in tan, white, or denim. Available in Missy, Petite, Plus and Plus Petite, $79.50.
Scallop Edge Skirt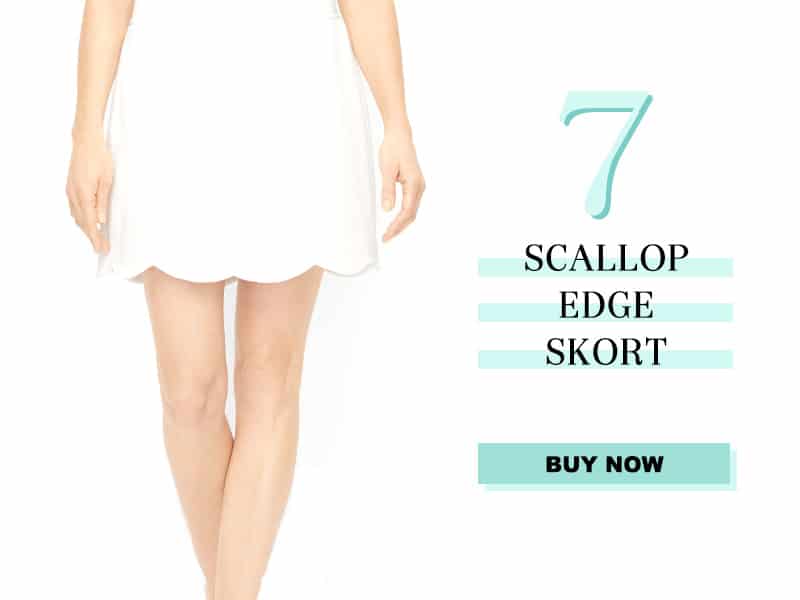 Scallop Edge Skort, $69.50
Skorts are great because they are a little dressier than a short but still sporty. This one has a sweet scallop hem giving it an extra feminine edge. Available in Missy, Petite and Plus in white and black $69.50.
Embroidered Tunic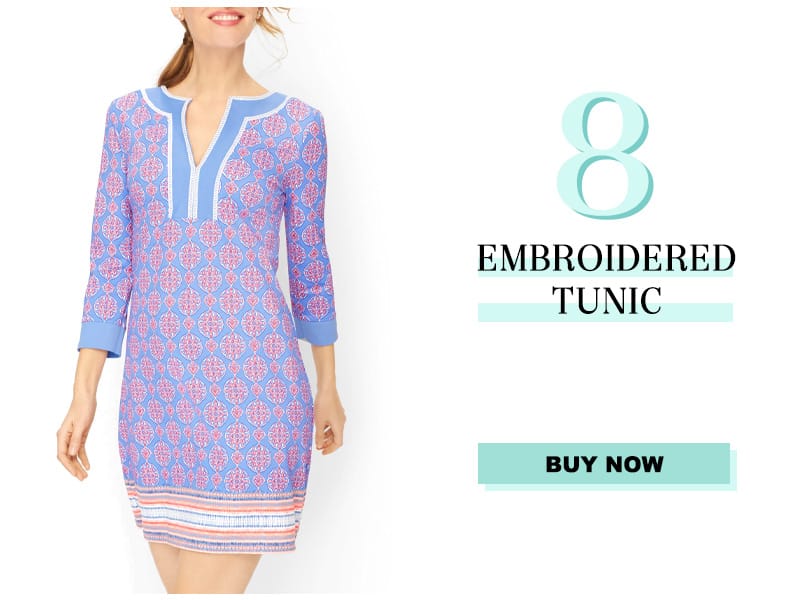 Embroidered Tunic, $109
Coverups are hard to find. Often, they have less coverage than the actual bathing suit you're wearing. And since I rarely go in the water, opting to sit poolside with a cocktail, these Cabana Life Tunics are my go-to. Aside from being pretty and stylish, they also have SPF 50 protection.
Cabana Life runs smaller than traditional Talbots pieces, so size up here. They also sell out quickly, so if you see a print you like, scoop it up.
Our Style Content is Inspired by Our Readers
Our readership inspires all of our posts and is not sponsored or paid for by brands or retailers.
Recommendations are based on my experience as a personal stylist and wardrobe consultant for over a decade. I worked with busy, down-to-earth women who wanted to look chic and feel confident but were often confused by so much of retail.
Some links are affiliate links, which means if you purchase via our site, we receive a small commission.

If you enjoy our content and would like to help us grow, please follow on Instagram and join our Private Facebook Group to access more advice and exclusive in-depth conversations with other like-minded women.
Learn about our mission to help women look and feel their very best, every day, here.
Sign Up for Daily Content and Receive Our Free Classic Wardrobe Checklist