There is a lot to like at LOFT right now.
So let's do a round-up of the best options while they are hosting their 40% off Friends and Family Event.
If you don't know my rule with LOFT, a gentle reminder to never, ever, ever pay their retail price.
I don't say this for all retailers, but I'm confident that LOFT is not an urgent purchase.
So if you like something and it's not on sale, wait, because it will be in a matter of days. LOFT's business model relays on promotional discounts. They don't expect you to pay retail.
But they have done something new to eliminate the redundancy of constant 20, 30, or 40% off promotions.
Now, like many retailers, they have a "members" program.
Which is just a fancy way of saying you give them your email and they give you the discount, and then you get reward points, etc.
And that's what's happening now.
Create an account (they only want your email), and you'll get access to their Friends and Family event, where your entire purchase is 40% off.
As always, this post is not sponsored or gifted; I don't get anything from you signing up.
And a quick note: while I would still love to see them go beyond an XXL and 18 in their standard size range, I am thrilled to see so many petite options and a few for talls as well. So if you fall into either of those often-ignored categories, there are options for you today.
Let's go shopping …
What to Buy at LOFT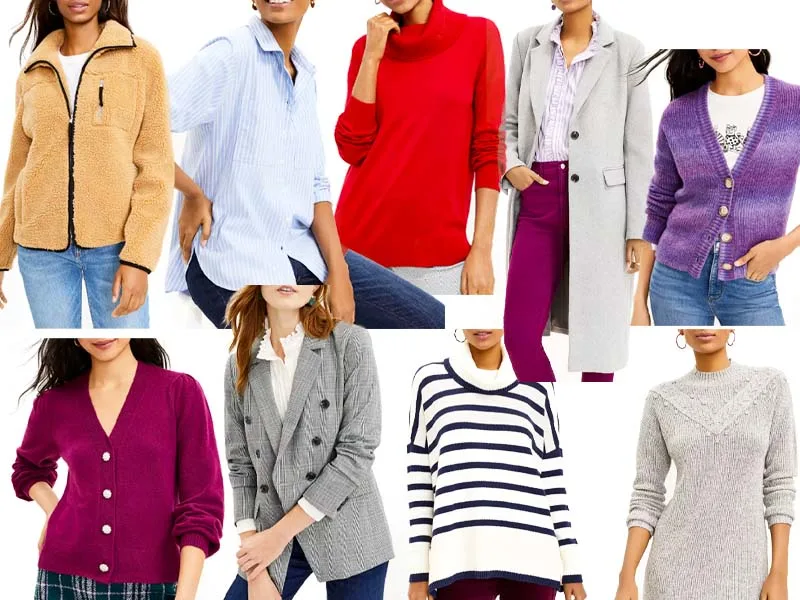 LOFT is great for knits, novelty coats and jackets, and pretty tops.
Sometimes they have great skirts, especially in the spring and summer.
I don't think their pants are anything special, you have better options elsewhere.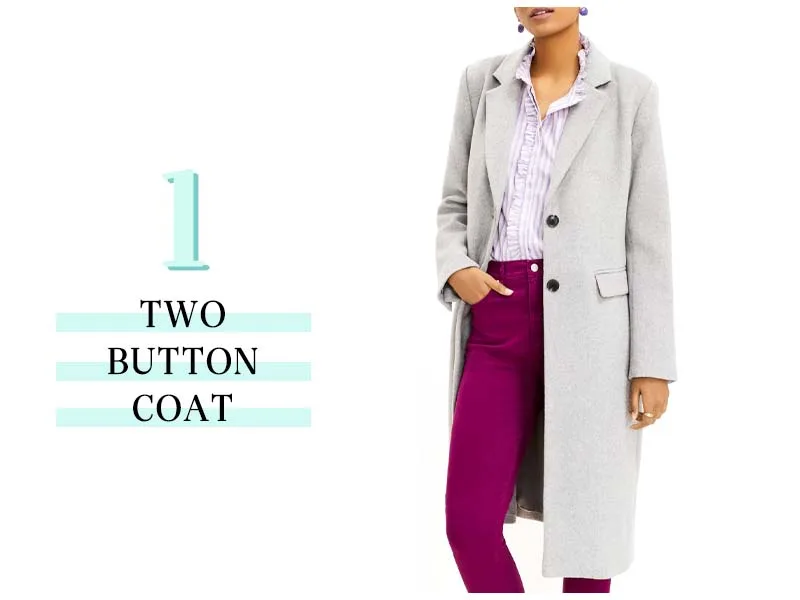 Two Button Coat, $210 plus reward members get 40% off
It's a well known fact that I love coats. Some may say I have a problem, but an "outfit coat" is one of my most favorite categories.
I like picking them up when they are on sale so I have a collection of them to use when building cold weather outfits. And this one is under $100 with the discount.
Your choice of grey (above), black and a gorgeous hot pink. I ordered the pink because it has black buttons and will look sharp over a black turtleneck and trousers.
Available in regular and petite sizes in XXS – XXL.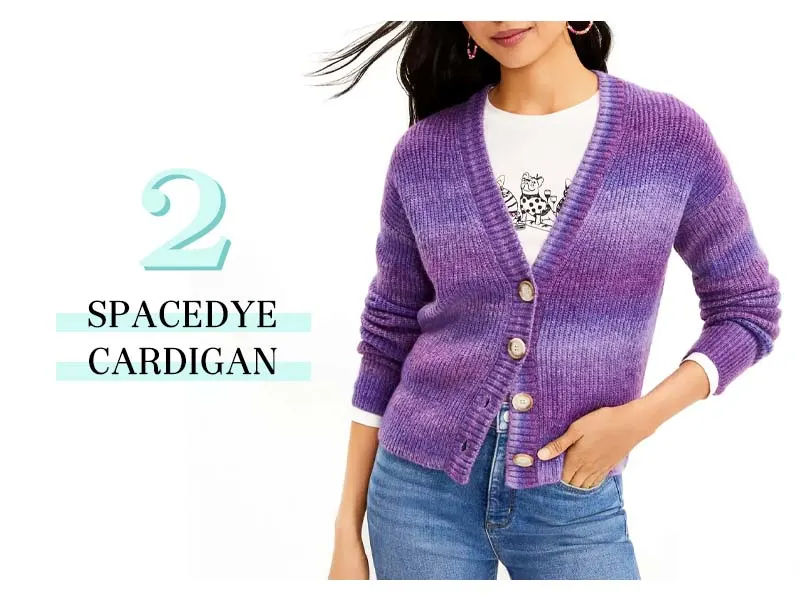 Space-dye Cardigan, $74.95 plus reward members get 40% off
This pretty space-dyed cardigan will brighten up a simple jeans and tee shirt combination.
DO NOT wear it with a stupid print tee, I can't stand how they style outfits sometime. Instead, wear a plain white scoop neck tank or tee, dark or medium wash jeans in your preferred leg and your favorite ankle boots.
Available in regular and petite in XXS – XXL.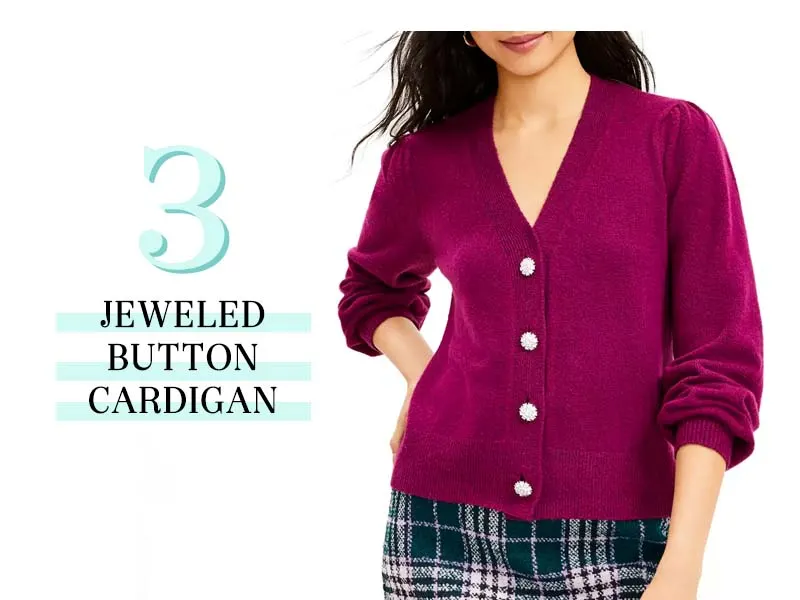 Jeweled Button Cardigan, $74.95 plus reward members get 40% off
I have a soft spot for sweaters with jewelry-like accents.
Around the holidays, it's an easy way to make a piece feel festive without taking it so literally.
I like this cardigan, in plum, above, with a pair of black coated jeans (readers love this pair from Banana Republic Factory) and suede kitten heels for a holiday work party or potluck with the neighbors.
Available in XXS – XXL in three colors.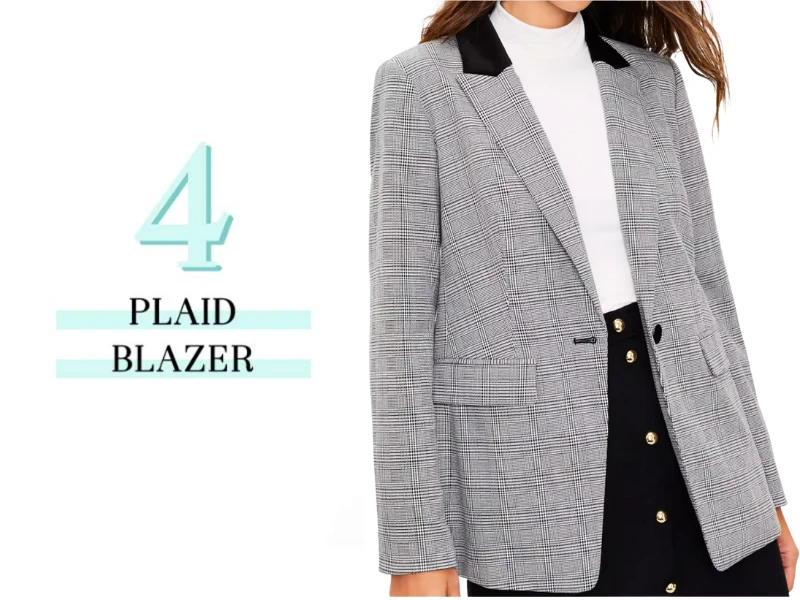 Plaid Blazer, $140 plus reward members get 40% off
This chic plaid blazer gets extra style points for the velvet trim collar.
Pair with black trousers, coated jeans, faux leather leggings or your favorite dark wash jean. Keep the under piece simple. I like it with a scoop neck or, like they show above, a mock neck is another nice option.
Available in regular, petite and tall, in 00 – 18.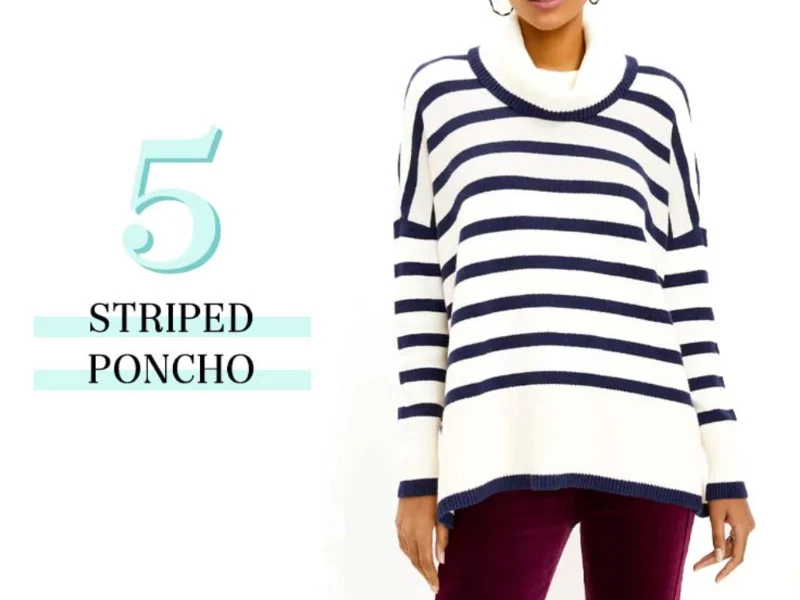 Striped Poncho Sweater, $74.95 plus reward members get 40% off
I can't resist a striped top, no matter the season.
They are calling this a poncho; it's not. Instead, it's on an oversized tunic sweater and will look great with dark skinny or slim straight jeans. Wear with mules or ankle or knee-high boots.
Available in regular and petite in XXS – XXL.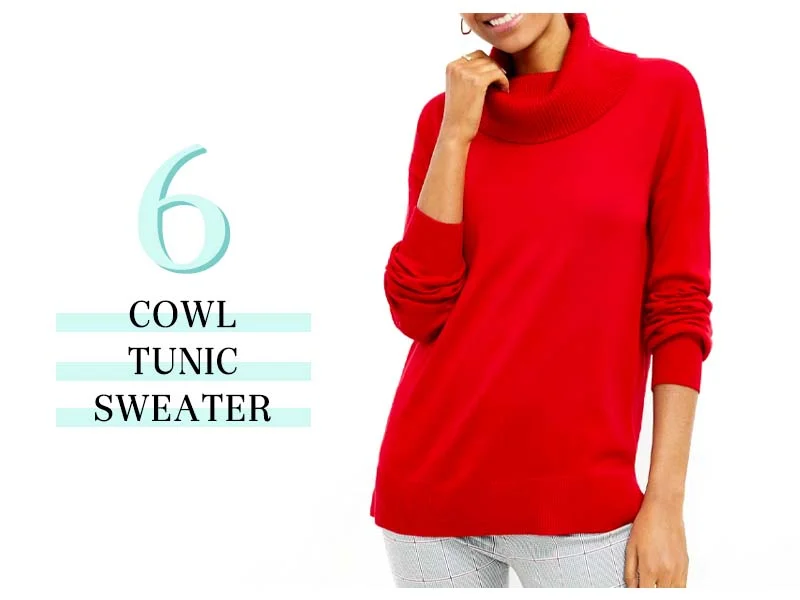 Cowl Tunic Sweater, $64.95 plus reward members get 40% off
This is the kind of sweater I want to live in during the winter on the east coast.
And I would keep this simple, making it part of my work at home uniform, paired with leggings and Birkenstock clogs, or simple sneaker.
Available in regular and petite in XXS – XXL in a ton of pretty colors.
Bobble Mock Neck Sweater Dress, $89.95 plus reward members get 40% off
A sweater dress is a fantastic option for Thanksgiving.
Just a soft and comfy piece that looks polished but feels like jammies.
Available in gray (above) and maple in regular and petite in XS – XXL.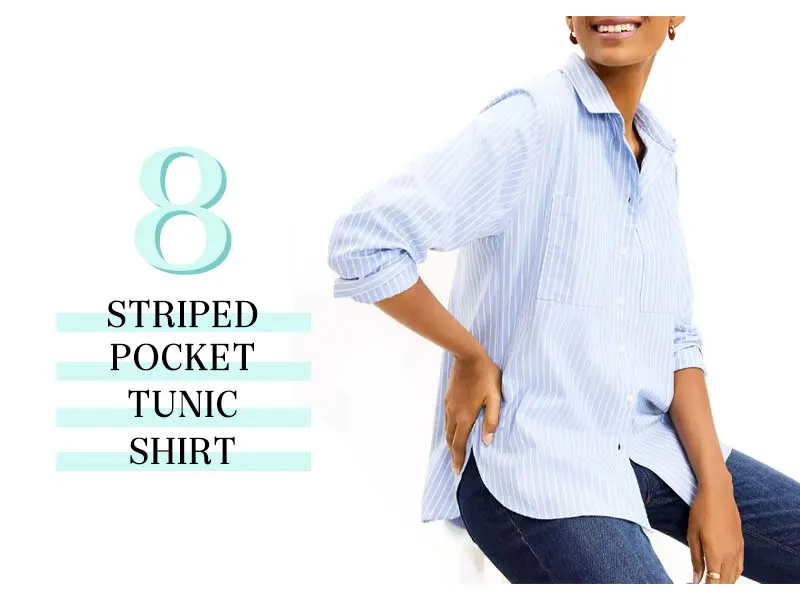 Striped Pocket Tunic Shirt, $74.95 plus reward members get 40% off
Take your coast grandmother style from summer to fall with a slightly oversized classic blue stripe button down.
I have heart eyes all over this. Wear with slim-straight dark jeans and ballet flats.
Available in regular and petite in XXS – XL.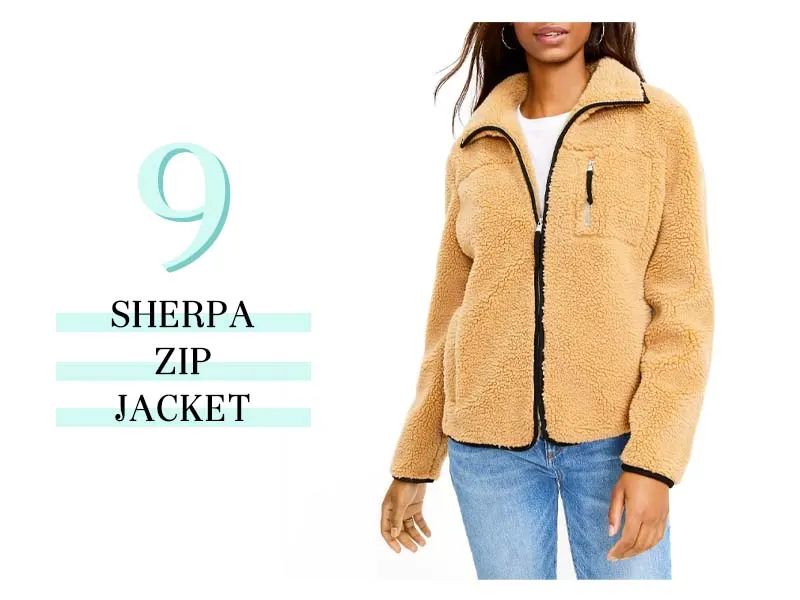 Sherpa Zip Jacket, $140 plus reward members get 40% off
Finally, this Sherpa Zip Jacket was an immediate add to cart for me.
I like the color combination of tan and black.
So cute with any kind of stretchy pant, or jeans. And because I have a sneaker problem, I love it with a sneaker like these Nike Air Max 90 Futuras.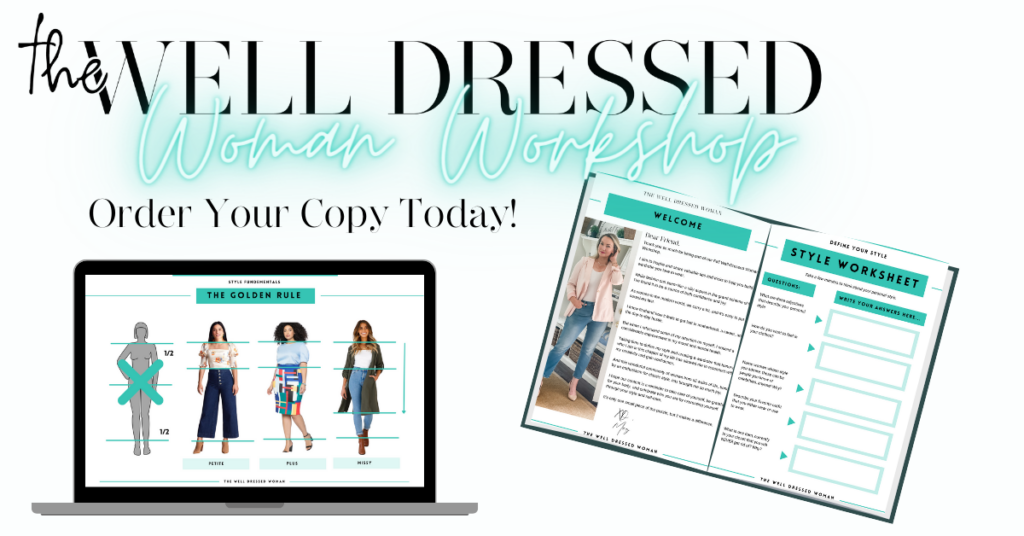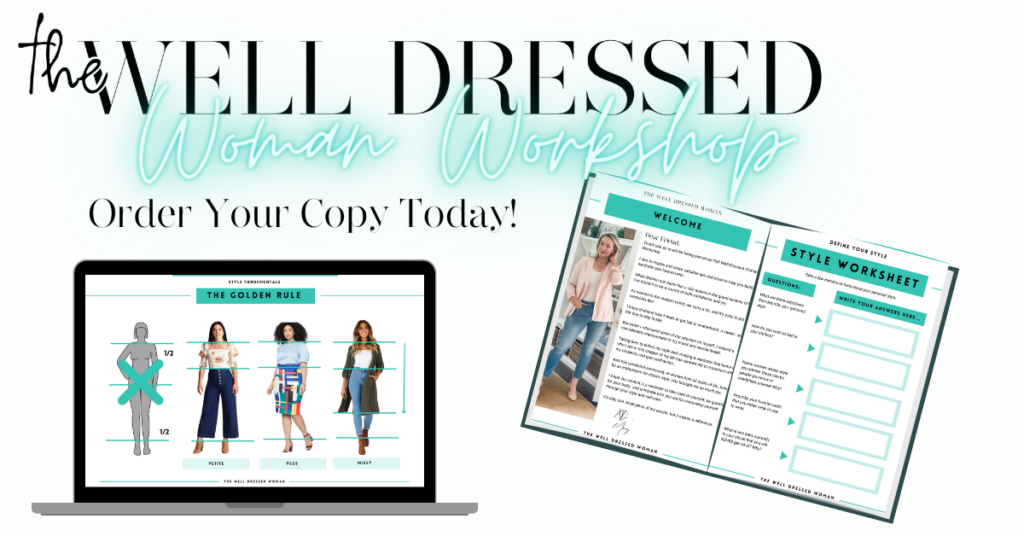 52 Outfits in 2022!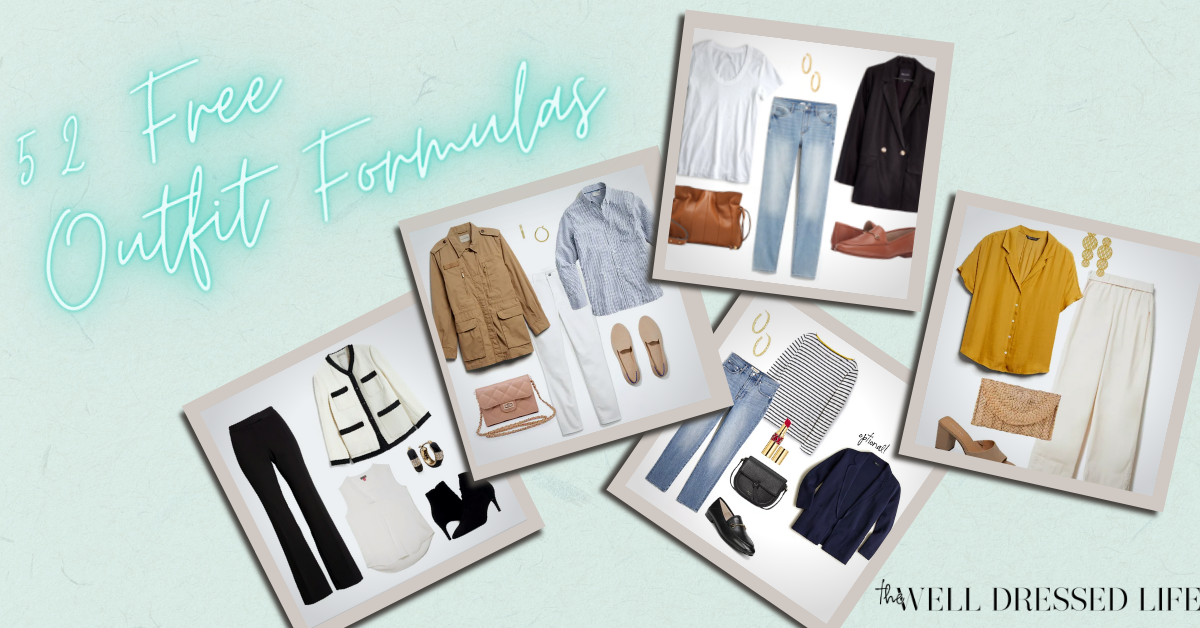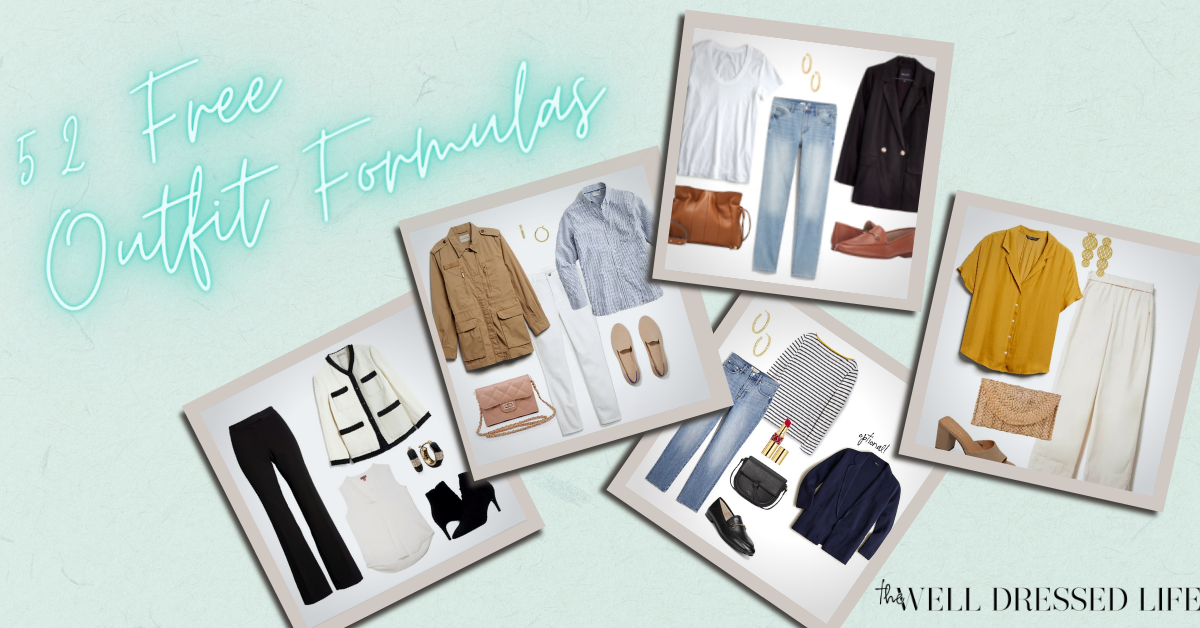 Follow Us on Instagram!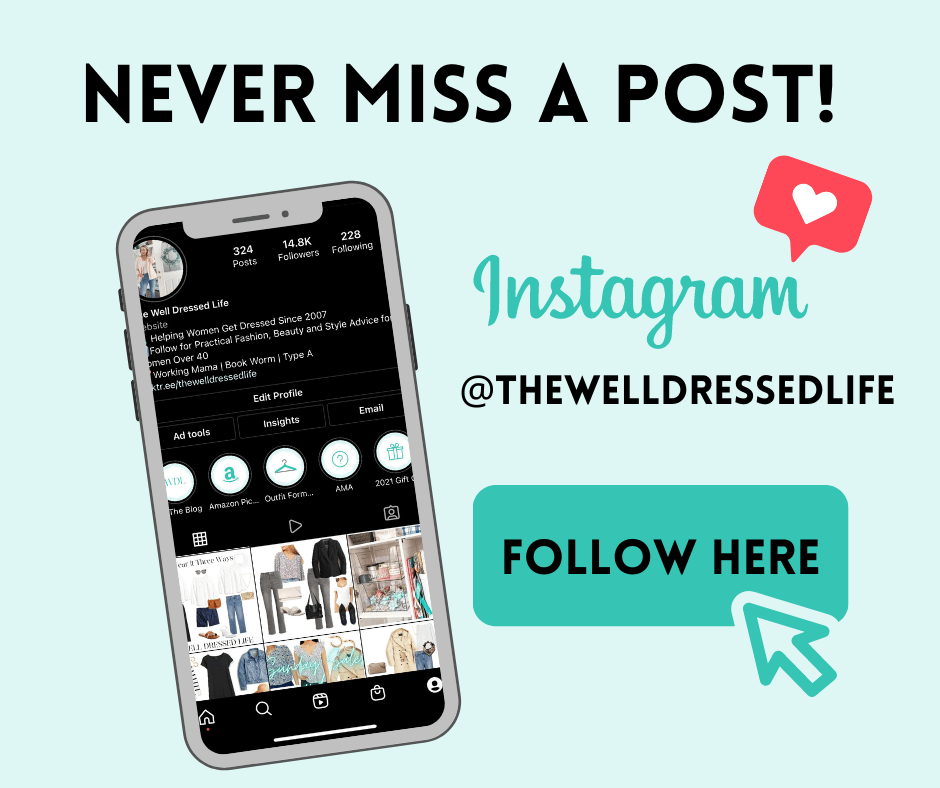 Our Style Content is Inspired by Our Readers
Our readership inspires all of our posts and is not sponsored or paid for by brands or retailers.
Recommendations are based on my experience as a personal stylist and wardrobe consultant for over a decade. I worked with busy, down-to-earth women who wanted to look chic and feel confident but were often confused by so much of retail.
Some links are affiliate links, which means if you purchase via our site, we receive a small commission.

If you enjoy our content and would like to help us grow, please follow on Instagram and join our Private Facebook Group to access more advice and exclusive in-depth conversations with other like-minded women.
Learn about our mission to help women look and feel their very best, every day, here.
Sign Up for Daily Content and Receive Our Free Classic Wardrobe Checklist