I was in Nashville for a girl's trip this weekend, and one of our stops during the day was Reese Witherspoon's store, Draper James
It's a cheerful pretty, Instagram-perfect haven for preppy style.
Now, I will say something that will undoubtedly ruffle some feathers, but here it goes.
The clothes are cute, but nothing unique. The actual merchandise looks and feels like; I'm just going to say it, LOFT.
Few celebrity brands bring something new and needed to the market. And after walking around the store for a bit, I was left wondering, if this wasn't a celebrity brand, would anyone care?
Don't get me wrong; the clothes are cute and super wearable.
The styles are also easy to find elsewhere for less.
So today, I rounded up some of LOFT's options that remind me of Draper James style, on sale, in a range of sizes.
What to Buy at LOFT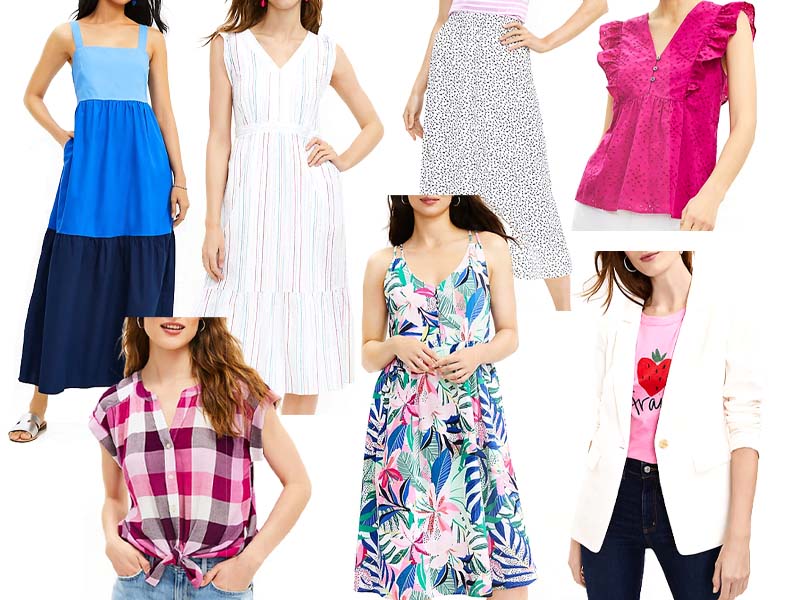 To get the most out of the retailer, I always share these tips.
First, shopping online is the best option.
Every time I physically walk into LOFT, I almost immediately leave. I can't explain why other than the store is so boring.
But once I go online, I find dozens of options.
I also only buy tops, layers and the occasional dress. There is no reason to purchase their bottoms; you have better options elsewhere – all of which I feature in various weekly posts.
This time of year especially they have fantastic affordable tops to pair with jeans or shorts. And if you're like me, that's the category I can always use a little refresh in.
Finally, never pay retail. They have sales all season long.
Regarding size, they have a decent size range, especially if you are petite.
Almost everything has a petite option.
Plus size is a different story, I'd like to see more options here. For now, they go to XXL or a 16/18 depending on the style.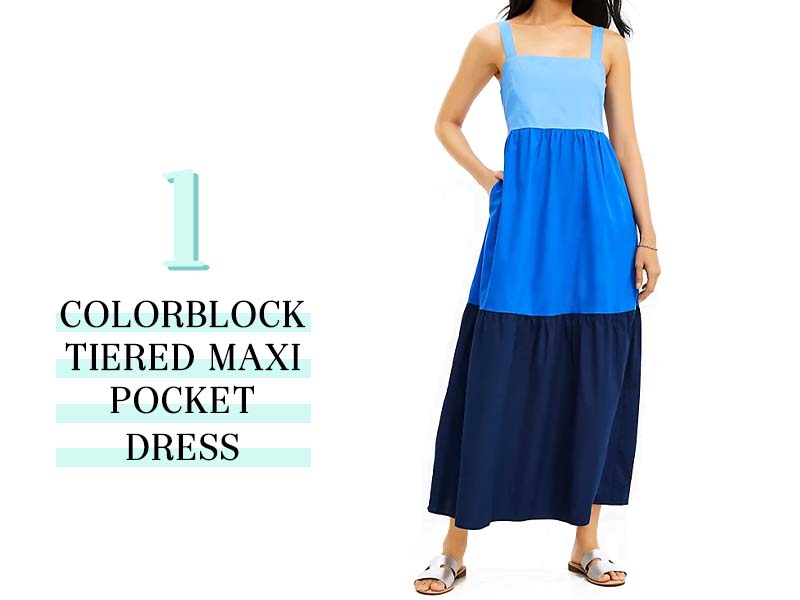 Colorblock Tiered Maxi Pocket Dress, $120, 40% off with Code SURPRISE
Lightweight sundresses are all over Draper James, and this blue color block option is perfect for a hot summer day at home or pack for vacation.
Throw on flat sandals to run errands or meet a friend for lunch. It even has pockets! 😉
Available in XXS – XXL, runs large so size down.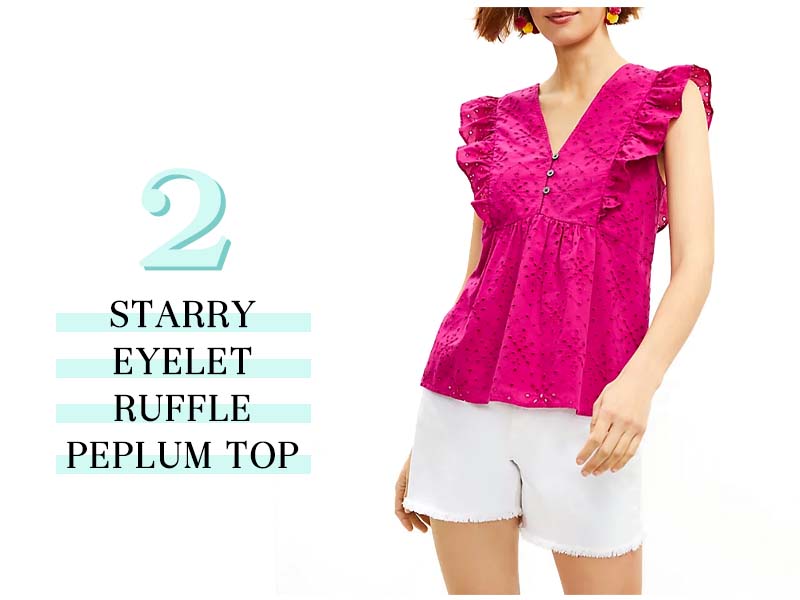 Starry Eyelet Ruffle Peplum Top,$64.50, 40% off with Code SURPRISE
Another staple piece is a ruffle top in a bright poppy shade. This one I like more than anything I saw in the store and the price (when on sale) is ideal. Pair with crisp white or black bottoms for a bold contrast, and add your favorite pair of statement earrings.
Available in regular and petite sizes in XXS – XL.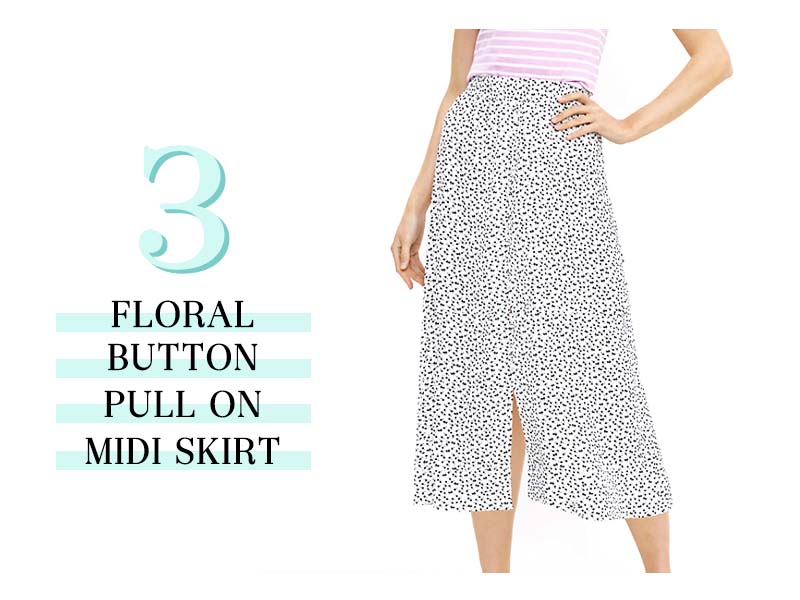 Floral Button Pull On Midi Skirt, $79.50 40% off with Code SURPRISE
After we featured a Midi Skirt in our Outfit Formula Series last month, I've received dozens of requests for more options.
And LOFT has some great ones, in different prints, in a range of sizes.
Like this floral print skirt.
I like this particular skirt because of the slit in the front. This helps keep the line of the skirt moving and not straight across your leg, so you don't cut the line of your leg in an awkward spot.
Available in regular and petite, in XXS – XXL.
I also like this white floral faux wrap option, in regular and petite, in 00 – 14. On sale for $65 with an additional 40% off.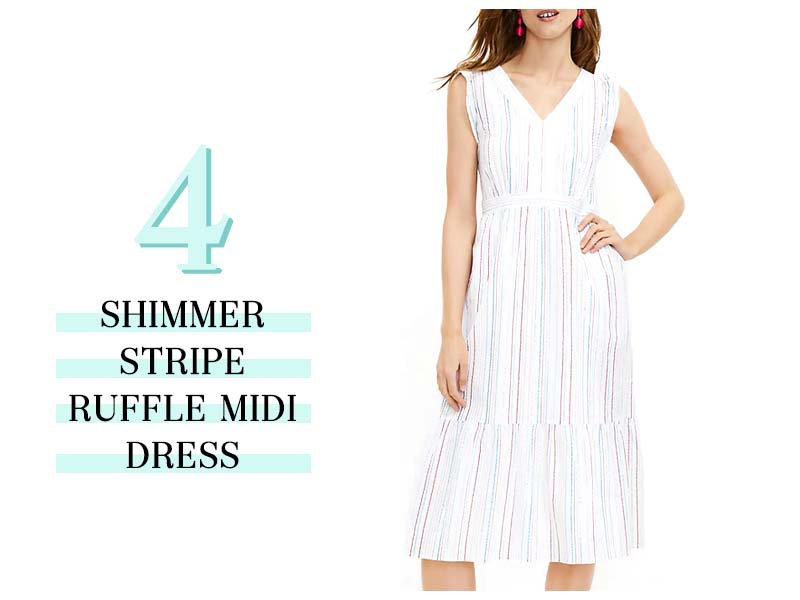 Shimmer Stripe Ruffle Midi Pocket Dress,$110 40% off with Code SURPRISE
Rainbow stripes with a hint of shimmer may not be for everyone, buy gosh is this is pretty little dress.
I appreciate the flattering v-neck line and subtle flutter sleeve. And, again, pockets!
Available in regular and petite, in a 0 – 14.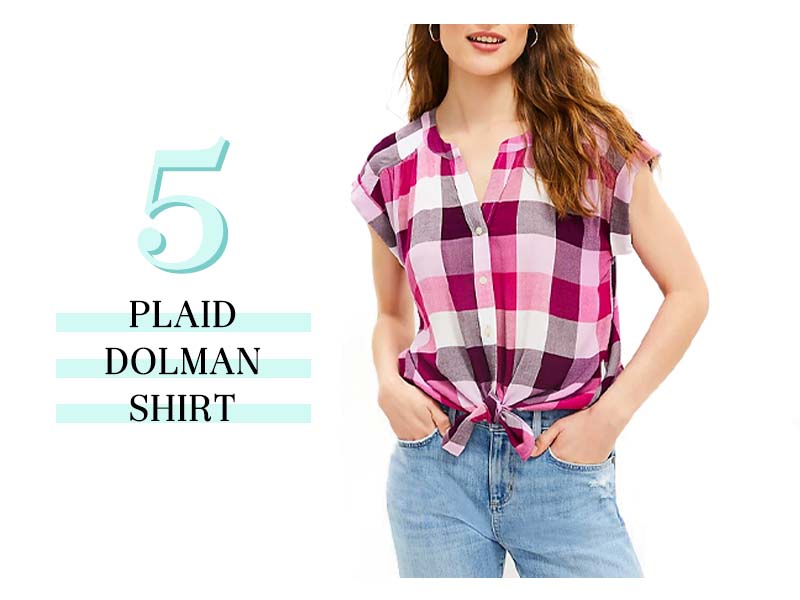 Plaid Dolman Shirt, $59.50 40% off with Code SURPRISE
Just a pretty pink plaid shirt that works well with white bottoms or light wash jeans.
You can tuck it in, leave it out, or tie it at the waist like the model.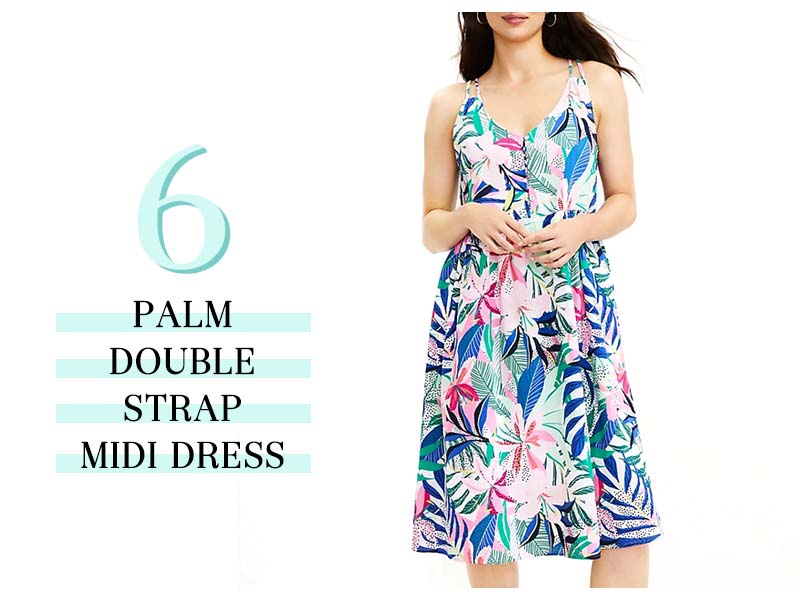 Palm Double Strap Midi Dress, $120
If you like bright, bold pattern this dress is so much fun.
Wear it on its own, with flat or block heel sandals. And add a denim jacket if you need a layer.
Available in regular and petite, in 00 – 14.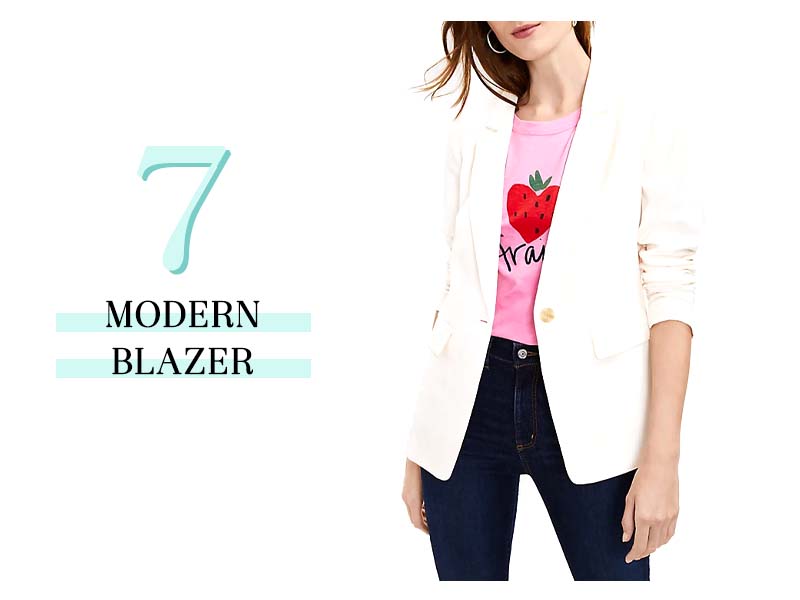 Modern Blazer, $140
Finally, if you'd like a summer weight blazer, you might consider this one. You can throw it over a dress, or even pair it with shorts.
Available in regular and petite, in sizes 0 – 14.
52 Outfits in 2022!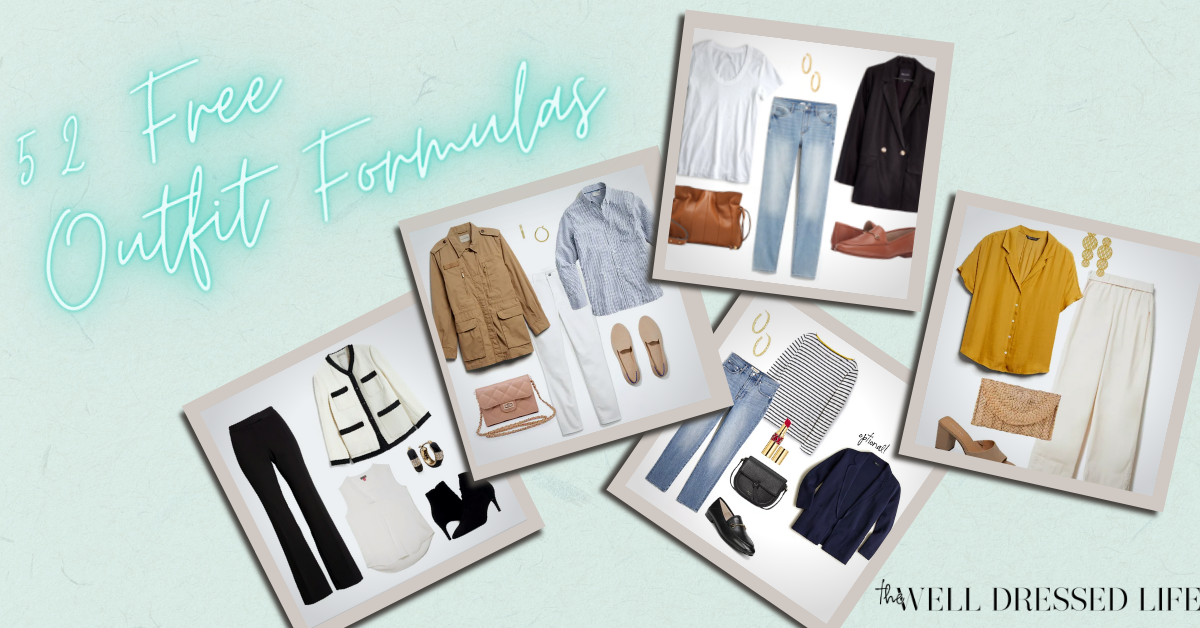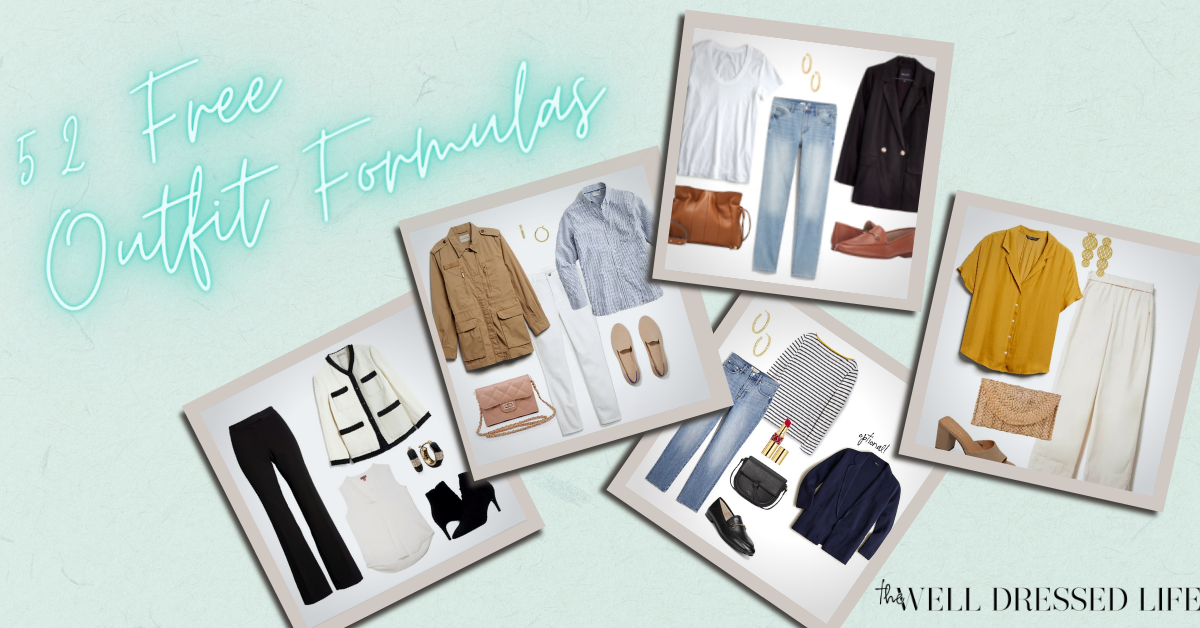 Follow Us on Instagram!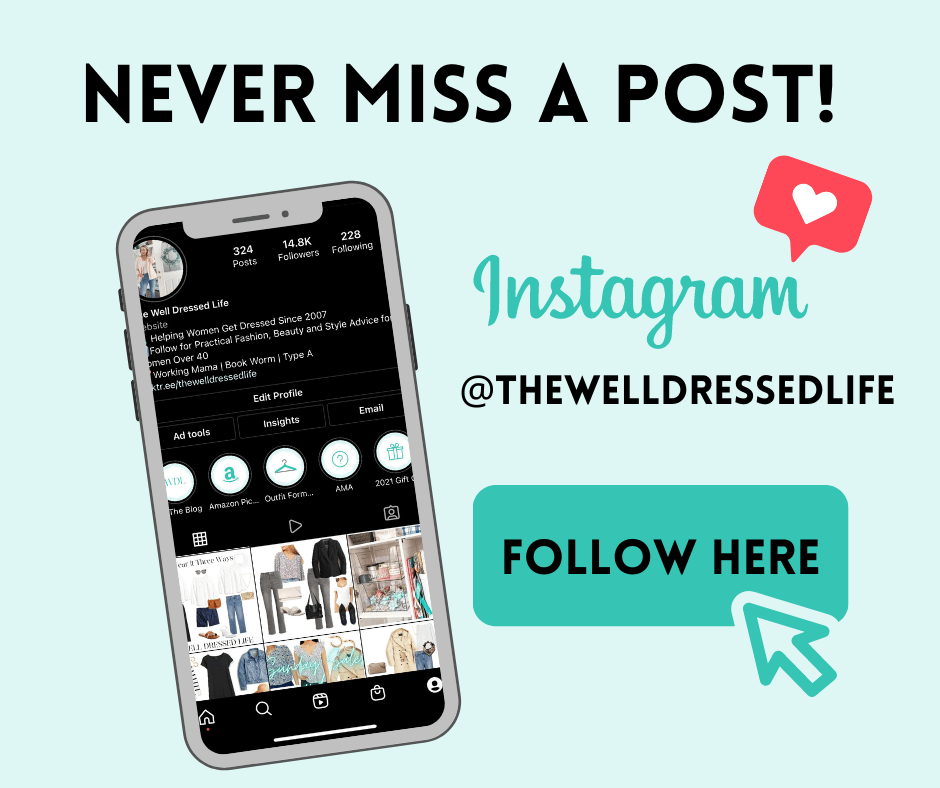 Our Style Content is Inspired by Our Readers
Our readership inspires all of our posts and is not sponsored or paid for by brands or retailers.
Recommendations are based on my experience as a personal stylist and wardrobe consultant for over a decade. I worked with busy, down-to-earth women who wanted to look chic and feel confident but were often confused by so much of retail.
Some links are affiliate links, which means if you purchase via our site, we receive a small commission.
If you enjoy our content and would like to help us grow, please follow on Instagram and join our Private Facebook Group to access more advice and exclusive in-depth conversations with other like-minded women.
Learn about our mission to help women look and feel their very best, every day, here.
Sign Up for Daily Content and Receive Our Free Classic Wardrobe Checklist