It's been a couple of months since we featured Banana Republic in a What to Buy at posts, though it wasn't for lack of options.
Their current collection is gorgeous, like the wardrobe of a rich mom in a movie. But, the prices are on the high side, so while I think they are very much worth the price, I was waiting on a sale.
Currently, they are offering 20% off full-price items to their "reward members," which is just a fancy marketing term for people on their mailing list. So give them your email, and you can use the code F58RJN12 and get a discount.
The sale ends tonight at midnight. I have no idea when they will offer another promotion, so I would take advantage of this one if you could use pieces. I think they've been a little stingy with sales as this is the first one, on new arrivals since November.
What to Buy at Banana Republic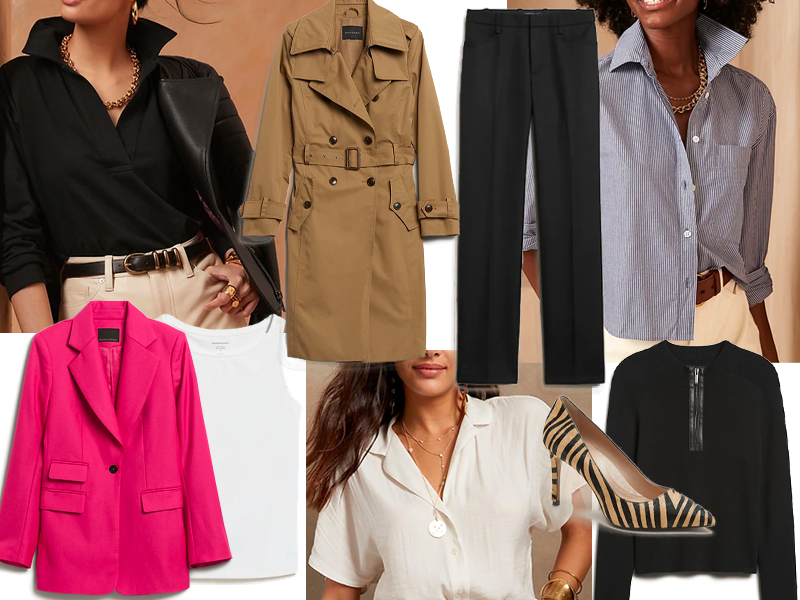 With their mix and match options, for work and weekends, along with their full-size range (including petite, plus, and tall), it's hard not to love BR.
In many ways, they are a rare retailer that figured out a way to grow with their target market, constantly evolving but never steering too far away from what makes them work.
Right now, the BR website is stunning, but the models are styled to an inch of their lives, making it difficult to see the key piece.
But under those layers are fantastic options for still cold weather and early spring; along with some fresh basics, there is something here for everyone.
Be warned, if you are looking for more color, BR might not be for you since they are currently a sea of neutrals.
Full prices are noted below, remember you can take 20% off with the code : F58RJN12.
Straight Wool Pants, $150
These straight wool pants are incredible. So if you need proper black trousers, not a knit, not an elastic waist, but an actual, menswear-inspired, go to the office, workhorse pants, here you go. Full length, straight cut, three-season wool.
Available in regular and petite from a 0 – 20, with a short, regular and long inseam.
I'm featuring the black because THESE ARE THE BLACK PANTS YOU ARE ASKING FOR, BUT they are also available in several fun colors. 🙂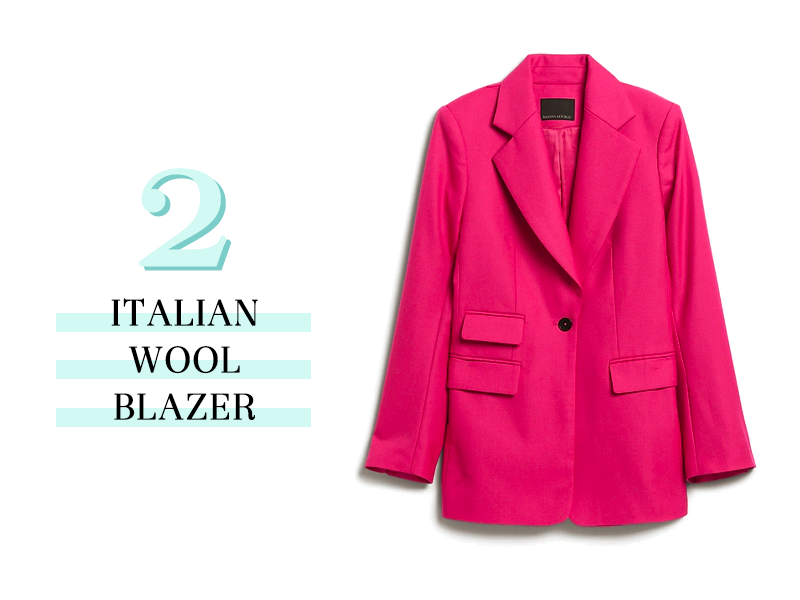 Italian Wool Blazer, $229
IF you would like a pop of color in the form of a perfectly tailored blazer, this is for you. I'm featuring this gorgeous pink blazer but it's also available in cream, yellow, red, green and black – which, when paired with the black pants above makes a modern suit.
You have a full size range up to a 20, some colors are limited.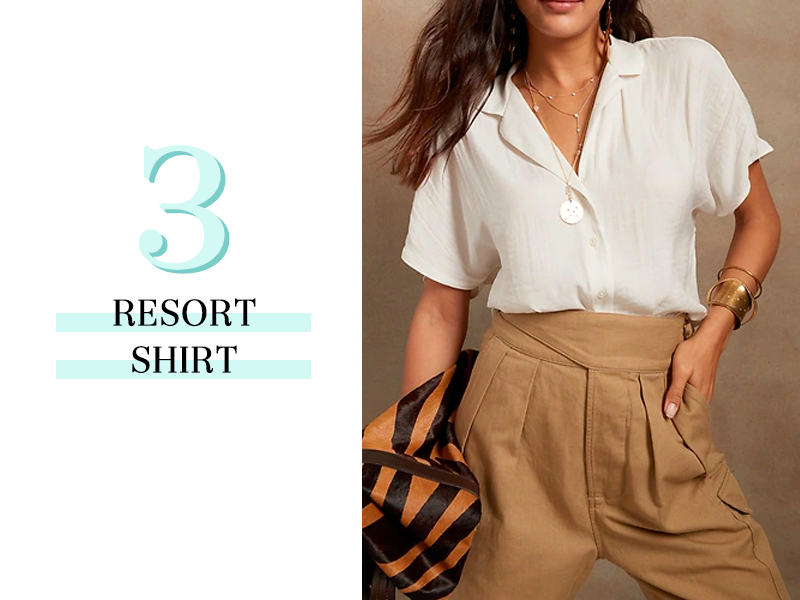 Resort Shirt, $70
A trend we've been seeing and will continue to be relevant for the next few seasons is stable pieces that create a new silhouette.
Now, I don't always love the exaggerated shapes and extra volume we see off the runway, but I do think, when toned down, it's a fresh take on classics, and BR is doing a great job with their interpretation.
For example, this "resort" shirt. It's like a modern take on a camp shirt: slightly oversized, with an elegant inverted pleat in the back, just gorgeous.
Tuck it into your high waisted bottoms and let it blouse out.
Available in XXS -XXL in regular and petite in four colors.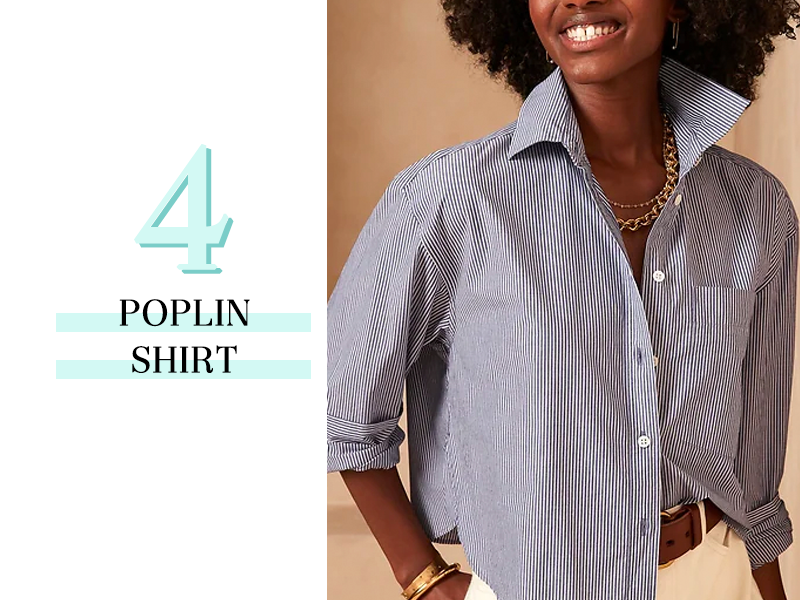 Poplin Shirt, $75
Another example is this poplin shirt. If some of the button-downs recently featured have generally felt too big, you may consider this one.
They call it "cropped," but it's not if you wear it with a high-waisted bottom. Doing so creates such a pretty shape. You'll see one of the models even has the front tucked in, so you shouldn't see your belly button.
Available in three neutral stripe options, in XXS – XXL in regular, petite and tall.
Half Zip Sweater, $140
I can't resist a knit with leather trim detail. It's just so sleek and chic.
This one, available in XXS – XXL in regular and petite sizes looks stunning layered over a slim cut button down, or even a thin turtleneck.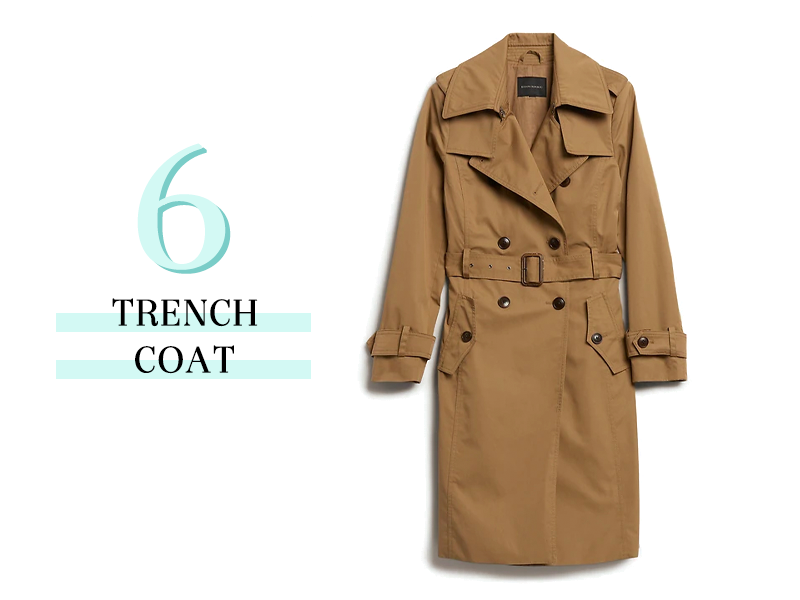 Trench Coat, $270
It's getting to be trench coat season!
And BR's trench coats have been on my list of must haves for years. Aside from a Burberry that costs thousands of dollars, they offer the most classic and traditional styling for the best price.
Available in XXS – XXL in regular and petite.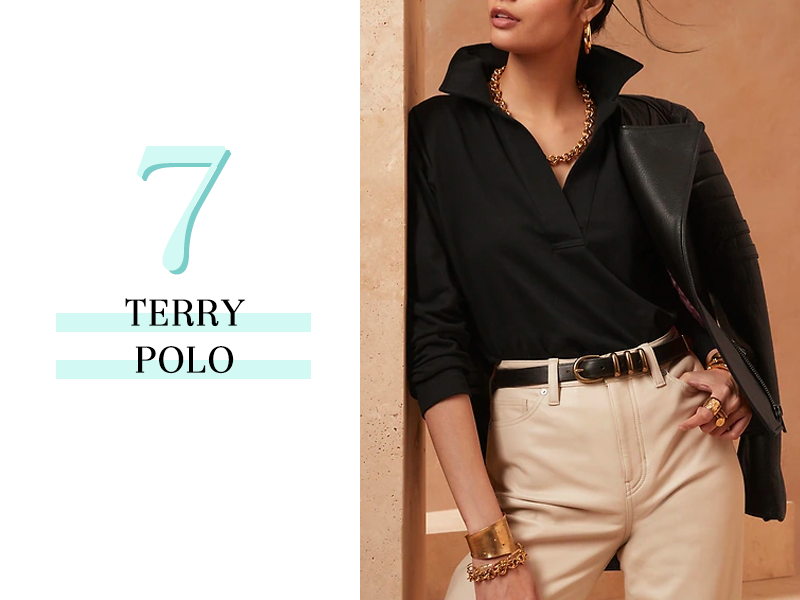 Terry Polo, $65
I mean, how elegant? A sweatshirt that looks like a blouse!
I already ordered in black and cream. There is also an olive and tan option. Available in XXS -XXL.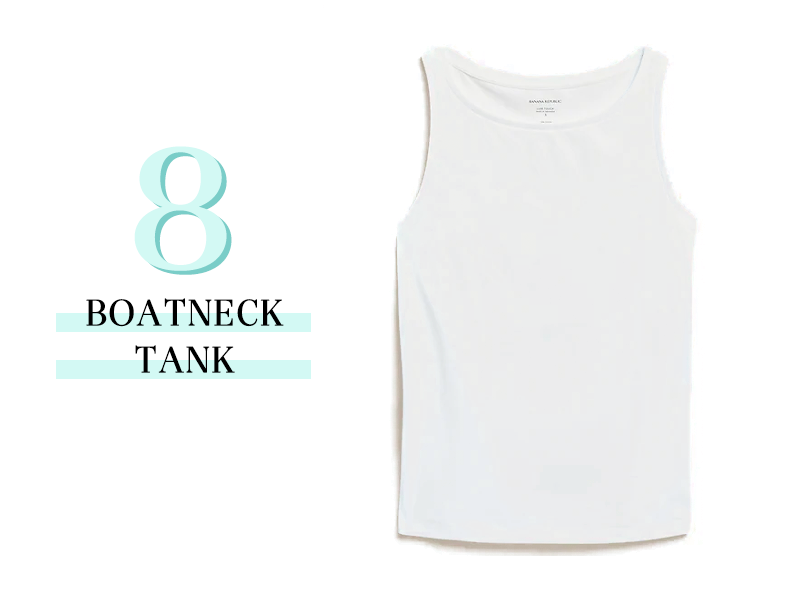 Boatneck Tank, $40
It's been SO LONG since I've come across a simple, basic boatneck tank. And it's a great price even before your 20% off.
Wear as a layer or alone if it get really hot in your neck of the wood.
Available in white, black and black and white striped, in XXS – XXL.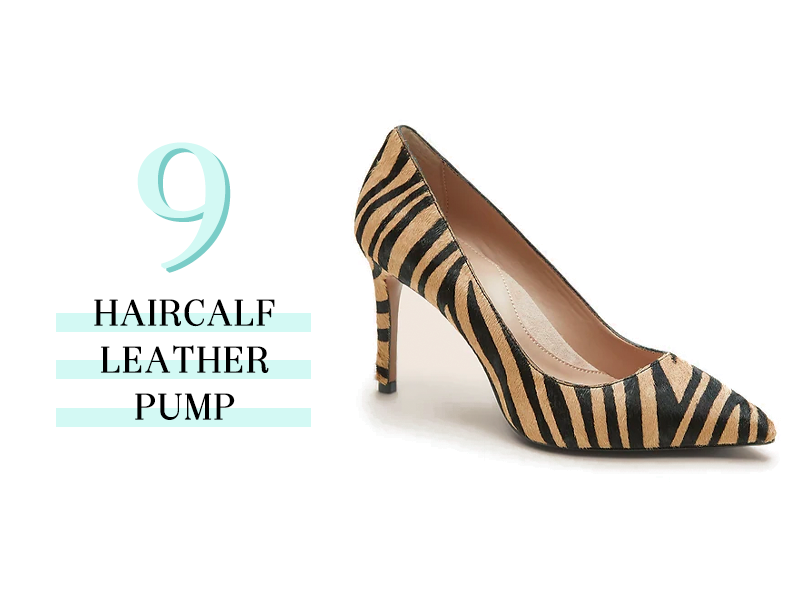 Haircalf Leather Pump, $140
The Madison 12-Hour Pump is like their signature shoe, with a cult-like following of women who swear that they can stand, walk and run all day in these bad boys.
They added a calf-hair option in a warm zebra print for this season.
Wear these like a leopard print; they work as a neutral with other neutrals and kick your whole outfit up a notch.
These paired with the black pants and hot pink blazer featured above would be stunning.
Our Style Content is Inspired by Our Readers
Our readership inspires all of our posts and is not sponsored or paid for by brands or retailers.
Recommendations are based on my experience as a personal stylist and wardrobe consultant for over a decade. I worked with busy, down-to-earth women who wanted to look chic and feel confident but were often confused by so much of retail.
Some links are affiliate links, which means if you purchase via our site, we receive a small commission.

If you enjoy our content and would like to help us grow, please follow on Instagram and join our Private Facebook Group to access more advice and exclusive in-depth conversations with other like-minded women.
Learn about our mission to help women look and feel their very best, every day, here.
Sign Up for Daily Content and Receive Our Free Classic Wardrobe Checklist