This content has been archived. It may no longer be relevant
Like Megan, I've been poking around H&M this Spring and I'm loving what I'm seeing. Over the years, I've had a lot of luck at H&M with blazers, dresses, and trendier sweaters. This patterned chiffon dress caught my eye because despite its bold pattern, it can be worn a couple different ways.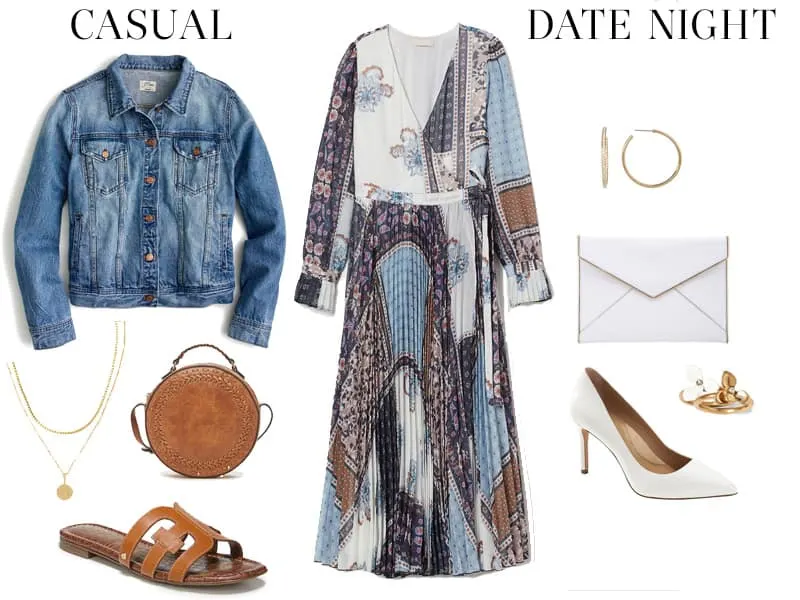 Casual: Dress, $70 | Jacket, $70 | Crossbody, $55 | Necklace, $42 | Sandal, $90 | Date Night: Dress, $70 | Hoops, $25 Stacking Rings, $32 | Heels, $118 | Clutch, $98
I'm in love with this dress, which should not be a big surprise to those who know me. My wardrobe has a lot of zush. I love a bold pattern and gravitate towards silks and chiffons. Even though I am working hard on building up my basics, I would argue that this particular patterned dress is more practical than you would think.
When I was putting together these two looks, I realized that you have so many color options. I chose a rich brown bag and shoe to go with the casual look and white for the date night look, but you could easily choose nude-to-you shoes or a dark navy. It's likely you already have something in your closet that goes with this dress. So even though it's a bold print, you can change the look of it easily so that it's not a one-hit-wonder.
I would like to note that this dress might need some hemming, depending on your height. Check out Megan's tips for the best skirt lengths. I am 5'6″, so I know I will need to take this up a bit so that it doesn't hit me in an unflattering spot.
For a casual look, I added a denim jacket, the same one I mentioned in my last post. I still have the denim jacket that my sisters' bought me for my sixteenth birthday. Thanks to them for buying me a good quality one. It still looks perfect, only now it's more broken in and has my name written in the inside from dorm life. Buy a classic shape and a good quality denim jacket like this one, because it will never go out of style and will only get better with age.
To accessorize, I added a gold layered necklace which will look lovely with the V neckline of the dress. Add a cool circle crossbody bag and some comfy, yet cute flat sandals and you're ready for your fun weekend plans.
For date night, I paired it with the same white heels Megan featured in this post. I am a huge fan of Banana Republic's Madison 12 Hour Pumps. Even though the heel is relatively high, I find them to be one of the most comfortable heels I have ever worn. I add a color to my collection each season.
While we're on the topic of Banana Republic, I would also like to express my love for their jewelry. They always have cute options and it holds up pretty well, considering its price point. I thought this floral statement ring was perfect for this dress; it picks up a bit of the floral motif in the chiffon.
To finish off the look, I added a sparkly inside-out hoop earring for under $25 and a simple white envelope clutch to round out the look. Believe it or not, but it was hard to find an attractive white clutch that had gold metal accents. Rebecca Minkoff to the rescue! It's important to make sure you match your metals throughout your entire look so that you look cohesive and polished.
Shop this Post