This content has been archived. It may no longer be relevant
Springtime and polka dots go hand in hand. When polka dots are done well they add a sophisticated touch of whimsy to an outfit, often acting as a subtle pattern that creates visual depth, but when polka dots go wrong, you can end up looking like a clown.
Obviously I'm trying to help you avoid clown territory.
Your best bet is to look for a small scale pattern. The bigger and bolder the polka dots, the more they look like a costume. When they are scaled down, you can use them much like a pinstripe – they become a neutral.
The top I found for today's outfit inspiration will move across your wardrobe nicely. You can tuck it into a black skirt and pair with office appropriate heels for work, or wear with a crips pair of white pants and slides in the warm weather.
Weekend Outfit Inspiration: How to Wear Polka Dots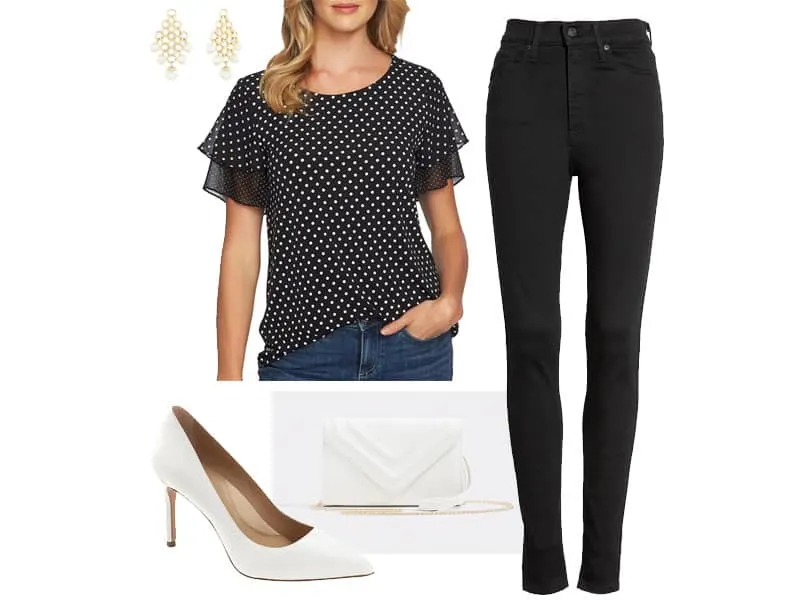 Top, $59 | Jeans, $98 | Heels, $118 | Bag, $30 | Earrings, $10
This sweet and fun top is for great date night or a night out with friends. You won't feel like you are wearing the same thing you wore to the office, it feels fresh, and it's affordable (under $60 at Nordstrom). It goes up to an XXL which is the equivalent of an 18 or 14 W. Plus size? Vince Camuto has a very similar option.
I also like this version without the ruffle sleeve and I love this long sleeve version, but both styles are limited in sizes.
Because the top has the added detail of a feminine flutter sleeve, I want to balance it out with something a bit tougher. Enter black jeans.
Black jeans are a must-have closet staple. I was always surprised when I worked with clients how many women didn't have them. Once we added them to their wardrobe, many new outfit combinations showed up using pieces they already owned.
I prefer a high waisted jean – but be careful here. There is a difference between high waisted jeans and the dreaded "mom jeans." Mom jeans are going to have an extra long zipper and tend to flatten your bottom. A high wasted jean might also be called a "girlfriend" jean. It will hit right at or below your belly button, and the back pocket placement should help "lift" your bum.
For today's look we featured a pair of under $100 Levi's High Waisted Skinny Jean. My personal favorite black jeans are by J Brand. They are pricey but I wear jeans almost every day so I get good wear out of them. For an inexpensive alternative, there's no shame in the Old Navy Rockstar Skinny jean for under $30.
I have both pairs and here's the difference. The J Brand are three years old an look brand new after a lot of wear. The Old Navy fade and stretch after a season. I feel like the J Brand "hold" me in better in my mid section.
Either way, you have a lot of options. Maybe we'll do a How to Wear Black Jeans Three Ways post – would that be helpful?
To style, you can wear the top out or, what I would do is a half tuck in the front of your jeans. It's what the cool girls are doing, so …
The wrong accessories can really throw this outfit off, so I was careful to pick a slim sleek pump and clutch with a similar feel.
White pumps help make the outfit feel special – and non-worky. Is that a word? It is now.
Base your price point on how frequently you'll wear them. These are by Banana Republic, they have a classic shape and 3″ heel for a little over $100. They come in a ton of colors too that could add a nice pop to other outfits.
Other under $100 options include these Nine West pumps for $90, a subtle snakeskin textured pump at Macy's for $70, and the always popular Sam Edelmans in a slingback for $77.
The white clutch is an awesome option at Aldo for $30. The strong lines of the bag compliment the frills of the top – again, it's all about balance. The bag is also available in a light beige that would be an ideal, affordable basic for the spring.
Finally, these dangly earrings almost mimic the polka dots on the blouse and add some much needed movement to create a fun weekend night out look.
Shop this Post