This content has been archived. It may no longer be relevant
I always find March to be a difficult month for dressing. The weather is crazy; One day it's snowing, the next day it's sixty degrees. I'm sick of my winter clothes and everything in stores is geared towards warm weather that just isn't here yet. With me?
I found myself in Old Navy last week, and I picked up this adorable black and white marled sweater. I normally shy away from buying sweaters from Old Navy, because in the past I felt that the quality wasn't even worth the low price. They lost their shape quickly and the knits felt overly artificial.
This sweater, however, is different. The fit is perfect and the knit is super soft, but not so soft that it is shapeless. The picture on the site is deceiving; It's not as form fitting as it is shown on the model. It's not a baggy sweater by any means, but it's more forgiving than what is shown there, which is perfect for my post-baby body.
The marled pattern is great because it gives us options to wear it now in the last days of winter here on the East coast, and later when Spring actually arrives.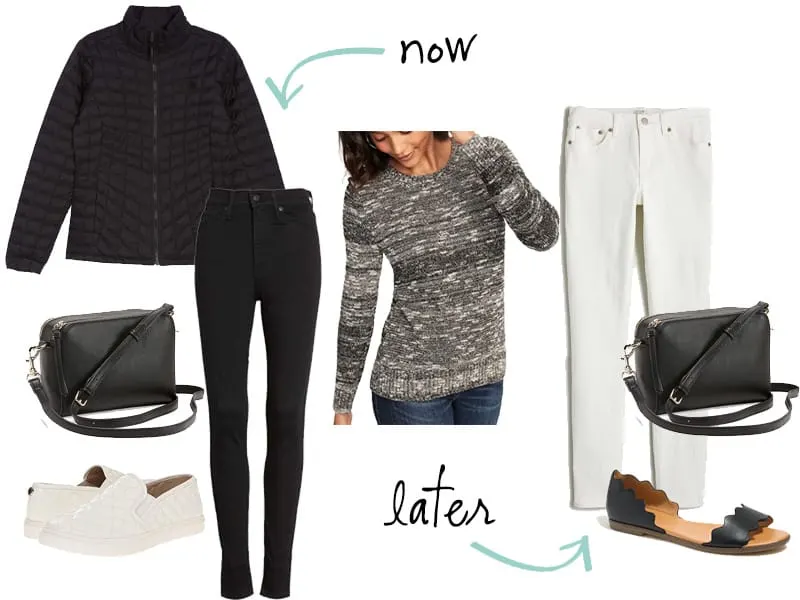 Now: Sweater, $30 | Jeans, $98 | Sneakers, $60 | Crossbody, $22 | Jacket, $199 | Later: Sweater, $30 | Jeans, $40 | Flat, $54 | Crossbody, $22
I am showing you a near exact match to how I wore this sweater to brunch on Sunday. I paired the sweater with the black jeans Megan featured in last Friday's weekend inspiration post and a pair of quilted white sneakers.
I love the look of black jeans with a white sneaker, but if that's feeling a bit too bold, a black sneaker works just as well.
I threw on a black thin nylon jacket, which isn't bulky but keeps out the wind and dampness. The North Face is on the pricier side, but the quality is excellent and you'll have it for many, many years. I grab this jacket so often in the Fall and Spring.
Another jacket option is a classic denim jacket. On the weekends, I'm always grabbing a crossbody since I need my hands free to wrangle in the kids, and this Old Navy one is a classic shape that you can wear to death this season.
Later, when it's warmer, swap out the black jeans for a pair of white ones. Since the sweater isn't particularly form fitting, I chose a white skinny jean to balance it out.
Side note: did you know that if you bring an old pair of jeans into a J. Crew Factory store, they will knock $20 off the price of a new pair?
I love these fun flats. I could see these getting a ton of use this summer because you can pair them with a cute dress or pair of shorts. Megan has taught me well; Now I'm always thinking about the price-per-wear when I buy clothes and accessories.
I was famous for buying one-hit-wonders, but now I'm more thoughtful about my purchases, no matter if I'm shopping at Old Navy or Nordstrom.
This sweater is a gem because it's both inexpensive and you can wear it multiple ways. Win/Win!