The Well Dressed Life Wardrobe Challenge has been the cornerstone of our community since I launched it SEVEN years ago!
We would host it three times a year, in the spring, fall, and start of each new year, as a value add for our readers.
But, like everything, it's time to freshen it up!
The biggest change is that going forward we will only host it ONCE a year, and this year starts on MONDAY, September 18th.
Don't worry, it's the same concept, and it's still totally free. But we're adding more and focusing specifically on defining your style and editing your wardrobe and closet space.
This FREE, four-week-long event is designed to help you define your style, edit your wardrobe and organize your closet.
Women of every age, with every budget, in all seasons of life participate.
There is no fee, and it's a fantastic opportunity to prepare for the new season.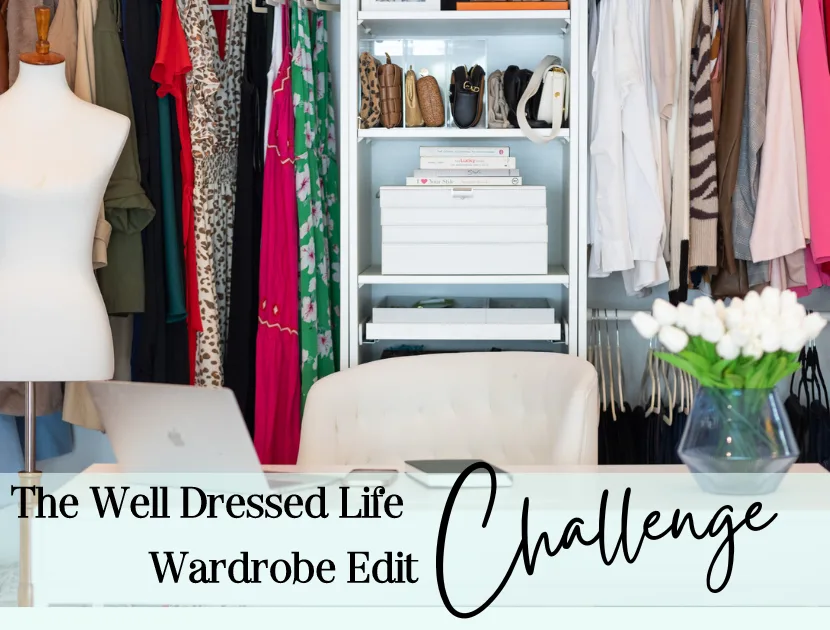 The challenge is based entirely on the system I created when I worked with private styling clients. It's meant to make the daunting process of tackling your closet a little bit easier.
I break each week down into a series of activities designed to help you:
(1) define your personal style and figure out what YOU need,
(2) edit and organize your closet, and
(3) begin to build a wardrobe you love.
This can be your first or your tenth time participating; it doesn't matter. Each time you complete the process, you'll have made a new discovery and gain further clarity around your style.
AND, you'll force yourself to tidy up your closet 🙂
But don't take my word for it, see what some of our participants have said of their experience, taken directly from our Private Facebook Group:
Praise for The Well Dressed Life Wardrobe Challenge: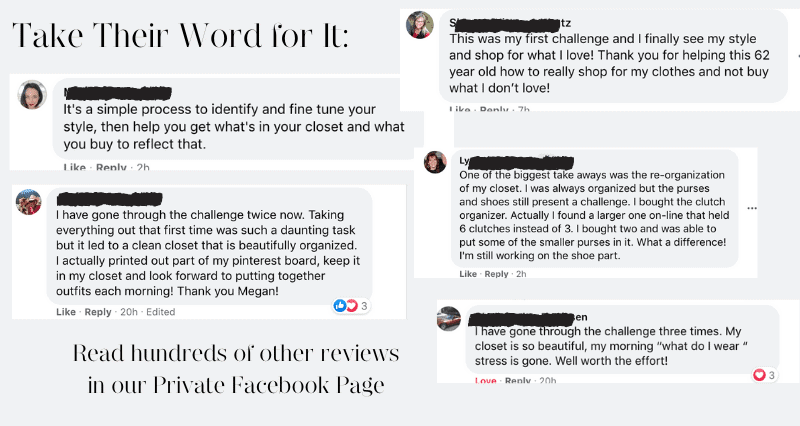 How GREAT Does that Sound?
If you follow the process, by the end of the four weeks, you will:
Clearly understand your personal style.

Have a well-organized closet.

Feel confident in your choices going forward.
Here's How it Works:
The new challenge starts on MONDAY, September, 18th.
Yes, MONDAY.
In the past, we went live with new challenges every Friday, but after listening to your feedback, Monday's seem like better days for you to get all the information.
You'll still have a weekend between challenge, but this gives you time to prepare and use your weekend more productively.
In addition, I'll be LIVE in our Private Facebook Group every Monday of the challenge. Times will be announced shortly.
You do not need to have a Facebook Account to participate, it's just a nice extra.
Every Monday starting on 9/18 you will have a post from me with two challenges to complete before the following week.
Each week, we focus on a specific goal:
Week 1 (9/18): We'll help you figure out your style.
Week 2 (9/25): You'll prepare for your edit. It's big job and you need to be ready.
Week 3 (10/2): Now it's time to get in there and purge
Week 4 (10/9): Finally, we'll leave you with a break down of the fundamentals of a well-thought-out wardrobe so you always have something to wear.
We move fast on purpose. It keeps you engaged and helps you make decisions quickly.
Here's What you Need:
1. A Clothing Rack: I use this under $50 one from Amazon.
2. Slim Hangers: You may also consider picking up some new hangers, so you have them on hand when we start to clean up your closet. I recommend these flocked slim hangers. They are my favorite.
3. Be sure Your On Our Email List. If you receive an email from The Well Dressed Life in your inbox every day, you're all set. If not, fill out this form here.
4. Join our community: For even more support, join our private Facebook group and answer the membership questions for fast approval. You can also follow along for extra inspiration on Instagram.
And remember, if you've already participated, do it again!
You'll be AMAZED by how much you learn each time.
A Little About Me (In Case You're New!)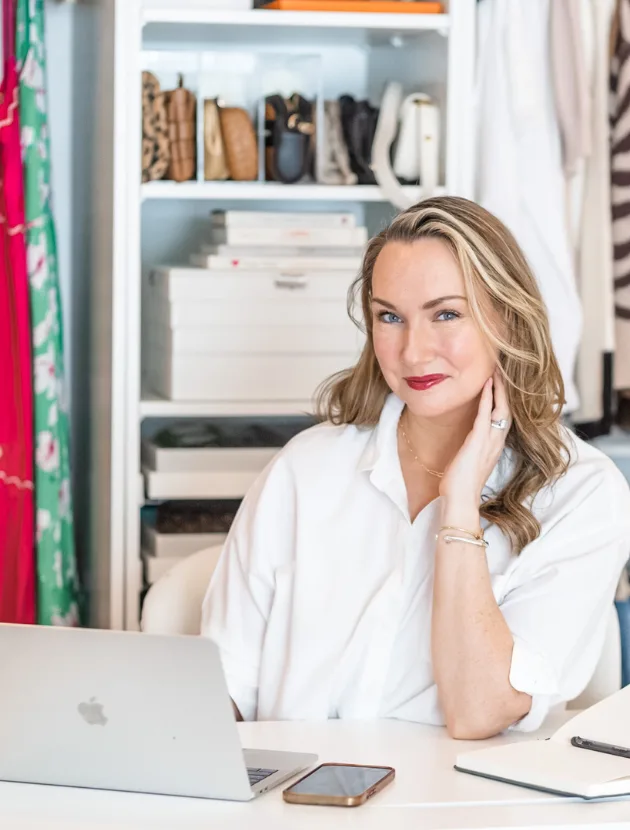 For the past 20+ years, I've helped women get dressed for their real life, first as a retail buyer, then as a personal stylist, and now as the founder of The Well Dressed Life. After graduating from college with a degree in Marketing, I started my retail career as a women's clothing buyer for large chains and private boutiques. Before starting my first company, I was a buyer for the home-shopping powerhouse QVC.In 2007 I left that position to start Kristel Closets, Inc., an image consulting and private styling firm that operated three offices on the East Coast in Philadelphia, Northern New Jersey, and Washington, D.C. Our company quickly became a leader in the industry, serving busy women who wanted to look and feel their best.While our clients wanted to look modern, classic, and pulled together, they didn't have the time or energy to do it themselves.That's where my team and I stepped in.
I've helped thousands of women navigate the often overwhelming world of fashion and retail, working with all body types and budgets.
Several years ago, I stepped away from our 1:1 services to focus on building our online business. Today, I provide my expert advice, recommendations, and insights in our daily posts and through these challenges here on The Well Dressed Life. I use my experience as a former buyer, personal stylist, and busy mom of three to frame all of our content. I like to keep it real, practical, fun, stylish, and kind. It's About You
I encourage you to use the next four weeks to focus on YOU.
Dive right in, ask questions, and get to know your fellow participants, who you'll quickly discover are the friendliest and most supportive group of women on the internet.
Our challenge aims to give you a clear understanding of what you like and what will work for you so that getting dressed becomes an expression of who you are and not a chore.
This challenge is for all women with all body types and budgets who appreciate modern, classic style and want a guide to get them there.
Why is it Free?
I get asked this all the time.
This challenge always has and always will be free.
And the answer is simple. Because I enjoy it! And the challenge has allowed me to understand and connect with our community at a deeper level. And our conversations help fuel our daily content.
All I ask that if you enjoy our site and find the challenge valuable, please share it with your friends!
So, who is in?