Happy Friday, Ladies!
Today we wrap up our last set of challenges.
We'll focus on discovering new outfit combinations you already own, making sure you have what you need for all aspects of your busy life, and creating a strategy for going forward.
But before we jump in, I have to thank everyone for participating with such enthusiasm!
This week is going to wrap up the challenge, but not the process.
Remember, it takes time to put all this into practice. That's why so many women do this challenge every season.
Once you figure out what you need, it's time to do the work to not only find those items but figure out how to translate all those gorgeous inspiration pictures into an outfit that will work with your lifestyle, budget, and body type.
If you are new to our community, I encourage you to ask specific questions and request posts covering different topics. Our readers influence every post we create for this site. I base the daily recommendations, tips, and outfit formulas on everything I know about you.
Use our archives while searching for inspiration. Every style post is filled with inspiration and guidance and offers recommendations for all sizes.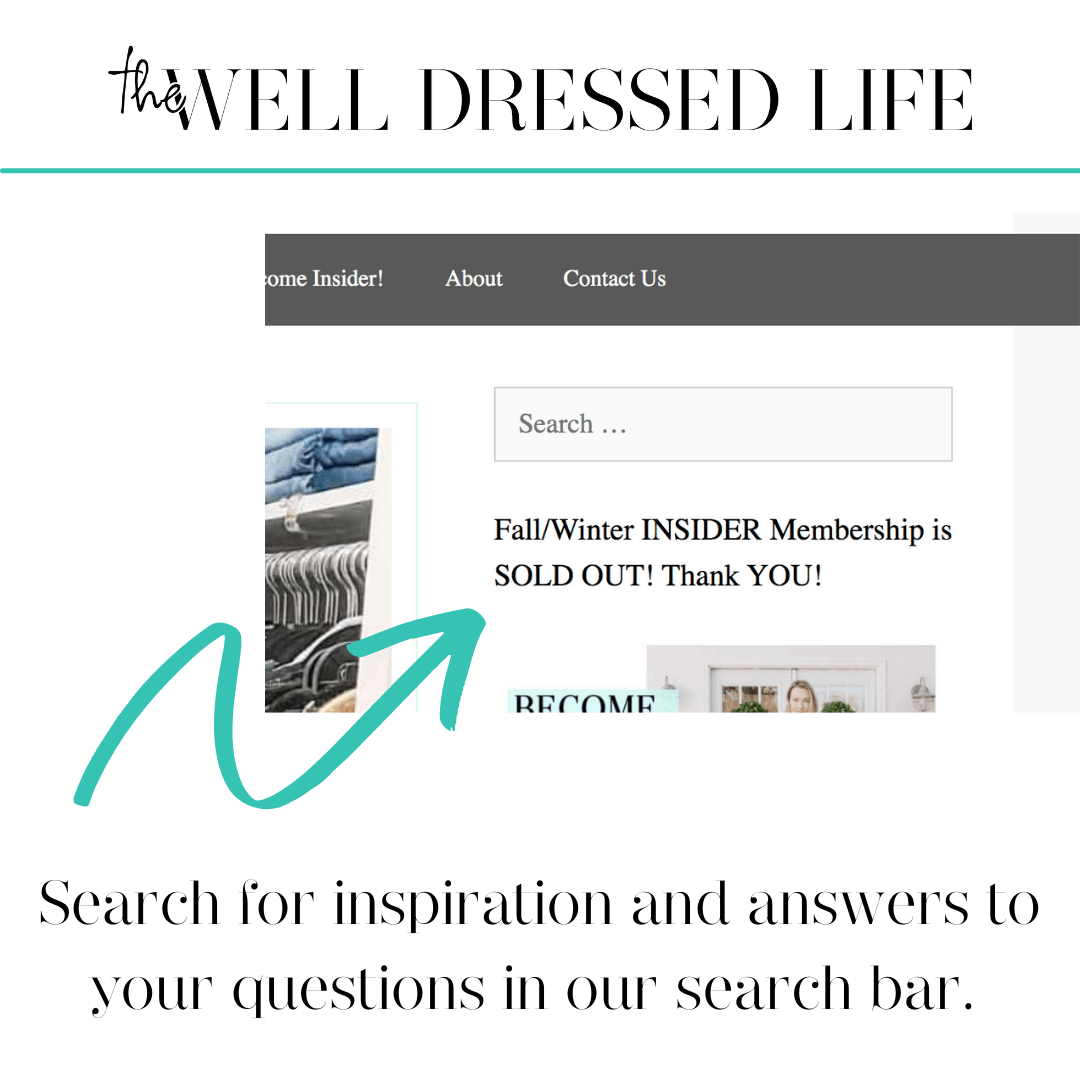 Simply type what you're looking for into the SEARCH box on the ride side bar.
Week 4: Create New Outfits and Write Your Wish List
If you haven't completed week 3, please do that first. Do not stress out if you are just starting, or feel like you're running behind. This is suppose to be fun and support is available in our Facebook group no matter where you are in the process.
If you are having a hard time letting go of some of your items, read this post about the mindset shifts we need to make in order to gain control of our closets.
Challenge #1: Create New Outfits
Spend some time in your clean and organized closet.
Doesn't it feel so good?
With the clutter removed you might be amazed at the outfit combinations you never noticed.
Every time I go through this process I always find a new way to wear something, discover an old favorite, or simply get re-inspired.
And there is just something so motivating about a clean, tidy closet.
To guide you, use your curated Pinterest boards and your lifestyle diagram. Try to recreate a few of the looks for each of your categories.
The idea is not to replicate each look. Instead, be inspired by them. Look at the color combinations, pattern pairings, layers, and accessories. Those are the essential elements.
Here's an example of how I recreate a look: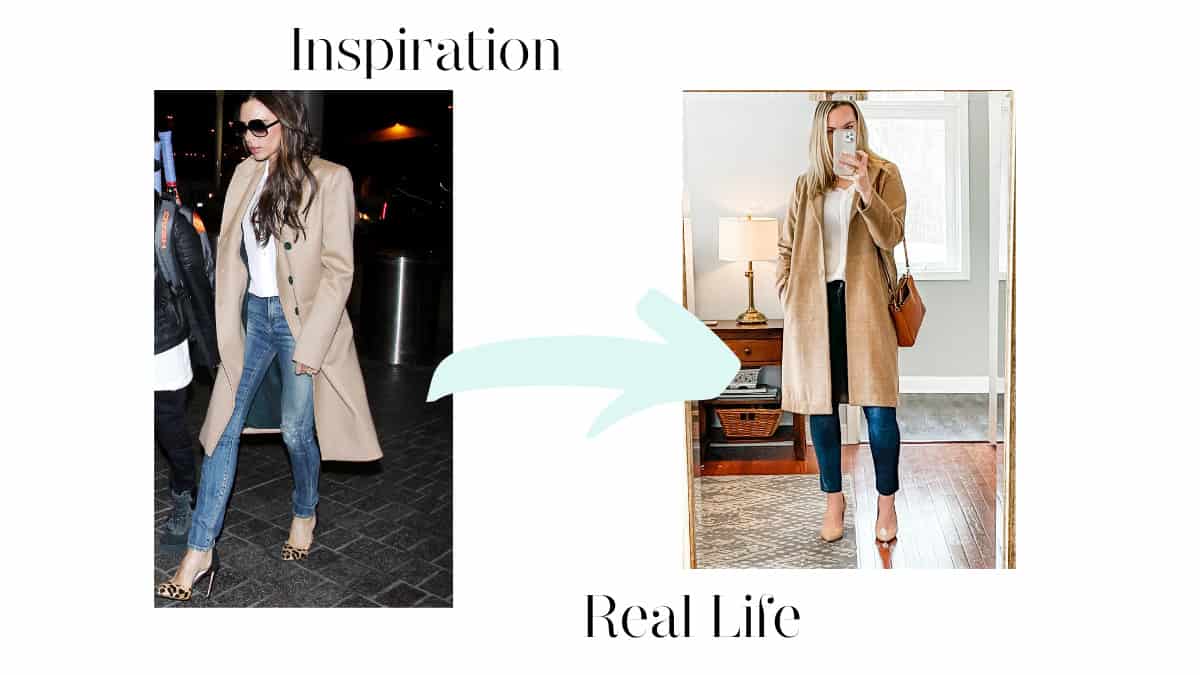 I pinned this image of Victoria Beckham because I love how it mixes casual elements with a touch of glamour.
But there is no one on earth LESS like Victoria Beckham than me. I'm about a foot taller, probably a hundred pounds heavier, and our lifestyles and budgets are, umm, different. LOL.
It's not the same outfit. It's inspired by the pin, which is likely made up of pieces from her own collection and other brands I can't afford.
Instead, I pulled out my favorite dark skinny jeans (not sure how they still fit), an inexpensive white blouse from Amazon, my camel coat from H&M and heels, yes, heels.
Don't want to wear heels yet? Go with neutral flats instead.
I felt fantastic, like my pre-pandemic self. And I was able to get dressed quickly and easily.
Now, I can use this look as a base and swap out the blouse for a striped long sleeve tee, replace the pumps with crisp white sneakers and as the weather turns, replace the wool jacket with a camel trench.
Another example
Here's an outfit I "found" after I did this challenge last January . I wore it on one of our last date nights right before the world shut down.
This outfit really delighted me. Because my closet was cleaned and organized I immediately noticed these two pieces and how the colors were a near perfect monochromatic match.
Before that I had NEVER thought to wear them together. And, again, I'm using affordable pieces, a H&M sweater, and J.Crew Factory skirt I picked up on clearance.
Remember to use your entire wardrobe. Break up "sets," and incorporate pieces you are saving for a schedule special occasion.
Pro Tip! Take pictures of your outfit options and keep them on your phone so they are at your fingertips when you need a reminder.
Challenge #2: Write Your Shopping List
As you work through your wardrobe, creating new looks, jot down what you need to create more outfits.
Could you use a different style pant?
Maybe an updated shoe would pull several outfits together.
You might need something as simple as a cami so you can start to wear a lightweight sweater.
Write down anything that would add more life to your existing wardrobe.
Keep this list with you (I keep mine on my phone) and only purchase from the list!
By doing so you will stay focused, and your wardrobe will become more functional. If you buy things that are not on the list, you'll end up with a closet full of items you don't need all over again.
AND share your shopping list in our FB Group. I use all of the conversations on that feed to help create posts for each season.
Enjoy your new space and the fresh start!
Your closet won't always look this great.
Life will get busy, and you'll need to regroup. The good news is it will be so much easier to keep it tidy now that you have a system.
I follow this process twice a year, only it doesn't take four weeks; it takes about an hour to get back on track.
Remember that your wardrobe is ever evolving.
You'll never be "done."
There will always be something on your shopping list, an item that needs to be replaced or a new look you want to try. I hope that after this exercise, you start to hold your purchases to a higher standard and realize you don't need so much, you just need the right options for you.
Finally, a new addition to the Challenge.
Share your favorite look in our Facebook Group and you'll be entered to win a $100 Visa Gift Card you can use at any store to help build your wardrobe.
Here's how it works:
1. You MUST be a member of our Facebook Group.
2. The photo must be of you, either a selfie or a photo someone takes of you, in your favorite outfit currently in your closet.
3. Please only post one photo.
4. You may begin posting today, 9/24, until Thursday, 9/30. Once you post your photo, you'll be entered to win a $100 Visa Gift Card; a random winner will be pulled on 10/1.
5. In your post description, please put – WDL Outfit Challenge so I can easily find it and ensure you are entered.
Join me in our Private Facebook Group for a LIVE Q&A!
This week we're doing our Facebook Private LIVE Chat on Sunday, September 26th at 7PM EST. I want to give you some time to get your questions together, and we'll toast a job well done!
---
Our Style Content is Inspired by Our Readers
Our readership inspires all of our posts and is not sponsored or paid for by brands or retailers.
Recommendations are based on my experience as a personal stylist and wardrobe consultant for over a decade. I worked with busy, down-to-earth women who wanted to look chic and feel confident but were often confused by so much of retail.
Some links are affiliate links, which means if you purchase via our site, we receive a small commission.

If you enjoy our content and would like to help us grow, please follow on Instagram and join our Private Facebook Group to access more advice and exclusive in-depth conversations with other like-minded women.
Learn about our mission to help women look and feel their very best, every day, here.
Sign Up for Daily Content and Receive Our Free Classic Wardrobe Checklist