Let's talk about the best beauty products on Amazon.
I find myself reaching for my Amazon app an embarrassing amount of times during the day. With three kids and what feels like a dozen full-time jobs, it's one of the few resources that make my life easier.
One of the elements of my job that I love most is trying different self care products and tools. Some are crazy, others silly, but over the years I have discovered some truly fabulous finds.
The kind that make you wonder, "how did I live without this?"
So today, I rounded up my all time favorites, the ones I use on a daily basis, and reorder constantly.
The Best Beauty Products on Amazon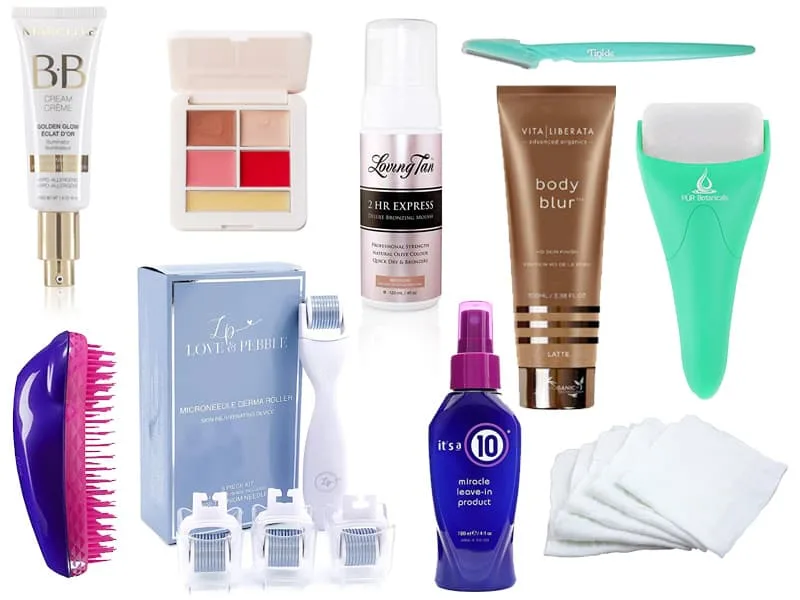 BB Cream, $29 | It's a 10, $19.50 | Self Tanner, $40 | Ice Roller, $18 | Derma Roller, $23 | RMS Signature Set, $44 | Eyebrow Razor, $4.50 | Detangling Brush, $10 | Body Blur, $39 | Muslin Cloths, $10
Back in my youth, I used to cover up my wrinkle-free baby skin with layers and layers of skin clogging foundation – all in an attempt to hide my freckles. Thankfully, as I've aged, I've embraced those freckles and wear much less makeup. A year ago, a sample of this BB Cream by Marcelle showed up in my Birchbox. Called "Golden Glow" It looked too dark for my (very) fair skin, so I almost threw it away.
But, I gave it a try one morning, and my skin looked beautiful. The pigment adjusts to your skin tone if it's between fair and medium. You can still see your skin, freckles and all; it just evens it out without clogging your pores. I quickly ordered a full size from Amazon while standing at my bathroom skin.
I use it in the summer, when I have a self tanner on. It's become my go-to for a super fast, almost make-up free face that is Zoom call ready.
Note: They are calling this a "Universal Color" which makes me a bit crazy. This will adjust to the pigment of your skin up to a deep medium. Any darker than that and I think this would be too light. The beauty industry, like the fashion industry, has a long way to go when it comes to inclusion.
I featured this self-tanner back in May, and after a summer of use, it's my all-time favorite.
As a fair-skinned girl with long limbs, who spends a ton of time at the shore in the summer, I feel more confident with a little natural-looking color. While love a spray tan, they take time I don't currently have to spare. This two-hour tanner gives you the perfect glow without all the fuss.
Apply it, let it sit for two hours (sometimes I keep it on longer), hop in the shower, and rinse it off. Over a few hours, you'll see a lovely natural looking tan emerge, with no funny smell or stained clothes.
This "body blur" by Vita Liberata is like a combination of a BB Cream and a Self Tanner. It's a make up artist go-to to create an all over glow to the body. You'll see celebrities slather on something similar before press events to get that flawless look to their legs, arms and neck.
Unlike a self tanner, the color is immediate and will wash off in the shower. Use it for special occasions, or to extend the life and look of a tan.
I should buy this in bulk. Doing my girl's hair is bearable since I discovered It's a 10 several years ago. It is a detangler, and leave-in conditioner spray that leaves soft hair, works through the worst of knots and makes hair easy to manage. I've tried countless less expensive brands, but keep coming back to this.
Speaking of detangling, this brush is a game-changer. I bought it as a stocking stuffer for my kids and it turned out to be a true Christmas miracle.
All of my daughters have long, thick, curly hair. Brushing their hair at night or getting ready for school in the morning use to leave us all in tears. But the combination of It's a 10 and the Tangle Teezer, we now have yelling-free (for the most part) mornings, and they can be left to do their hair on their own.
It has hundreds of 5 star reviews you can read here.
This ice roller may be the silliest beauty product I ordered from Amazon in a long time, but it is surprisingly fantastic.
I keep it in my freezer drawer and use it first thing in the morning, while the house is quiet and I'm getting my coffee ready. Admittedly, I'm tired these days. Like many of us, I'm not getting a ton of sleep and wake up looking and feeling puffy. It helps reduce the puffiness and tightens pores and is especially lovely during allergy season when I feel like I can barely fully open my eyes.
By now you know how much I love my derma roller and this set, in particular, is fantastic. You can't beat the price or quality.
You can see my step by step break down of how to use a derma roller here. If you're already thinking of inexpensive holiday or birthday gifts for girlfriends, this is a wonderful, under $25 idea.
My single best beauty find on Amazon in 2019 was this RMS makeup palette. It's seriously the perfect little on-the-go pallet. I have multiples and keep one in my bag and the other on my vanity. Use it to bring a little color to your lips and cheeks, swipe the highlight down your nose and in the corners of your eye to make them pop. So simple.
It also feels very age appropriate to me for young girls, so I do let me 13 year old "steal" mine on occasion.
The secret to flawless makeup is smooth skin. To get that, I take one of these slim razors, and gently run it up my checks and along my jaw line to remove baby hair and peach fuzz. Holy cow, does it make an incredible difference in how your products sit on your skin! I'm never without these.
It's so important to be as gentle as possible with your face. You want to minimize how much you tug and pull at it. These muslin cloths (marketed as organic baby wipes) are fabulous. I keep stacks of them in my bathroom and use them nightly.
A great tip I've learned to remove clay masks or any product that leaves a residue is to soak a muslin cloth in warm water, wring it out, and place it on your face, covering the entire surface. Gently press it on your skin, let it sit for a second, and remove it. Do this a few times. The steam will help to breakdown anything on your skin, and you'll avoid having to wipe it off aggressively.
Shop this Post
---
Our Content is Inspired by Our Readers
Our readership inspires all of our posts and is not sponsored or paid for by brands or retailers.
Recommendations are based on my experience as a personal stylist and wardrobe consultant for over a decade. I worked with busy, down-to-earth women who wanted to look chic and feel confident but were often confused by so much of retail.
Some links are affiliate links, which means if you purchase via our site, we receive a small commission.
If you enjoy our content and would like to help us grow, please consider following on Instagram and join our Private Facebook Group to access more advice and exclusive in-depth conversations with other like-minded women.