I get so many beauty products on Amazon it's not even funny.
It's just so easy, with a huge selection, quick shipping, and great prices, especially when you shop event days, like Cyber Monday.
So, today, I built a fabulous round-up of old favorites and new finds, with a price range that includes options for stocking stuffers or a splurgy self-purchase.
Cyber Monday Deals on Amazon Beauty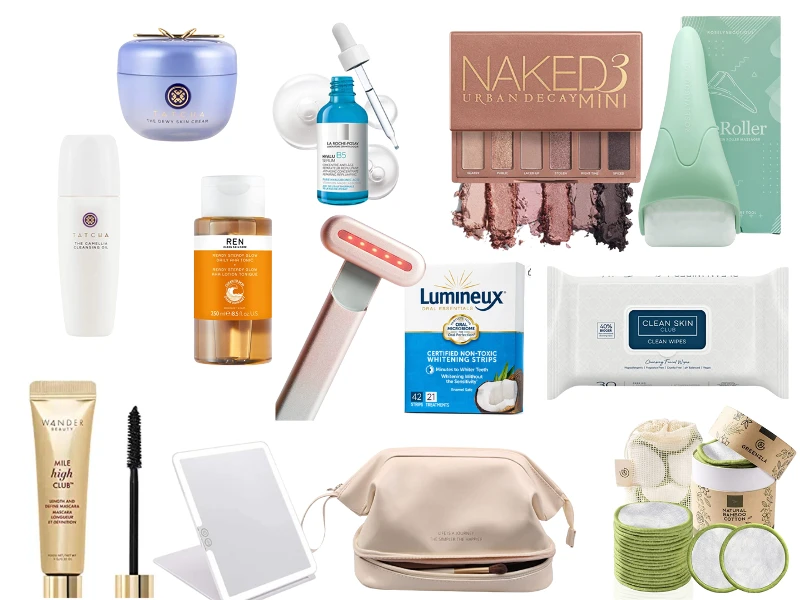 Wander Beauty Mile High Club Length and Define Black, Cyber Price: $18. One of my favorite mascaras on sale for under $20. It gets RAVE reviews from users.
Greenzla Reusable Makeup Remover Pads (20 Pack), Cyber Price: $10. A friend of mine shared a few of these reusable pads, and, aside from being eco-friendly, they are so soft and gentle on your skin. They have over 30,000 FIVE star reviews, are only $10 and come with a laundry bag that you can throw in the wash to keep them all together.
Ice Roller Cyrotherapy Reduce Wrinkles Puffiness Aging, Cyber Price: $8. I'm a broken record about my ice-roller. I use it every single morning, don't want to live without it. Would make a great stocking stuffer for your teen or college student, too.
Large Double Layer Cosmetic Bag, Cyber Price: $19. I just ordered this after seeing in on my social media feed for the last few months. I love the shape and really appreciate the make-up brush storage in the bottom pouch.
deweisn Folding Travel Mirror, Cyber Price: $24. There is nothing like putting on make-up in good lighting, something you're not guaranteed when traveling. But this light-up mirror folds into slim profile and slips right in your suitcase taking up no room.
Urban Decay Naked Mini Eyeshadow Palette, Cyber Price: $16. A fabulous under $20 gift for the make-up lover in your life.
TATCHA Pure One Step Camellia Cleansing Oil, Cyber Price: $40. Sale events are when I stock up on skincare staples. And for me, that is the Tatcha Cleansing Oil, the first step in my routine. It is incredible at removing make-up and grime as step one of a double cleanse.
Tatcha The Dewy Skin Cream, Cyber Price: $55. I'm also a huge fan of The Dew Skin Cream. It's rich and hydrating, perfect for nightime.
La Roche-Posay Hyalu B5 Pure Hyaluronic Acid Serum, Cyber Price: $43. I think this is the best hyaluronic serum on the market and it's on sale for under $50 today.
REN Clean Skincare – AHA Facial Toner, Cyber Price: $25. Another favorite is the REN AHA Facial Toner. I use this in the morning. It's extra nice if you use an overnight exfoliator, as it gets off any residue and flakiness without drying or irritating your skin.
Clean Skin Club XL Premium Face Wipes, Cyber Price: $8. After I got back into my workout routine, I almost immedataly started to break out from all the sweating. Now, generally speaking, I'm not a fan of face wipes, they tend to be too tough on your skin, and do more damage than good. But I DO like these from Clean Skin Club for after a workout. I keep them in my bag and use them in the car when I wrap up.
Lumineux Teeth Whitening Strips 21 Treatments, Cyber Price: $29. These are the best whitening stripes I've ever tried. They don't hurt or leave your teeth sensitive. Note: When you first with these, don't use them before you go out because they might leave your teeth a bit blotchy, but they go away in a few hours. Instead, make them part of your weekly self-care/maintenance, like on Sunday night.
SolaWave 4-in-1 Facial Wand, Cyber Price: $89. Okay, this is probably dumb, but I did just order it. It says it does all the right things: skin tightening, radiance, etc. I'll report back. And this is on a lighting deal today, so if the price is back to $150 it means the deal is over.