We've heard from lots of readers who are headed out on either spring break or a quick sun-filled vacation, looking for a new personal carry on bag.
And this makes me EXCITED because I LOVE packing.
That sounds weird, I'm sure, but there is something about the process of organizing and packing things neatly that brings me joy.
It's like doing a puzzle.
And a personal carry on bag plays a big role in being able to pack as much as you need without having to check a bag.
I refuse to check a bag these days because nothing will ruin your hard-earned vacation more than lost luggage.
So today, we're sharing four of my favorites personal carry on bags in a range of prices starting at only $50 and some tips to help you pack
These all offer a little something different and are all sized to fit neatly under the seat in front of you on an airplane.
Why You Need a Personal Carry On Bag
If you don't want to check a bag when flying you need to optimize everything you're allowed to bring on your flight: your carry-on suitcase that goes in the overhead and your one (1) personal item, or your personal carry on bag, that has to slide under the seat in front of you.
Most people do not take advantage of what you can use as a personal item.
A personal carry on bag cannot exceed 18 inches long, 14 inches wide, and 8 inches high.
And there is no weight limit.
That's a lot of space to work with, so instead of using your everyday handbag, swap it out for one of our recommendations.
What are you suppose to do with your handbag?
Well, if you're on vacation you can probably leave it at home.
I'll pack my Lo & Sons Pearl Crossbody, because it goes with everything and packs nicely.
And at the airport I keep my phone, wallet and other small essentials in a Lululemon Everywhere Bag and wear it until it's time to board, then I throw it in my bag (below).
What can you keep in your personal carry on bag?
I prioritize the items I'll need on the flight, such as my laptop and Kindle, and travel toiletries. I'll also keep my travel jewelry case in there.
But you can and should use it for over flow or bulky items. like a pair of shoes, or a curling iron.
Our Four Favorite Personal Carry On Bags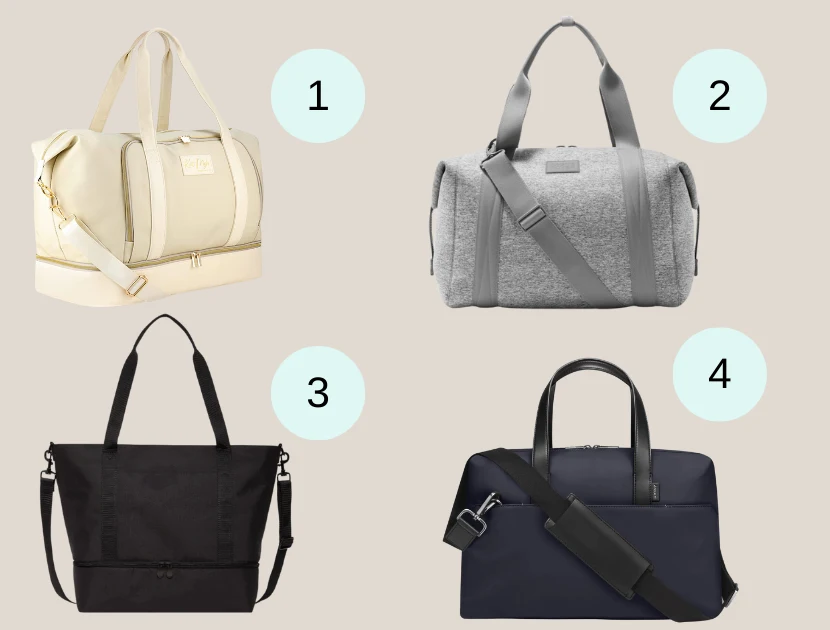 Regarding your personal carry on bag, you don't need anything fancy.
Focus, instead, on quality, durability, and space.
If you are a frequent traveler, spend more on something like this because you know it will take a beating.
However, our picks range from $50 – $200, so nothing is outrageous.
My last tip is not to buy a rigid, hard-case bag. You don't get as much room and can't manipulate them.
Instead, look for a soft bag to stuff under your seat with no issue.
Amazon
For $55, this Kat Myhr Weekender is an incredible find.
You have tons of storage and organization, like a pocket for your laptop, and a separate compartment at the bottom to hold shoes and other bulky items.
It slides over the handle bars of your roller bag and it made of a coated canvas so you can wipe away stains and scuffs.
Available in cream (below) and black which is not my favorite because of the contrasting gold zippers.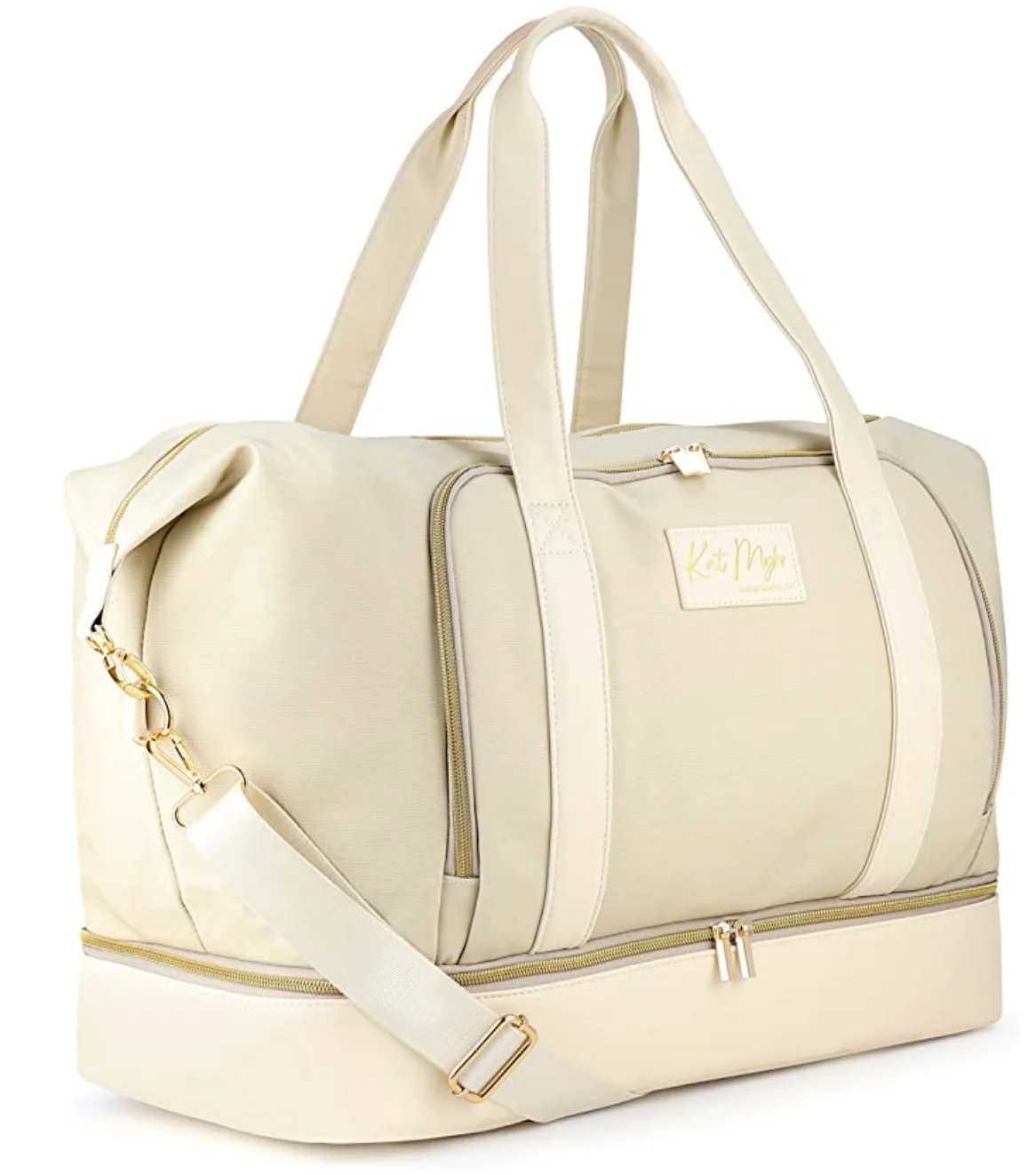 Dagne Dover
I scooped this Dagne Dover bag up a few years ago at Nordstrom, and not only have I used it, but it's a go-to when my girls have sleepovers and overnight trips.
It's an excellent little personal carry-on that, while it looks small, fits a surprising amount of things, like a laptop, kindle, and personal care items; I've even shuffled a packing cube and hairdryer.
I like that it's lightweight and soft.
When packed it sits on your roller bag and has a crossbody strap.
Available in several colors, and pay attention to the size options, if you want to use this as a personal carry on bag you want the Large.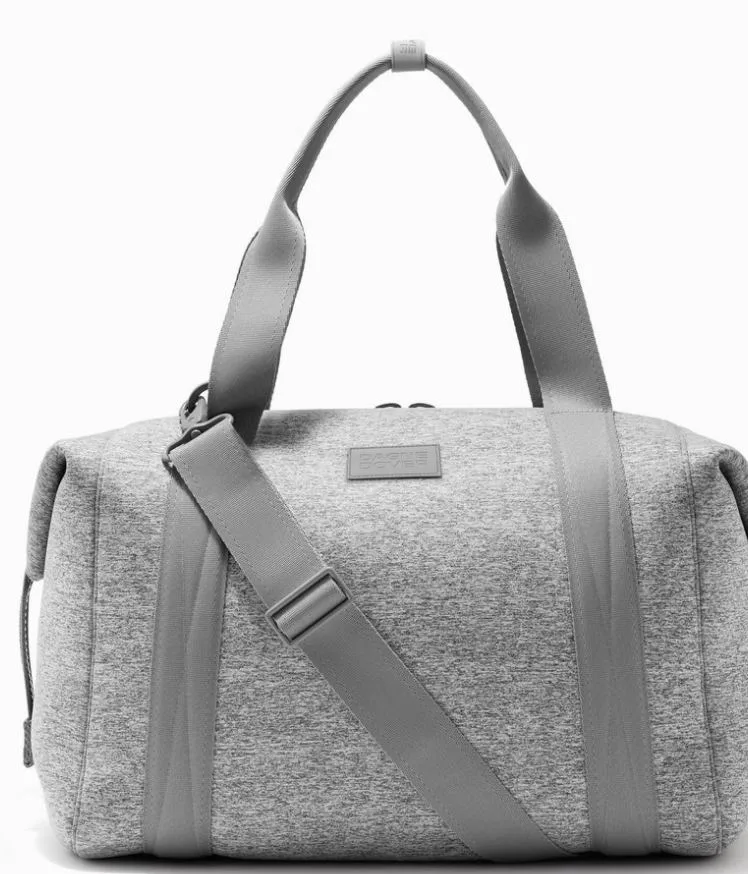 2
Landon Carry All
Dagne Dover
$215.00
Lo & Sons
Sometimes I feel like I recommend that same thing over and again, but when it comes to Lo & Sons you really don't need anything else.
And if I had to pick my favorite of our list, this is it.
Their bags wear like iron.
I love that they aren't fussy, focus on utility but are still super chic.
Pre Covid I flew around the country like crazy and my Lo & Sons bags never let me down.
For a personal carry on bag you specifically want their Catalina Deluxe Tote.
It fits the size requirements and has everything you need.
It has the bottom pocket we love for shoe BUT if you don't need it you can If you don't need it you can unzip the panel that divides the bottom compartment from the main compartment and get even more room – genius.
Go with the Recycled Poly instead of the canvas for extra durability, in a range of basic colors, on sale for $143.00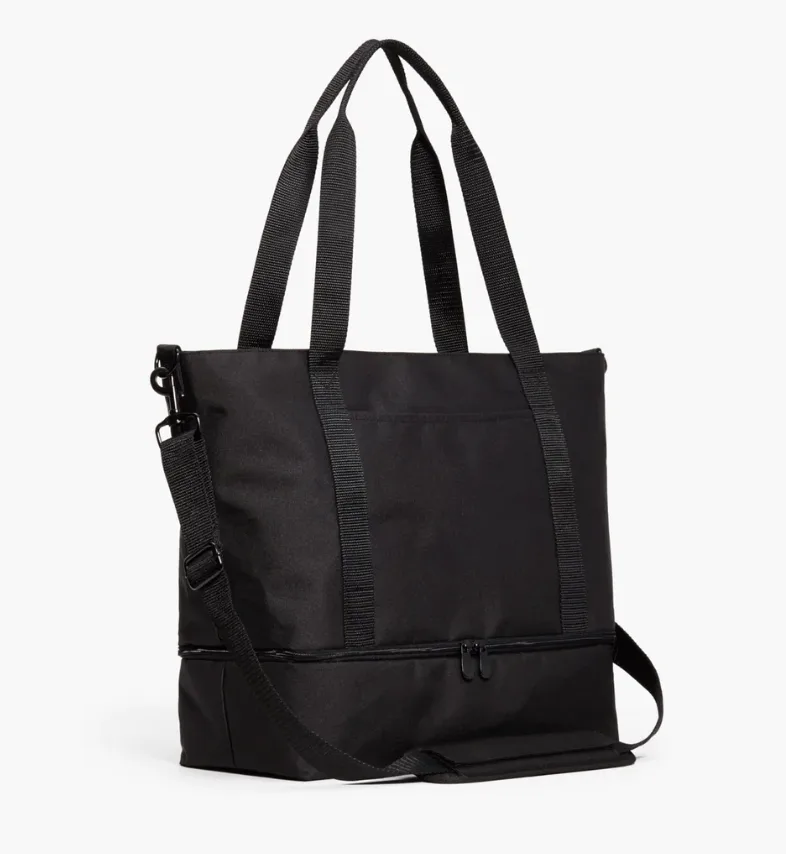 3
Catalina Deluxe Tote
Lo & Sons
$143.00
The Everywhere Bag
Finally, The Everywhere Bag by Away is another great choice.
I have Away Luggage and am very pleased with their quality and functionality.
Their Everywhere Bag is nice for a few reasons.
First, it's gender neutral so my husband can use this as easily as I can.
In fact, I think this would make a nice Father's Day or birthday gift for any man in your life.
Second, I love how it opens up.
It sort of falls to the side allowing for a large opening, making it nice and roomy.
You can fit a 15″ laptop and a small water bottle inside.
Available in several colors including black and navy (above) for $195.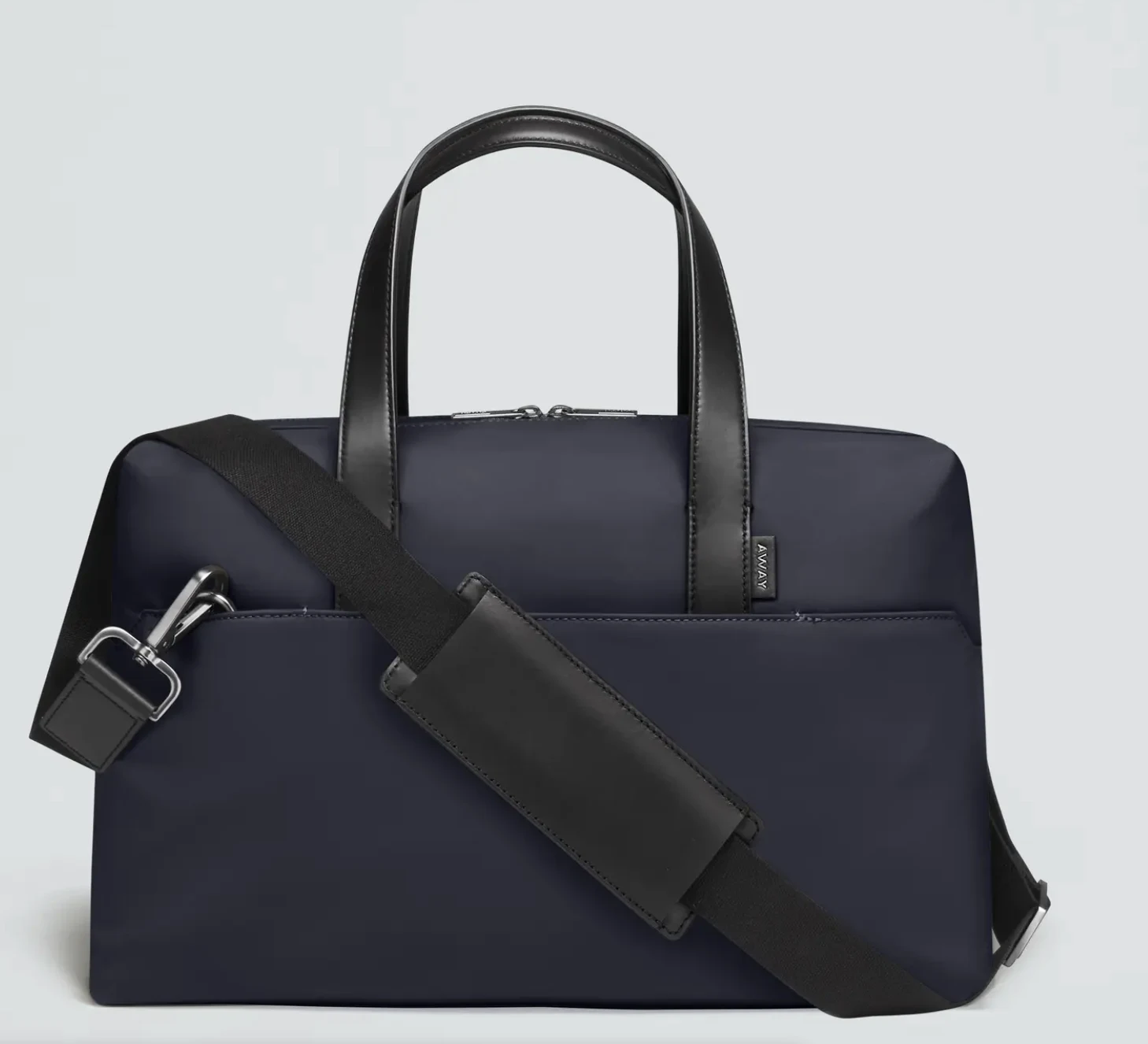 4
The Everywhere Bag
Away
$195.00