I did not have the emotional bandwidth to go through the process of looking for swimwear this summer. And yet, I ordered close to 30 swimsuits to try on at home.
All but one left me curled up in a ball of self-loathing.
I'm long past the point in life when I could mindlessly throw a bikini in my duffle bag and head to the beach. Having babies, turning 40, non-stop work and all of 2020 took a massive toll on my body.

The Miraclesuit Illusionists Crossover One-Piece is hands down the best suit I've worn in years.
Dare I say, it makes me feel pretty?
It's chic and youthful, while still taking care of all the things it needs to take care of.
It's not inexpensive, but I'm am asking for a lot. I need something supportive that covers my butt and also stylish.
The Miraclesuit Illusionists Crossover One-Piece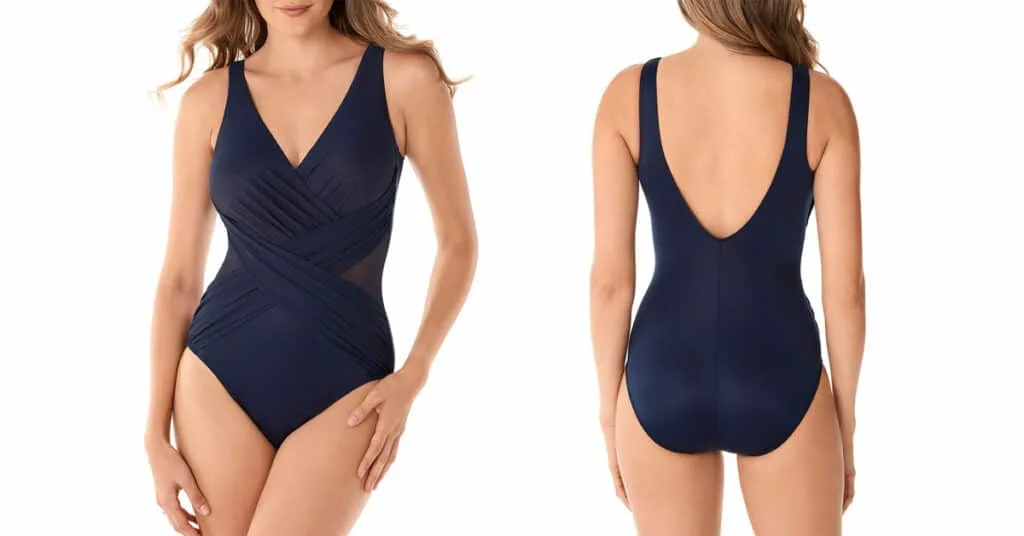 This suit will work for any body type. The v-neck line is universally flattering and the illusion waist line provides a visual slimming while also providing an element of tummy control.
Can you believe we have to ask not to let our cheeks hanging out? Thankfully, this suit provided full coverage.
There are still sizes available, but at a variety of retailers. I ordered mine from Amazon since they had the most options. Sizes start at an 8 and go to a 24. I ordered the 10.
I broke them down below:
Amazon (Black, Midnight, Sangria and Shiraz) all Sizes.
Macy's (Black and Midnight) Sizes 10 – 16.
Neiman Marcus (Midnight) Sizes 8, 14, 16
Neiman Marcus (Black) Plus Sizes 16 – 24
Bloomingdales (Midnight) Sizes 14 – 16
Our Style Content is Inspired by Our Readers
Our readership inspires all of our posts and this post is not sponsored or paid for by brands or retailers.
Recommendations are based on my experience as a personal stylist and wardrobe consultant for over a decade. I worked with busy, down-to-earth women who wanted to look chic and feel confident but were often confused by so much of retail.
Some links are affiliate links, which means if you purchase via our site, we receive a small commission.

If you enjoy our content and would like to help us grow, please follow on Instagram and join our Private Facebook Group to access more advice and exclusive in-depth conversations with other like-minded women.
Learn about our mission to help women look and feel their very best, every day, here.
Sign Up for Daily Content and Receive Our Free Classic Wardrobe Checklist