It has been dark, cold and dreary all winter on the east coast. I'm over it and I'm ready for spring. If you are too, join me in adding a much needed pop of color into our work wardrobes.
A pop of color is just that, a POP! It should feel bright, cheerful, and a little bold. But balance is a big part of making sure the color doesn't feel out of place in your look.
So I created three looks to inspire you to try a colorful staple. Today, I'm using this Banana Republic fuchsia skirt. It's available in missy and tall sizes from a 0 – 20 and she's WASHABLE. No need to dry clean.
How to Wear a Pink Skirt Three Ways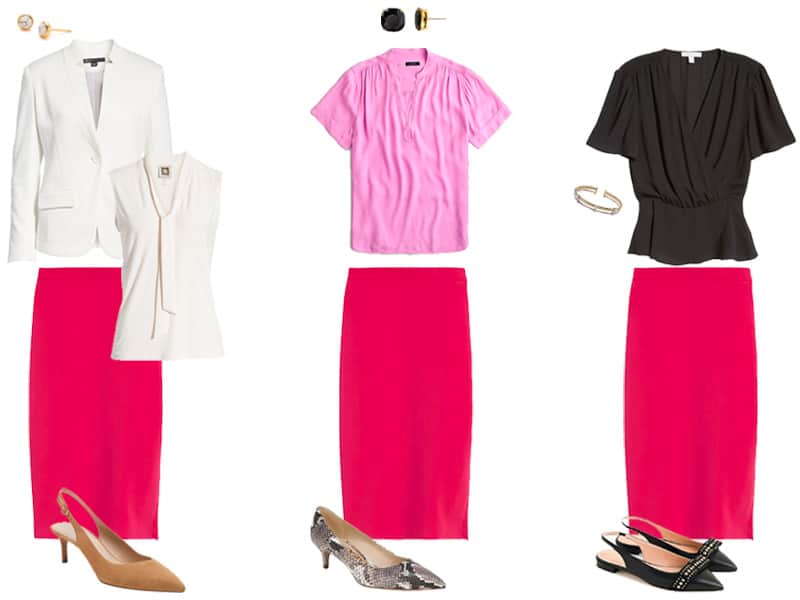 First, let's talk about how to use these three way posts. They're meant to serve as both outfit inspiration and product recommendations. I spend hours searching for the right pieces that will work for the majority of our readers.
And each piece within each outfit is meant to be worn multiple ways. Hate the skirt? Ignore it and focus on the supporting pieces. All items have as much size inclusive options as I can find.
And if something looks familiar it's because I purposely use items we've featured in pasts posts to highlight their versatility. The idea here is true wardrobe building.
Feminine Power Dressing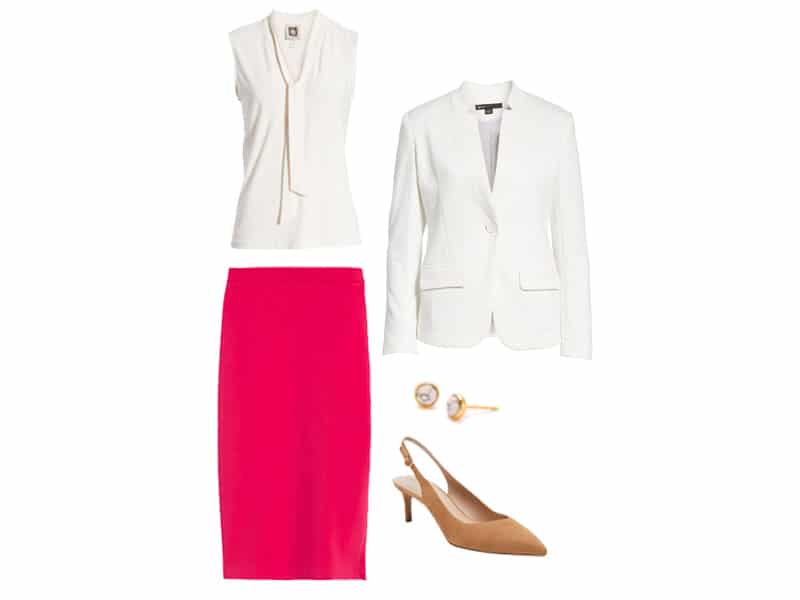 Blazer, $98 | Skirt, $90 | Blouse, $49 | Heel, $82 | Earring, $38
I want to stand on my head I love this look so much. First, every piece is a wardrobe staple that we have featured dozens of times.
This ivory blazer is a must have so go grab it. It's by Gibson at Nordstrom – many of you bought it last year – it comes in lots of colors. Wear this instead of a cardigan when you want to slightly elevate your look with some structure. It's available in petite and miss for under $100. Plus size is here.
The blazer is light enough to wear all day – it's part of the outfit so keep it on. I used the Ann Klein ivory sleeveless blouse underneath from our spring wardrobe capsule. Again, another popular item many of you already have. This creates a lovely layered look, with some depth from the fabric combination and the tie at the neck of the blouse. Scoop this up in XXS – XXL for under $50.
Then, the popular Banana Republic 12 hour heels in a slingback style. This color is called Biscotti Beige, and there are lots of other great neutral-to-you options. It's a lower heel that should be comfortable all day.
Finally, these Gorjana stud earrings for under $40 with a pretty marble finish.
Casual Color Combo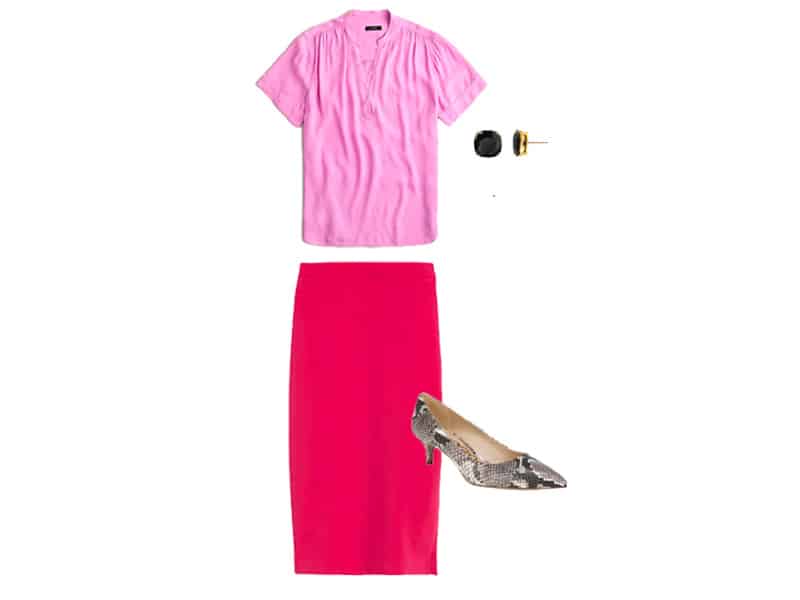 Blouse, $60 | Skirt, $90 | Heel, $150 | Earring, $38
Next up I took the skirt and played with color. I absolutely adore wearing variations of pink and red together. It use to be a trend but it's evolved into a modern color combination.
Here I used this simple short sleeve blouse, another great find on sale at J.Crew for $60. J.Crew rocks the size scale offering XXS – 3X online. This blouse is full, and meant to blouse out of your skirt. You can also pair it with simple ankle pants and flats on a warm summer day when you want to look finished but don't want to wear a lot of layers.
Another lower heel options here, this time from our go-to Sam Edelman. The snakeskin, in black and white acts like a neutral, but gives depth to the outfit.
Finally, I added an oversized black stud earring by Kate Spade, these were one of our more popular earring picks in 2019. By bringing the black up to your face, you balance the shoes and the look becomes purposeful.
Just Add Black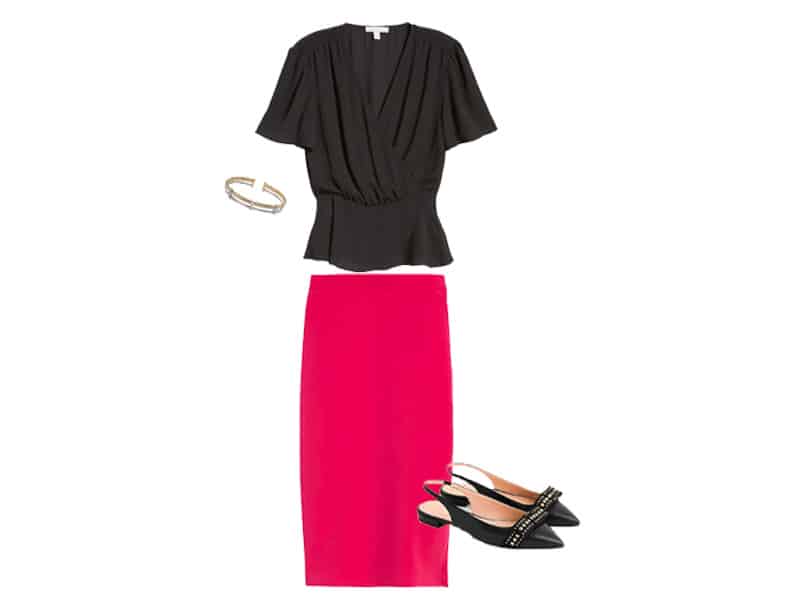 Blouse, $69 | Skirt, $90 | Shoes, $99 | Bracelet, $65
An easy and simple way to bring color into your outfit is by pairing it with black. It provides a sharp contrast.
I used this peplum blouse by Chelsea28. I'm a big fan of the brand for affordable occasion tops. To wear this, let the skirt sit under the peplum and the peplum to just fall over your midsection – it shouldn't be exaggerate.
You'll get lots of wear out of it. It works especially well with flat front, side size pants or wear it with dark jeans on the weekend when you need a "going out outfit."
Then I added these J.Crew studded bow sling back flats. I just wore them yesterday, they add the perfect amount of subtle detail.
Lastly a bracelet. I've been wanting to add this into a look because it's multi-tone, stands on its own or can be layered and is only $65.
Our readership inspires all of our posts and is not sponsored or paid for by brands or retailers.

Recommendations are based on my experience as a personal stylist and wardrobe consultant for over a decade. I worked with busy, down-to-earth women who wanted to look chic and feel confident but were often confused by so much of retail.

Some links are affiliate links, which means if you purchase via our site, we receive a small commission.

If you enjoy our content and would like to help us grow, please consider following on Instagramand join our Private Facebook Group to access more advice and exclusive in-depth conversations with other like-minded women.