Our Work Capsule Wardrobe for Spring 2020 is here! This is the first wardrobe capsule in a series of capsules we will launch throughout the season.
Today, we start with the most professional of the collections. But, while this is very much for work, some fantastic items in here are worth looking at even if you have a more casual lifestyle.
How to Navigate the Capsule
All of our capsules follow a similar formula to how I use to shop for clients. They start with a few foundation pieces, some layers and a hero piece – in this case, this tweed separate jacket.
I do my very best to offer as many size options as possible, which dictates a lot of the retailers. These are all U.S. retailers because that's what I have access to, and I stay in season with the East Coast. I don't have the capacity to do this any other way.
Other websites charge a fee for these kind of capsules, but I don't and I have no plans to in the future. Please feel free to share our posts with friends who may also benefit from them.
Scroll to the bottom of the post for a complete breakdown of all the size options. Almost every piece is available in missy, petite, plus sizes and even tall, sizes.
Spring 2020 Work Capsule Wardrobe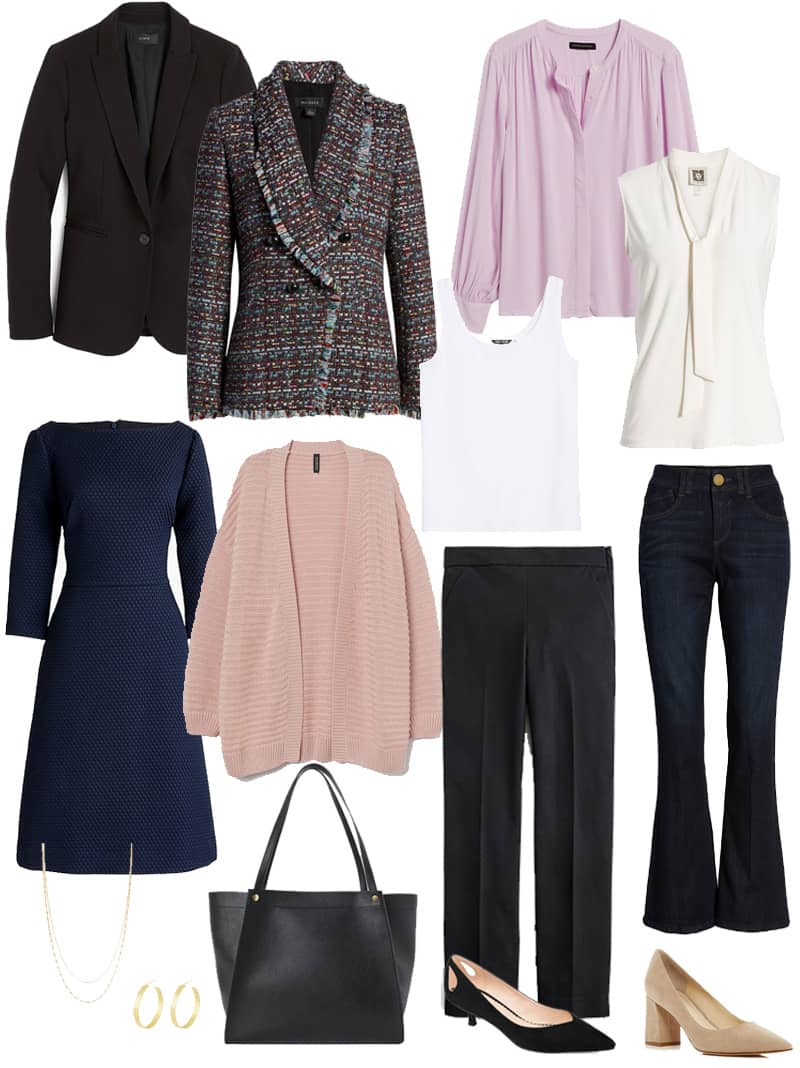 Suit Jacket, $178 | Tweed Blazer, $139 | Iris Blouse, $80 | White Top, $49 | Tank, $55 | Dress, $148 | Cardigan, $30 | Suit Pant, $90 | Jeans, $68 | Necklace, $65 | Hoops, $55 | Tote, $25 | Black Heel, $50 | Tan Heels, $160
I put a ton of thought into each of these pieces, factoring in your past purchases, comments and requests along the way, and price point based on what I know works for you.
Balancing practicality and style is the most important note to hit. I want you to feel polished and professional, confident and comfortable.
Just from the pieces above you can create 11 different outfits. That's before you add in a skirt, and a few more blouses, and other pieces you may already own, so this is a fantastic first capsule of the season.
Staple Dress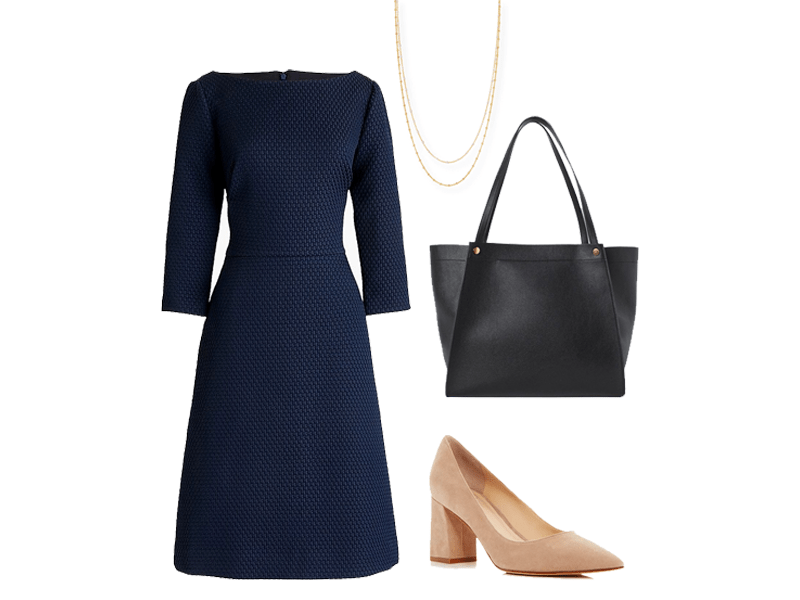 Dress, $148 | Tan Heels, $160 | Necklace, $65 | Tote, $25
A dress with a sleeve is a gift. You can literally zip it up in the morning and be dressed for the day seconds. When I talk about focusing on texture instead of pattern to elevate a garment, this is what I mean. For as simple as this dress (from J.Crew) is, it has amazing depth because of the fabric.
I'm featuring navy because it's a good navy, and feels perfect for early spring. It's also available in black which you can't go wrong with.
I paired it with these tan suede block heels I found at Bloomingdales. I like a neutral with a navy skirt in warmer weather. Generally, I recommend finding a neutral-to-you heel so you can seamlessly continue the line of your body. This heel is what I would call a generic neutral. It's darker than my skin tone, and lighter than others, but you'll get the same, soft, long legged effect.
They are also available in a lovely navy or black suede.
AND, speaking of black heels, you can absolutely wear black heels with navy.
People lose their minds when I say it's not only acceptable, but fashionable to pair black and navy together, more about that in tomorrow's post.
Then, to add more visual length, this long necklace by Gorjana provides a sliming effect by cutting through the neckline of the dress. It's $65 and you will wear it all the time.
Then I found a simple tote at H&M for only $25. I also rounded up a nice selection of work bags in this post from a few weeks ago.
Classic Suiting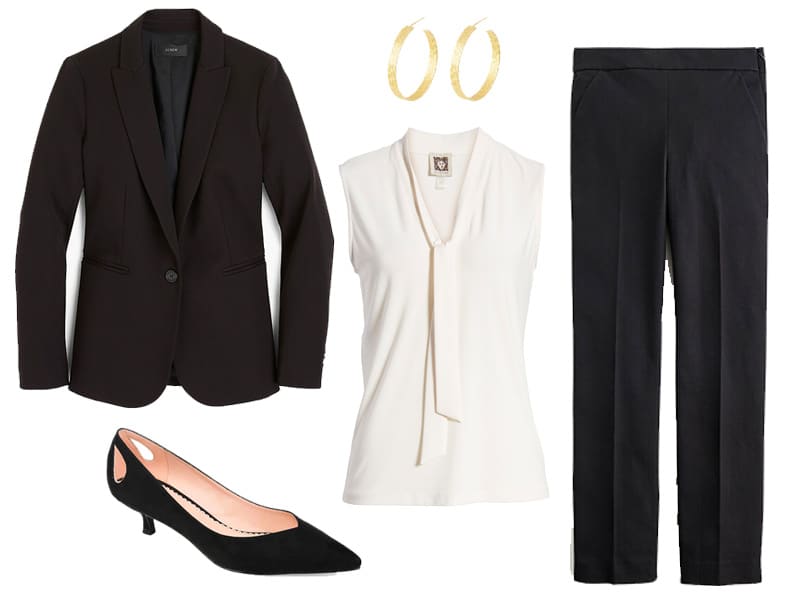 Suit Jacket, $178 | Suit Pant, $90 | Black Heel, $50 | White Top, $49 | Hoops, $55
Suiting is so much different from when many of us first entered the workforce. They use to be stuffy and overly conservative. Now, they feel more like a finished outfit.
Many workplaces are super casual, but if I were in a leadership position in any environment, I'd rock a suit every now and again. This J.Crew suit (jacket and pant) is by far one of my favorites. The pants will hit right at your ankle, ideal for spring/summer dressing.
I have long been a Theory girl. I have been a fan of their suits for years. But they are expensive and don't offer sizes after a 12. J.Crew is a wonderful alternative that is a fraction of the price and offers all the sizes.
As an under piece, buy this sleeveless tie top blouse . It's fantastic. You'll wear it with everything. Here, it's under a suit, and I use it in other ways below.
Because the top as some interest at the neck, I opted for these hoops to play off the movement. I own these and wear them all the time.
Finally, I included a low kitten heel pump for only $50 at DSW. They also come in beige, grey, navy and fuchsia. A kitten heel is a nice height to pair with an ankle pant.
Hero Blazer
Tweed Blazer, $139 | White Top, $49 | Hoops, $55 with either Suit Pant, $90 | Black Heel, $50 or Jeans, $68 | Tan Heels, $160
When we talk about a hero piece, it's usually a statement piece that makes the whole capsule work. This tweed blazer by Halogen at Nordstrom is that piece here. Use it to add some personality to your basics. Plus size option here.
Above I'm showing it with the suit pants, the white tie neck blouse and the black kitten heels for one outfit.
Next, take the same blouse, or just a simple tank, and pair it with flare leg jeans and the tan suede block heels. For both looks, wear the gold hoop earrings.
Add Casual Layers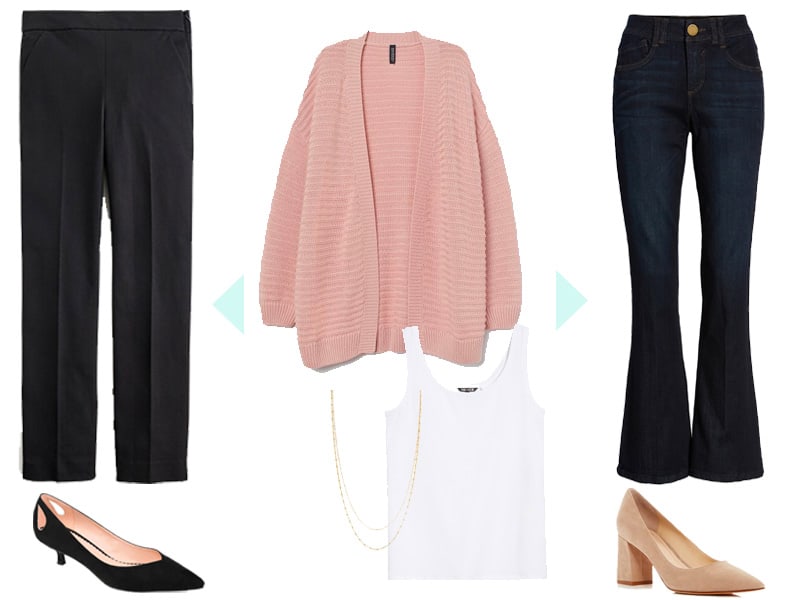 Cardigan, $30 | Tank, $55 | Necklace, $65 with either Suit Pant, $90 | Black Heel, $50 or Jeans, $68 | Tan Heels, $160
Next, we dress the basics down with a cozy layer. By now you know knits from H&M are my budget friendly resource (this one is only $30) for high style, low price point pieces that take your look up a level.
I went with the pink option, but it's also available in black or white.
Underneath, I used the Nic + Zoe "perfect" tank, and let me tell you, it is pretty close to perfect. It's available in an array of easy to wear colors and neutrals, in missy (up to an XXL) and petite here. Plus size available here.
Because the sweater is long and open, the long necklace will complement the style nicely.
Alternatively, you can wear the tie neck sleeveless blouse, skip the necklace and wear the hoops.
Pretty Go-To Blouse
Iris Blouse, $80 | Necklace, $65 with either Suit Pant, $90 | Black Heel, $50 or Jeans, $68 | Black Heel, $50
Finally, sometimes you just want to throw on a blouse and a great fitting pair of pants. This blouse from Banana Republic comes in nine colors, in missy, tall and petite. It's so pretty, has simple details and is easy to wear. Just add the long necklace and pair with either bottom for a go-to professional, yet casual chic outfit.
Size Information
J.Crew
Suit Jacket, $178 Classic sizing from 00 -24, also in petite and tall.
Suit Pant, $90 Classic sizing from 00 – 16, also in petite and tall. Alternatively, these pants also match the suit jacket and come in classic sizing 00 -24, also in petite and tall.
Dress, $148 Classic sizing, also available in petite and tall.
Nordstrom
Tweed Blazer, $139 Available in missy and petite, from an XS – XXL, plus size here.
Tank, $55, Nine colors, available in missy and petite from XS – XXL, plus size here.
Jeans, $68 Available in missy and petite from size 0 – 18, generally run large, plus size here.
White Top, $49 Available in XXS – XL (size 16)
H&M
Cardigan, $30 Available in pink, black and white, XS – XXL
Tote, $25
Banana Republic
Iris Blouse, $80 Available in nine colors, XXS – XXL in missy, petite and tall.
Neiman Marcus
Necklace, $65
Hoops, $55
Bloomingdales
Tan Heels, $160
DSW
Black Heel, $50
________________________________________________________
Our content is not sponsored or paid for by brands or retailers in any way.
Recommendations are based on personal experience and my time working with women as a stylist and wardrobe consultant for over a decade. Some links are affiliate links, which means if you purchase via our site, we receive a small commission.
If you enjoy our content and would like to help us grow, please consider following on Instagram and join our Private Facebook Group to access more advice and exclusive in-depth conversations with other like-minded women.
_________________________________________________________