"What are you wearing tonight?"
"Jeans and a going out top, what are you wearing?"
"Yeah, same."
For women over 35, "going out tops" were a staple in our wardrobes and vocabulary.
They were the key piece in a very literal uniform.
And 20 years later, I still call them going out tops, what else are they?
I know you do too, because when we host our Wardrobe Challenge "going out tops" are always a void in our participants closets.
This is the time of year, if you're like me, you probably need a few to get you through until fall.
Because the second the weather warms up there is so much to do: nights on the patio with friends, dinner dates, drinks with the girls, the occasional shore bar – bonus points if there is a band.
So I thought it would be helpful to round up some options, for us grown ups, who still go out and have fun, but don't want to dress like we did when we were 21.
As always you can shop these options directly or use them to spark some inspiration.
Halters
Halters are one of the most flattering necklines that show off your shoulders and work for any size bust.
It's a more sophisticated version of a sleeveless top.
And they are abundant this season.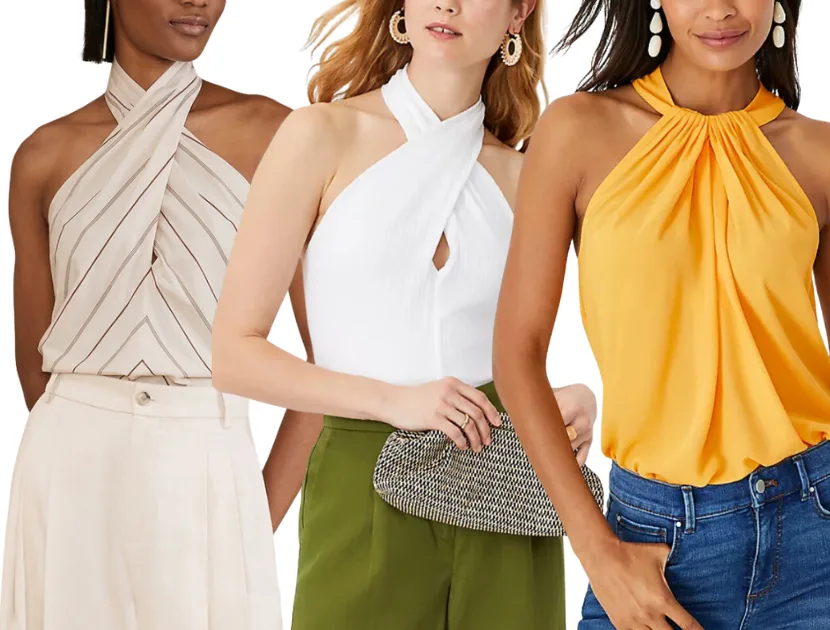 Banana Republic has a gorgeous option in camel brown, black or ecru stripe (above). Available in XXS – XXL.
I like that it's not fitted in the waist so you can either tuck it in and have it blouse or wear it out and get some midsection coverage.
Ann Taylor has two flattering styles. The first is this criss-cross hater in a ribbed material available in regular and petite sizes XXS – XXL with your choice of navy, aqua or white (above) for $54.50.
This is a more casual option, would look cute with any kind of bottom including shorts.
The second Ann Taylor option is this GORGEOUS drapey halter, with more coverage, also in regular and petite in XXS – XXL, for $54.50 in color "citrus sun."
I also like this smocked linen option from Boden, in three colors , this bow back style from Nordstrom, with plus size options here, and I love this plus size option from City Chic, also at Nordstrom.
Fun Sleeves
Next up, if a halter is too bare for you, look for something with fun sleeves.
They can be sheer, full, with cut outs, or any kind of special detail.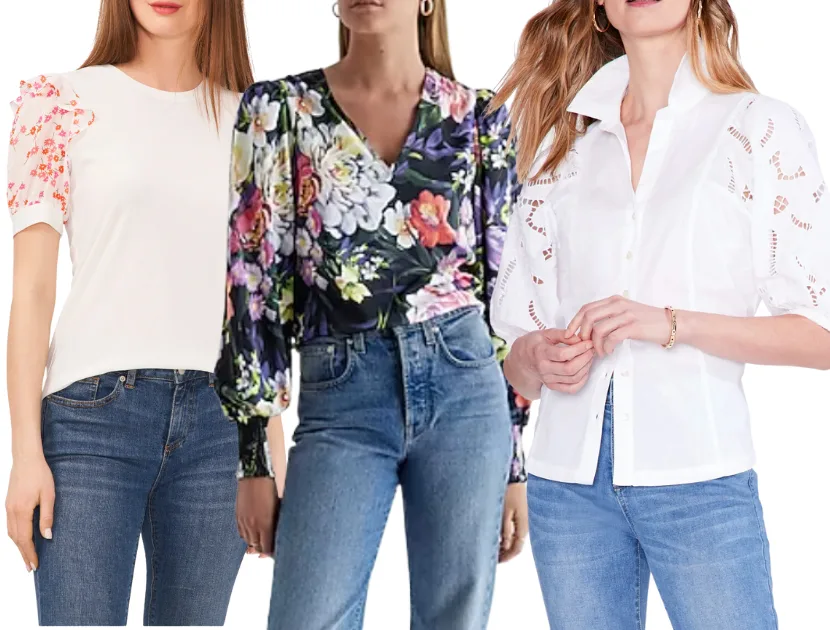 Our first option is from CeCe, a brand we love for the fun and feminine tops.
We're showing it above in ivory, with delicate sheer sleeves and a tiny floral print. Also available in navy, green or pink in sizes XXS – XXL on sale for $47.20.
Next is from Express, the original store for going out tops.
This long sleeve, bold floral print reminds me of something you would find at Ted Baker for a third of the price.
It has a flattering v-neck line and subtle puff at the shoulder, which just adds some needed structure.
Available in XXS – XL for $58.
I would style this with white trousers or light washed denim.
Our third option is from Nic + Zoe. I adore this eyelet sleeve detail on a collared shirt made with cotton stretch. Available in XS – XXL here, and a plus size version here.
Of course, you can wear this with summer trousers and jeans, but don't be afraid to try it with polished shorts too.
Wrap Tops
The wrap top is a universally flattering style, that comes in a dozen iterations.
By cinching the waist you bring the eye in giving the body a lovely, curvy shape.
You can wear any style bottom with any of these tops, just be sure that the waist is either a classic or high rise.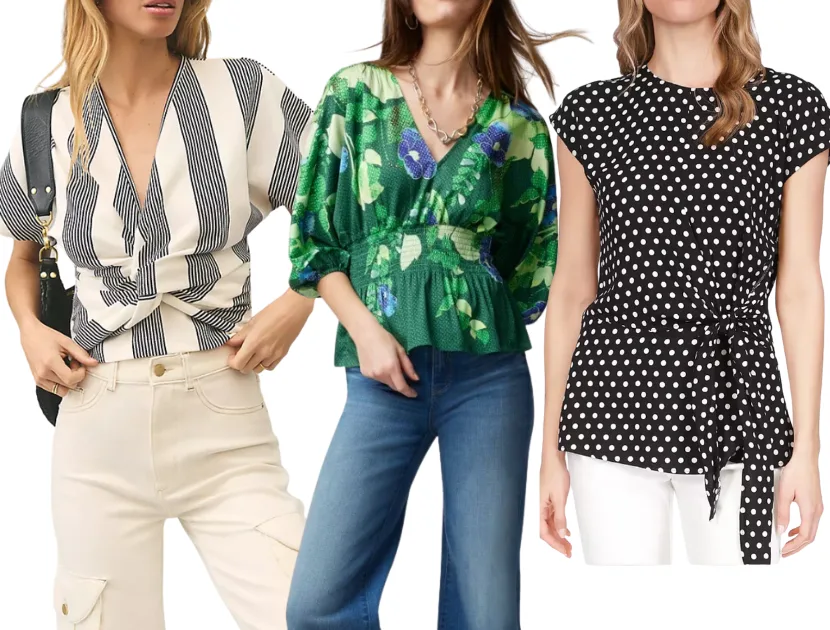 Starting off strong with an under $100 Reader Favorite from Anthropologie. It's not technically a wrap but it does the same thing by drawing the eye in.
Available in standard, petite and plus sizes in navy (above) or orange.
Next, a kimono style sleeve with faux wrap detail from White House Black Market. Available in sizes XXS – XL for $99.
The bold green and blue print will work beautifully with white, navy or dark denim bottoms.
And rounding out the third spot, this side-tie wrap from Michael Kors available at Bloomingdales in sizes XXS -XL.
Off the Shoulder
Oh, how I love an off the shoulder top.
They are easy and breezy, perfect for summer. Have a soft and feminine vibe and can go anywhere with anything.
Did I buy all three of these? Yes I did.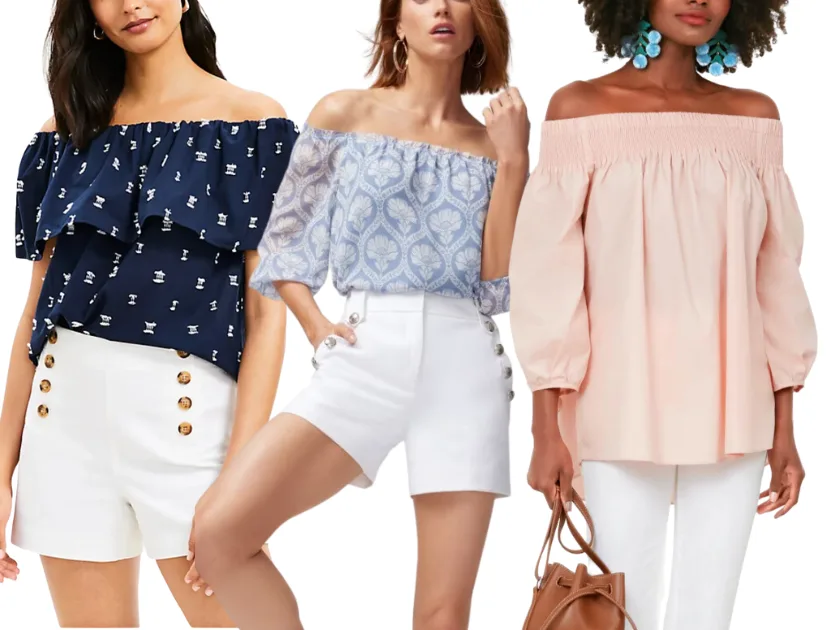 From LOFT, this navy and white off the shoulder, 100% cotton top is a no-brainer. I just adore how it looks with white shorts or ankle length white jeans.
Available in regular and petite sizes in XXS -XXL, on sale for $42.
A similar option form White House Black Market is this pretty elbow sleeve printed off the shoulder blouse in a pale blue print.
Style with white or dark denim. Available in XXS – XL.
Finally, from one of our favorite speciality retailers, Tuckernuck, is this off the shoulder top with bracelet length sleeves that pairs with a slim lined, ankle pant beautifully.
Retails for $78 in sizes XS – L.
Structured
Finally, consider a few tops with some structure or architectural details.
Their clean style gives a chic and elevated feel and they can take you anywhere fun on your agenda.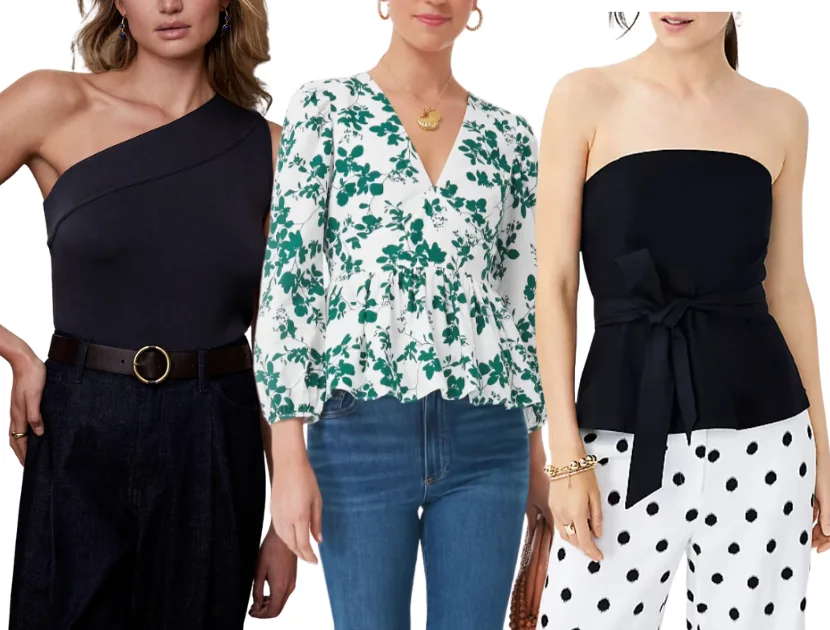 First up, a one-shoulder style top.
These are wildly popular. You can find them in prints and every color of the rainbow, but we're featuring one for under $30 from Banana Republic Factory, available in a range of neutrals, including navy, black, and white in XXS -XXL.
Done in a stretchy scuba knit, this will fit close to your body.
Next, this peplum style from Tuckernuck in a fresh green and white print in cotton is lovely. Available in XS – XXL for $128.
It looks best with slim or straight-leg bottoms.
Finally, don't say no immediately to a strapless top. A friend of mine wore one out the other night, and it looked adorable with a pair of slightly distressed jeans.
This one from Ann Tayor is stunning, done in a linen blend. I love how tailored it is, with a simple self-tie belt you can remove and add your own.
I also love how they have styled it with wide-leg polka dot pants. So you can have some fun with this one.
Available in sizes 00 – 18 for $69.50.