I know, I know, it's only February. Many of us are still buried under a blanket of snow, and spring seems so far away. But over in our Private Facebook Group, there has been lots of talk of white jeans. So today, I'm sharing what I think are the BEST pair of white jeans. And you can head over to the group to read everyones recommendations. 🙂
If you could only buy one item to update your spring and summer wardrobe, consider a pair of white jeans. I wear mine all the time. You can pair them with just about anything and instantly create a crisp look that is always classic and always appropriate.
Before we jump in, a few things to remember. I'm never one to create a sense of urgency. We are only talking about clothes. Keep in mind, though, that the spring and summer retail season goes by in a blink. While you may have warm temperatures for a decent amount of time, you don't have a ton of time to shop for what you need.
Shop early for specific categories, like swim (kill me now), shorts, and white jeans.
Especially now that we're entering the first retail season after a year of pandemic life, the depth of inventory that retailers carry is going to be much different than seasons past.
Let's continue our Basics Building Series, with great fitting white jeans in straight or skinny legs in all sizes that are NOT SEE THROUGH!
The Best White Jeans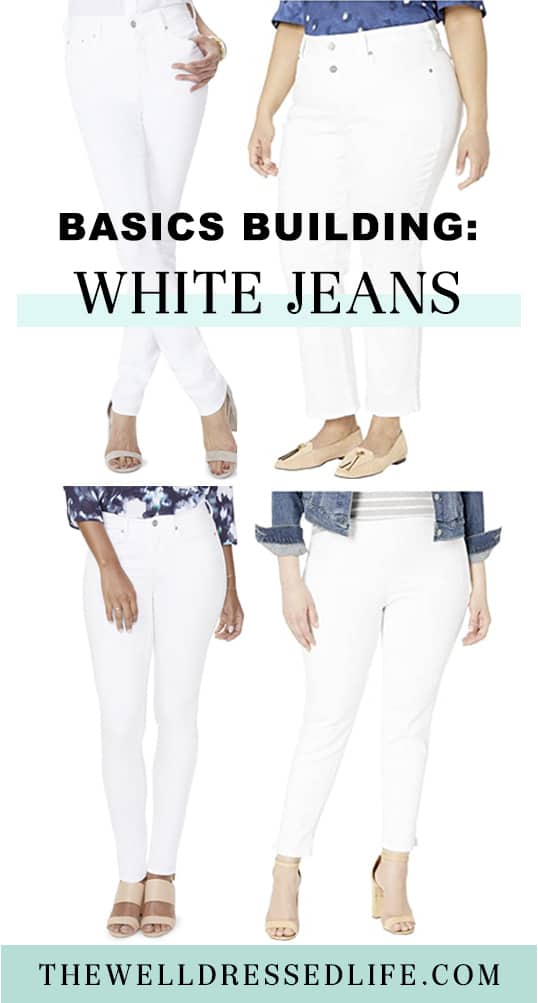 My favorite white jeans, not only for me but for clients, are by NYDJ. Their fit is on point, they are comfortable, NOT see-through, and reasonably priced.
Let's talk about price for a minute. White jeans range in price from $25 for Old Navy, to multiple hundreds of dollars.
I see no reason to spend an exorbitant amount here, but you might want to spend a bit more to get a quality pair.
NYDJ averages $119. You can find them on sale throughout the season so keep an eye out.
In terms of styling, straight or skinny leg is the way to go. Skip trouser or boot cut because they end up looking sloppy, and the whole point fo white jeans is to create a clean and tailored look.
The most important sizing note, specifically for NYDJ is to SIZE DOWN. These run full and stretch out.
Straight Leg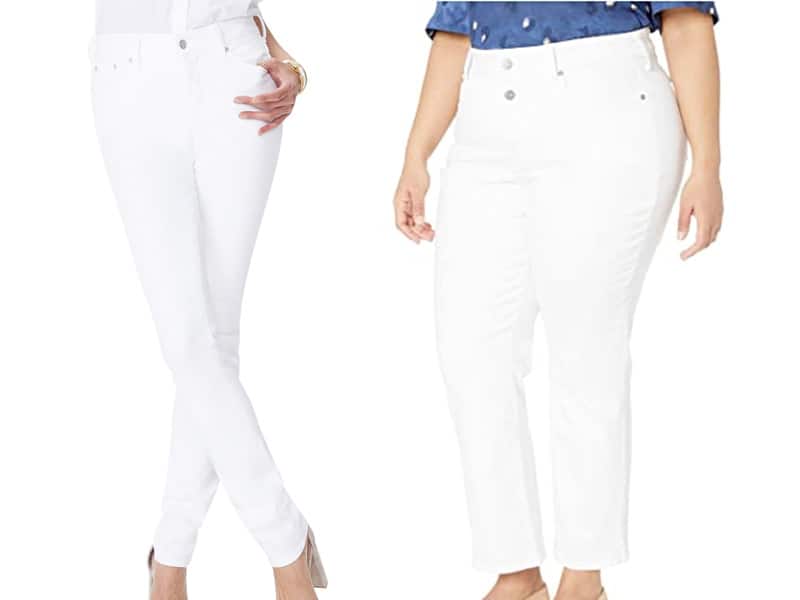 A straight leg white jean is a nice alternative to a skinny while still creating a long, lean line of the leg. You want these to hit around your ankle, either just at or slightly below. This way, you'll be able wear them with a low heel or flats.
Here are my best picks:
NYDJ Marilyn Straight Leg Jeans, 00-18, $119, Plus Size, 14 – 28, $119
Skinny Leg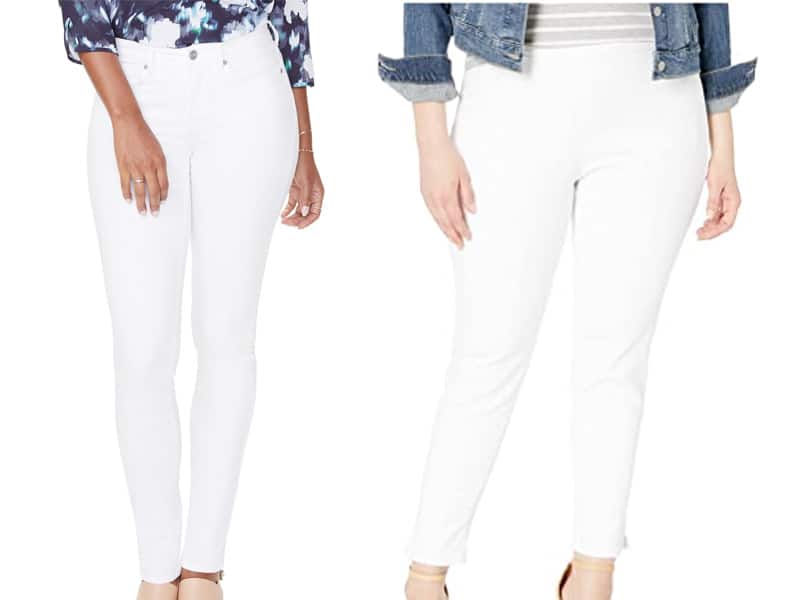 Skinny: Petite and Regular, on sale $44
Then there is the skinny. Remember that while you'll feel these on your body, they are not the same thing as a legging. If they are too tight, especially in white, you'll be showing off everything. You still need to size down in these, they run a full size big.
Here, I'm featuring the petite and regular also in 00P – 16. There are two plus options to highlight. The first is the denim plus option here, and above is a stretch cotton pull on pant that is a nice alternative to denim.
Alina Legging Jean, Petite, 4P – 18P, On Sale, $44.
Ami Skinny Jean, 00 – 18, $119
Amin High Waist Skinny Jean, 14 – 28, On Sale, $50
Our Style Content is Inspired by Our Readers
Our readership inspires all of our posts and is not sponsored or paid for by brands or retailers.
Recommendations are based on my experience as a personal stylist and wardrobe consultant for over a decade. I worked with busy, down-to-earth women who wanted to look chic and feel confident but were often confused by so much of retail.
Some links are affiliate links, which means if you purchase via our site, we receive a small commission.

If you enjoy our content and would like to help us grow, please follow on Instagram and join our Private Facebook Group to access more advice and exclusive in-depth conversations with other like-minded women.
Learn about our mission to help women look and feel their very best, every day, here.
Get on The INSIDER Waitlist for Spring/Summer 2021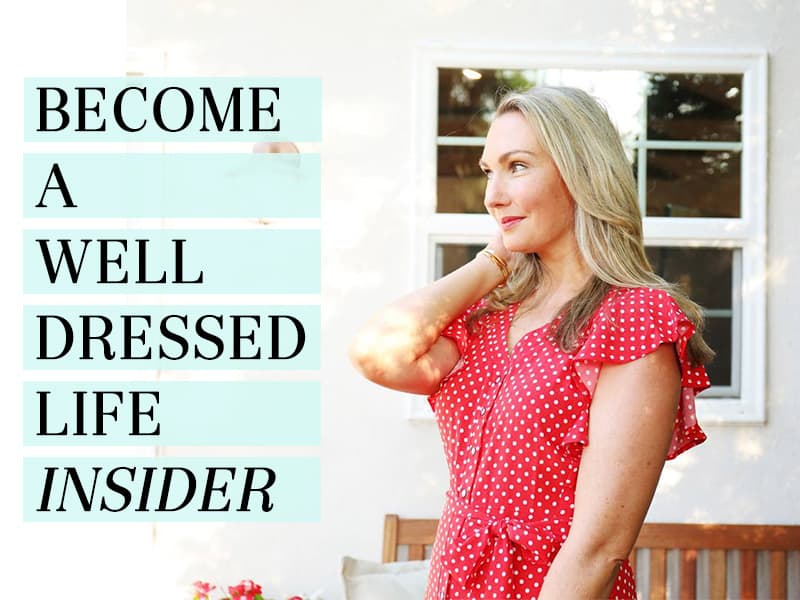 Sign Up for Daily Content and Receive Our Free Classic Wardrobe Checklist