We are going to have a rainy Halloween. Hopefully, it's a mist and not a downpour since my kids all have BIG plans for the evening.
This is the first year my oldest is allowed to go around by herself with her gang of friends. Of course, they had to do a group costume, and that has been changed no less than 400 times since they first started planning in August. As I write this, I have no idea what they landed on. She keeps telling me that "we're just wearing leggings, mom, it's fine."
My nine-year-old has had her Captain Marvel costume ready for months and is currently plotting her path around the neighborhood, having already selected the biggest pillowcase we have to carry her candy. (That always makes me laugh since I let them keep about a dozen pieces and donate the rest).
And it's Vivi's first Halloween, so I'm pretty excited about her Mini Mouse costume and showing her off for a bit.
If it pours, I will have to host an impromptu party for all of them, so fingers crossed the weather holds out.
Assuming it's at least drizzling, I'll want something warm but still neat and chic. So, using our "Item of the Week," here is the perfect outfit for a soggy Halloween night or any chilly fall day.
Outfit Inspiration for a Rainy Fall Day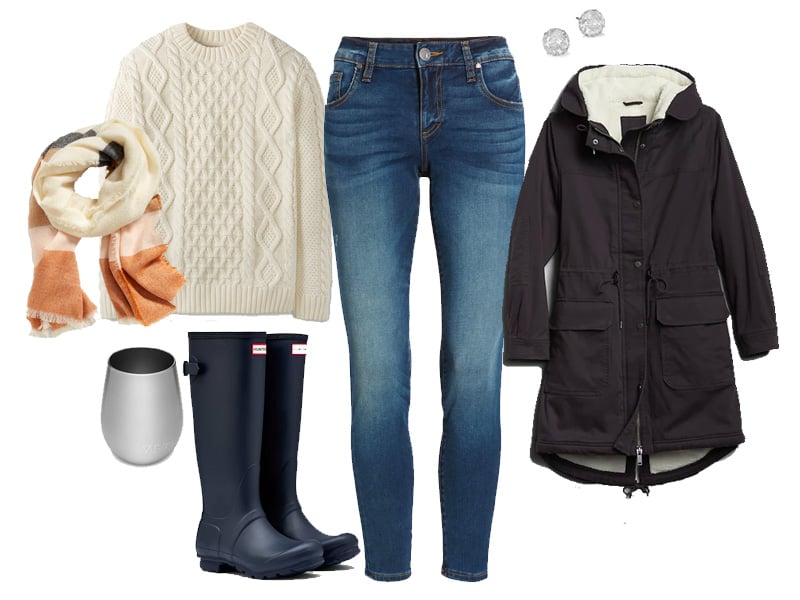 There are lots of versatile pieces in this quintessential fall look that will weave beautifully throughout your wardrobe.
First up, this cable knit sweater is unisex, so it runs true to full depending on how you like things to fit. I love it here since it's one piece that will keep you warm and adds some texture. It would also be wonderful to take on a ski trip to throw on after a long day on the slopes.
Next, this parka from Gap is fantastic. It's warm and sleek. I like the adjustable pull string at the waist to give it some shape, and the hood will come in handy. I pulled it in the navy because that's my favorite, but it's also available in olive, a stunning off-white.
Rainy days call for a classic pair of Hunter Boots. I say this every season: Hunter Boots are on the top of my best purchases ever list. Every single time I slip into them on a miserable day, I am always so delighted I bought them. They work best with skinny jeans, like these by KUT. For even less, you can go with our favorite Old Navy Rockstar Skinnies for $28.
Wrap this scarf around your neck to pull the cream and the navy together, it makes the look feel cohesive. It looks high-end, but it's only $14, also at Old Navy. Add a simple yet updated stud for under $40 and grab your wine tumbler, because who doesn't love a little wine with friends while the kids trick-or-treat?
Outfit Details
[affiliate_product id=" 28612″ align="left"]