This content has been archived. It may no longer be relevant
I romanticize the fall big time, with visions of pumpkin patches, and apple cider and Instagram worthy family photos. But, inevitably, we end up buying our pumpkins at Home Depot, no one really likes apple cider, and getting one decent family picture takes a herculean effort and a professional photographer.
The one thing I do get right, is fall style. Getting dressed for the season is probably the only thing I execute well this time of year.
By mid summer I am R.E.A.D.Y for layers, so the second the air feels crisp, I pile on.
If you are on the east coast like me, the last few days have been beautiful and ideal for early fall layering. There are so many vest options at retail, but many are designed first for warmth and then for style.
A utility vest, however, is a lightweight alternative, that adds interest without bulk. Add it over a tee shirt and pair of jeans for an instant style update on busy weekends.
How to Wear a Utility Vest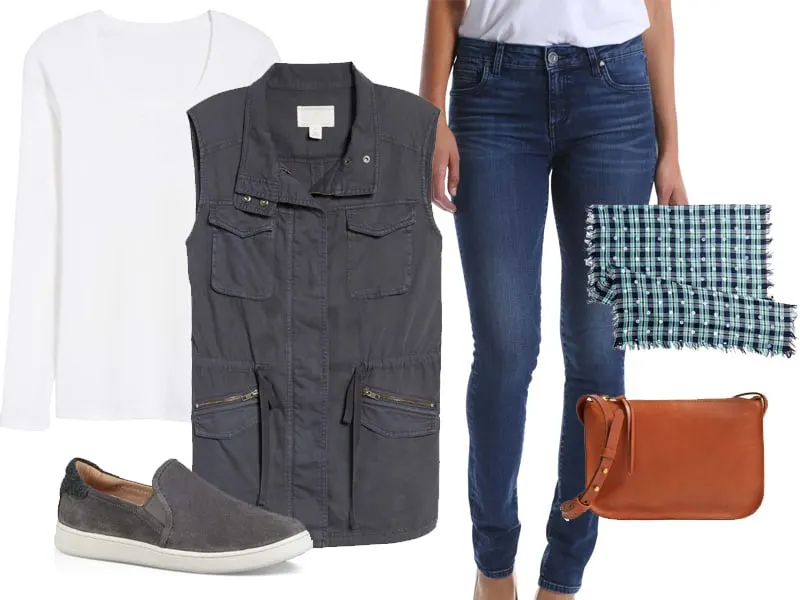 Vest, $79 | Jeans, $89 | Sneakers, $100 | Tee, $25 | Scarf, $50 | Bag, $98 (on sale $73)
If we do go, this is what I want to wear. Layers, and warm tones, and sporty, chic goodness. Are layers the best part of the fall?
The Vest
This time of year a lightweight vest is such a nice alternative to a traditional jacket I like the sportiness of a utility vest, paired with other simple elements. This one by Caslon at Nordstrom is under $100 and acts not only as a layer but will also pull you in at the waist. You can keep it zipped, or leave it open based on your preference. It's also available in a trend-right olive.
The Tee
Stock up on this!
Basic long sleeve tees that you can wear as either a layer or on their on are hard to find. So I was delighted to discover this one, also by Caslon at Nordstrom for $25. It's no frills, which is just what you want. They're high quality without a super high price tag, wash well and will be a go-to in your wardrobe if you're a jeans and tee shirt kind of girl. Lots of sizes are available including petite in an array of basic colors and stripes.
The Jeans
The nice thing about this look is you can wear any style jean you desire. Skinny, straight or bootcut all work here, so wear your best shape. Today I featured an under $100 dark skinny option from Kut from the Kloth. They offer a wide size range, including petite and can be worn like we have them here with sneakers, with flats, or knee high boots.
The Sneakers
A slip-on sneaker is a slightly more sophisticated alternative to tie top sneakers. They are still sporty and functional, but a little more finished. These don't look like it, but these are UGGS. They combine the comfort of a slipper with the practicality of a sneaker.
Scarf and Bag
It's not the Fall until you wrap yourself up in a plaid scarf. This one from J.Crew is a whimsical take on a traditional print mixing polka dots into the print. (As I write this it's 40% off). Loop it around your neck and tuck it into your vest.
Finally, I like a crossbody with no bells and whistles. I want simple, clean lines with enough room to keep the essentials without weighing me down. This one from Madewell fits the bill, and looks extra rich in "English Saddle."
Have a great weekend!