In the world of beauty, Korean Face Masks are all the rage. You may have seen them on other blogs, in magazines or on your Facebook or Instagram scroll. They are everywhere. So what's the deal? Are they worth it and should you incorporate them into your beauty routine? It depends on what you need.
Korean face masks are sheet masks. They are packaged individually and are for one use only. The sheets are soaked in powerful, good-for-you serums and then cut to fit the contours of your face. When you apply, place it over clean, dry skin, press gently into place and let sit for 20 – 30 minutes. The idea is that the sheet helps the serum absorb into your skin for maximum benefit.
I've tried dozens of different brands over the last year, and nothing blew me away. Some made my skin feel nice for a few minutes; others seemed like gimmicks. Nothing was worth writing about until I tried Exilir Cosmetic's Golden Face Mask.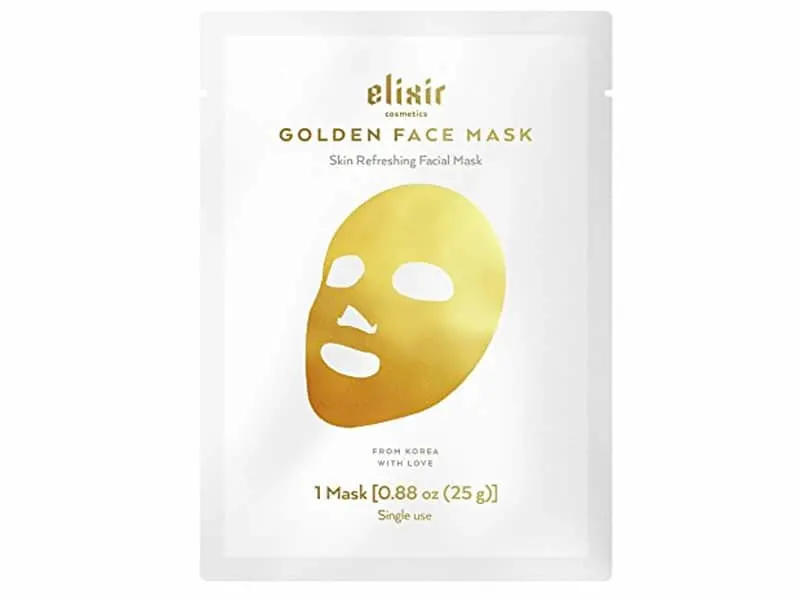 No mask, serum, or topical cream of any kind is going to erase wrinkles. It doesn't work like that. Some creams may lessen the look of fine lines and wrinkles, but they will not eliminate them. And that's okay; your skin needs more than wrinkle management. What your skin needs the most is moisture. And that's what an effective sheet mask will deliver.
I spent some time researching high quality yet affordable masks. After reading the amazing reviews this receives on Amazon I had to give it a try and I have to say, it's pretty great.
Like I said, you're not getting long term wrinkle reduction. However, this does hydrate and plump your skin so you look fresh and well rested – which is all I'm really going for these days. Most surprising what how effective it was in the evening my skin tone. I'm insanely pale skinned and prone to redness, especially on my cheeks and nose. With one use it was noticeably calmer.
I'm incorporating this into my routine two ways. First, I throw one of these in my bag when I travel. I flew to Denver first thing Monday morning to give a speech Monday night. Between the long flight and change in altitude, my skin was dehydrated. I put this on, and 20 minutes later my skin looked and felt a whole lot better. I've made a habit of using it one night whenever I'm on the road. It makes living out of a hotel for a few days feel a bit more indulgent.
I also use it before a night out. Whether it's a party with friends or a simple date night, I'll put this on before I do my makeup and I'm always amazed how little coverage I need. It's a nice way to allow your skin to glow through and skip all the heavy make up. Be sure once you remove the mask to press the remaining serum into your face, neck and even hands. Wait for it to dry before you add any other products or makeup.