By now, we all know that wearing sunscreen every day is a must. And many of us (raises hand) wish we spent our younger years embracing SPF a little more.
While I was at the beach last week with my family, I saw my 13 years old attempting to sunbathe. She was convinced she needed a "base." Don't worry, we sprayed her down with SPF 70.
Bless her freckled-faced heart. I did the same thing when I was her age, like an idiot. I am just waiting for the day she discovers self-tanners.
But unlike her, I remember the days of sunscreen feeling like you were slathered with Elmers Glue. And back then, we only wore it in the summer, when we would be outside for long periods of time.
Today, it's should be an essential part of our daily beauty routine.
The BEST Sunscreen for Your Face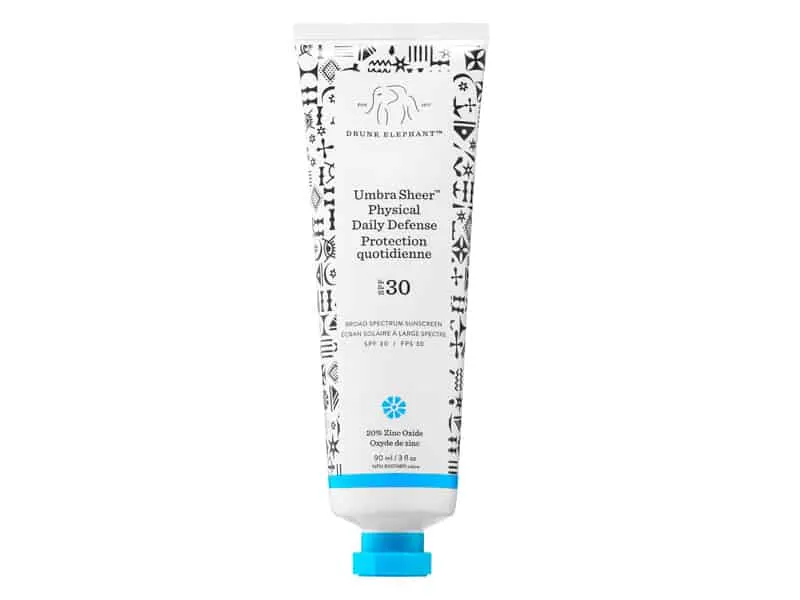 Sunscreen, $34
As someone who burns looking at the sun, I've tried so many sunscreens specifically for my face. Sometimes they were part of my foundation or a tinted moisturizer, but I find having a separate one especially helpful this time of year.
I discovered the Umbra Sheer Physical Daily Defense by Drunk Elephant a few months ago, and I will never try another one. It goes on easily, like a light moisturizer, and absorbs into your skin instantly, leaving no sticky film or residue and makeup layers on wonderfully.
I keep my morning skincare routine simple, considering how involved it is before bed. All I do is lightly wash my face with this Tachta face oil, follow up with my favorite face oil, wait a minute, then put on this sunscreen.

Shop this Post
---
Our Content is Inspired by Our Readers
Our readership inspires all of our posts and is not sponsored or paid for by brands or retailers.
Recommendations are based on my experience as a personal stylist View Post and wardrobe consultant for over a decade. I worked with busy, down-to-earth women who wanted to look chic and feel confident but were often confused by so much of retail.
Some links are affiliate links, which means if you purchase via our site, we receive a small commission.
If you enjoy our content and would like to help us grow, please consider following on Instagram and join our Private Facebook Group to access more advice and exclusive in-depth conversations with other like-minded women.
---