Perhaps the most challenging time of year to get dressed for work is right now. As the weather outside warms and the air conditioner in the office gets set to "arctic" many of us are left standing in our closets more confused than usual.
Because layers create interest by allowing us to play with different fabrics and create a variety of silhouettes, they are an important part of any outfit. So when we are limited by how many layers we can wear, we need to find pieces that can both stand alone and be versatile in our wardrobe.
How to Wear Tie-Waist Pants Two Ways
That's why I am delighted with how today's post came together. These two looks are the definition of classic with a twist. The featured pants are what you buy when you already have your basics covered on sale at a price you can feel good about.
Tie-waist pants, also known as "paper bag pants," have seen a resurgence in retail over the last few years. Contrary to what you may think, they are surprisingly flattering with the correct fit. Often you'll see exaggerated versions in print and online. The pant legs will be too wide, or long, and most commonly you find the waistband unnaturally high.
Instead, look for a pair with a classic cut, that fits well around your bottom and elegantly drapes on the leg. The cut of these, in this gorgeous grey/green color, is stunning. Also available in black up to a size 18.
There is only one rule to follow when wearing these. Because the pants are the focal point of the outfit, you have to show them off properly. To do so you have to either tuck in your top or wear something form fitting. Today, I'm showing two "tuck in" options specifically for work. But you could easily wear these on the weekend with a fitted tee shirt.
Let's break down our two looks:
Outfit One: All Day Meetings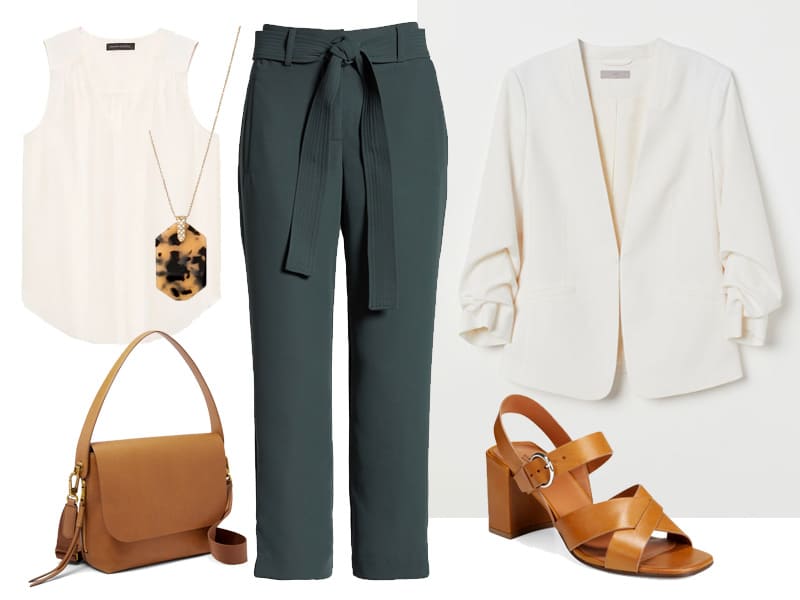 Pants, $53 | Blazer, $50 | Shell, $90 | Necklace, $17 | Sandals, $275 | Bag, $118
I love this look so much I might have to find some meetings to attend. What's so great about today's post is that I used items I know many of you have picked up this season. So whether you buy these particular pants, or find something similar, you already have some ways to wear them.
This shell from Banana Republic has been popular for the past few weeks. It is simple, with a beautiful fit that just falls off your shoulders. The drape of the tank complements the drape of the pants. (Bonus: the tank is made of washable silk!)
Tuck in the tank to show off the waistband.
Next, add a blazer. We featured this H&M blazer a while back. It's perfect for these pants because the ruched sleeve reinforces the casual vibe of the outfit.
Be careful with the kind of blazer you pair with these pants because too many buttons or details on the jacket will compete with the tie-waist. Here, there are no buttons or closures so the waistband can stand out.
You do want to wear a heel here so the pants have the ability to drape correctly, otherwise your proportions will be thrown off. I've talked forever about these investment Via Spiga block heel sandals. They are so comfortable and chic. A rich tan shoe and bag create a sophisticated color combination.
Pull it all together with this $17 necklace from Target that I've personally been wearing to death since I picked it up a few weeks back and you'll look professional and seasonally appropriate.
Related: Why I Hate Capris and What to Wear Instead
Outfit Two: Everyday Office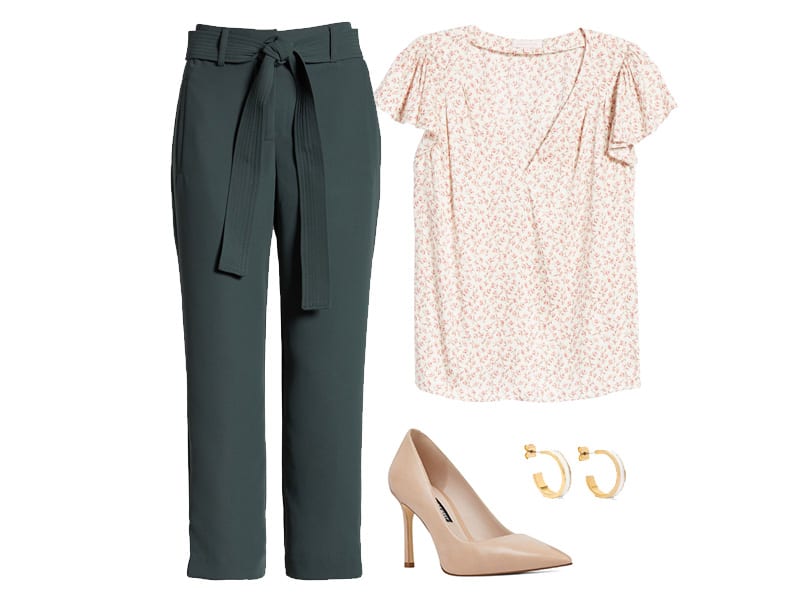 Pants, $53 | Blouse, $275 | Earrings, $50 | Heels, $89
So how do you create a composed outfit when you don't want to wear a blazer? In this case, work with individual pieces that all have a subtle extra detail.
It took me a minute to find a blouse that would serve as a good example. This blouse is expensive. You can wear it with jeans, white pants, or under a suit if you like it enough to pick it up. Regardless, I want to use it as an example.
When you are using fewer pieces in an outfit all the little details matter. Here, the flutter sleeve and sweet print elevate the blouse. You could do a full or half tuck to highlight the belt.
For similar and less expensive options, I like this pretty floral at Anthropologie, this Vince Camuto blouse is soft and feminine, or this simple Halogen blouse in "butter" is a perfect neutral that isn't white and is under $30.
Nine West just makes a good shoe at a value-driven price, that's why they are a go-to for us. Finally, I immediately ordered these updated hoops when I first saw them. They are gold-tone, with a white enamel stripe running through the center on sale for $50 at Net-A-Porter. I'm sure to wear them all summer.
Related: The Most Comfortable Heels for Work