This content has been archived. It may no longer be relevant
I am feeling today's weekend inspiration. It's balanced, layered and uses lightweight accessories to create depth without creating bulk. On a warm day, my dream is to throw on and go, and this outfit gets you there. Whether you're staying local or traveling the world, this combination will take you everywhere from a local Sunday brunch to touring ancient ruins in a faraway land.
How to Wear a Chambray Dress in the Summer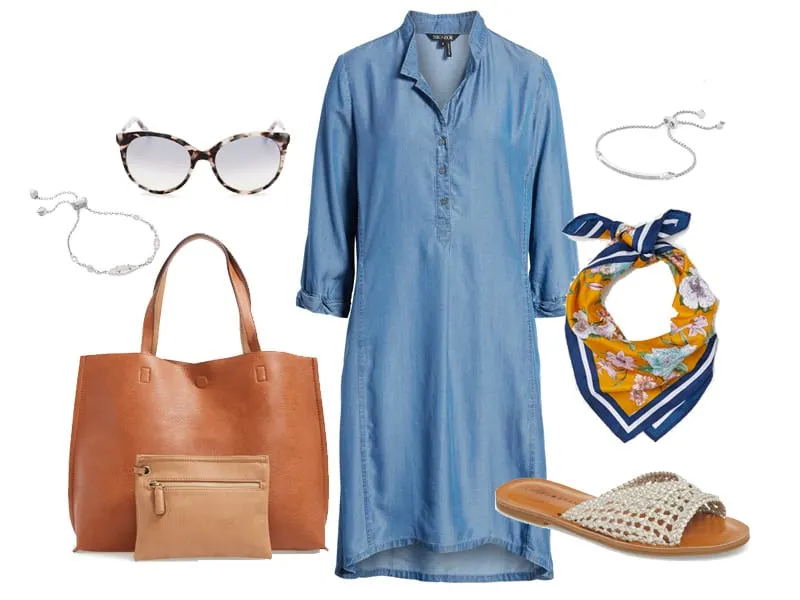 Sunglasses, $180 | Bracelet, $60 | Bag, $49 | Dress, $148 | Bracelet, $70 | Scarf, $10 | Sandal, $79
Let's talk about this chambray dress. I love the ease of it. It's simple, flowy, yet still slimming. It has a high-low hem that helps extend the line of your leg, and if you want to create more shape, you can add a slim woven belt. Personally, I would wear it as is. After our vacation in Europe last summer, I could see wearing it while exploring a new city, hopping into little cafes, and making our way back to our hotel looking chic but feeling wonderfully comfortable. Every season Nic + Zoe has some wearable options. I don't love everything they make, in fact, I think from a design perspective they are all over the place. However, their basics are almost always a hit. This dress is available in Missy and Petite XS – XL. Plus sized? Try this similar style by Karen Scott.
The key to this outfit is the combination of accessories that come together to create a cohesive and measured look. I started with deciding to work with silver tones because I tend to go toward gold but this called for something cool.
These sunglasses are light, but the subtle detail makes them substantial
. They are not inexpensive, so take good care of them, don't sit on them, or leave them in your Uber, like I'm prone to do.
The summer calls for a well-edited use of jewelry. You don't want to weigh yourself down with heavy costume pieces. Not only does it look off, but these pieces don't usually work with warm weather clothing. That's why I used two simple silver bracelets, both by Kendra Scott (here and here). Wear both, wear one, wear whatever you have at home.
For sandals, I used our Must Have Piece from yesterday. I like everything about them, especially the balance between utility and style. They also work well with this faux leather tote by Street Level. I have to tell you, I have a closet full of designer bags that I love, but when the weather warms up, this is the bag I carry every day. It's the best $50 I've spent in a long time.
Finally, I added a scarf. This GORGEOUS print is $10 at H&M but looks so high-end I can hardly stand it. Instead of tying it around your neck, which you totally can, I would either tie it on the handle of my bag or around my ponytail. For some inspiration, check out my Pinterest board here.
Shop this Post