Over the past few years, my summers have become increasingly casual. Because working with businesses and companies is what pays the bills around here, I work like crazy all fall and spring, and then the summer naturally slows down. In fact, yesterday was the last program I facilitate until the end of August. Hallelujah!
I still work, all day, every day, but I don't have to get on an airplane or put on a pair of Spanx for almost two full months. When I start to get overwhelmed with the stresses and strains that come with working for myself, I think how lucky I am to work from home all summer.
The challenge, at least for me, is that the less I have to interact with people the more likely I am to barely pull myself together in the morning. I'll roll out of bed and put on something to work out in, or some combination of a pair of shorts, tee shirt and flip-flop and jump into the day. Our summer is super busy, so I 'd like to create a slightly more pulled together uniform, using the same casual elements I love but with a little more substance so I can get up and feel pulled together enough for whatever the day throws at me.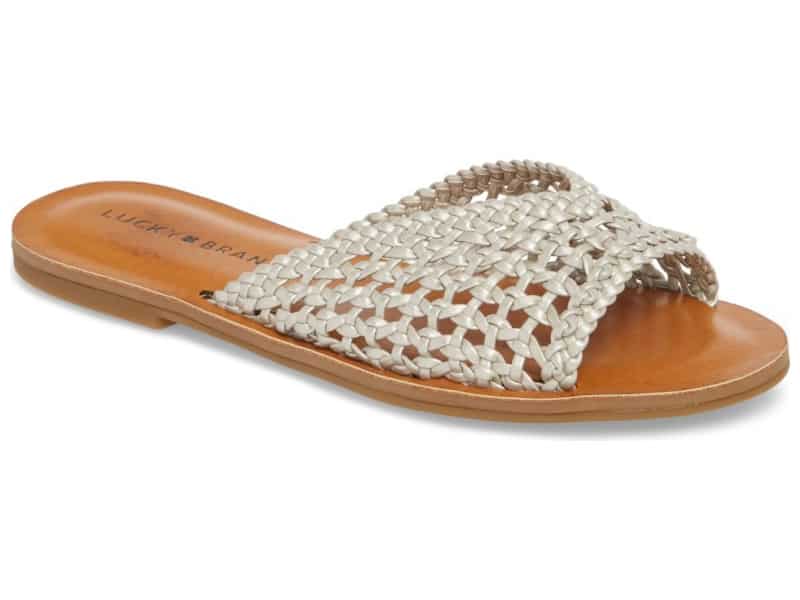 Sandals, $79
When I saw these woven slides, I thought they would be the perfect flip flop alternative. They are still casual, with the woven slide detail adding some natural texture. You can wear them with pretty much anything, your go-to shorts and tee, a cotton tank dress, a maxi dress, ankle or cropped pants, even a simple tunic. Sometimes swapping out one basic element for something a little better makes a big difference.
We featured them above in the silver, which is the most neutral option, but they come in four other colors, including black, white, a gorgeous saffron and an equally pretty blue they are calling "infinity."
Check back tomorrow to see how we used these in a weekend ready outfit.