March is my least favorite month.  If you live on the east coast, you know the struggle. It will have been dreary for months, then, out of nowhere, we'll have a gorgeous, warm day—maybe a few in a row—and we are reminded that there is a sun and that life isn't as miserable as we may think. Inevitably, just when we believe we've turned the corner, and spring is on our doorsteps, we get smacked with one last snowstorm.
Every. Single. Year.
Aside from the weather slowly killing me, it's a buzz kill when getting dressed. (It's a double buzz kill if you write about getting dressed as part of your job.)  I am totally over my wardrobe, but not quite ready for spring pieces because—snow, so it's the perfect time to get creative and force yourself to shop in your closet.
If you want to save some money and find outfit combinations you've never seen before, consider shopping in your closet over the next few weeks. Not only will you get a few new looks out of the deal but you'll start to define your style and know exactly what you need when you're ready to shop for spring.
Give yourself a window of time to go through this exercise. Two or three hours should be enough to cover each step. I would highly recommend enlisting the help of a friend. Pay her in wine, and promise to return the favor.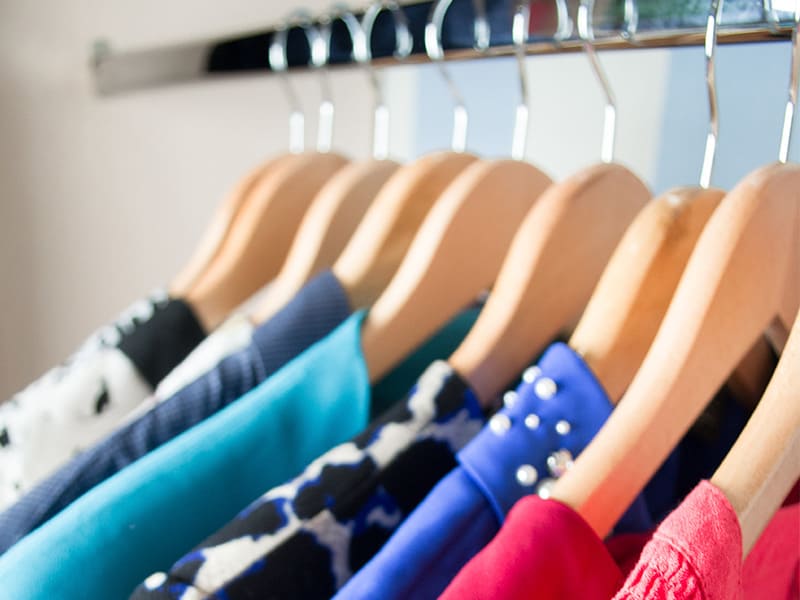 How to Shop Your Closet
Start with an Edit
Before you can shop your closet, you have to make sure it is well edited. Our guide, How to Edit Your Closet in 60 Minutes, will walk you through the steps. The most important element of the process is to release the pieces you are holding onto that are not serving you. If they don't fit; are damaged or dated; or you just don't like the style anymore, you have total permission to get rid of them.
Once you have a clean, organized, and well-edited closet, you can get started.
Look for Inspiration
Create a Pinterest board for your personal style. You'll find the more you pin, the more your style will start to show itself. Having a visual of what you like not only helps you curate your wardrobe, but it's also a source of inspiration when your wardrobe choices feel a little blah.
I reference my Pinterest boards and find inspiration for color combinations, shoes, layers, and accessories. Spend some time in searching for the looks you like; then, go through your board, and keep only what you love. It's like getting an aerial view of your personal style.
Separate Basics from Trendy Pieces
Separate your basic pieces from your trendy pieces. The basics would include jeans, black pants, a simple navy dress, layering tanks and shells, a cardigan, etc. These pieces are at the center of every look.
Your trendy or novelty pieces are everything else: a skirt with embroidery, a patterned blouse, a tweed jacket, anything in a bright or bold color, etc.
I like to have a rolling rack on hand for this exercise to stay organized and be able to see everything that I have. Keep basics on the left and novelty items on the right.
Before you move on, be sure you have edited your shoes and accessories and, then, divide them in a similar manner. Keep the jewelry you wear everyday away from statement necklaces and oversized bracelets.
Start with a "Base" and Add Layers
Now, let's create some outfits.
Start by forming a base for the outfit.
For example, take a black pant and a black tank top. This is your base. Next, go to your novelty pieces. Add an interesting sweater or jacket. Can you layer a sweater over a print blouse? Would a blazer pull a look together?
Try to get creative.
Wine helps.
With a base and a layer, move to your shoes and accessories.
What does the outfit look like with a classic pump?
Now switch it out for something with pattern or texture
Could you wear it both ways?
Probably.
Play with necklaces and accessories. I guarantee you, with an edited closet and a clearer idea of what you like, you will discover several combinations and new ways to wear old pieces
Remember a few things:
A suit you only ever wear together, a sweater you keep over an old dress, whatever it might be, hang them on separate hangers.
Stop saving things for special occasions.
That black dress you think is only appropriate for a rare cocktail party might look fresh and updated if you throw a denim jacket over it. Push yourself outside your comfort zone and try everything on before dismissing it.
You'll definitely come across items you can get rid of, so keep a designated area where you can place them and donate immediately.
Give it a week.
Try this out for seven days. That's all! Over the course of the week you might notice that you are missing some other trendy and interesting pieces that would help expand your wardrobe. Conversely, maybe you have a lot of trend and novelty items, but not enough basics to build an outfit. Whatever you discover is missing, write it down and pick up those items when your budget allows. With some time, you'll build a thoughtful and intentional wardrobe, with tons of outfit combinations you can feel good in every day.
I'm going to post some outfit inspiration from my closet on Instagram this week.  Click here to follow along!