On Friday, I shared my best tips to clean out your closet in an afternoon. So today, we're going a step further and breaking down how to shop your closet.
Shop your closet! We see the headline frequently, on blog posts, scrolling Pinterest, and in magazines, but what does it mean?
Shopping your closet is an easy process that allows you to see what you have, and helps you get creative while discovering outfit combinations you never knew you had.
Right now, between the hot temperatures, and many states still under stay at home orders, the last thing many of us are thinking about is getting dressed. We may as well take advantage of a slightly slower pace and spend some time getting ourselves organized, so we know what you we like and what we need to as we move optimistically into the fall.
How to Shop Your Closet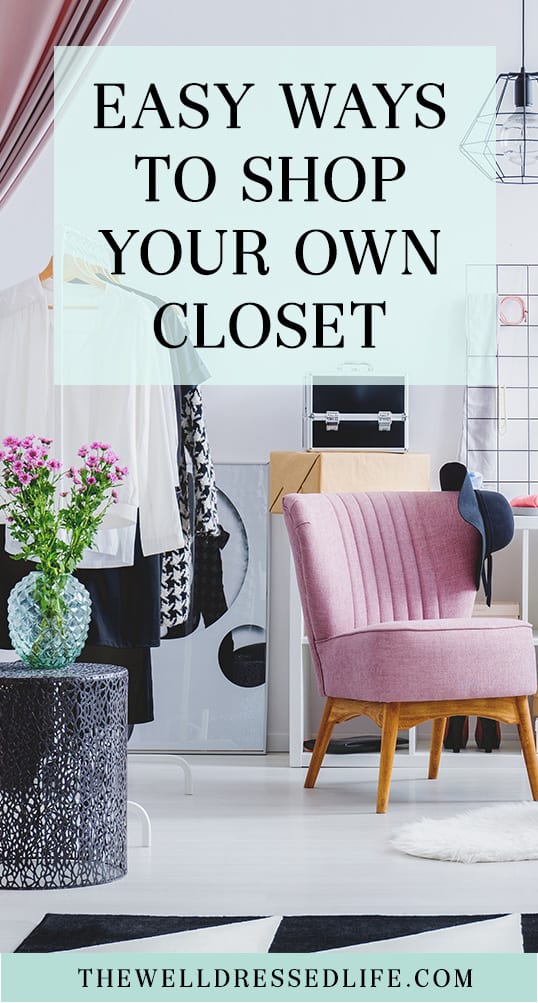 Before you can shop your closet, you have to make sure it is well edited. Our guide, How to Clean Your Closet in An Afternoon, will walk you through the process. The most critical step is to get rid of what doesn't serve you anymore.
If the garment doesn't fit, is damaged or dated, or is no longer your style – out it goes. You can donate, resell, or recycle, but it does not go back into your closet.
Once you've completed your cleanout, it's time to shop your closet.
Create a Pinterest Board
Step #1: Create a Pinterest Board to Define Your Personal Style
Create a Pinterest board reflective of your personal style. You'll find the more you pin, the more your style will start to show itself.
I worked with private style clients for over a decade. I learned that most women have a hard time defining their style. They don't know what they like, or maybe they like everything and have difficulty narrowing down their favorite looks.
I found this exercise personally helpful after I had my babies. I became used to being limited to maternity clothes and then comfy at home outfits, that I started to forget what I liked.
Often, these kinds of life-changing events, from childbirth to turning 40, to finally retiring, are the catalyst for wanting to reevaluate our style.
Having a visual of aspirational style helps you curate your wardrobe, and serves as a source of inspiration when your wardrobe choices feel a little blah.
I reference my Pinterest boards and find inspiration for color combinations, shoes, layers, and accessories.
Spend some time searching for and "pinning" the looks you like; then, go back through your board, and only keep what you love. You'll be surprised by what you see.
Set Up Shop
Step #2: Set Up Shop
Separate your basics from your trendy pieces.
Basics would include jeans, black pants, a simple navy dress, layering tanks and shells, a cardigan, etc. These pieces are at the center of every look. Keep similar items together.
Your trendy (what I sometimes refer to as novelty) pieces are everything else: a skirt with embroidery, a patterned blouse, a tweed jacket, anything in a bright or bold color, also keeping similar items together.
I like to have a rolling rack on hand for this exercise to stay organized and see everything that I have.
Keep basics on the left and novelty items on the right.
Before you move on, be sure you have edited your shoes and accessories and, then, similarly divide them. Keep the jewelry you wear every day away from statement necklaces and oversized bracelets.
Build Outfits
Step #3: Build Your Outfits
Now, let's create some outfits! Start by taking some items from your basics.
For example, a navy ankle pants and a tank (see below).
This is your base.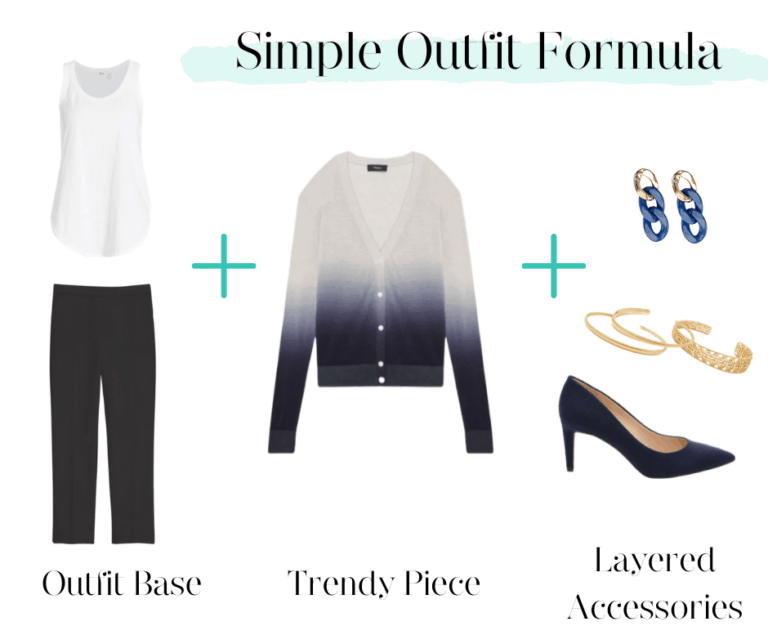 Next, go to your novelty pieces. Add a lightweight sweater in a current print, or a jacket with fun details. Layers provide depth to a look. They are "outfit finishers."
Get creative and step outside your comfort zone.
With a base and a layer, move to your shoes and accessories.
Play around with what you have:
What does the outfit look like with a classic pump? Now switch it out for something with pattern or texture.
Could you wear it both ways?
Probably!
Now, add jewelry and accessories.
With an edited closet and a clear idea of what you like, you will discover several combinations and new ways to wear old pieces.
Pro tip! Be sure to take pictures of the looks you love so you don't forget them. Keep them on your phone for easy access.
Quick Tips While Shopping Your Closet
Break things up
We tend to wear the same combination of items repeatedly, to the point that we can't see other options. You probably have a few favorite outfits, so start with them and break them apart.
Force yourself to find a new way to wear the individual pieces.
Make minor adjustments and alterations
I can't tell you how many times I would clean out a client's closet, and she would have several items that would be perfect with a few minor alterations.
If a pair of pants are a little big, a hem fell out, or buttons need replacing, action them immediately. You don't need to buy something new when you can simply fix what you already have.
Stop saving things for special occasions
That black dress you think is only appropriate for a rare cocktail party might look fresh if you throw on a denim jacket.
Don't wait to have a reason to wear your finer pieces, especially if you have better jewelry and accessories, celebrate everyday by wearing them with a simple pair of jeans and tee shirt.
Push yourself outside your comfort zone and try everything on before dismissing it.
Purge as you go.
You'll come across items you can get rid of, so keep a designated area to place them and donate immediately.
---
Join Our Insider Community Today!
Our three month, seasonal membership gives you access to our members only portal, our summer shop your closet checklist, mix and match wardrobe capsule, over 50 outfit formulas, and LIVE monthly group coaching with me.
Summer membership is form July 13th – September 14th.
Hurray! Registration closes on July 27th.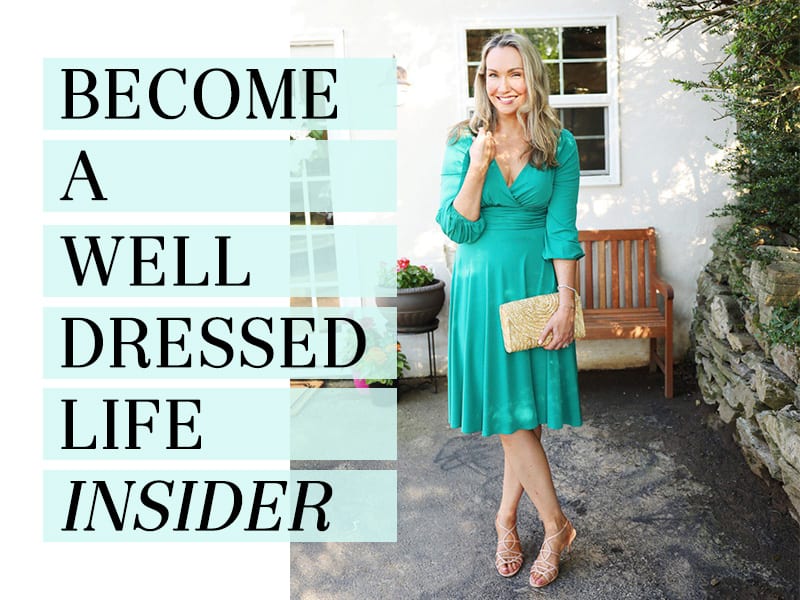 ---
Our Content is Inspired By Our Readers
Our readership inspires all of our posts and is not sponsored or paid for by brands or retailers.
Recommendations are based on my experience as a personal stylist and wardrobe consultant for over a decade. I worked with busy, down-to-earth women who wanted to look chic and feel confident but were often confused by so much of retail.
Some links are affiliate links, which means if you purchase via our site, we receive a small commission.
If you enjoy our content and would like to help us grow, please consider following on Instagram and join our Private Facebook Group to access more advice and exclusive in-depth conversations with other like-minded women.