Need a hack to save time and look "polished"?
Paint your nails on-the-go.
Manicured nails are one simple yet impactful element of being well dressed, but we don't always have time to sit and wait for them to dry. That's where Essie Expressie comes in. Simply swipe some color on your nails and they dry in seconds.
As always, this review is in no way sponsored.
Essie Expressie Review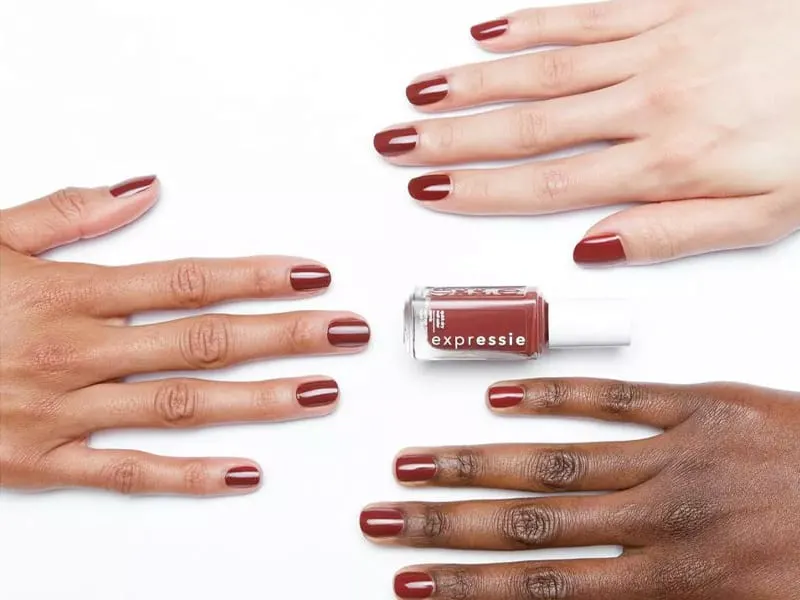 Essie Expressie, $8.99
A few months back, I shared my simple steps to get a salon-quality manicure at home. With the right tools, you can keep your nails perfectly groomed while saving time and money. Especially right now, with salons, either closed or at limited capacity, finding some at-home, self-care solutions help us feel like ourselves in these strange times.
Surprisingly, my fall has been rather hectic. Happily, school and kid's sports are back in full swing in our community, and work is busier than ever. So I, once again, have little time to primp and fuss, but still, really love to look pulled together.
Pre-Covid days of work travel and even busier schedules, I would keep nail polish in my car. The idea being I would quickly add some color to my nails, drive, and by the time I arrived at my destination, they would be dry. I thought I was a genius for coming up with this strategy until I realized that every one of my friends did the same thing.
I viewed it as a positive step back to normalcy when Bri and I headed to dinner last Saturday night to celebrate our anniversary and as we were leaving, realized my nails were bare and decided to paint them on our drive. Only this time, I grabbed Essie Expressie in Seize the Minute, a classic, blue-based red.
I had picked it up a Target earlier that day and thought it was the perfect opportunity to give it a try.
Our restaurant was about 15 minutes from our house, so I quickly applied two coats while sitting in the passenger seat, and in less than a minute, they were dry. Bone dry. I rubbed my thumb over my nails and nothing. It's amazing.
What I love about this new-to-me product is designed specifically to be used on-the-go. But there are some essential, common-sense tips to make it easy to apply.
Simple Tips for Best Results
First, your nails should be clean, dry, and well maintained to get the best results, so make a habit of keeping them trimmed and filed. Use cuticle oil daily to stay in good shape as dry, cracked cuticles will make the polish bleed.
I do not use a base coat, a tip I learned from the lovely woman who does my nails occasionally. And when I use this express polish, I skipped the topcoat.
If you are looking for shine instead of color, pick up their clear polish called Always Transparent. It gives a subtle, healthy high gloss, and you don't have to worry about being exact in your application.
Without a top coat, the polish lasts about four days without chipping, and this is with me doing 3,000 dishes and changing dozens of diapers. 🙂