Going to work this summer is going to look different for everyone. You might be slowly heading back to the office, staying home based or a combination of the two. I'm anxious to see how the landscape of office life evolves as states begin a return to normal operations. (Tell me your plans in the comments below!)
Whatever your situation, you might need a bag to get you and your laptop to and from, and this one from Target is fantastic – and it's only $45.
An Under $50 Bag for Work from Target!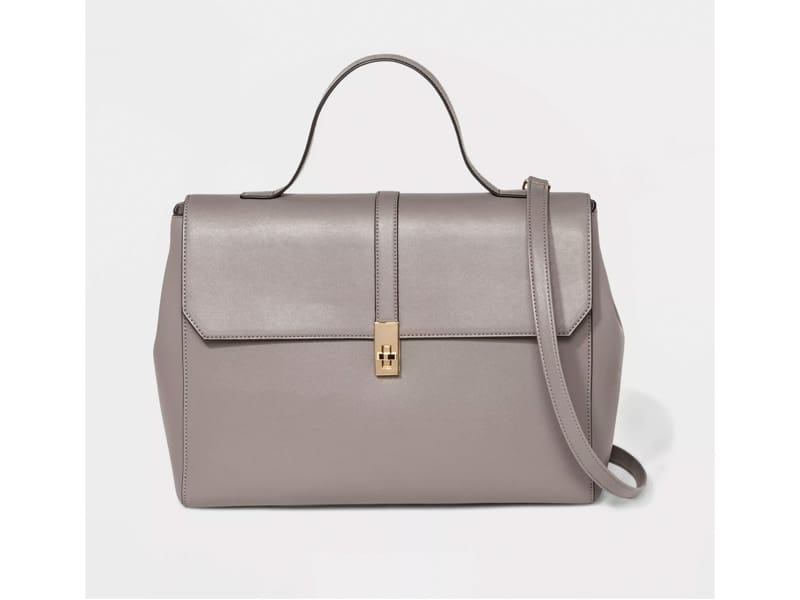 Bag, $45
I'm always a proponent of investing in better pieces, especially something like a bag or shoe that you'll carry or wear day in and day out. But after these last three months, I'm not excited to spend money on many things.
This certainly doesn't feel like the season to splurge on a handbag.
So when I found this bag on a recent trip to Target (since it's the only place I'm allowed to physically shop) I picked it up immediately.
It's available in gray (above) or black. The choice is yours depending on what you already have. I grabbed the gray.
Size-wise, this is a big bag. You can fit a laptop, full size wallet, sunglass case, a book – all comfortably inside. The cross body strap makes it easy to carry around, or you can hold it by the top handle.
I plan to use it for the summer with my work and as an updated diaper bag.
When you are shopping for a handbag, regardless of price point, it's important to buy one with clean lines and minimal hardware. Think of it like, the more "stuff" on a bag, the cheaper it will look. Avoid logos and labels that are part of the design as that pattern will fight with other patterns you might be wearing.
---
Our Content is Inspired by Our Readers
Our readership inspires all of our posts and is not sponsored or paid for by brands or retailers.
Recommendations are based on my experience as a personal stylist View Post and wardrobe consultant for over a decade. I worked with busy, down-to-earth women who wanted to look chic and feel confident but were often confused by so much of retail.
Some links are affiliate links, which means if you purchase via our site, we receive a small commission.
If you enjoy our content and would like to help us grow, please consider following on Instagram and join our Private Facebook Group to access more advice and exclusive in-depth conversations with other like-minded women.
---