This content has been archived. It may no longer be relevant
When I create our style content, I try to find a balance between showcasing new ideas and keeping it practical. Today, I'm leaning heavily into the practical side of things with a breakdown of how to wear ankle pants for work
I love a blog filled with trendy street style and high fashion images. Scrolling through them is fun, it's fantasy, and a break from the everyday. But, they don't translate in my daily life, and I imagine they don't in yours either.
I hope that as you read through these posts, you think, "oh, I have something similar to that!" and can take our ideas and recreate them in your real life. So today, I took what I consider one of the most basic spring pieces, black ankle pants, and explain how to easily create a simple, yet composed outfit.
If you don't have a pair of ankle pants, consider picking a pair up. They are incredibly versatile. They can go from casual to business casual to business formal with the right combination.
When looking for your best pair, keep a few things in mind. First, ankle pants are NOT cropped or capri pants. They should hit at your ankle.
Second, some are cut like trousers; others have more of a tapered leg, and a few are "skinny." Buy what works best for you.
Finally, you can wear any shoe with almost any height heel. Unlike traditional trousers, you can wear a flat or a heel without having to worry if the length of the leg is too long or short. The only thing to avoid is extra high heels. Keep them to about 2 -3 inches. Any higher and you will look off balanced.
Find Your Best Fit
For today's post, I featured an ankle pant in a ponté knit, so they have some stretch. (These are particularly nice if you have to fly for work and need to be comfortable but still look professional.)
There are a ton of options right now in stores, like these Vince Camuto's with a skinny leg, Nic + Zoe has a more traditional style, Nordstrom's in house brand Sejour has a classic cut in plus sizes, and Banana Republic covers all sizes, including petite and plus with this go-to pair.
How to Wear Black Ankle Pants to Work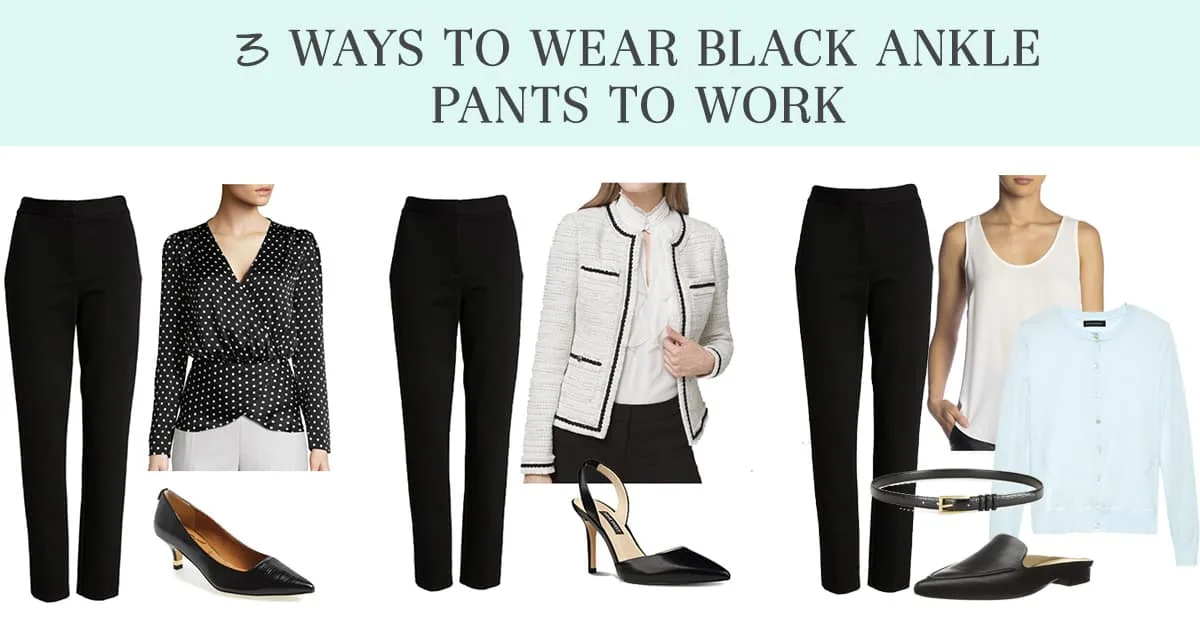 Black Doesn't Always Go With Everything
Making black pants look intentional takes some thought. We are so used to grabbing a pair and throwing on any old top because "black goes with everything" but the truth is, black looks best when paired with black, white, a neutral, or a strategic pop of color.
Take a look below for some examples.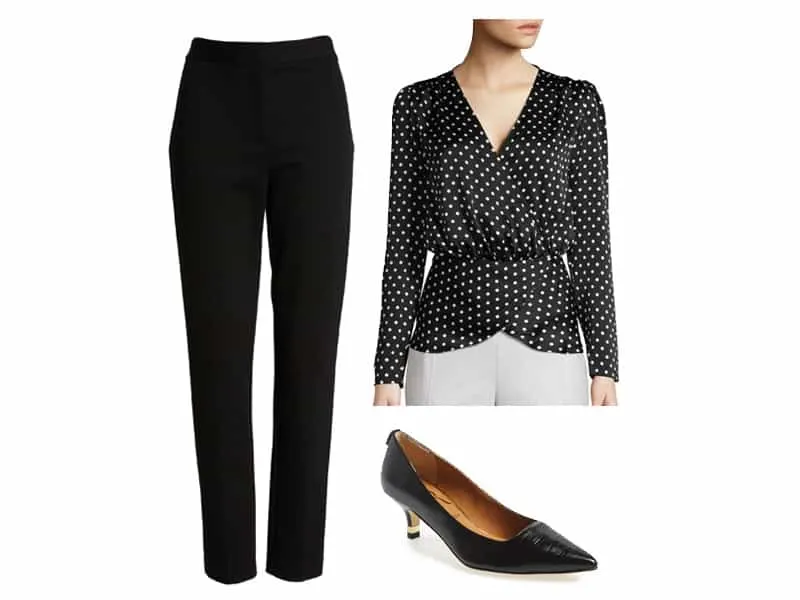 Black and White: Pants, $52 | Blouse, $124 | Heels, $60
The first outfit is as simple as it gets and what is more spring-like than a polka dot blouse? There's a lot to like about this blouse. The v-neckline is flattering, the defined waist will highlight your shape, and the faux wrap style adds some depth.
What I like most is the hem. See how the hem is cut higher in the front? This subtle detail helps elongate your leg and helps you look leaner.
These heels by J. Renne are gorgeous. They are textured leather, so you get another layer of detail without having to fuss with a lot of layers. The heel is a kitten, which I think is ideal for this kind of pant.
Finally, pay attention to the gold detail on the heel. You hear me say this all the time, but if a part of your outfit has a metal, wear that metal in your accessories to keep your look cohesive.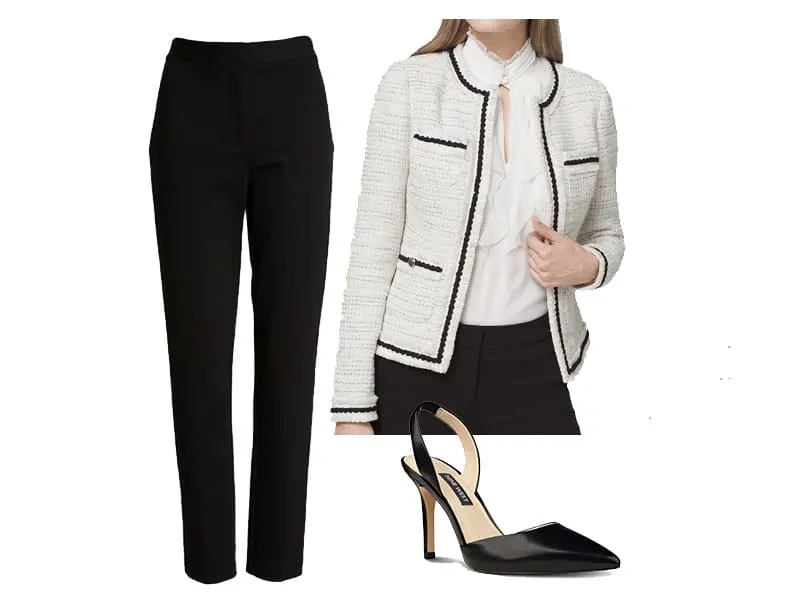 Suit it Up: Pants, $52 | Jacket, $70 | Heels, $89
Our second outfit can take you to a formal meeting, but first, let me express how much I dislike the blouse under this jacket. I love the jacket; I hate the blouse. So let's focus on this sweet, pretty and feminine jacket, available at White House Black Market. All you need underneath it is a black tank, and you've created a column of color that is oh-so-flattering.
The jacket comes in "regular" and petite, up to a size XL which roughly translates into a 16. Wear it to work, or with jeans on the weekends.
For shoes, we used these slingbacks because they feel more seasonally appropriate. They also have a higher heel that still works with the pants.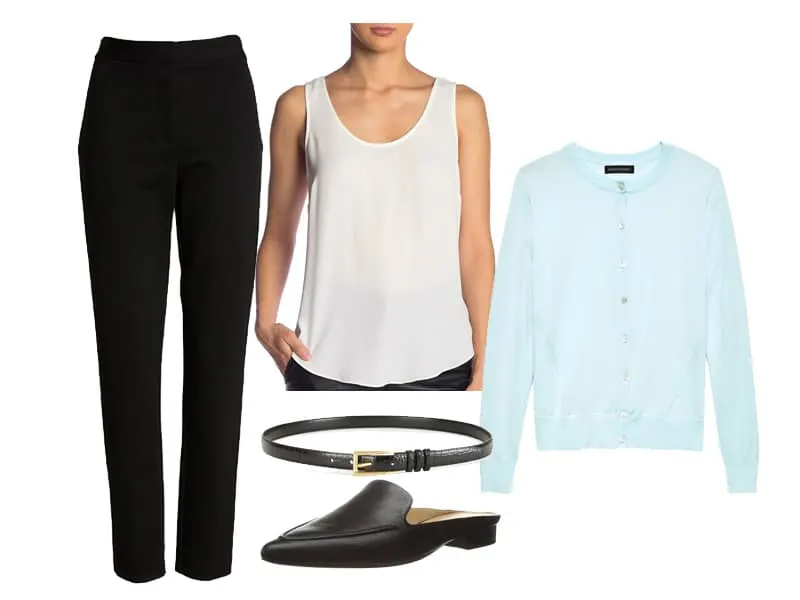 Pop of Color: Pants, $52 | Cardigan, $80 | Tank, $25 | Mule, $45 | Belt, $43
Finally, we go casual with a pop of color. This cardigan by Banana Republic is fabulous. It's size inclusive and comes in an array of beautiful hues. I went with "mint" because it feels springy.
Layer the cardigan over an equally lightweight tank (this J. Crew sale tank has been a favorite with readers this week.)
We included a belt not for function but instead as another way to add a layer without creating bulk. A belt in specific applications adds some much need polish and finishes an outfit.
Finally, I like loafer mule. It's casual and still office appropriate. You'll see versions of these at crazy price points. I wouldn't splurge here, something under $50 will work just fine.