I make no secret of my love of ankle pants. They feel fresh and modern compared to traditional long trousers. A popular question we receive is how to wear ankle pants in the fall. So for today's Wear to Work Now and Later, we're showing you how layering on some of your classic wardrobe staples bring these year-round pants right into the new season.
Let's start by talking about these pants because they are phenomenal. Back when I worked with clients, there were a few brands I leaned on to build the core of someone's wardrobe. Elie Tahari was hands down my favorite.
Time and again the quality and fit would make me look like a rockstar. Now is the best time of year to grab your size because they always sell out. They work in a professional office, in one more casual, and outside of work. We spoke briefly in Monday's post about how to look more "expensive" and broke down the idea of a splurge, a spend and a save. These are spend by most standards so know you'll get lots of use out of them, and other than 100-degree weather, they will be in constant rotation.
How to Wear Ankle Pants in the Fall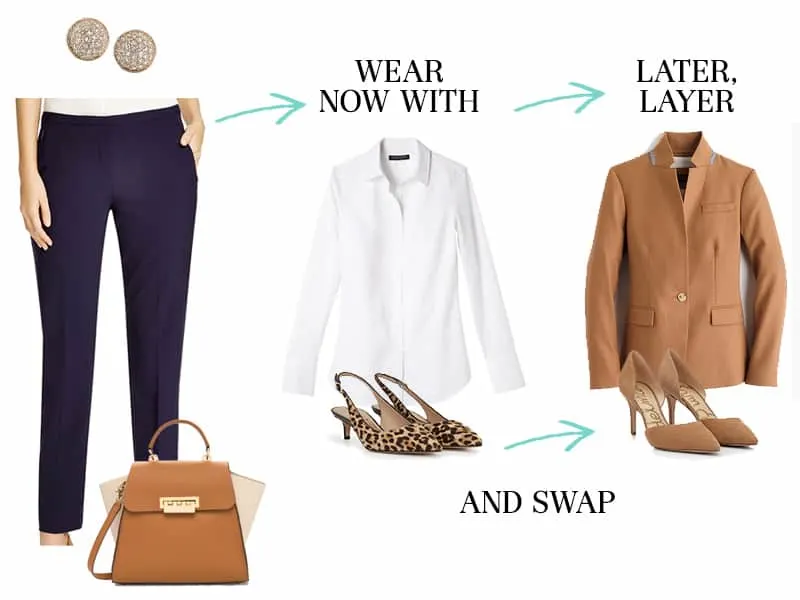 Pants, $198 | Earrings, $11 | Bag, $235 || Wear now with: Shirt, $68 | Heels, $130 || Later layer: Blazer, $198 | Heels, $72
They are available in black and navy, in 0 – 16 and fit true to size. I featured navy because generally navy is more difficult to find, but of course, grab them in both colors if you can. Navy is also a softer alternative to black, especially when we pair it with a crisp white shirt as we did above. Black pants with a white button-down remind me of my days of being a banquet waitress (a terrible banquet waitress at that). But navy pants with a crisp white button-down looks elegant and ladylike.
To keep from looking too stiff, zhush the shirt up a bit. Make sure it's fitted to your body, with slight nip at your waist. Cuff the sleeves and give your collar the slightest pop. I like this style from Banana Republic. It has great stretch so you don't feel like you're wearing a school uniform, and the fabric will move with you during the day. It's also nice that it comes in a variety of sizes, including petite and tall, including a size 20.
If you have a full bust, let me jump in with my thoughts. Keep in mind everyone can't wear every style. If you've tried it and you know it doesn't work, this is a look you'll have to pass on. If you really want this kind of look to work, you could size up in the shirt, tailor down to fit your bust and put a hidden snap between the two buttons that will inevitably pull open when you move. We used to do it for clients all the time, and it works beautifully.
For the end of summer and early fall, a slingback is lovely. No surprise I went with a leopard print. It's a simple way to make basics interesting while also acting like a neutral. What's not so basic is this Zac Posen bag. I tend to go so practical with our recommendations; sometimes it's okay to forgo function for fashion. It's on sale and is a total showstopper. Finally, for the earrings, these inexpensive studs add a little sparkle.
As we move into fall simple add a camel blazer. This works for a few reasons, navy and camel, or black and camel is a winning combination. It will work for all eternity. Keep in mind the importance of fabrics working together. The blazer and pants are both wool (blends), so they complement each other in their equal weight and drape.
Finally, swap out your slingbacks for a gorgeous suede pump.
Shop this Post (Including plus sized pants options)
Be sure to click through links for additional sizes. We work hard to find size-inclusive options for all readers. Many of our recommendations come in petite, tall and plus. Please note we do not control inventory, and certain styles sell out quickly. If I do not recommend a certain size, it's because I cannot find an option I'm comfortable promoting. More than anything, these posts are designed to serve as an inspiration to create your own looks, with options if you need to pick up a specific piece.