This content has been archived. It may no longer be relevant
Maybe you're heading to a friend's house, hitting up a block party or going to your local swim club, at some point over the summer, your weekend is going to involve some kind of barbecue or outside party. When I worked with clients, they would often complain about feeling like they were wearing some version of their work clothes on the weekend.
It sounds silly but how we dress often dictates how we feel. If we are looking to relax or take a break, wearing the same thing you wore to Thursday's sales meeting is no fun. Today, we're breaking down what to wear to a summer barbecue so you feel great, look chic and can get out the door with ease.
My family is in the season of life where things are busy all the time, and our weekends are filled with a combination of sports, community activities, family commitments and time spent with friends. One of the things I never realized when we had kids, was that our group of friends would evolve to include the parents of our kids' buddies. When we get together, the kids are outside having a blast, and the parents are inside having just as much fun.
For years I hung out almost exclusively with other entrepreneurs and business owners, especially in the early stages of our company, and I always found it exhausting. It felt more like networking and less like socializing. Entrepreneurs tend to be a bit narcissistic. They like to talk shop; it's all strategy and struggle, what gigs they booked, their numbers, who's doing well, who isn't and I would sit there just wanting to talk about what happened on Real Housewives of New York. It was always so obvious to me that I never fit in.
What's nice is that everyone in our group of neighborhood friends has pretty impressive resumes, big jobs and lots of responsibilities. But when we get together, we might talk about work, but there is no one-upping or showing off, it's just pure, uncomplicated, down to earth fun. And no one has an agenda. For someone as wound tight as I am, it's a welcomed break and, frankly, necessary for my mental health.
Most of our activities are casual, but some require a little more effort. With two busy kids and a full work schedule, I like to have a few outfits figured out so I can get myself and everyone else out the door with as little drama as possible. If you have a few outdoor parties on your calendar, let the ideas below serve as some inspiration, so you know just what to wear and can get on with having some fun.
What to Wear to a Summer Barbecue
Shorts and Tee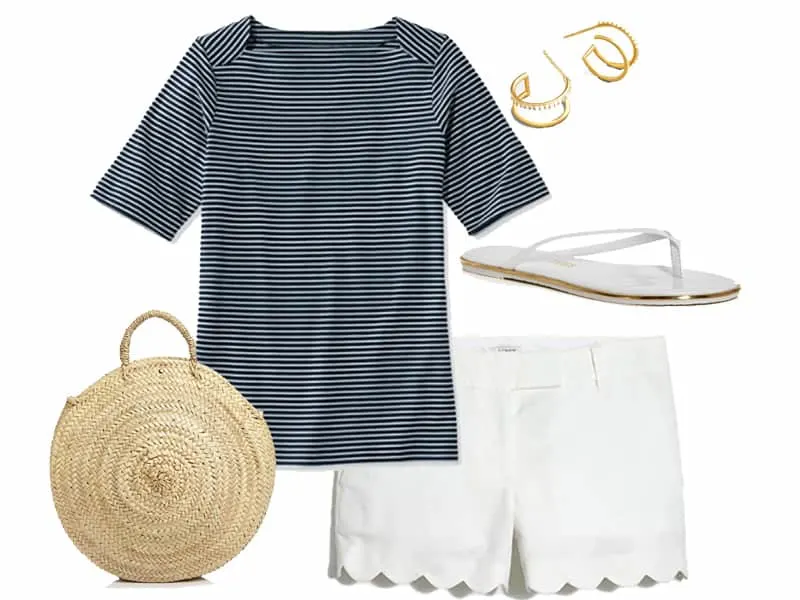 Shirt, $25 | Shorts, $20 | Flip Flops, $68 | Earrings, $58 | Bag, $50
There is NOTHING wrong with a simple pair of shorts and a tee shirt. To elevate the look a bit, find pieces with some added detail. I love these scalloped shorts ($20) from J. Crew factory paired with this cotton striped tee from LL Bean. The neckline on the shirt makes it a little different from a basic tee and the longer sleeve balances the shorts. I basically live in this kind of outfit on the weekend. It's crisp and casual. Add simple, modern accessories with these double hoop earrings, leather flip flops with gold trip and a trend right straw circle bag.
Romper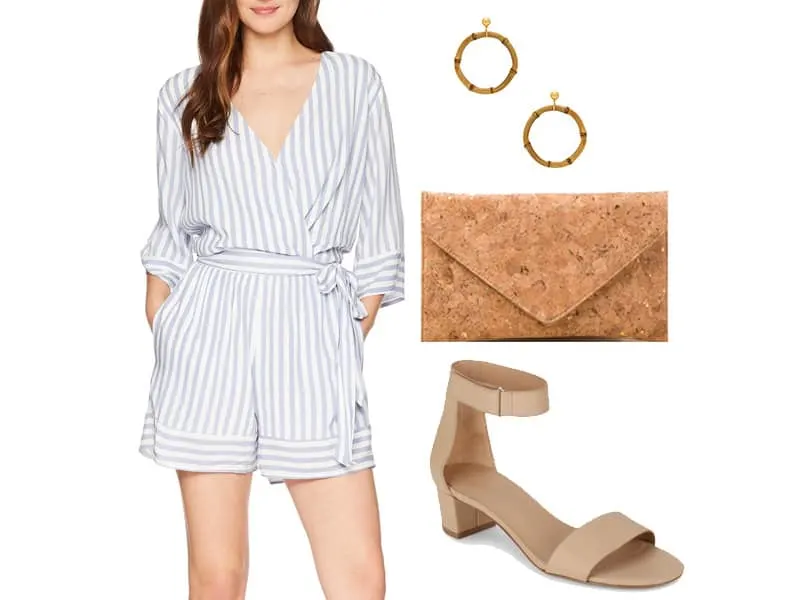 Romper, $95 | Sandal, $160 | Earrings, $99 | Clutch, $34
I love a romper. They feel more dressy than a short and tee outfit but still chic and casual. Yes, it's a pain when you have to use the ladies room, but honestly, it's never bothered me too much. The key to wearing one as an adult, and not looking like you're shopping in the kid's department, is to focus on fabric, fit, and balance. This breezy romper brings balance with a longer sleeve, and has a comfortable drapey fit. It's like a wrap dress but with shorts. Since it's a little more formal, I used a neutral block heel sandal. They're not inexpensive but you'll wear them all summer. Be aware of your shoe choice if you are going to be on grass. Block heels work well, so do wedges and, obviously, flats. For accessories, I used natural materials. These bamboo earrings and cork clutch pair beautifully while adding depth and dimension to the look.
Tunic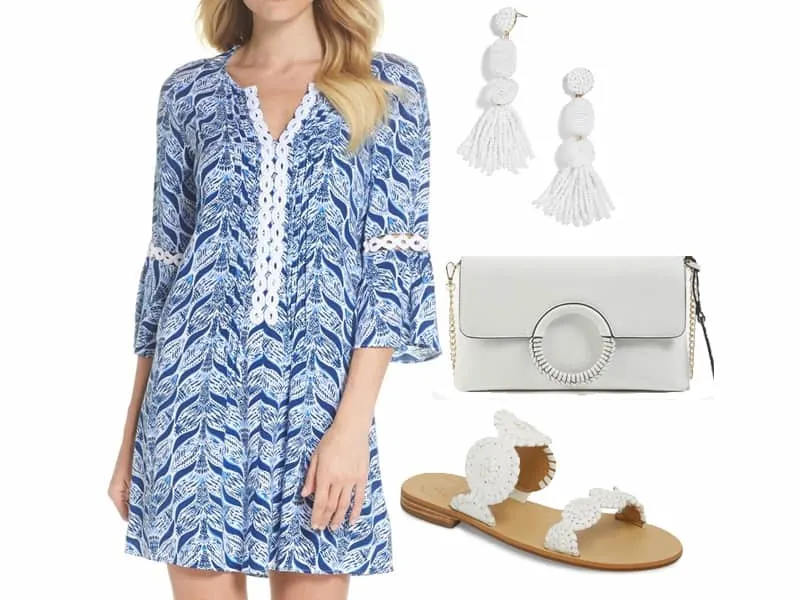 Tunic, $148 | Sandals, $128 | Earrings, $38 | Clutch, $50
Lauren and I like to say; sometimes you have to go all in. Are you going to a pool party at your local country club? Or a daytime gathering at a yacht club? Whether that's part of your daily life, or your find yourself randomly invited, we say, dive in head first. Sometimes, I like to fly my preppy flag high and go full on Palm Beach with a bold pattern tunic (by none other than Lily Pulitzer) and a pair of Jack Rogers flats. Finish it off with white tassel earrings and this adorable ($50) white clutch. Is it predictable? You bet. But it sure is cute.