I love Sephora.
I can spend hours walking up and down the aisles. And now that I'm almost always running in with one of my girls, it's even more fun to explore.
When I leave, with my glossy black bag filled with goodies, I'm convinced for a brief moment that when I use these new products, I will emerge as a better, more beautiful version of myself. Lol.
Maybe it's just me, but opening up a new box of product is like my version of Christmas Morning.
Right now is the Sephora Spring Sale , marketed specifically for their "Insiders."
What does that mean?
Nothing special, you just have to sign up for their rewards program. If you're not a Sephora Insider, sign up on their site before you start shopping. It's easy, it's free and they don't bug you about anything.
This sale is different in that the discounts vary based off your Insider level, and your Insider level is determined by your annual spend.
If you're just getting started you're called an Insider and get 10% off, if you're VIP you get 15% off, and if you're what they call Rouge you get 20% off. The more you spend annually, the greater the discount you'll receive.
Regardless of which level you are, use the code OMGSPRING at check out.
The saving is significant if you use many of the brands they carry, or worth it if you want to try something new at a discount.
My Favorites
For today's post, I stood in my bathroom and looked up all of my favorite products to see if you can grab them on sale. Most of these you've heard me talk about countless times, others I started using a few months ago and am happy to recommend.
Below, I broke this down into Skincare, and then Makeup, Fragrance and Tools.
Skincare
If you've been following for any amount of time, you know I spend time focusing on keeping my skin healthy. I'm 41 years old, with fair, freckled, sensitive skin, and dealt with terrible cystic acne – as an adult – for many years.
Skin issues profoundly impacted my self-confidence. It wasn't until I got my skin issues under control that I felt confident enough to put my face on the blog, so I am more than happy to spend here and save in other areas.
Also, I hope this goes without saying, while I do spend on better beauty products, I don't buy all of these at once. Some products I have to replenish every month, most require only once or twice a year.
I would rather spend on skincare than designer shoes, but that's just me.
When there is a sale, I do stock up to take advantage of the savings.
Now, my skin has never looked better.
Please note, I use other products and tools in my routines, below are the ones available in the sale.
Skincare Picks from the Sephora Spring Sale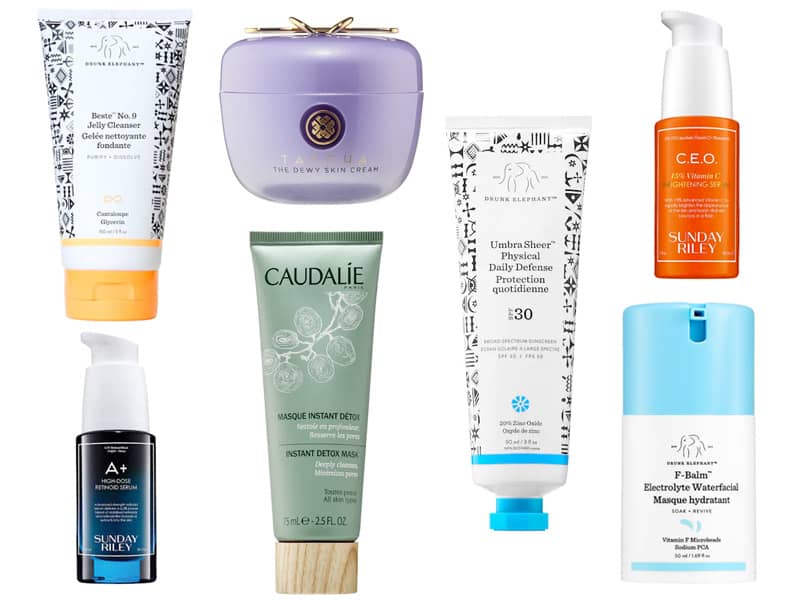 In the evening.
I double cleanse every night. This means you wash your face twice, first with an oil-based cleanser, and then follow up with a gentle gel-based one. For this, I use the Tatcha Oil Cleanser by far, my favorite gentle cleanser. It quickly removes makeup and cleanses skin without stripping it of moisture. For sensitive skin, it's a dream. I've been using this for years. It's currently out of stock at Sephora and Amazon, but you can buy from their website here.
Drunk Elephant Beste No. 9 Jelly Cleanser, $32 This is a fantastic gel cleanser. You get a deep clean, again, without stripping your skin.
I've been using the SUNDAY RILEY A+ High-Dose Retinol Serum ($85) in the evening after other oils and serums. Because my skin is sensitive, retinol can be too harsh, but this is gentle, and I've been pleased with the results.
I apply the Tatcha The Dewy Skin Cream Plumping & Hydrating Moisturizer, morning and night. As a final step, I use Drunk Elephant F-Balm Electrolyte Waterfacial Mask, $52 on top of my moisturizer right before I get in bed. It helps lock in all my products, and I wake up with soft and hydrated skin.
Finally, the Caudalie Instant Detox Mask, $39, is my forever favorite mask. It's so simple and effective, only takes 5 minutes, and helps clear your skin. I use it once or so a week; even my daughters regularly use it to help with breakouts.
In the morning.
Not everyone washes their face in the morning, but I feel like by the time I get around to my routine, it needs a gentle cleanse, so I use the Tatcha Oil Cleanser.
Then I apply a few drops of Vintners Daughter's (not available at Sephora, but I mention it because it's made the most impact on my skin) and then use this SUNDAY RILEY C.E.O. 15% Vitamin C Brightening Serum, $85 after
Always give your skin a few minutes to absorb your products.
Finally, I apply the Tatcha The Dewy Skin Cream Plumping & Hydrating Moisturizer again and then use the Drunk Elephant Umbra Sheer Physical Daily Defense SPF 30, $34 every single day, as my final morning layer.
Sunscreen is your most important beauty product, so be sure to wear a generous amount daily and always apply it as your last step.
Makeup | Fragrance | and Tools
One of the many benefits of focusing on skin health is you don't require much in terms of make up. You'll never see me "baking" or conturing to an inch of my life. I like to see my skin come through, freckles and all.
You have seen all of these on here before. These are my everyday, go-to, 5 minute face essential.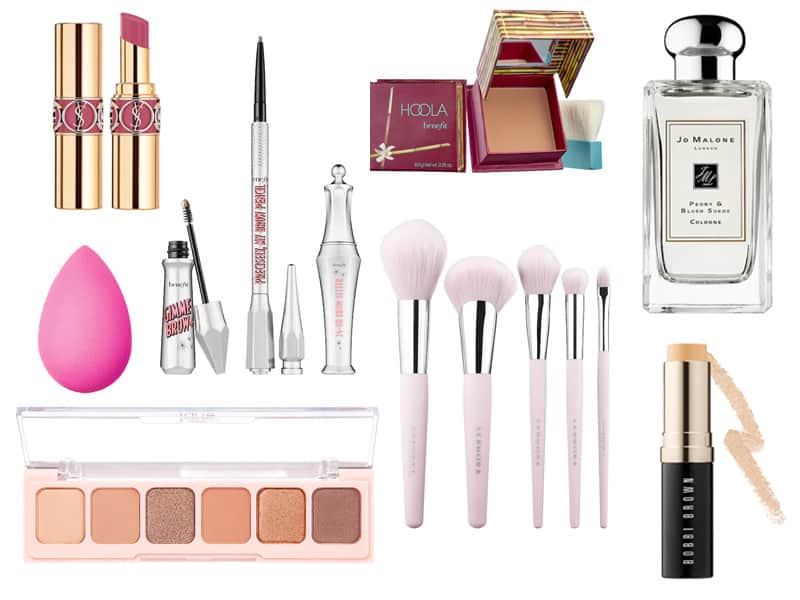 Yves Saint Laurent Rouge Volupte Shine Lipstick Balm, ($38) Like a lipstick and lip balm together, super hydrating with just a hint of pigment.
Jo Malone London Peony & Blush Suede Cologne, ($142) This has been my signature scent for several years. It's just lovely, and I am forever complimented on it.
Bobbi Brown Skin Foundation Stick, ($49) What's great about it is that it isn't heavy or cakey. You can build for the kind of coverage you want (use a BeautyBlender for easy application). The best thing about Bobbi Brown is the array of skin tones. You can be pale as a ghost (like me) or have deep and dark skin. It's truly inclusive.
Benefit Cosmetics Hoola Matte Bronzer, ($30) I have been using this bronzer since I was in my twenties. For my skin tone, it looks natural. If you want a healthy glow, you seriously don't need any other product. And it lasts forever.
Benefit Cosmetics Big Brow Love Eyebrow Pencil & Gel Value Set, $30 It's a well known fact that I believe strongly in eyebrows. They shape your face and make you look youthful, happy, and healthy. As I've aged, mine have become thin and sparse, so they need a little love, that's why I use all of Benefit's eyebrow products. This value kit is a great opportunity to give some of their best sellers a try. I also use and love their highlight pencil, here.
SEPHORA COLLECTION Skin Perfecting Brush Set, ($55) It's under $60 and has everything you need to get the most out of your application.
beautyblender ORIGINAL BEAUTYBLENDER Makeup Sponge, ($20) I add these to my cart every time there is a sale.
tarte Power Bar Amazonian Clay Eyeshadow Palette, ($19) I'm a big fan of tarte. Their Shape Tape concealer is the best concealer I've ever used. I picked up this simple under $20 eyeshadow palette for the season, and it's incredible. Simple, pigmented, smooth application and lovely neutral colors.
Our Style Content is Inspired by Our Readers
Our readership inspires all of our posts and is not sponsored or paid for by brands or retailers.
Recommendations are based on my experience as a personal stylist and wardrobe consultant for over a decade. I worked with busy, down-to-earth women who wanted to look chic and feel confident but were often confused by so much of retail.
Some links are affiliate links, which means if you purchase via our site, we receive a small commission.

If you enjoy our content and would like to help us grow, please follow on Instagram and join our Private Facebook Group to access more advice and exclusive in-depth conversations with other like-minded women.
Learn about our mission to help women look and feel their very best, every day, here.
Sign Up for Daily Content and Receive Our Free Classic Wardrobe Checklist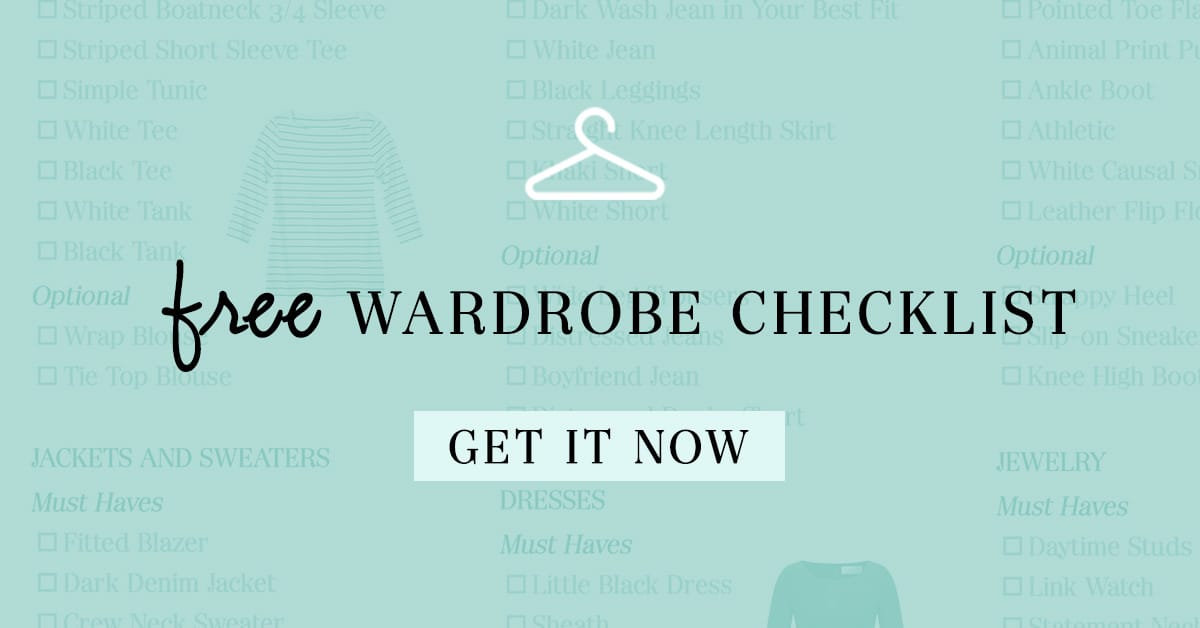 ---