This content has been archived. It may no longer be relevant
Sometimes you have to celebrate the small victories in life. For me, that's making it through my first week, kind of/sort of back to work. I'm still finding my way. It's going to take time to figure out what is going to work for our schedule ultimately, but it felt good to start to reengage my brain, get creative and hear from so many of our loyal readers.
I started to organize our editorial calendar for the next few months and began the process of putting together looks for our inspiration posts. I LOVE this look so much I need to find a place to wear it. We're featuring it as a weekend look, because it would be lovely for brunch or lunch with friends, maybe a date night where you want to wear something other than jeans. Though, you could also easily wear it to work if your office is casual and creative.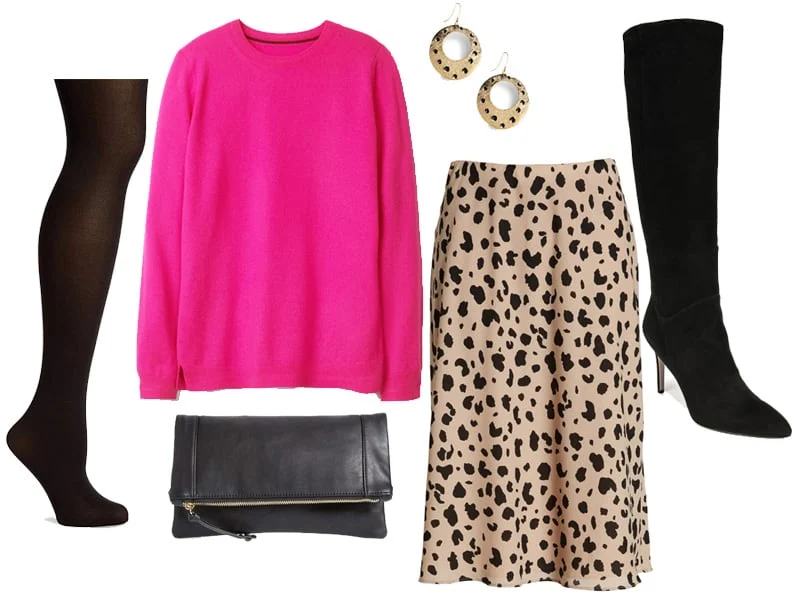 Skirt, $49 | Earrings, $90 | Sweater, $90 | Boots, $90 | Tights, $16 | Clutch, $40
The star of the outfit is this skirt available at Nordstrom for under $50. The pattern is a fresh take on a leopard print. Combined with the midi length it looks modern and chic. Most heights can pull off a mid length if you alter accordingly. Keep the hem to the very top or middle of your knee to maintain the integrity of the shape.
You can pair the skirt with many different tops. A body-skimming black turtleneck, or a black cami and fitted blazer would look lovely. I used a vibrant pink crewneck sweater to show how a pop of color can brighten a look. Here, I only used the pink in the outfit once. That's important to note because having the pink stand alone in this combination has greater impact. Regarding fit, be sure that the sweater skims your body. You don't want it to be skin tight, and you also don't want it to look oversized.
We kept everything else black: opaque tights, knee-high boots – on a super sale, (seriously they are awesome) and a fold over clutch. Each piece is simple, so the focus is on the skirt and the sweater.
Where we added some subtle personality is with these fabulous earrings. How great are these? They look like a loose interpretation of the skirt. They'll also work a dozen different ways if you're looking to update your accessory game this year.