This content has been archived. It may no longer be relevant
In today's edition of Wear to Work, we're answering a question from a reader about suits, suiting separates and creating a capsule that will travel well to a business conference.
Hello Megan,
I appreciate your blog posts, particularly the focus on pulled-together office casual looks. I'm writing to suggest a blog post topic about finding a great suit for work travel. What details or cut makes the pieces look good as stand-alone separates as well as a sharp-looking suite?

I've been looking for a suit that fits into my conference travel packing formula:
Day 1: suit jacket and dressy jeans en route (jacket doesn't get wrinkled in my suitcase)
Day 2: wear a suit for my killer presentation
Day 3: suit pants + twin set

A related topic that I'd love your advice on is navigating the items sold as "suit separates." At Nordstrom Rack recently I tried "suit separates" that was hanging on the same rack by the same brand. I was annoyed to find that the fabric and the colors were slightly different between jacket and pants – I was hoping for a mix and match option, but instead, they looked like I'd gotten dressed in the dark.
This was true with both Anne Klein and Calvin Klein. Disappointing! Do you have any hacks or workarounds for this?

Thanks!
Melissa
Durham NC
Sample Travel Capsule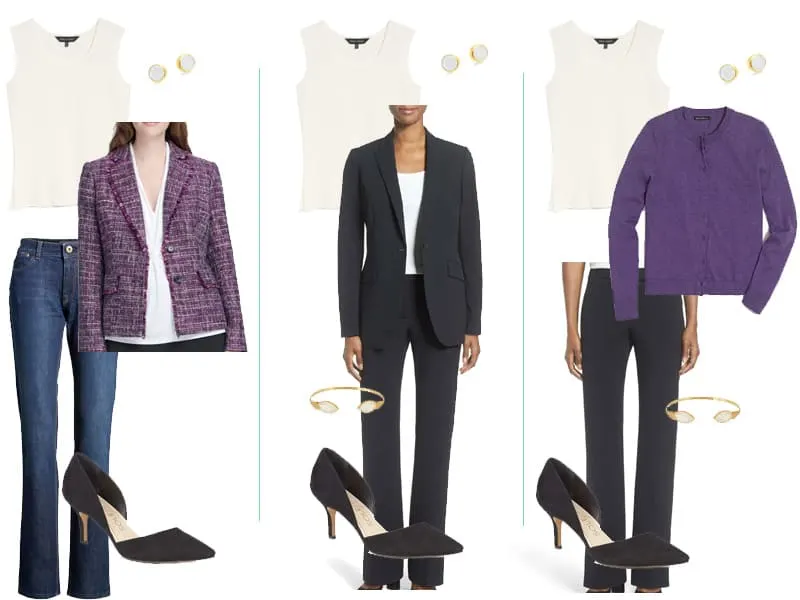 Day One – Travel: Tank, $130 | Blazer, $70 | Jeans, $168 | Earrings, $160 | Pump, $56 Day Two – Presentation: Blazer, $119 | Pants, $65 | Tank, $130 | Earrings, $160 | Bracelet, $110 | Pump, $56 Day Three: Business Casual: Pants, $65 | Tank, $130 | Cardigan, $27 | Earrings, $160 | Bracelet, $110 | Pump, $56
Thank you for your question, Melissa!
First, let's start with travel appropriate suiting.
Travel Suiting
For something to travel well it all comes down to the fabric. You want to avoid linen, linen blend and certain cotton blends. It's best to look for four season wool, a wool blend, microfiber, poly blend and anything with some stretch.
I like this Anne Klein jacket and trouser, featured above, made in a poly-blend. Note the color is called "Anne Klein Black." This tells us that these are meant to be worn together. More on this is a minute.
Hack: Pack your suit in your suitcase wrapped in a dry cleaning bag. It will arrive wrinkle free every time.
Next, let's talk about mix and match suiting, because it's a question I've been getting for years. I came up with a simple formula to follow when using a suit as a base for a capsule:
Mix and match suit pieces within a collection
Layer in separate jackets
Pair suiting bottoms with better tops and sweaters
I explain why in more detail below:
Suiting vs. Suiting Separates
Some suits are designed with true wardrobe building in mind. Brands like Lafayette 148, Hugo Boss and Theory offer a basic line of suiting that allows the consumer to purchase a few pieces each season. You could pick up a skirt and jacket one season, then a pair of pants and a dress the next and the fabric and dye lot will be the same.
This, of course, comes at a cost. The fabric and process is expensive, but the quality is excellent. It's a smart option for someone who spends their days in suits.
The most popular suits are in the mid range brands like J. Crew, Talbots, Ann Taylor, and Anne Klein, etc. Each season they create a few suiting capsules that you can buy and mix and match them within that collection.
Typically, you'll see these hanging on a rack together. They will most likely not work with pieces you purchased in previous seasons, although there are a few exceptions. But you can usually find a pant/skirt/dress/jacket combination that interchange nicely.
Shopping Tip: If you are at a discount retailer, like Nordstrom Rack or Off 5th, they hang garments by the same brand together, but those pieces might not have been designed to be worn together even if they look similar. Often they are from different collections and even seasons.
Suits by nature are formal which is why a suit jacket looks funny when paired with jeans or separate trousers. That's why I recommend wearing your suit jacket exclusively with the bottoms for which it was made.
When traveling, you can easily wear the suit bottoms with different tops. Statement jackets, like the tweed blazer above, gives a suited look and complements the fabric of the pants. You can also wear the pants with a blouse or knit for a business casual outfit.
But when you're not traveling, try to keep the suit together so you don't wear out the bottom faster than the jacket.
Creating a Capsule
In the image above I created an example of a travel work capsule using the suit as the bridge piece. For a capsule to work, keep it simple, and limit the use of colors. To add interest, focus on accessories and textures.
Anne Klein makes an affordable suit that will travel well and work for a variety of functions on your trip.
If you want to travel in jeans (these are my go-to), pair them with a separate blazer for a casual yet still professional look. If you needed something a little more formal, you could swap the jeans out for the suit pants.
For the day of your presentation, wear the full suit with a simple ivory shell (this is a similar but less expensive option) and classic but modern jewelry. This bracelet and these earrings are gorgeous and pack a lot of style.
Finally for walking the convention floor and attending seminars, wear your suit pants with the same shell, and add a lightweight cardigan.
I hope this helps!
Have a question? Leave them in the comments and we'll answer them here!
Shop this Post