This content has been archived. It may no longer be relevant
I tend to keep any kind of animal print regulated to an accessory. Leopard print specifically is a new classic pattern that adds a hint of whimsy to an outfit when done in a shoe, clutch or thin scarf. Typically, leopard as a print in clothing sends shivers down my spine. Unless you want to look like Janice from Friends, animal print apparel should be avoided.
Of course, there are always exceptions to a rule, especially when we're talking about fashion. When I came across this top at J. Crew, I knew exactly how I wanted to use it. (As an aside, I hate how J. Crew styles half of its pieces. When shopping there online, try to just look at the piece on its own or you might go right past something good.)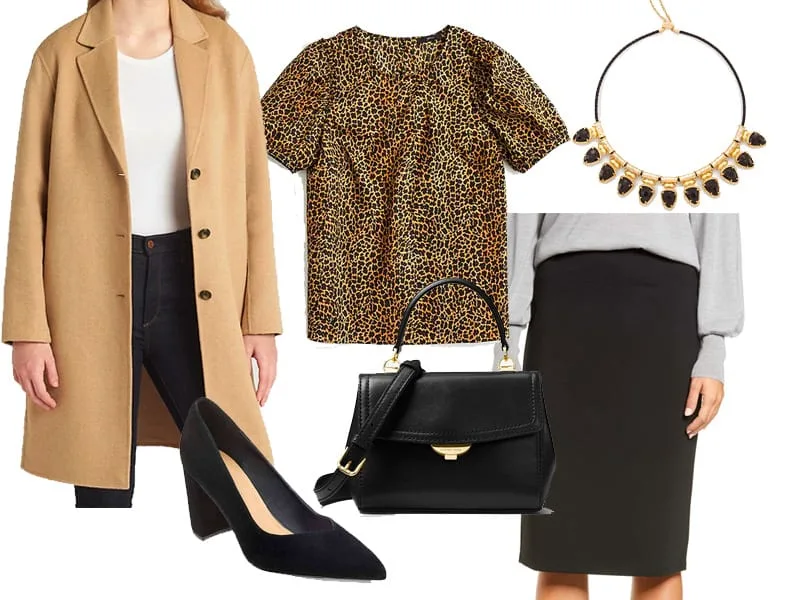 Top, $70 | Skirt, $59 | Necklace, $90 | Coat, $228 | Bag, $119 | Heels, $60
I like that this top is a short sleeve with a very subtle puff. Keep in mind, our readers vary greatly, and live all over the country and world. I keep to the season I'm in (on the east coast in the States), but not everyone wants a long sleeve or an extra layer. You could easily put a blazer on this. This is a great layer so when you eventually take your jacket off, you still have a finished look.
We paired it with a basic black pencil skirt. If you are looking for a new, classic, wear-with-everything work skirt, look no further than Halogen at Nordstrom. Back when I worked with clients and would spend days at a time in Nordstrom, just about everyone left with this piece. The fit is fantastic, it comes in a range of sizes and …. hello! It's $59. Seriously, it's the only skirt you'll need.
To create a feminine silhouette, tuck the top into the skirt. The skirt has a finished band, so it's ideal to for tucking.
Next up is this stunning Kendra Scott necklace (on sale) that acts as a layer because of its scale. The shape of the necklace compliments the neckline of the top. I would wear this to death, tucked into the collar of a white blouse, our layered over a black cashmere sweater, both great looks for the upcoming holidays.
Because the necklace is substantial, I used a shoe of equal weight, like these block heel pumps in an updated shape. It's a subtle way to balance out your look. I wouldn't spend a lot on this shape since it's more of a trend. These Marc Fishers at DSW are just right. You'll get a lot of wear out of them for a season or two, and won't feel terrible when they eventually die or go out of style.
Finally, I'm a big believer in the power of a good coat and bag. The right ones make a significant impact on your overall look. Think about it, it's the first thing someone sees when you walk in a room.
I used this camel car coat by Gap because it's polished yet casual. You can wear it with just about anything, from jeans to a dress to the office. I used the camel to pull the tan out of the top, but it's also available in heather grey and black.
For the bag, I found this small Michael Michael Kors crossbody bag. It's lovely and ladylike. If you don't like lugging a huge bag around, or keep what you bring to the office at a minimum because you commute, this might be a nice option. It feels more finished and less sporty than a traditional crossbody and is available in six other colors, my favorite being oxblood.
Shop this Post