We have received a few requests for less formal, more casual jackets and blazers for work. So today, we're starting with this cotton and wool blend collarless "blazer" from J.Crew. You can wear this to the office paired with your favorite black pants, wear it to casually meet with clients or throw it over jeans on an extra crisp day as an outerwear piece. It reminds me in a way of Eileen Fisher, but it's about a third of the price.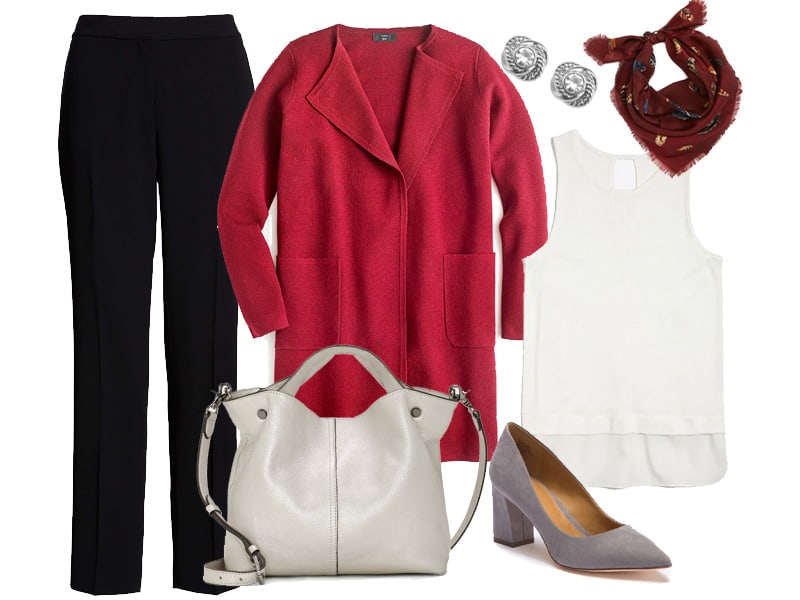 Sweater-Blazer, $148 | Pump, $40 | Pants, $89 | Tank, $20 | Bag, $198 | Scarf, $35 | Earrings, $48
The Sweater Blazer
When wearing a longer jacket or blazer fit is essential. Stylistically, it's great if you are tall. But if you are petite, it can be just as lovely. For both, be sure the bottom is no more than fingertip length. Women tend to wear longer pieces to cover specific areas they are less than thrilled with, but when they are too long, you do yourself a disservice and end up looking bigger or broader than you are. That's why having a good understanding of your best fit and proportion will change the way you dress.
This blazer comes in 6 colors that all incredibly wearable, in sizes XXS to 3X. That's amazing!
The Pants
The style of pants that you wear with this jacket is also essential. Anything too full or with a flare at the bottom will overwhelm you, no matter your height. Your best bet is a straight leg or a skinny. You could go with a pull on pant, in a double knit, or ponte fabric. In this case, I went with these Vince Camuto Skinny Ankle Pants for a few reasons. First, they say they are "skinny," but they are more of a very slim straight leg. Second, they have the most subtle bit of texture that adds a lot of depth to the look.
These pants are available in missy and petite up to a size 16. Plus? Try this similar option.
The Tank
At this point, we all have this J.Crew Drapey Tank in every color (all still available). I used it here because the length, and the double layered bottom work well with the jacket. It feels more dressed than a fitted tank or tee and the white isn't too stark.
The Shoes
Of course, you could do just about any black shoe be it a pump or flat. But you could also do gray. These faux suede pumps combine a leg-elongating pointed toe AND a block heel for support. The best part is they are $40. (Sizes are limited at Nordstrom Rack.) Regardless of what shoe you wear, be sure the toe is pointed, it will help balance where the blazer hits you and give your legs extra length.
The Accessories
For your bag, you don't don't have to match, but in this case, I found one that blended with the shoes to create a cohesive look. This bag, also by Vince Camuto is beautiful and under $200. I'm also crazy for it in what they are calling "dark rum."
Because the bag has silver hardware, I went with simple silver studs under $50.
Finally, this scarf looks darker online and would blend nicely with the blazer It's pretty, but I wouldn't tie it around your neck. Instead, loop it around your bag for a wink of pattern.