Do you know what's fun? New series.
So let's launch another! I've wanted to do a "look for less" or a "designer dupe" column for a while, and today, we're kicking it off with David Yurman Bracelet Dupes
I love David Yurman. I love the style and appreciate the mix of metals, but they are not in the budget (for me) outside of a special occasion.
The pieces work in many different aesthetics, but it's especially lovely in modern classic style. And achieving the look is easy with all the options available.
Here's the deal.
You'll never find a true dupe.
David Yurman is gorgeous and expensive for a reason. The weight, the quality, the timelessness, the service is all part of the price. And that's important to note.
It's also important to note that this series highlights items inspired by and not knock-offs. I have extreme opinions about counterfeits, so you won't see a fake Channel or anything from DHgate here.
But you will see recommendations for affordable buys you can add to your look because layering your high-end pieces with more affordable finds is not only a practical way to dress but also creates some depth to your outfit.
And these bracelets are a nice place to start.
The Look for Less: David Yurman Bracelet Dupes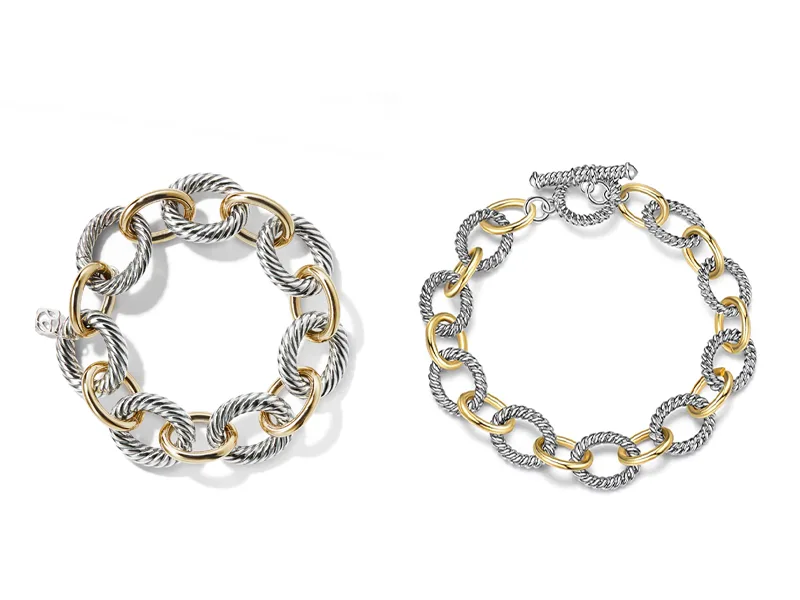 David Yurman Oval Link Chain Bracelet is , $1950 | Two-Tone Link David Yurman Bracelet Dupes, $15
The David Yurman Oval Link Chain Bracelet is iconic. You can wear it every day, all day, for any occasion for the rest of your life and then pass it on to your granddaughter.
In my opinion, that makes it worth every penny of its $1,950 price tag.
But $2,000 is also a considered purchase, and maybe you don't want to wear it all day, every day for the rest of your life. Instead, maybe, you want to incorporate jewelry into a daily look without spending a lot.
As many of you know, I am a jewelry girl.
If forced to pick between a designer bag, shoes our a piece of fine jewelry, I will always, always go with the jewelry. And I'm fortunate to have a few really special pieces, but I can't afford to stack my arm them.
That's why I would also buy the $15 dupe and play with it.
Layering bracelets is one of my favorite ways to wear jewelry. And I LOVE mixing silver and gold.
Readers often wonder if, say, their wedding set in white gold or platinum, but they like to wear gold; how do you make it work?
And I always answer with, mixing metals is a fresh and modern way to accessorize because you never want to look matchy-matchy.
BUT, it is nice to have one anchor piece.
An anchor piece, one that has both tones in it, no matter where it shows up, "gives permission" for the other pieces to work together. It makes your accessories look purposeful.
Other Look for Less Finds: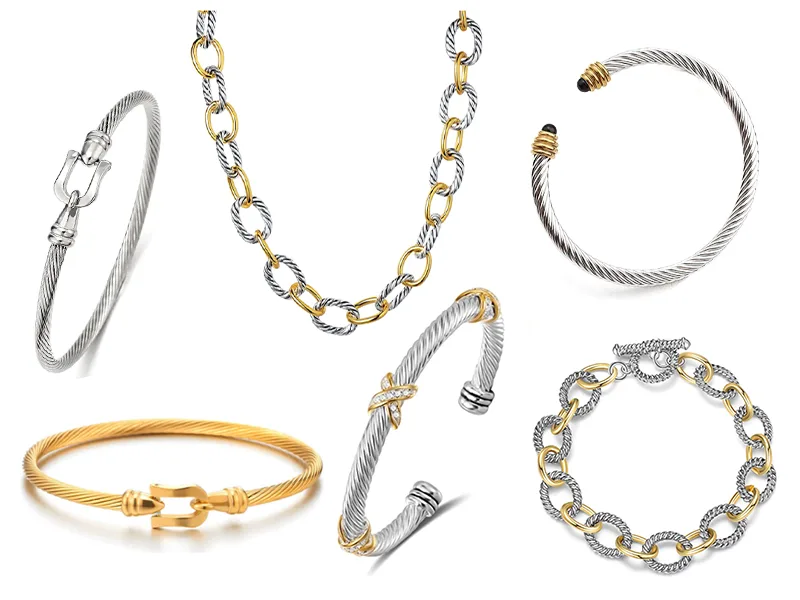 With that in mind, there are SO MANY similar pieces that give that Yurman look at a fraction of the price, allowing you to purchase something that may be outside your style comfort zone and try without making an investment.
These are the pieces I recommend:
Oval Link Dupe, $15 – featured.
Cable Cuff Bangle Dupe, $14.50 – If you wear a lot of black, the small black stone looks really rich.
Cross Cable Bangle Dupe, $20 – This one is my personal favorite.
Link Necklace Dupe, $22 – This is a nice option if you want a necklace, it layer beautifully under the collar of a blouse.
Cable Bangle with Hook Clasp Dupe, $15 – I bought the silver and gold tone, the gold is very yellow.