I am not a water person.
I don't like being in a pool or the ocean.
Instead, I prefer to be water -adjacent.
I will happily sit on the beach or next to the pool for hours.
In fact, it's my favorite thing to do in the summer.

While I do spend a good part of the season in a bathing suit, it's not my favorite category of clothing.

Over the last few weeks I've had countless requests for bathing suit round-ups.
And here's the deal, I am nothing if not self aware, and perfectly comfortable knowing where my strengths and weakness lay, and it's not swimwear.

So, today, I'm sharing my personal favorite suits and some cover up options that should work for everyone.
Stylish Bathing Suits and Cover Ups I Love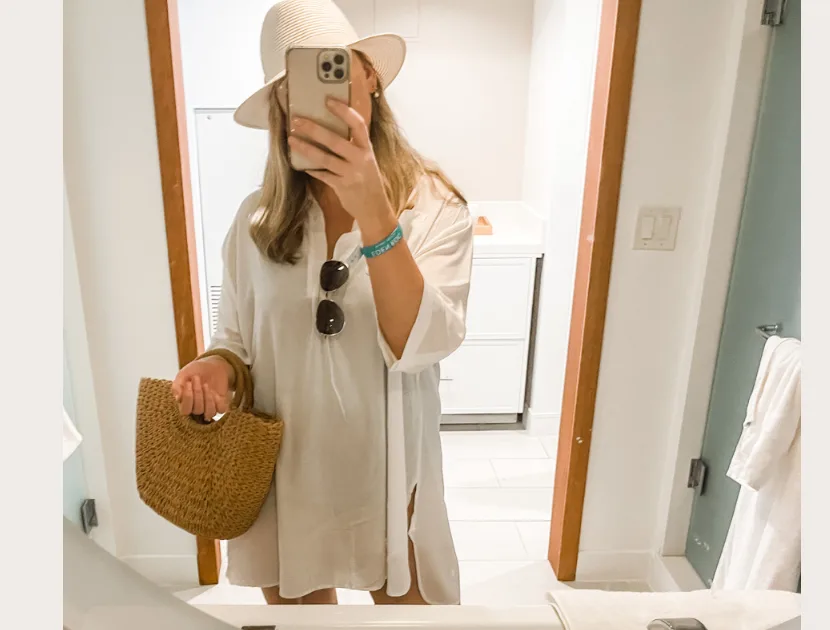 For swimwear, I keep things really simple, and I don't do a big swimwear round up here because it is truly a try-on-and-see process.
And it's hard for me to give you advice when I struggle finding suits that make me feel confident.
What I can tell you is that I've always been thrilled with everything I've ever bought from La Blanca.
Swim is in my spend category.
Spending more makes a huge difference in the construction and fit of the suit.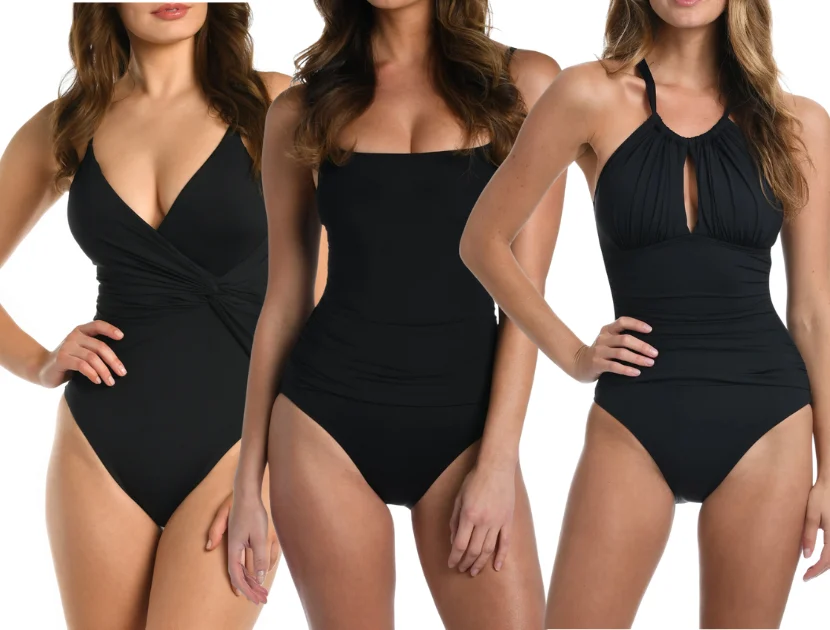 I own a handful of suits from La Blanca, including this chic one I just bought.
I have this classic style, and this high neck style we featured a few months ago.
They are all basic, fit well and I don't mind wearing them on their own in public.
I also like this one piece Miraclesuit, that snatches in your waistline, and this one shoulder style is seriously stunning.
I've heard great things about Summersalt, but at my pool last summer I saw a dozen women in the same exact suit. So I didn't order them.
Shirt Style Cover Up
I like a coverup to throw on going to and from the pool, for walking to the beach and grabbing drinks and lunch somewhere.
So I thought I would share some of my favorites.
I took this photo last March (2022) when we were in Miami for few nights. And I lived in this inexpensive cover up I bought on Amazon.
I have it in white, black and just ordered the pink and navy.
It's lightweight, drapes nicely away from the body, so it's not clingy, and has a high low hem I love.
Available in a TON of colors in sizes in S – 3X.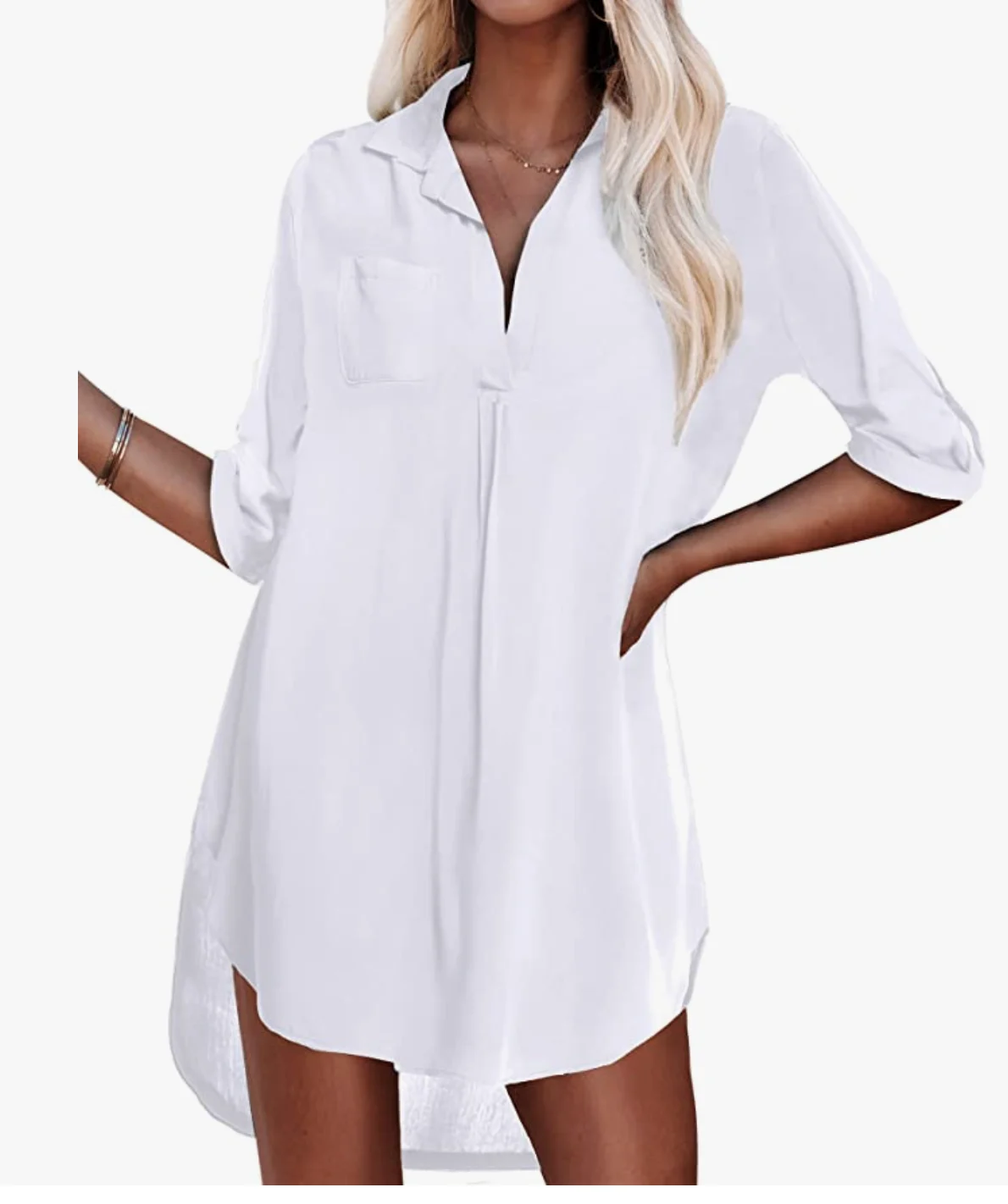 1
Shirt Style Cover Up
Amazon
$28.00
Chiffon Cover Up Shirt
Another Amazon find I got a lot of use out of is this pretty chiffon cover up shirt.
I bought this in white, and it's still looking fresh.
Available in sizes XXS – 3X with over 30 color options.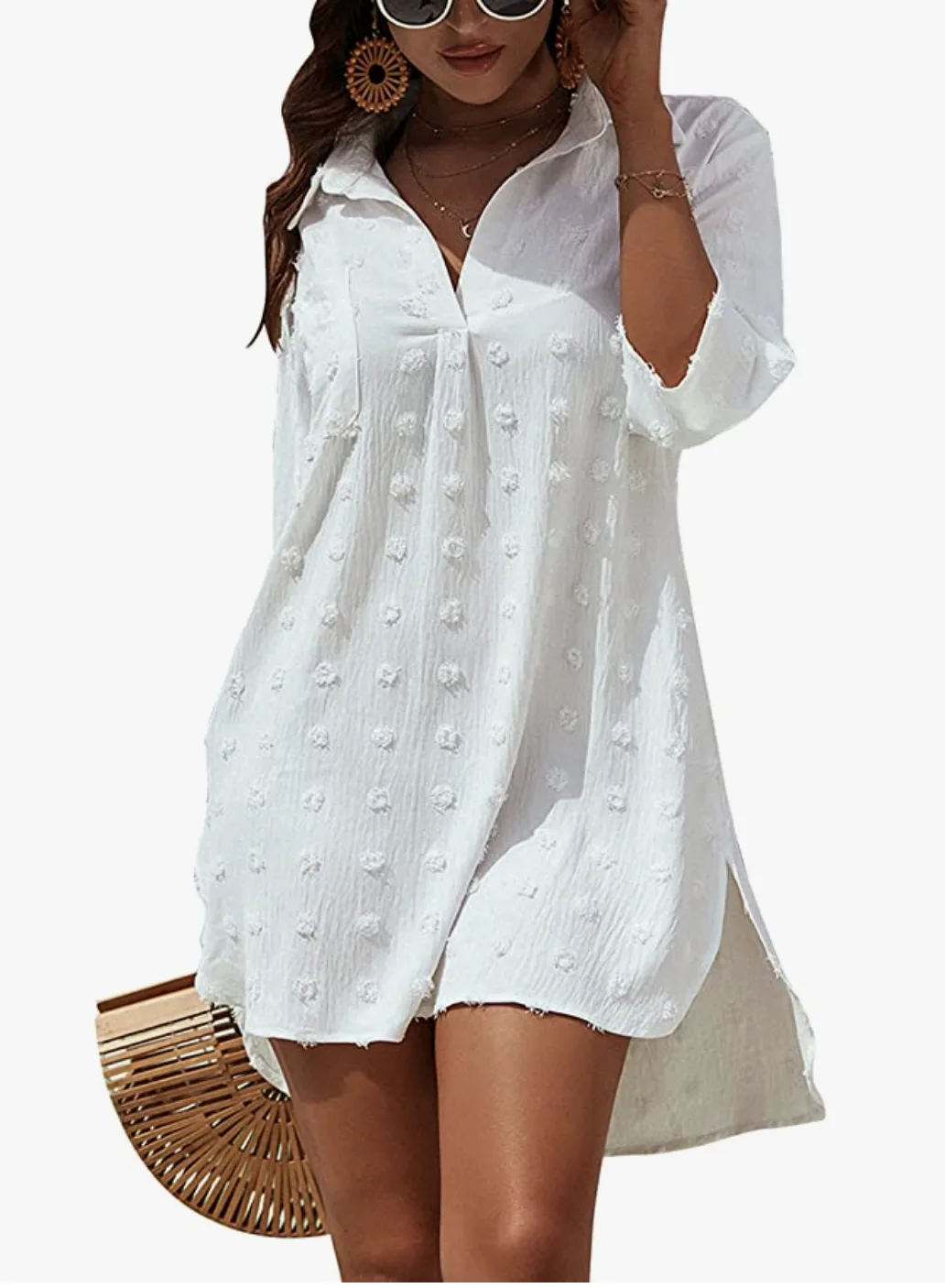 2
Chiffon Cover Up Shirt
Amazon
$35.00
Tuckernuck
In an alternate university, where I am me, but independently wealthy and l live a life of leisure, I spend my summers dressed head to toe in Tuckernuck.
But for now, I splurge on a few cover ups.
I like this simple caftan with pom pom trim, I would 100% wear this pink option to dinner, and this white one is divine.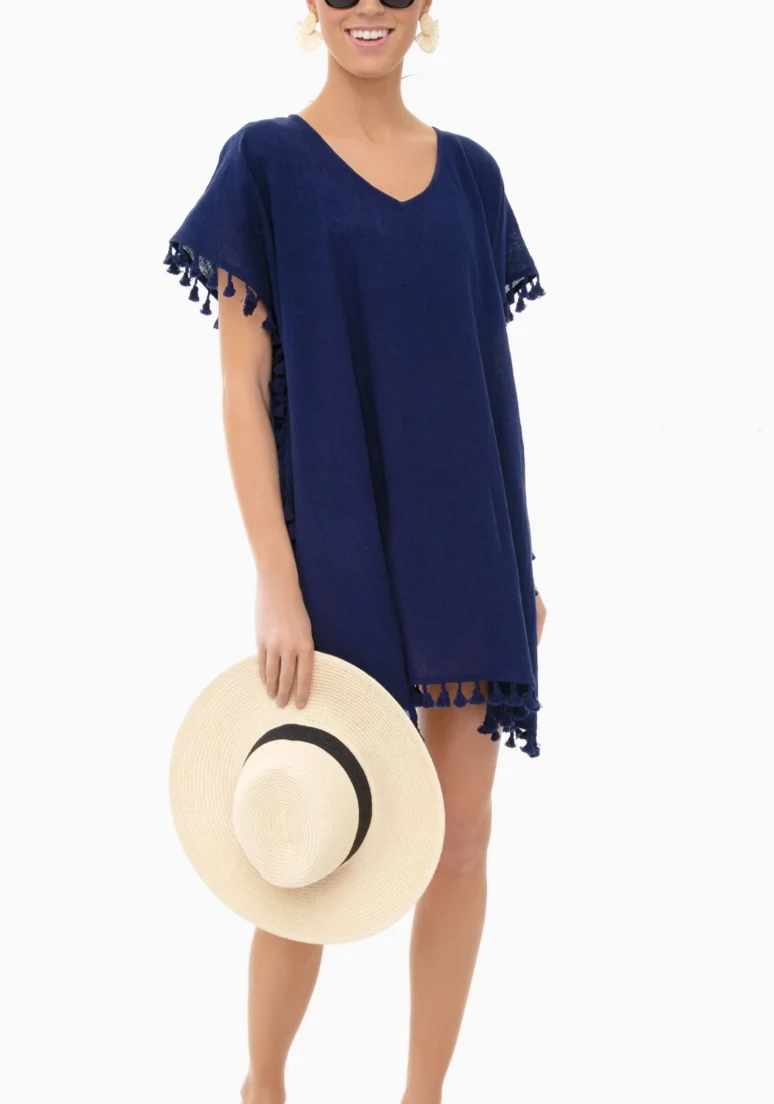 3
Navy Katie Caftan
Tuckernuck
$78.00
J.Crew
J.Crew and J.Crew Factory always has great options.
Readers really liked this long linen-blend beach shirt, available in XXS – 3X, on sale for under $80.
I also like this cotton voile button-front cover-up dress, in a few fun colors.
J.Crew Factory has a shirt dress with a tie at the waist on sale for 50% off.
And this tie-front cover up in a tropical print is fun.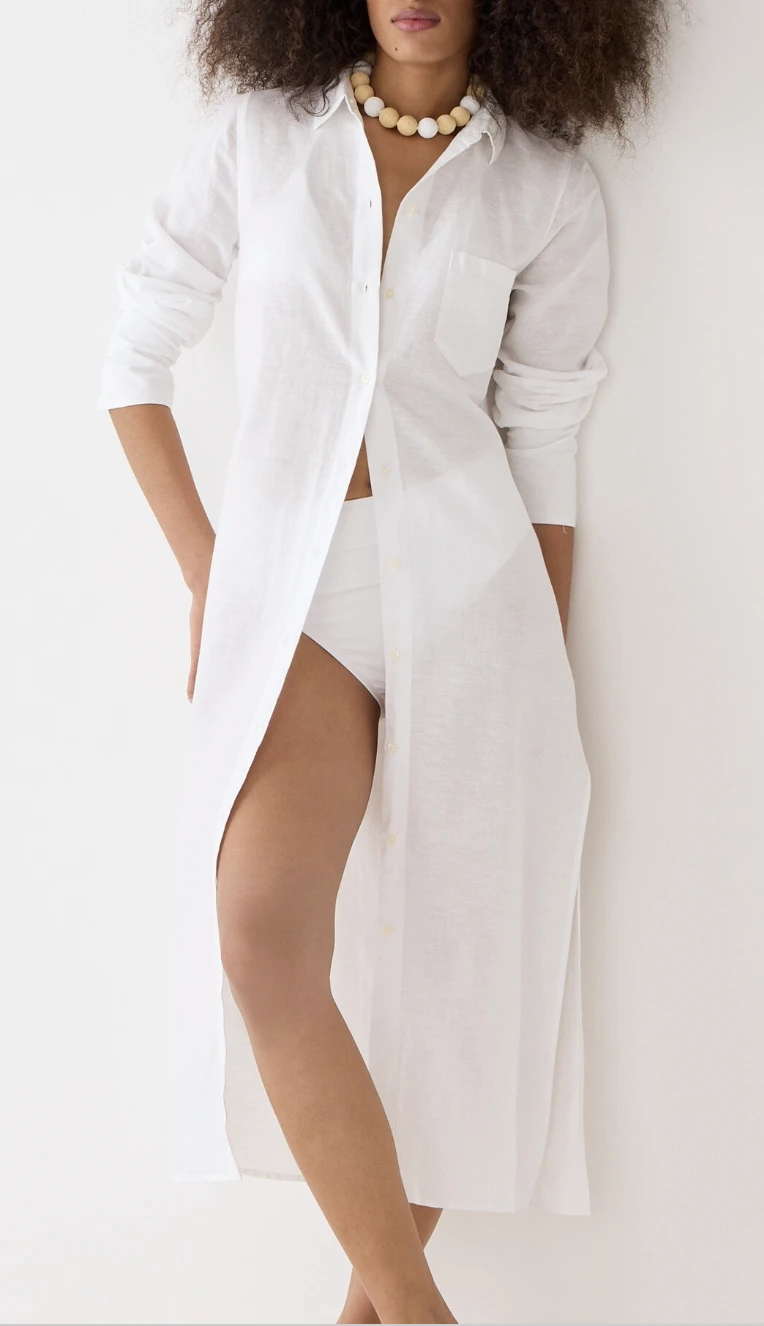 4
Long Beach Shirt in Linen-Cotton Blend
J.Crew
$79.50
Nordstrom
Finally, Nordstrom as a great variety of options.
I adore this long slip dress style (below), in black, white or blue for $85.
This open front style from La Blanca is nice if you just want a little coverage.
And you could make this long printed maxi cover up extra glamorous with oversized earring and fun sandals.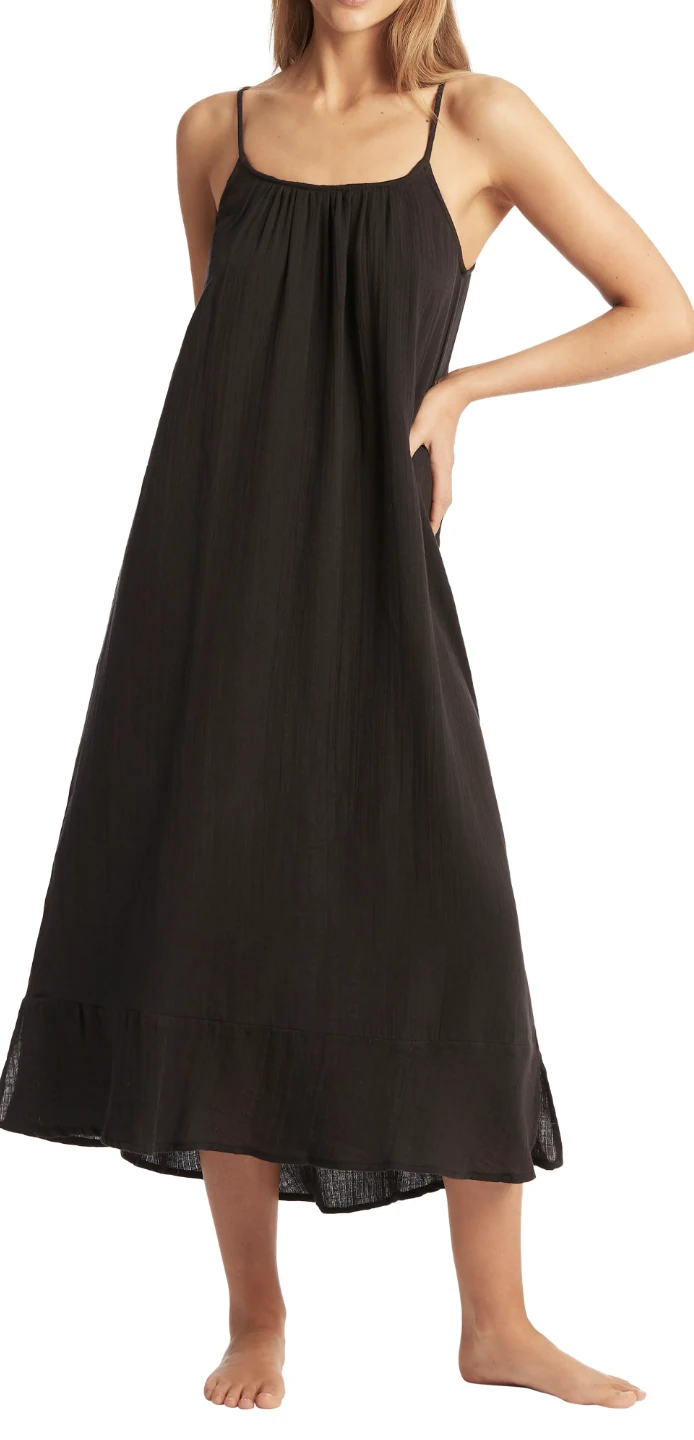 5
Sunset Cotton Cover-Up Sundress
Nordstrom
$85.00