It's time for our 12 Piece Wardrobe Capsule for June!
This month, apparently, I was feeling blue!
When I pull these capsules together, I consider a lot of things.
I think about what could be going on this month and next; I look at recent readers' favorite items to build on, price, and practicality.
This time of year, I spend less on clothes and more on staple items with longevity.
And looking at my calendar, I have a few dinners with friends planned, a weekend at the shore, my husband's birthday, and a Fourth of July party I look forward to all year. So a few fresh pieces add a lot of value.
I'm delighted with this collection, a mix of solids and some fun prints, classic silhouettes, and a hint of preppy flare.
12 Piece June Wardrobe Capsule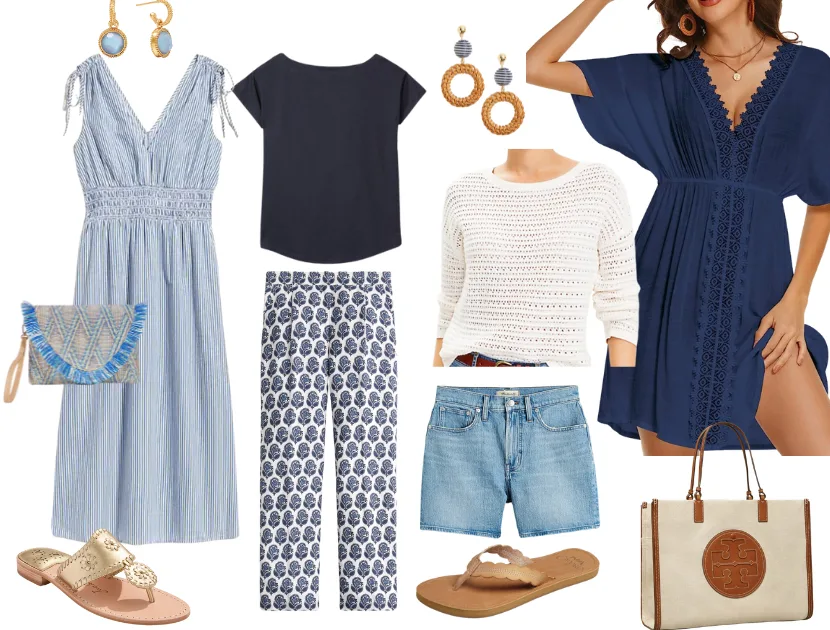 I start each capsule with an inspiration piece. It's usually a print in a dress or top, but this month, I wanted to include a bathing suit cover-up that looks like an outfit.
And I found a few. I loved it navy, so everything was built around that.
Please remember these posts are both shoppable and for inspiration. I only feature items I personally recommend.
And I do my best to include as many sizes as possible, but unfortunately, I have to work with what retailers offer.
Also, this time of year, things sell out quickly; please note I have no control over inventory.
AI'MAGE Swimsuit V Neck Cover Up
I bought an almost identical cover up from La Blanca a few years ago and I'm sure I spent at least $100.
This one from Amazon has similar details, and comes in 11 colors for under $30. Available in S – XXL.
I picked up the navy and white.
We also featured this cover up from Amazon last month and you LOVED it. Available in S – 3X.
If it's helpful, you can see me in it here.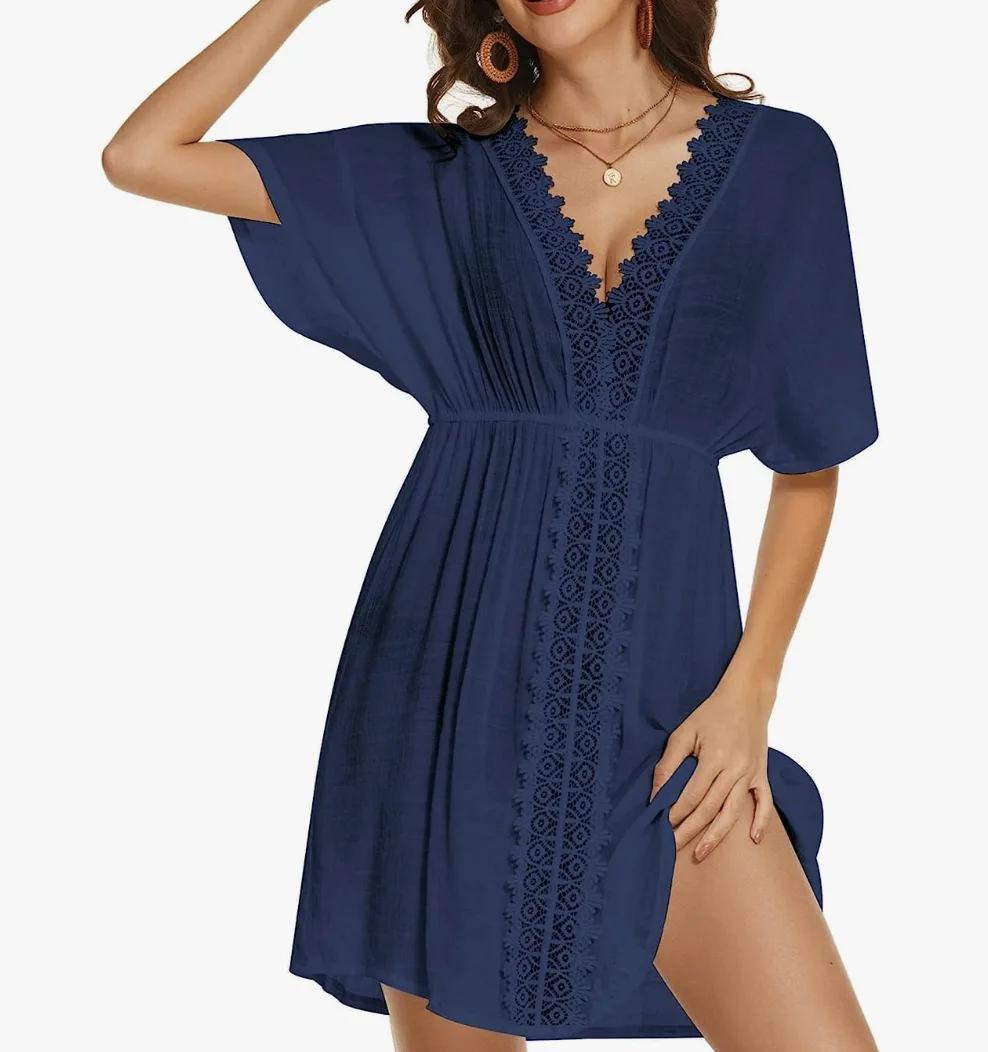 1
AI'MAGE Swimsuit V Neck Cover Up
Amazon
$27.00
Tory Burch Ella Canvas Tote
If there is one thing our community loves, it's Tory Burch on sale. So whenever classic Tory is marked down, I feature it.
We shared details on the Tory Burch Semi- Annual Sale over on our Instagram Stories last weekend, and ya'll scooped it up!
The Ella Canvas Tote was a best seller, along with this timeless wallet.
This is a great bag for shopping, running errands or a day by the pool without kids. 😉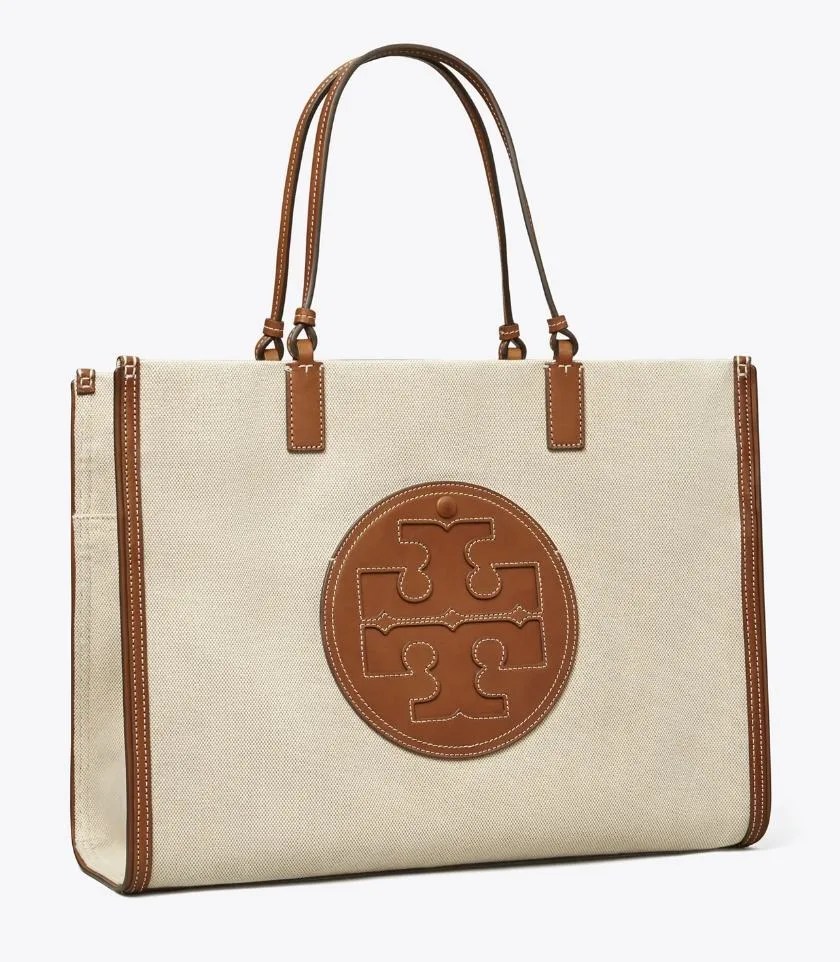 2
Ella Canvas Tote
Tory Burch
$262.00
Crochet Sweater
Last months best seller was this open weave sweater from Banana Republic Factory. It's sold out in white and limited in black and olive.
So when I saw this crochet sweater from LOFT in white, I knew it had to be part of our capsule.
It's a little more casual that the BRF option, which I love for this time of year, paired with either of our featured bottoms.
Available in regular and petite in XXS – XXL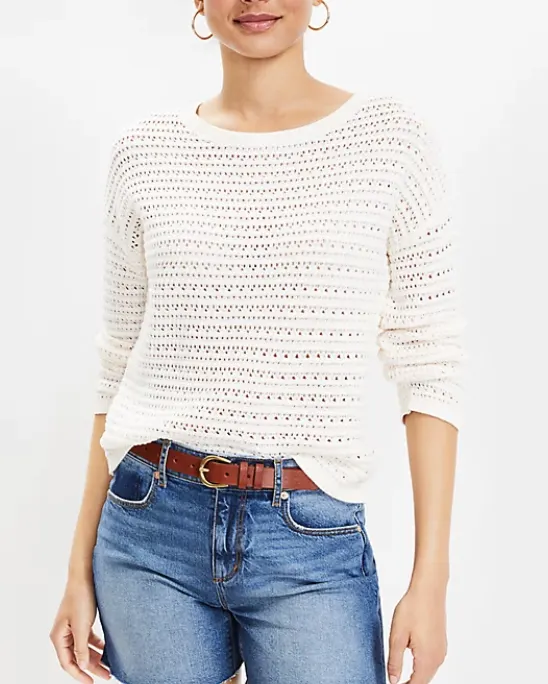 3
Crochet Sweater
LOFT
$69.95
The Perfect Vintage Mid-Length Jean Short
Last month we featured a similar short but it sold out quickly and had a limited size range.
This mid-rise short with a 5″ inseam from Madewell is exactly what I want to wear this time of year.
It's fully stocked with sizes from 23 – 33 (for reference I take the 29).
Love the perfect light wash, that they hold you in and have a clean finish.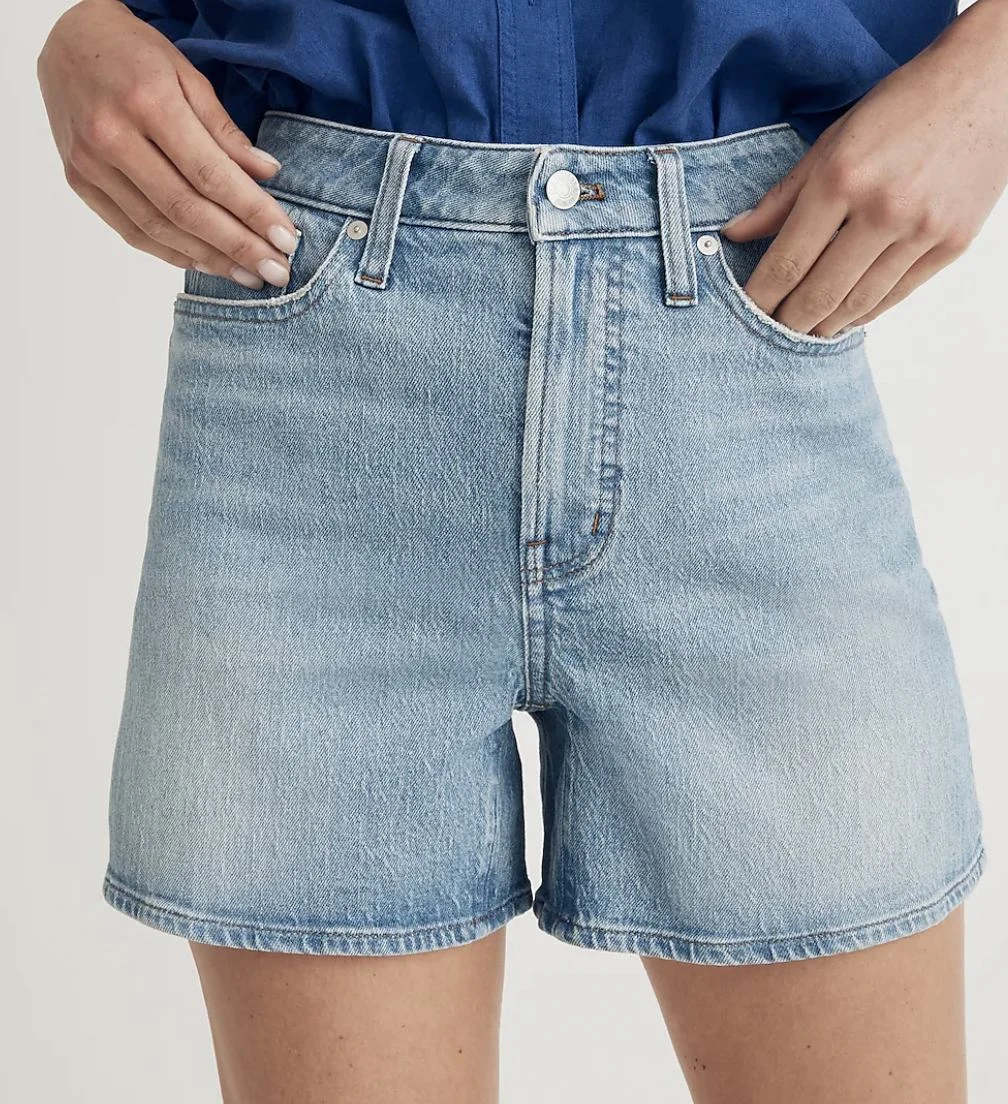 4
The Perfect Vintage Mid-Length Jean Short
Madewell
$78
Straight-leg Pant in Bouquet Block
Printed pants are BIG.
We're seeing them in all kinds of styles in a wide range of prices.
Personally, I like the idea of a print in a tailored cut, but you can find these flowly and wide legged if you prefer.
Featured here are from J.Crew, on sale, in sizes 00 – 24 in regular, petite and tall.
I like the floral print here, it looks like designer fabric, and you can pair it with the white LOFT sweater above.
These might not be for you, AND THAT'S OKAY!
But a can see something like these adding some fun to a few our our readers closets.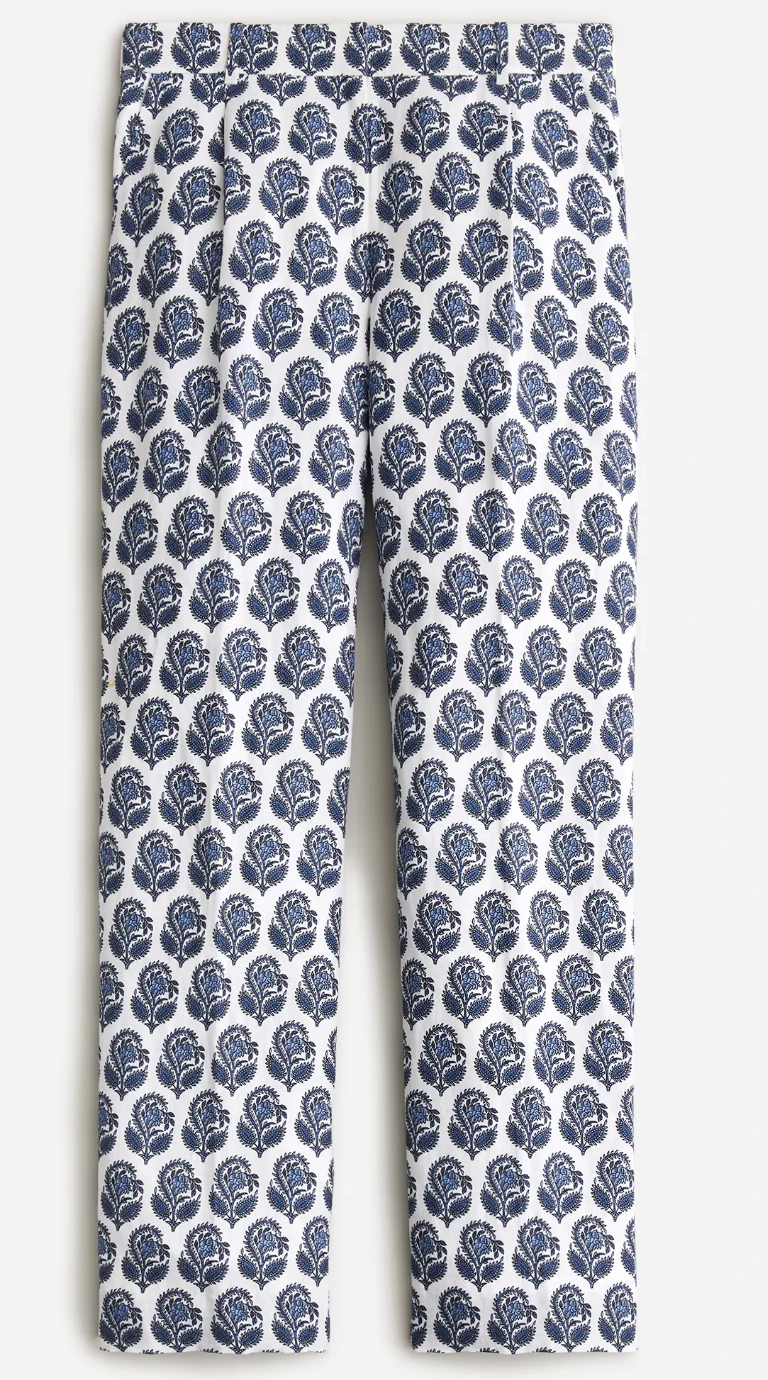 5
Straight-leg Pant in Bouquet Block
J.Crew
$140.00
Supersoft Boat Neck T-Shirt
The print above could use a dark navy top, and this boat neck tee from Boden is lovely, especially if you want a tee shirt but better.
It has an elegant neckline and loose (but not oversized) fit.
Available in navy, black, white, coral and stripe, on sale for $26 in sizes 2 – 20/22 – please be sure to check Bodens UK size scale.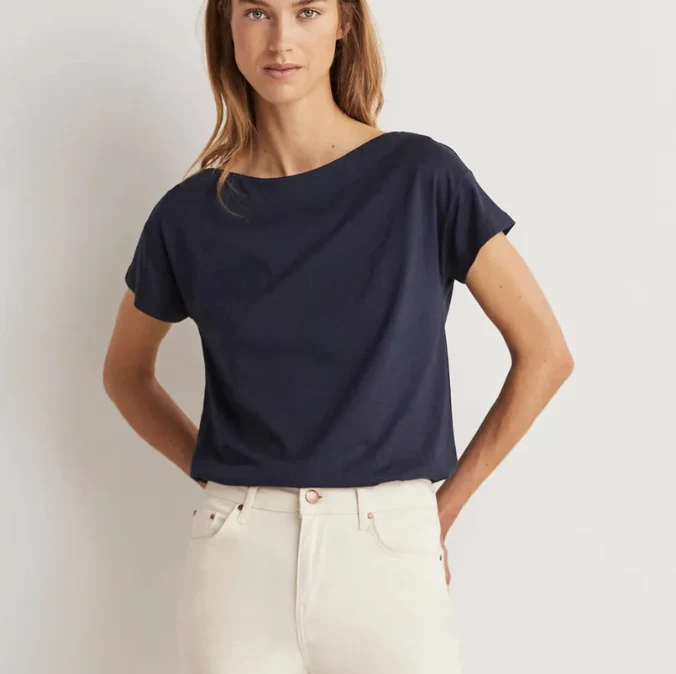 6
Supersoft Boat Neck T-Shirt
Boden
$26.00
Fit & Flare Sleeveless Striped Tie-Shoulder Smocked Maxi
I'm on a mission to find Tuckernuck-inspired dresses for less. I'm just not going to get enough wear out of them for the price, but I love the style, especially in the summer.
And this striped maxi from Old Navy gives the same look for way less.
Available in Old Navy's inclusive size range of regular, tall and petite in XS – 4X for under $40.
You can dress this up or down, with flip flops or white sandals, or and a flat like these Jack Rogers (below) or the best selling H sandals that are from Tuckernuck and one of our faves.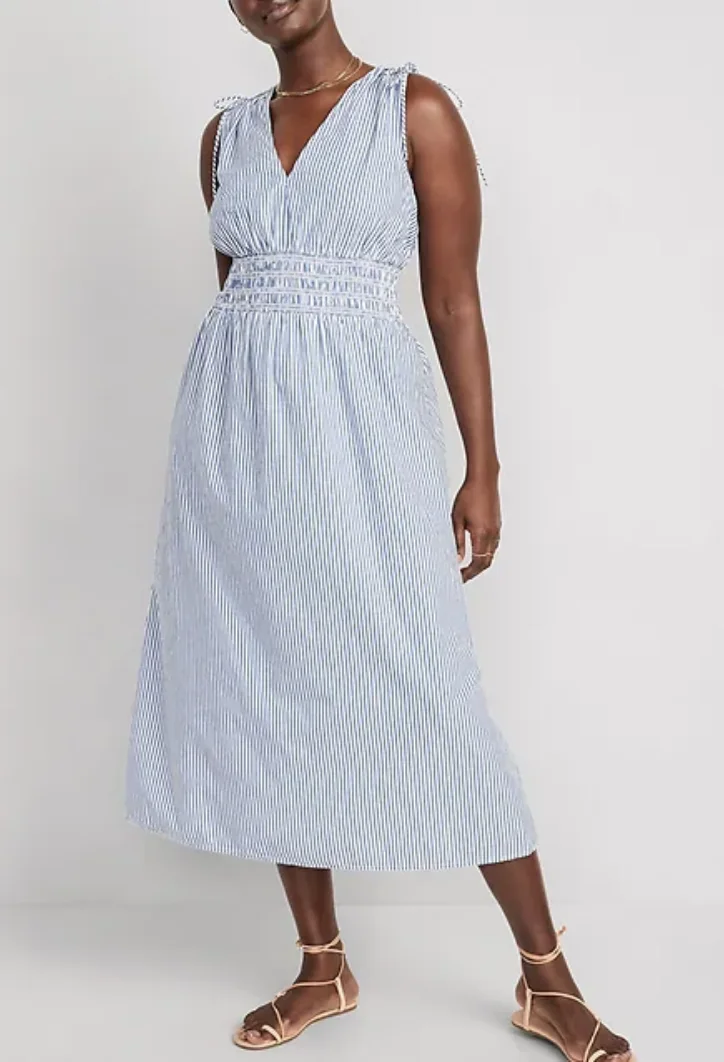 7
Fit & Flare Sleeveless Striped Tie-Shoulder Smocked Maxi Dress
Old Navy
$37.00
Jacks Flip Flop
Not that Jack Rogers have ever been out of style, but I am thrilled they are back in popularity.
They are the perfect summer sandals.
Featuring them here in the color platinum, they go with every look and more hanging in your closet.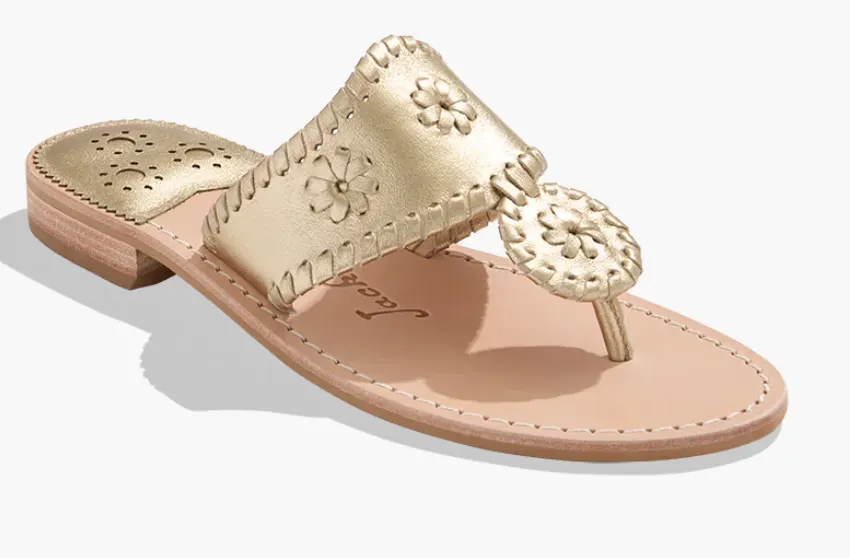 8
Jack Flip Flops
Jack Rogers
$128.00
Straw Clutch
When I get something in my head I can't stop until I find it.
For this capsule I wanted a straw bag with some color. Something to add some interest, texture and work off of some of the preppy accessories.
Now, you can totally use this best selling clutch featured in last months capsule.
But I found this straw clutch with blue stitching and fringe and I love it. It looks like something you would find at a little boutique, not on Amazon for under $30.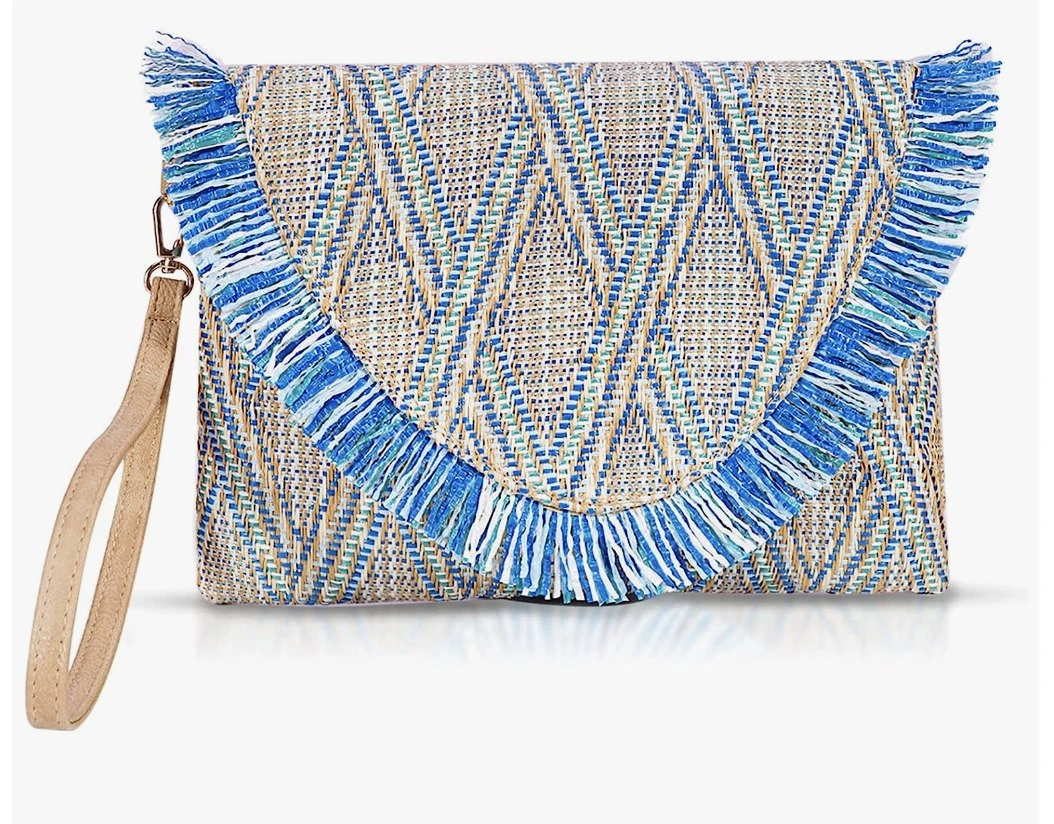 9
Straw Clutch
Amazon
$27.00
Fleur-de-Lis Hoop & Charm Earring
One of the tricks for making an inexpensive dress or outfit look elevated is to add your better accessories.
So I included one of my favorite pair of earrings from Julie Vos, their Fleur-de-Lis hoop and charm.
They are $145 which is very reasonable for the quality and they work with so many things.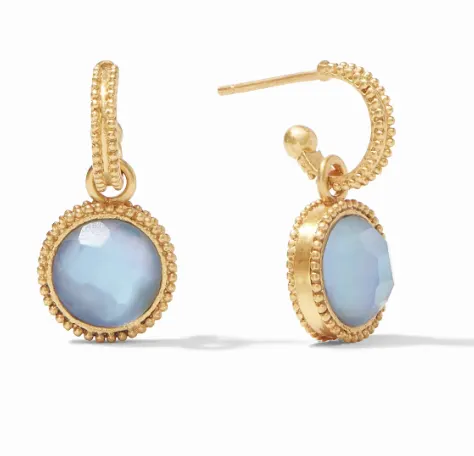 10
Fleur-de-Lis Hoop & Charm Earring
Julie Vos
$145.00
Wrapped Rattan Statement Earrings
On the other end of the price spectrum are these $15 statement earrings from J.Crew Factory.
Love these with any of our featured pieces, with this best selling navy amazon dress, or navy and white outfit you love.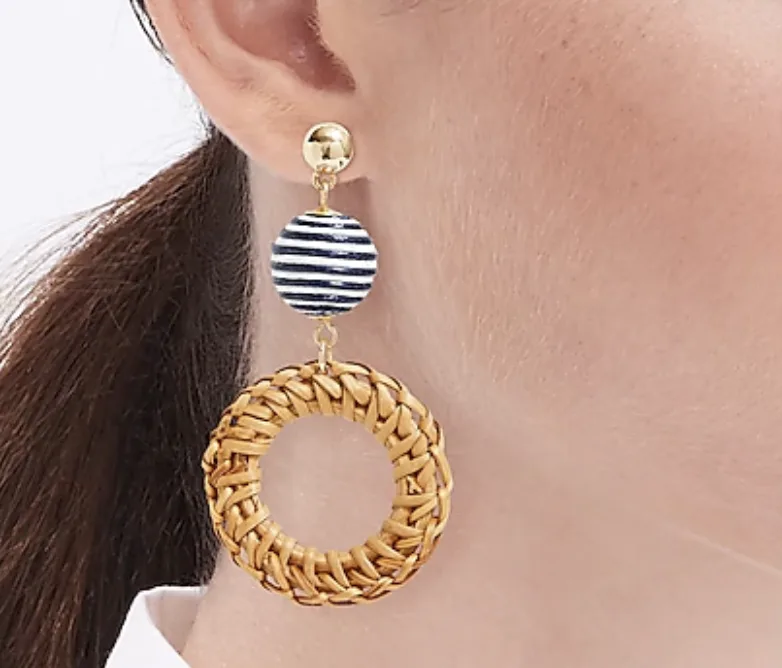 11
Wrapped Rattan Statement Earrings
J. Crew Factory
$15.00
Cushion Celine Flip Flop
Finally, if you need a new pair of flip flops that can take you from the pool to a day of walking around, consider REEF's Cushion Celine Flip Flops.
Have arch support for comfortable and a stylish and on-trend scalloped detail for $45.
Available in several colors but my pick is the natural.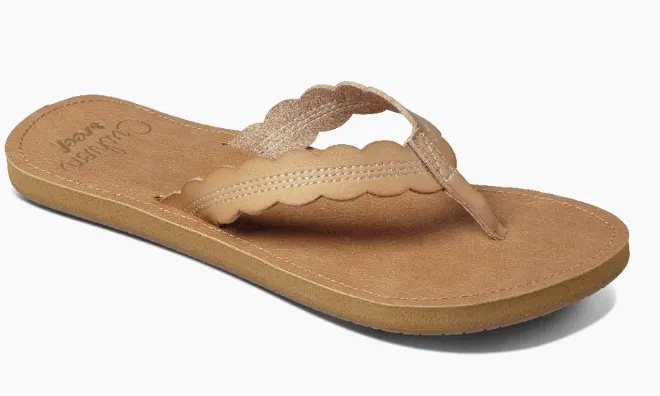 12
Cushion Celine Flip Flop
REEF
$45.00