Every month we share a 12 Piece Capsule, and this month, I thought it would be fun and helpful to create a capsule with only pieces from The Nordstrom Sale.
The sale is now open to the public, meaning anyone can shop – you don't need a Nordstrom Card.
As of when we hit publish, all of these options are in stock, and there are a few I am extra excited to share.
For our theme, I focused on transition items.
It's likely hot where you are; it's unbearable in the Philadelphia area, but thinking a bit ahead, these pieces will be a welcomed addition to your wardrobe in just a few weeks.
You can see all of our picks from the sale here: Part 1, Part 2, Part 3.
12 Piece July Capsule from the Nordstrom Sale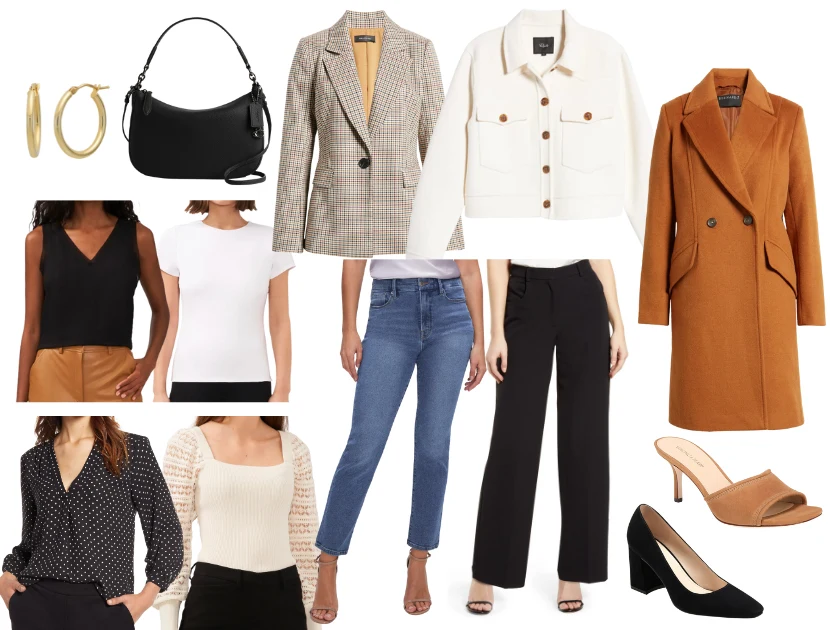 Keep in mind items sell out fast, so if you like something, act fast, don't wait to come back this afternoon.
And also, I have absolutely no control over the inventory, or how many sizes were brought in.
Bottoms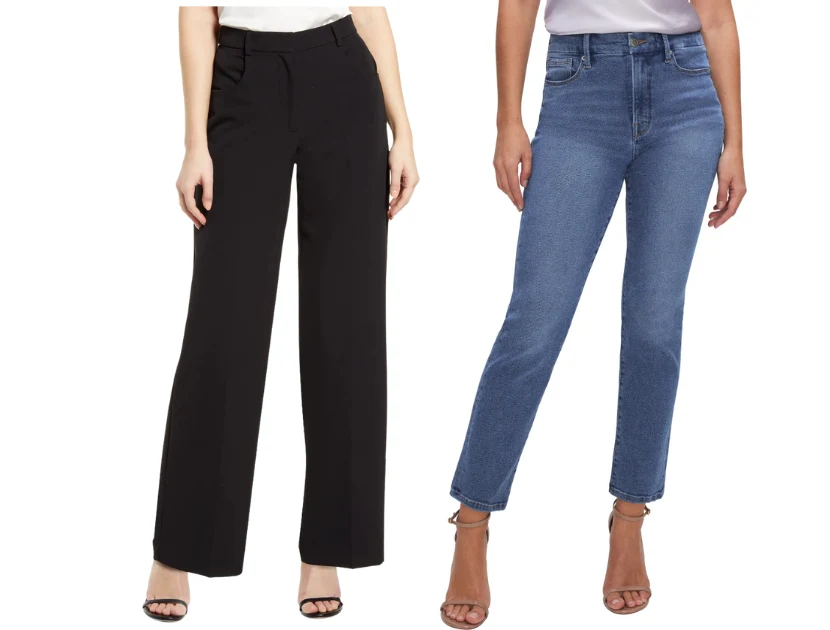 Let's start with bottoms.
I found two pairs of pants you'll appreciate.
First, from Vince Camuto are these flat-front, wide-leg trousers, on sale for $72 in sizes 00 – 14. They are not oversized, just a bit wider than a straight leg.
They also come in a plus size option. But I think this option from Wit & Wisdom is better, also on sale.
If you wear these, be sure that the length is long enough. You might need to hem it up or take the hem down – either are easy alterations that will make a big difference.
Pick a heel height for these and stick to it. You want the hem to break slightly or puddle on the top of your foot.
Next, a pair of jeans from Good American, on sale for $89.99.
I have these and wear them regularly.
They are a light wash, so you can wear them now and later, hit right at your ankle and have a slim straight leg.
So if you still like the skinny style, like me, these are a fantastic option.
I have fuller hips and a smaller waist and these fit will, with no gapping at the waist and nice pocket placement on your tush.
Be sure to check their size guide, these do go into plus sizes, but they run a 00 – 28 scale. This pair is available in 00 = 24.5″ waist to a 15 = 34.5″ waist.
Tanks and Tees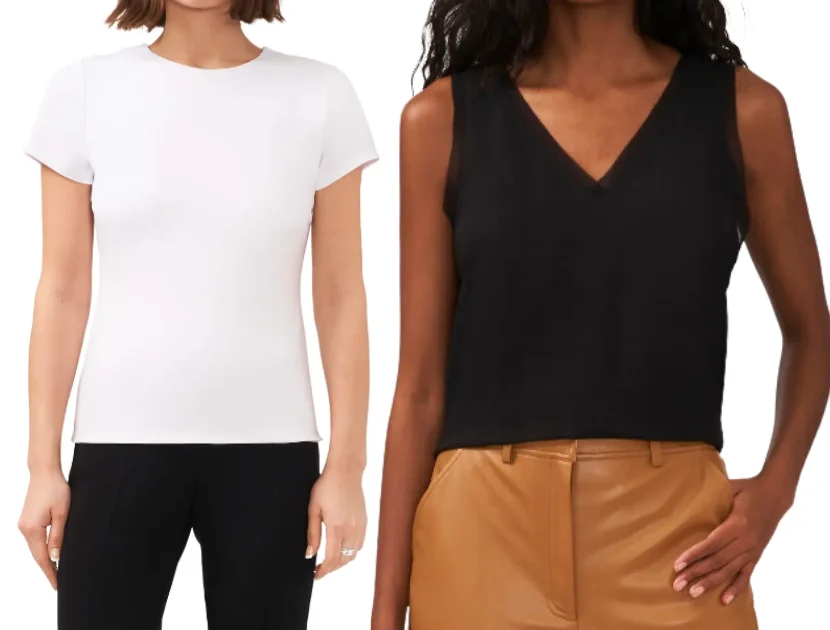 I'm shocked we're still able to offer layers, but these two are great options, in stock in different colors.
First, this compression tee from Nordstrom brand Halogen is on sale for $23, in sizes XXS – XXL in white or black.
A great option to layer under a piece you're not planning to take off, or you can wear it by itself if you are comfortable with the look.
It's fitted to the body, with a smoothing yet comfortable fit.
Also available in a long sleeve with a few colors.
Next is the popular raw-edge chiffon tank, also from Halogen, is on sale for $32 in sizes XS -XXL.
It sold out in white but it could come back in stock so keep an eye out for it.
Tops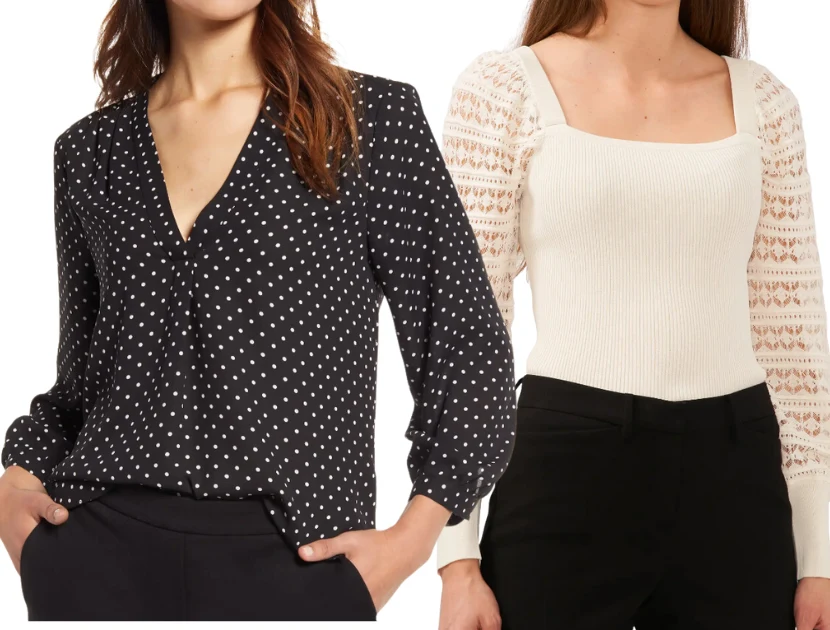 Two tops caught my eye, starting with this Polka Dot V neck blouse from Vince Camuto, on sale for $48.99.
Available in sizes XS – XL here, and here in plus size, size down if in between.
Polka Dots are a reader favorite print, as is this super flattering style blouse. Wear with the black pants or jeans above.
Next, is this lovely sweater with lace sleeves and a unique square neckline for $58.99.
Would be so pretty with jeans in September, or with your favorite neutral trouser. They are showing it with black, but I think it would look better in navy or brown.
Jackets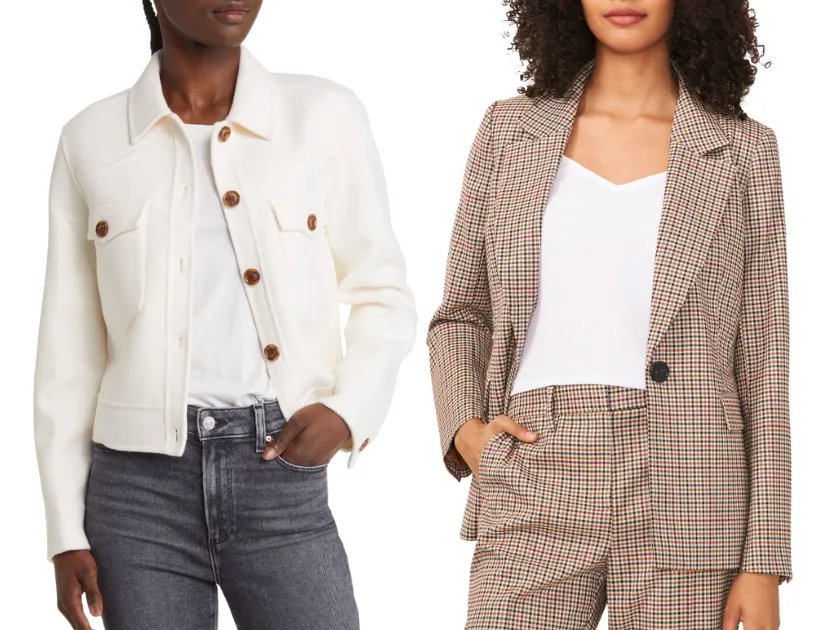 First, we must get into this Wool Blend "Cropped-Not-Really-Cropped" from Rails.
It's a little hidden gem of the sale.
On sale, it's still $199 (from $288), but what a gorgeous, elevated, yet casual jacket to wear instead of a denim jacket?
I'm also including a single-button Check Blazer on sale for just under $100 in sizes XXS- XXL.
Pair with black or cream (or ivory) bottoms, or your favorite jeans, with either of the layers featured above.
Shoes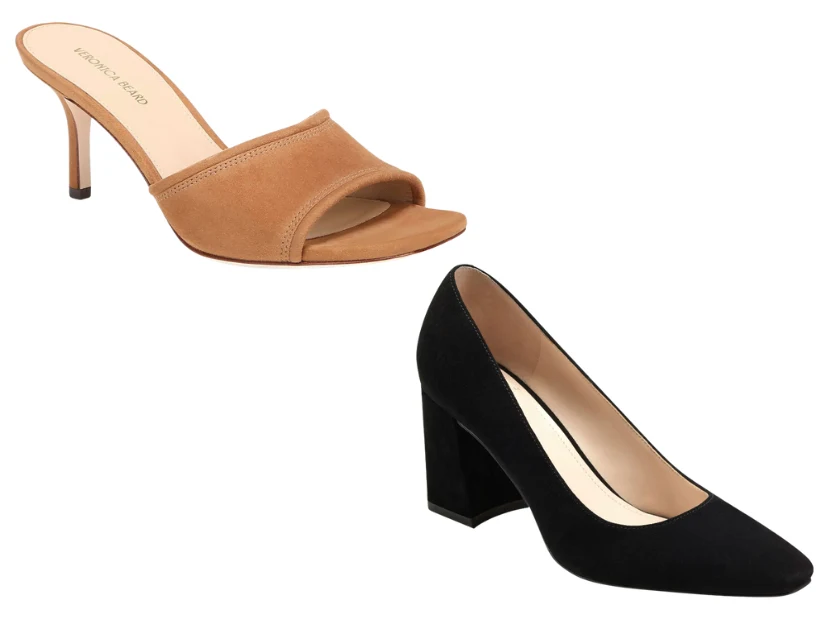 Often, you'll hear people with my job tell you to "only buy it on sale if you would buy it at retail."
And that's such b.s.
Here's the perfect example of why.
Veronica Bread is one of my favorite brands, but at full price is out of my usual budget. Even on sale, it's splurgy.
So I scoop up certain pieces on sale that I wouldn't be comfortable buying otherwise.
For me, that's the whole point of a sale.
And I adore these slide sandals with 3″ heels, on sale for $219, from $325, available in tan or black.
Again, still a spend, but I've always been satisfied with everything I've bought from them.
If you need more a cool weather shoe, these Marc Fisher's combine two of our favorite styles: a block heel and a pointed toe.
These are fantastic for wide or boot cut bottoms, as they balance out the proportions of the pant leg nicely.
Available for $90 in a range of colors, but I recommend either the black suede (above) or the "light natural."
Coats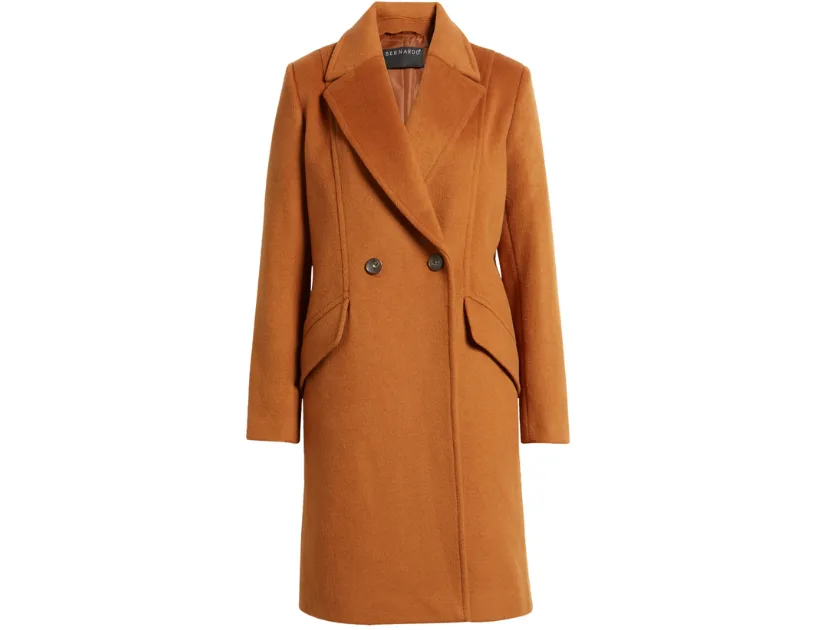 This is a lovely double breasted coat I overlooked in our first roundup.
And don't worry, if you don't like the color, it also comes in black, but this "pumpkin spice" option is something we don't see a lot of.
I really like the length, compared to some of the extra long coats we're seeing, this is a lot easier to wear.
On sale for $130, both colors are fully stocked in sizes XS – XXL.
Accessories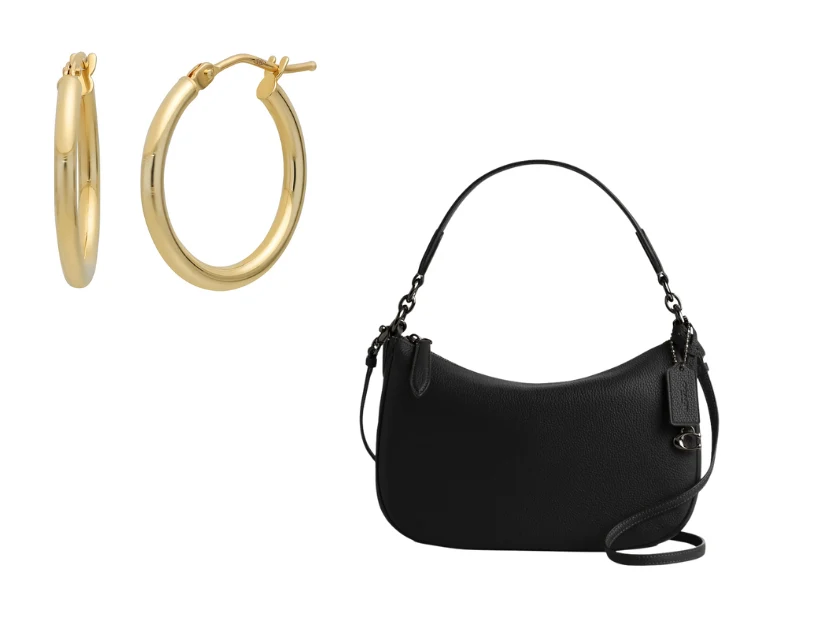 Let's round out our capsule with two versatile accessories.
First, a pair of 14K gold hoops from Bony Levy is selling for $149.99.
He makes timeless, well-designed, better-quality jewelry. So if you are looking for some elevated, everyday finds, this is an excellent brand to know about.
Finally, the only two bags worth sharing from the sale are the Coach Pebble Leather bags.
Last week I shared their shoulder bag option. This is the style I carry all fall and winter. I love that there are no logos, and it's just clean and timeless.
If you want something smaller but still roomy, consider the crossbody style, on sale for $198.99 (saving $100!).