I am often asked if wearing a lot of black is okay and I always answer the same: there is nothing wrong with wearing it, head to toe, all year round. But, if you're looking for a bright change of pace, if you'd like to figure out how to wear color to work, there are easy ways to do so, without throwing off your style, feeling uncomfortable and having to buy a whole new wardrobe.
Personally, since I had Vivian in December, I have been in a style rut. My body isn't what it was, I feel run down due to a newborn sleep schedule, and my overall shortage of time makes it challenging to sit and think about what I need until minutes before I need it.
Plus, the majority of my week is much more casual than it used to be, so when I have to get dressed up for work, I feel a bit out of sorts. So of course, I've been leaning into what I know best: classic basics, in black, that I zhush up with accessories.
But now that it's spring, I'm longing for a more dynamic, colorful look. Here's what I'm trying out.
How to Wear Color to Work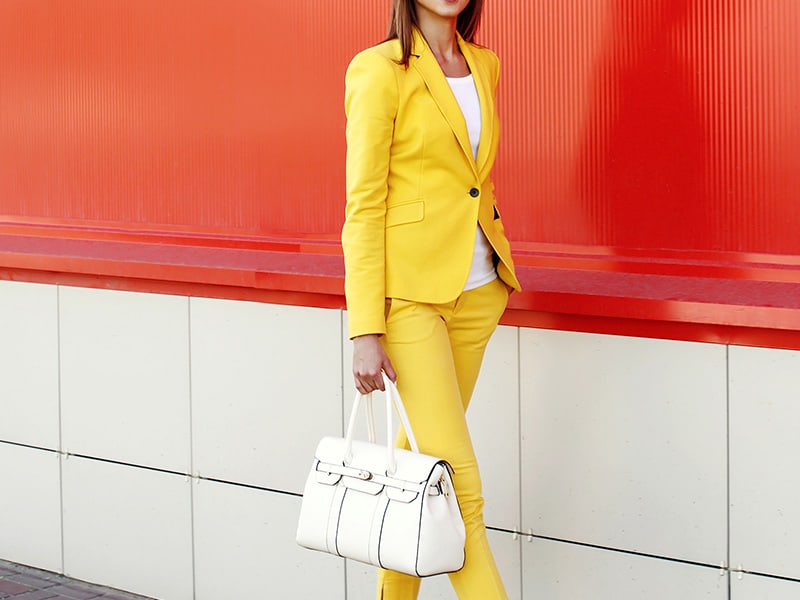 Wear Colorful Shoes
This is possibly the easiest way to add personality, especially in a corporate environment while still staying true to your personal style. Choose something in a traditional shape, because the play of a bold print or color in a conservative style is what makes the look interesting.
These color block pumps are under $70, have a modern combination and a touch of mixed media. I often turn to Sam Edelman when I need a sturdy and affordable shoe. My favorite is the Hazel Pointy Toe Pump that has over a dozen color and print options.
Want to try some pattern? I can't believe I'm saying this, but, Jessica Simpsons brand has some lovely, quirky options. These pumps with embroidered flowers look incredibly high end for a fraction of the price, and this bright and cheerful print would work with jeans and a blazer on a casual day in the office.
The key to incorporating bright and bold elements in your work wardrobe is pairing them with classic pieces and making sure they still have some essence of appropriateness. For example, don't wear a colorful or printed platform heel – that's too much. But a traditional pump with a reasonable heel? Go for it.
Create Contrast with One Bold Piece
If you love black, then you probably have a lot of it hanging in your closet. Take those pieces and play with the contrast. You want your use of color to fell purposeful and there are a few ways we can do this.
First, create your standard "column of color." This simply means create a column with your body by wearing a black top and bottom to create a long line. The best column is a pair of black pants and a simple and slim to your body tank or tee.
Next, "cut" the column by adding a jacket in a not so subtle color. This hot pink blazer from Banana Republic is ideal. Why? Because it has a black button, and that simple button ties the whole look together. It's the black paired with the bold color that creates balanced contrast.
So if you have some brightly colored jackets hanging in your closet, by swapping out the buttons to a shiny black one, you can make them instantly more wearable with all your other black pieces.
Add an Accessory
Years ago Ralph Lauren ran an ad featuring long black gowns with bold turquoise necklaces, and it was stunning. The dresses were simple and sleek, the models were understated in their style, as his aesthetic tends to lean. The necklaces created a striking contrast. Contrast that is well executed is what makes a look interesting.
Again, we want your look to make sense, so keeping within your style is important. Let's say you are wearing sharp black suit. You wouldn't add a slouchy hobo style bag. You would carry something with shape and structure. Something like this red Kate Spade bag, or this red envelope clutch (only $30 at DSW) would stand out, and still complement your suit.
Go Monochromatic
If you're like me and are an all or nothing kind of girl, pick a color and wear it head to toe, then ground it with your black accessories. This is where I would utilize trend focused retailers, like ASOS, Mango or H&M.
ASOS, for example, offers missy, petite and plus sizing (called ASOS Curve) in almost all of their assortment. An inclusive size range allows all of us to try trends or something outside our comfort zone without having to bust our budgets. On sites like this, though, try your best to ignore their styling.
For example, I happen to love the look of this yellow suit. I can't pull it off with my skin tone, but if yours is similar to the model, it would be incredible. I wouldn't recommend wearing it with a yellow bra, though;) Instead, wear the jacket and matching pants with a black tank underneath, and a simple pair of black pumps.
Another suit, this time from their Curve collection, is styled in the most unrealistic way possible. Who is wearing a sports bra as a top under a blazer? It's ridiculous. BUT with an actual shirt underneath, pumps and proper work tote, it's super cute for a creative office in the spring.
Like everything, the fit is key. When you are trying to pull off a trend, or you're wearing something a little off of center, it should be impeccable so be sure to spend some time and a few dollars having your garments altered to fit you.