I've had my eye on this cardigan for a while, and it's just gone on sale. My wardrobe could use a bit of a lift. I had Vivian in December, so I didn't focus much on clothes last year, and my closet is starting to look sparse.
Since I work from home most of the time and am carrying around a very spit-uppy baby, wearing my more precious, dry-clean-only garments doesn't make much sense. What I need is a system of layers that I can take on and off depending on my schedule.
But honestly, after the cost of a baby and a remodel, I'm tired of spending money. So I'm being prudent with my purchases and heeding my own advice. Every piece I consider I ask myself:
How many ways can I wear this?
Do I love it or am I buying it because it's available and it fits?
Does it make me feel pulled together?
Bonus points if it's multi-seasonal and reasonably priced.
I've mentioned before I get a little freaked out by leopard print clothing. Give me a patterned pump, bag or belt all day any day, but I worry that certain prints give Janice from Friends vibes.
Am I dating myself?
Anyway, I like this cardigan because of it's cut and sophisticated print. You can wear this in so many ways. It easily goes to work with your favorite black pants, or you could use it to dress down a basic black sheath.
Today, though, we're taking it casual and then dressing it up with some unexpected pieces.
Sweater notes: J. Crew Cardigan, on sale $80, XXS – 3X, sizing is limited.
How to Style a Leopard Cardigan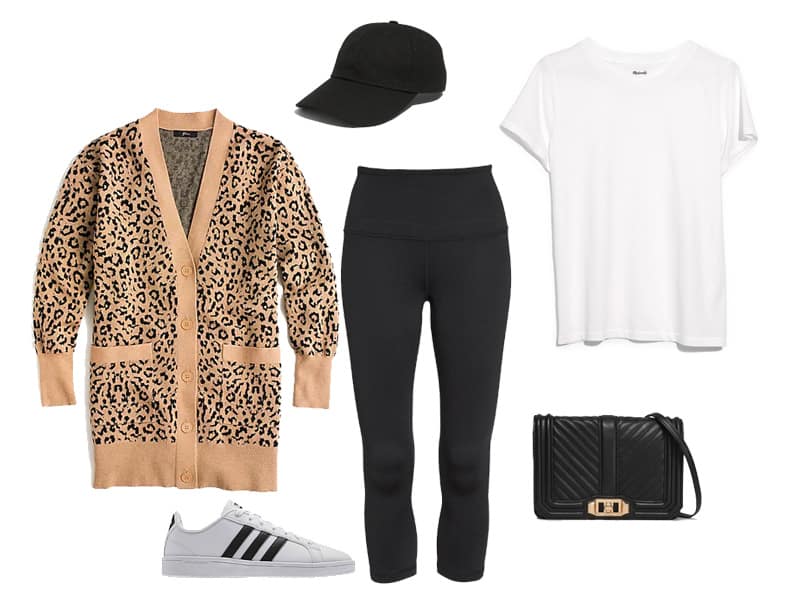 Outfit One: Cardigan, $80 | Leggings, $55 | Sneakers, $60 | Tee, $14.50 | Hat, $32 | Bag, $160
Causal Weekend Outfit
This first outfit is something I would wear working from home or on a busy weekend morning. While I'm in the house, I would wear leggings and a white tee (and my slippers). But let's say I have to stop at the market, or drop a kid off somewhere, or just run over to my neighbor's house, then I would layer on the cardigan, and add a crisp pair of sneakers.
On the days that I'm well past the point of dry shampoo, and they are more frequent than I should admit, I'm all about a baseball hat. Happily, there are so many simple, chic and affordable options available. Most weekends you'll find me under a baseball hat, with a pair of sunglasses and maybe a lipstick.
A crossbody bag is a lifesaver when you're wrangling kids, but being hands-free is helpful no matter what you're doing. This quilted bag might seem too formal for such a casual outfit, but it helps balance the look and adds some depth with its texture.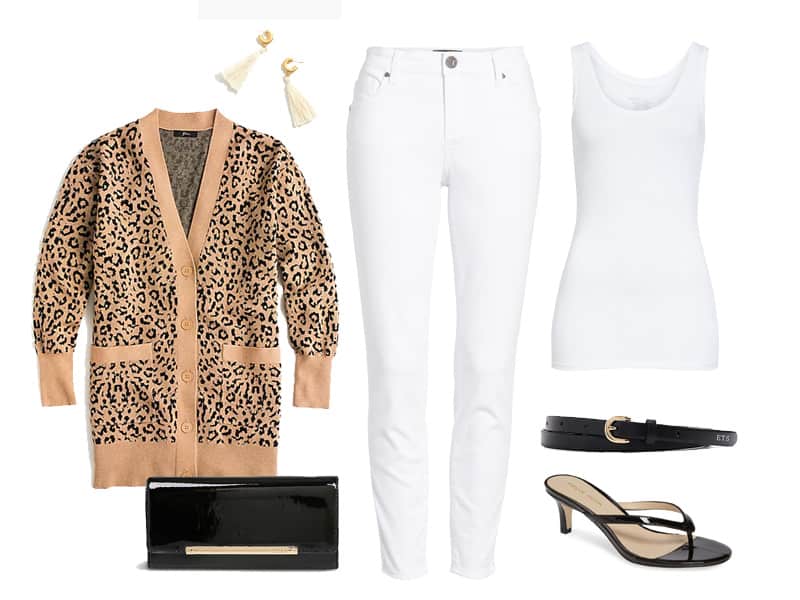 Outfit Two: Cardigan, $80 | Jeans, $90 | Tank, $100 | Sandal, $120 | Belt, $35 | Clutch, $28 | Earrings, $20
Sophisticated Date Night
For the second look, I was inspired by how J.Crew featured the cardigan on their website. Pairing it with a white "column of color" is unexpected and it works so well. The white tones down the boldness of the print and make the whole look feel fresh.
White jeans that fit well and aren't see through are hard to find. KUT by the Koth makes a fantastic pair for under $100; I also like NYDJ for it's fit, quality and size range.
The tank you wear will depend on the white jeans you have because the whites should match. If one looks gray or yellow, you won't achieve the look you are going for. Majestic makes fantastic layering pieces. From experience, they wash and wear well, but they are expensive.
For accessories, a slim patent clutch, and barely-there patent sandals "grounds" the look. If you like, you could add a belt. Here you could either button up the cardigan and wrap the belt on top, or, loop it through the belt loops and a half tuck your tank.
I want to be someone who can wear fun accessories, and I try, I do. Here's how these tassel earrings would go down in my life. I'd get dressed, put them in and at the very last second, feel ridiculous and replace them with my studs. But I am boring, don't be like me. Plus, every post can't feature the same pair of studs.