Today we're talking about how to dress up leggings for the holidays
First, let's talk about the kind of legging. Contrary to popular belief, not all leggings are created equal. For these looks, you do not want to wear the leggings you wear to work out.
Just like we keep gym sneakers separate from "dress up" sneakers, leggings follow the same rule. Gym leggings will look out of place.
The Leggings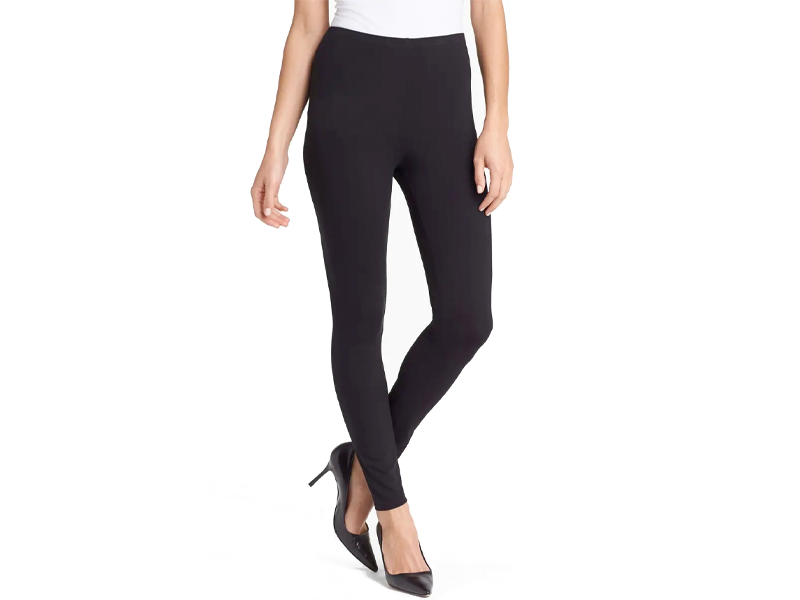 Leggings, $98
The good news is that there are so many options available, and I know you have at least one of them. For today's looks I'm using a pair from Eileen Fisher.
Expensive? Yes. But they wash like a dream and from my experience Eileen Fisher's basics wear like iron.
If you have a pair of the Zella leggings or a Ponte knit from Old Navy, wear them.
If you're not totally comfortable wearing traditional leggings, swap these out for your Spanx Perfect Pants, you'll feel more finished in them.
Want to make these looks extra special? Wear the Spanx Faux Leather Leggings OR their Velvet Leggings.
For the outfits below I worked with a combination of items I know you have and added in some new affordable pieces to help build out your options.
How to Dress Up Leggings for the Holidays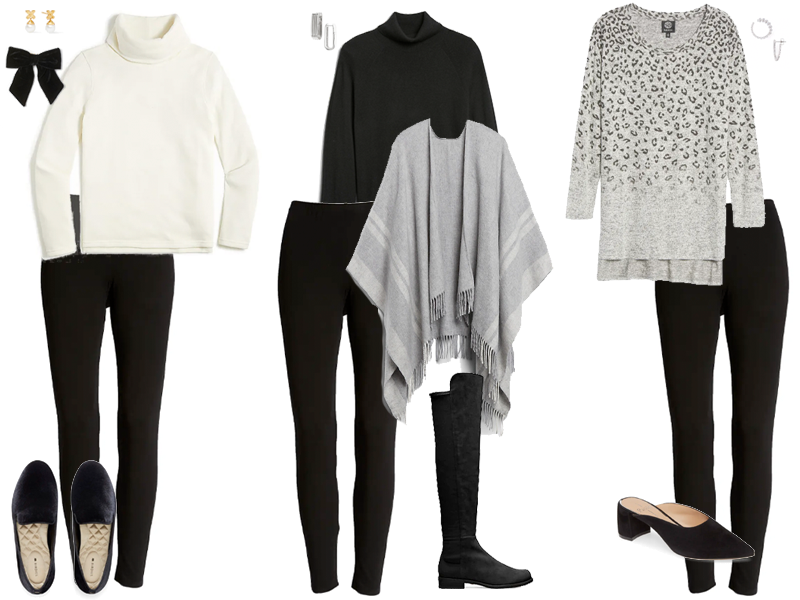 I realize there is a lot of black in these outfits. Remember, these looks are meant to be both inspirational and instructional since most of these pieces are also best sellers.
Cozy Glam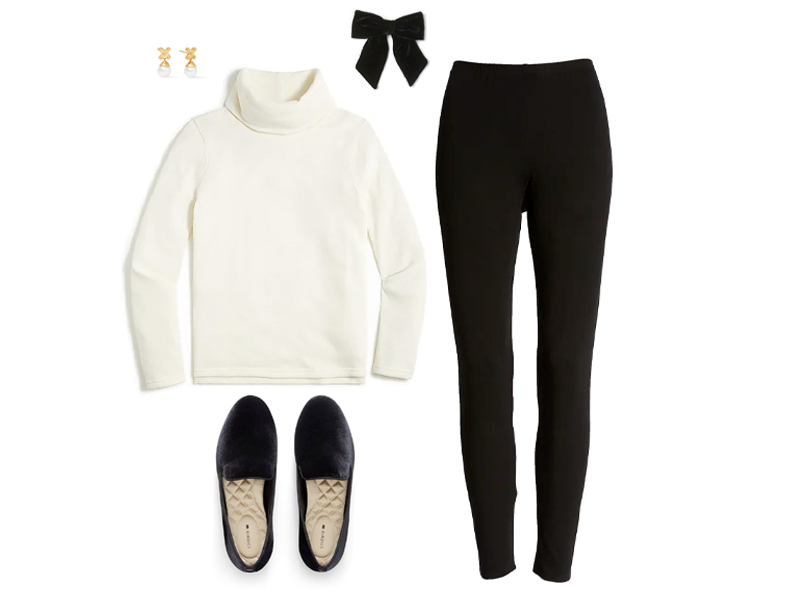 Mockneck Sweatshirt, $22.50 | The Starling Loafers, $98 | Bow Hair Clip, $13 |Pearl Earring, $35
This first look is simple and chic. I found this fleece turtleneck at J.Crew Factory for $22 and scooped it up. I'm using the Ivory because it looks the most sophisticated.
Then, I used the Birdie loafers we pretty much all own at this point in black velvet and a simple velvet bow hair we featured a few weeks ago from H&M.
Finally, I JUST received these pearl earrings from Julie Vos on sale for $95 and they are gorgeous in person.
All Wrapped Up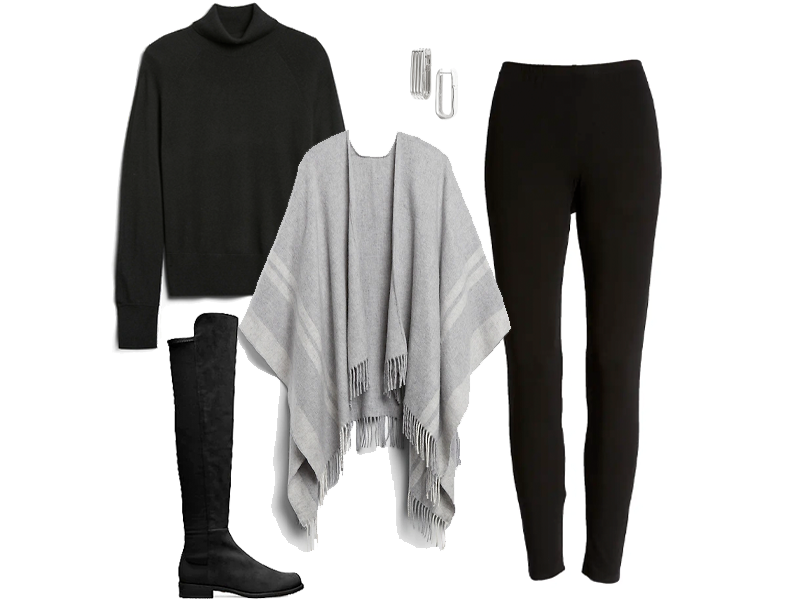 Turtleneck Wool Sweater, $40 | Striped Poncho, $85 | Hoop Earrings, $115 |Over-the-knee boots, $750
I wanted to use this poncho from the Banana Republic because I know a few of you have it. I love it thrown over an all-black column. Here I'm using the seamless wool turtleneck, also from BR.
If you're doing a legging with a poncho or cape, you need a shoe that will balance the weight and volume of the top. These Stuart Weitzman over-the-knee boots are an outrageous splurge, but something to consider if you have the budget.
For something much less expensive, these Vince Camuto's are nice dupes.
And a pair of modern silver hoops is all you need to tie the outfit together.
Better than Pajamas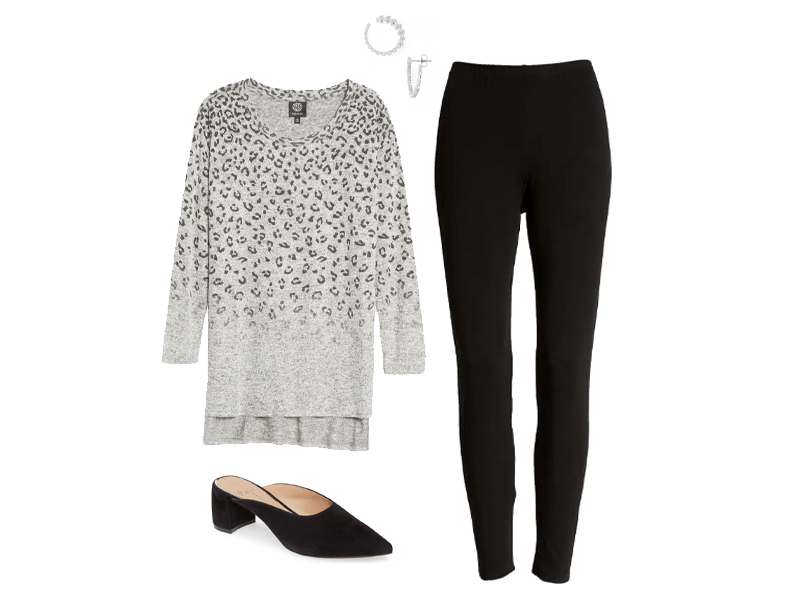 Tunic, $54 | Mules, $120 |Hoops, $90
This last look is as easy as it gets. I took the idea of loungewear and polished it just a touch.
Start with a tunic, like this high/low option from Nordstrom is under $60 and still has a size range in stock.
Then I found these beautiful hoops, currently 25% off with the Friends and Family discount at Bloomingdales. I love the shape and how they sit on the ear.
Lastly, I used a simple pair of black mules or wear your Birdies.
Easy-Peasy.
---
Our Content is Inspired by Our Readers
Our readership inspires all of our posts and this post is not sponsored or paid for by the brands or retailers featured.
Recommendations are based on my experience as a personal stylist and wardrobe consultant for over a decade. I worked with busy, down-to-earth women who wanted to look chic and feel confident but were often confused by so much of retail.
Some links are affiliate links, which means if you purchase via our site, we receive a small commission.
If you enjoy our content and would like to help us grow, please follow on Instagram and join our Private Facebook Group to access more advice and exclusive in-depth conversations with other like-minded women.
Learn about our mission to help women look and feel their very best, every day, here.
Sign Up for Daily Content and Receive Our Free Classic Wardrobe Checklist