This content has been archived. It may no longer be relevant
I love green smoothies. They are a quick and easy way to have a healthy meal filled with nutrients that you may otherwise miss during the day. Personally, I've never been a big fan of breakfast foods. For years, I skipped the first meal of the day. When I was younger, less busy and, indeed, less stressed, it didn't affect me much. Now, between regular exercise, working all day, and everything that goes into being a mom of two, if I don't eat in the morning, I'm light-headed and "hangry" by 11 a.m.
As a mom, I feel like I spend a ton of time managing everyone's blood sugar. These days, my kids are as busy as me. Finding something clean and healthy to fuel our days and help prevent us all from crashing mid-day is incredibly important. It's also important that whatever I give them tastes great. I can drink anything (ha, ha, insert all the jokes). Put a bunch of fruits and veggies in a blender, and I can down it no matter how funky it tastes. My kids and husband are another story.
They say ridiculous things like, "I can taste how green it is."
What does that even mean?
After much trial and error, I found that the combination of ingredients below makes this green smoothie a total winner. It's fresh and sweet and blends well. Anything too thick and they don't like it, and it takes too much time to drink. Given a chance, they labor over their breakfasts like they're at a five-star restaurant.
We don't have time for that.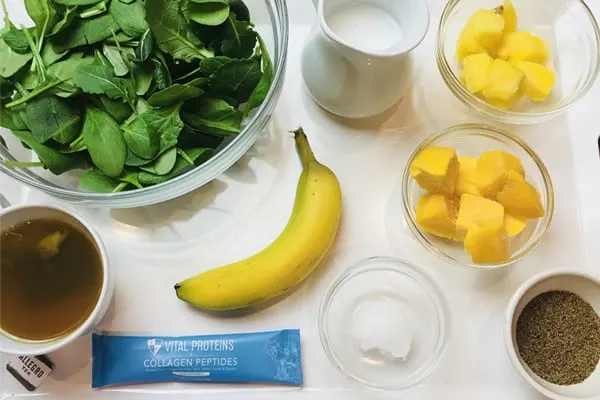 You can whip this together in the time it takes to make instant oatmeal or toast a waffle. If you do your weekly prep on Sundays (I salute you), you can throw all of the ingredients into a freezer bag, and you cut your time in half. Recently, I invested in a Vitamix and loved it, but a NutriBullet work just as well. In fact, when we go to the shore in the summer, I pack my NutriBullet and make these every morning.

My Go-To, Easy and Delicious Green Smoothie
Makes 2 Servings
2 cups Baby Spinach
1/2 cup Frozen Mango
1/2 cup Frozen Pineapple
1 banana
1 cup of Green Tea (brewed and cooled – I do this at night and keep in the fridge for the morning. Use decaf or skip altogether for kids.)
1 cup coconut water, coconut milk or almond mik
1 tsp coconut oil
2 tsp ground chia seeds
optional: 1 packet of Vital Proteins (I use these every day.)
Photographic proof that my kids drink this without argument!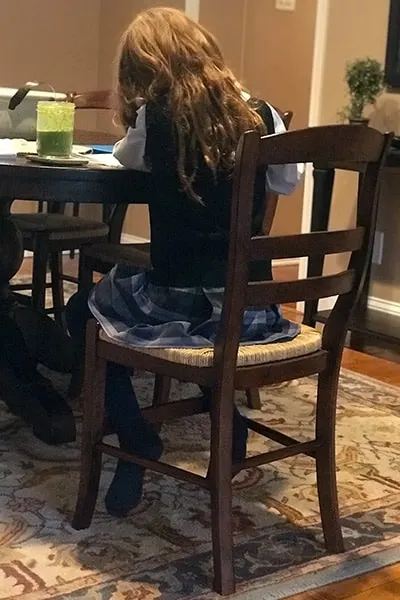 Tell us below, do you have a favorite, healthy smoothie?