Need some outfit inspiration for Thanksgiving or Friendsgiving?
Today, I've got you covered. Below are three options, built with familiar readers' favorite buys and tons of additional options at great prices.
Of course, you don't have to save these for the holidays. On their own, they are pulled-together, chic looks you can wear all season that will help you utilize everything hanging in your closet.
3 Thanksgiving Day Outfit Ideas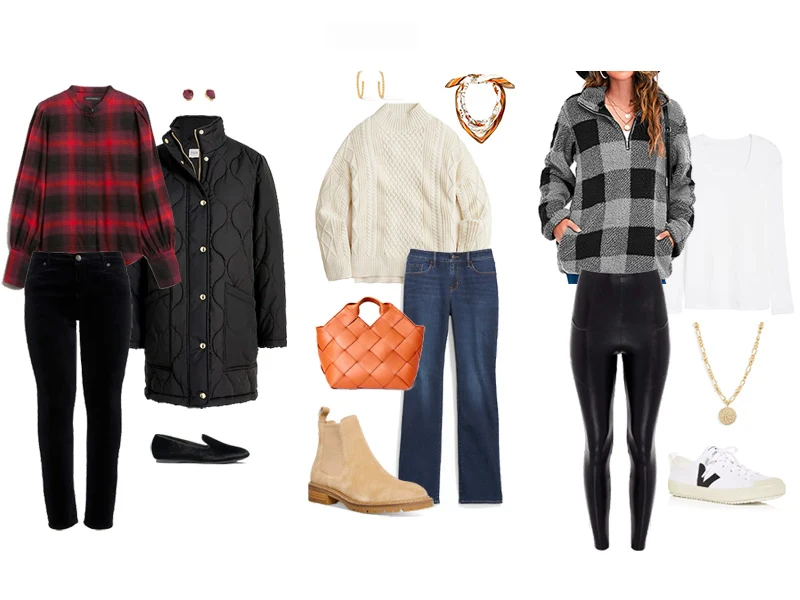 As always these looks are created with recent reader favorites, and some wardrobe building pieces.
You might already have these or you can use today's post for both inspiration and recommendations.
Bundled Up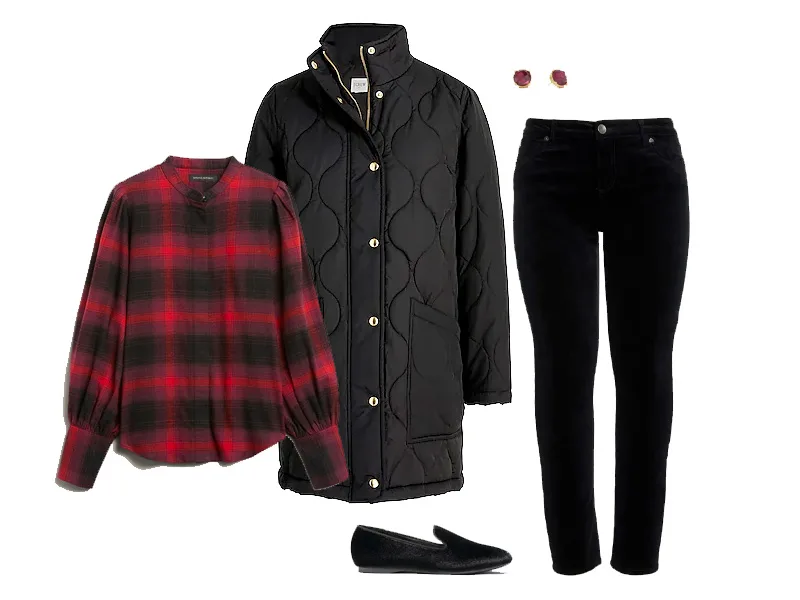 Puffer Coat, $69.50 | Flannel Bishop Sleeve Blouse, $85 | Stretch Corduroy Skinny Pants, $69.50 | The Starling Flats, $98 | Stud Earrings, $135
The Flannel Bishop Sleeve Blouse at the Banana Republic, will be on this week's best-seller list. It is a classic holiday print that, unlike some of the seasonal plaid we see at other retailers, doesn't read too "Christmasy."
It's featured here in the red plaid, but it also comes in a black and white option. Don't worry about the "puff" sleeve; it's more of a stitching detail than an exaggerated shoulder.
I paired it with the popular Corduroy Skinny Pants, from KUT at Nordstrom. These are soft and stretchy, perfect for a day of grazing before a big meal. They come in a ton of color options, in petite and regular up to a size 18, runs true to size.
Then, if you have the The Starling Flats from Birdies, now is your season. These incredibly comfortable loafer slippers are like walking on clouds, with support that look wonderful in an outfit.
I added this Puffer Coat, from J.Crew Factory because it's on sale for under $70 and looks cute with the outfit.
Finally, Julie Vos has become a favorite brand in our community, and these oversized Stud Earrings are a signature piece from her collection. I'm using the "ruby red" above, but there are lots of color options available.
Shop this Outfit
Casual and Polished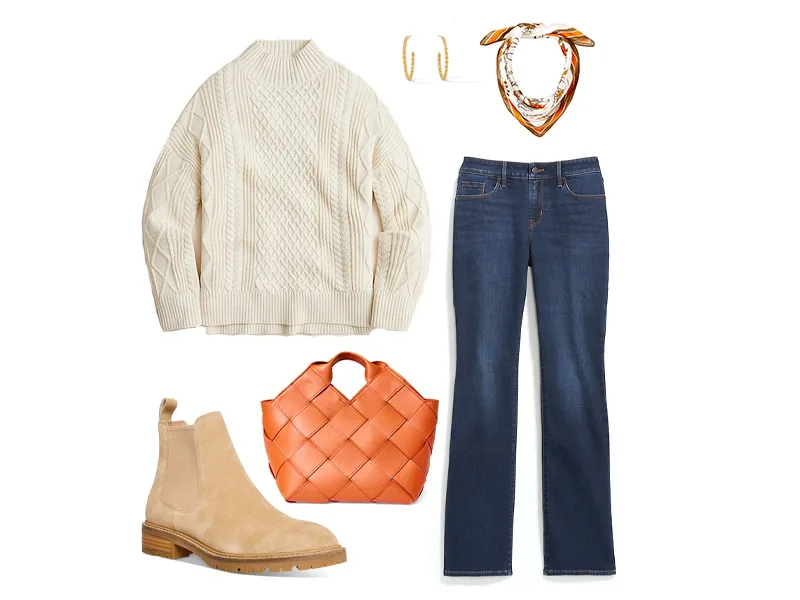 Cable knit mockneck Sweater, $138 | Boot Cut Jeans, $30 | Hoop Earrings, $50 |Woven Bag, $90 | Scarf, $10 |Boots, $109
This look is my personal favorite.
Thanksgiving for my family is a casual day spent together. I could show up in a sweatsuit if I wanted, but nice jeans and a sweater can be just as cozy and looks better in pictures. 😉
I adore this Cable knit mock neck Sweater from J.Crew. When in doubt, wear a neutral; it always looks elegant against your basics.
For some variety, I used these Boot Cut Jeans from Old Navy. They have so much stretch, come in all sizes, and are on sale for under $30. Of course, wear your favorite jeans.
This look would also look great with the WHBM flare jeans we featured earlier in the season. I'm buying Old Navy jeans right now because I have a few COVID pounds left to lose before I go and reinvest in a better designer brand.
You can wear your Steve Madden Boots with a range of jean styles, but they look especially nice with a boot cut. BE SURE YOUR JEANS ARE LONG ENOUGH. A jean with a flare bottom needs to break on top of your shoe, otherwise you'll look like you are wearing floods.
Next, some accessories.
I am OBSESSED with this Woven Bag from Tuckernuck; seriously, they have such a fantastic selection of curated styles.
I added a $10 Scarf to the look. You can wear this in your hair, loop around your neck and tuck into the top of your sweater, or simply tie it on the handle of your bag. I like how it brings the colors together.
Finally, I'm so excited because I'm featuring another Julie Vos piece, but this one is from her sale collection, which is only available once or twice a year.
These hoops are part of selected items on sale for Black Friday. Simple, 24k gold plated hoops go with everything. The medium size are 1 inch in size and $50.
Shop this Outfit
Sporty and Chic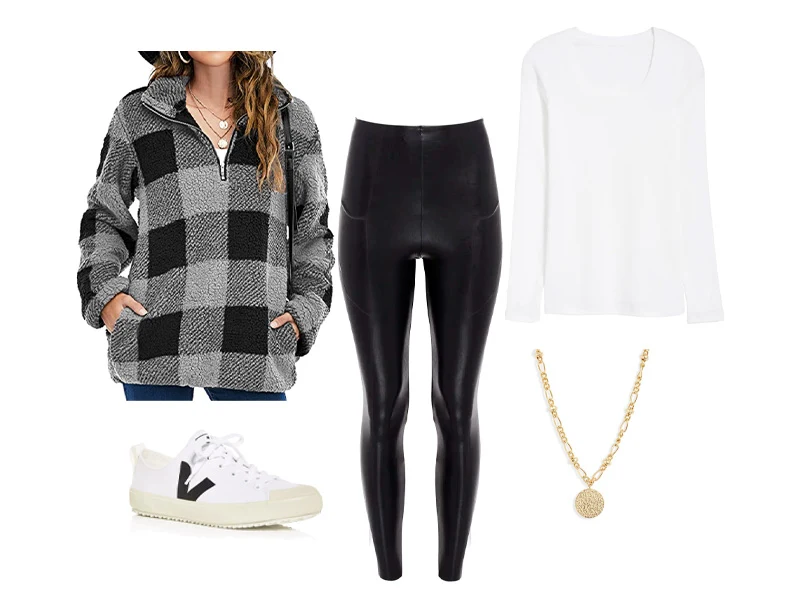 Sherpa Sweatshirt, $23 | Long Sleeve Tee, $25 | Faux Leather Leggings, $128 | Sneakers, $100 | Coin Necklace, $30
Our third outfit is a sporty look with style.
Here, I'm using this Sherpa Sweatshirt that many of us ordered from Amazon last month. I first ordered this in red and then went back for the black plaid (above). It runs true to size, if not a little big. (I wear the medium).
It is layered over a simple white Long Sleeve Tee. This one from Nordstrom is $25, comes in four colors, and fits like a dream.
Next, I'm using a pair of Faux Leather Leggings. Above is a pair from Commando, with a side pocket
Last year The Spanx Faux Leather Legging were huge sellers, so you may already have a pair.
Wear whatever version of these you have, and use them as you would a regular legging. The fabric jazzes up your look by adding some texture and interest.
You could also swap out the legging for a coated pair of jeans, like the BR pair many of you ordered this week.
Then, it's time for shoes. I'm using a pair of Vega low top sneakers. They are pretty well priced for sneakers and I like the look of them.
They do run big so try them on from your size to a full size down.
Finally, because of the neckline of the tee and the half zip detail of the top, you'll want to fill in with a necklace. Look for something delicate, or play with layers. I'm using a pretty and simple coin necklace from Gorjana.
Shop this Outfit
Our Style Content is Inspired by Our Readers
Our readership inspires all of our posts and is not sponsored or paid for by brands or retailers.
Recommendations are based on my experience as a personal stylist and wardrobe consultant for over a decade. I worked with busy, down-to-earth women who wanted to look chic and feel confident but were often confused by so much of retail.
Some links are affiliate links, which means if you purchase via our site, we receive a small commission.

If you enjoy our content and would like to help us grow, please follow on Instagram and join our Private Facebook Group to access more advice and exclusive in-depth conversations with other like-minded women.
Learn about our mission to help women look and feel their very best, every day, here.
Sign Up for Daily Content and Receive Our Free Classic Wardrobe Checklist