J.Crew has had a chokehold on me since I was a teenager.
I've ridden every wave with them, the good and the bad.
I wore stripes with florals, collared shirts under sweaters, sequin skirts with tee shirts, and owned all the bauble necklaces.
So I'm confident when I say that J.Crew is back.
It's good.
It's super wearable.
And unlike brands like Banana Republic, whose prices have gone totally off the rails, it's reasonably priced at retail for the quality of the garment.
A lot of that is thanks to Olympia Gayot, their new Executive Vice President of Women's Design, who deserves her own post as a style inspiration.
But, in a nutshell, she's infusing a casual, effortless chicness into the brand, one that insiders predict will bring a new era of enthusiasm for J.Crew, which we haven't seen since the height of Jenna Lyons.
What to Buy at J.Crew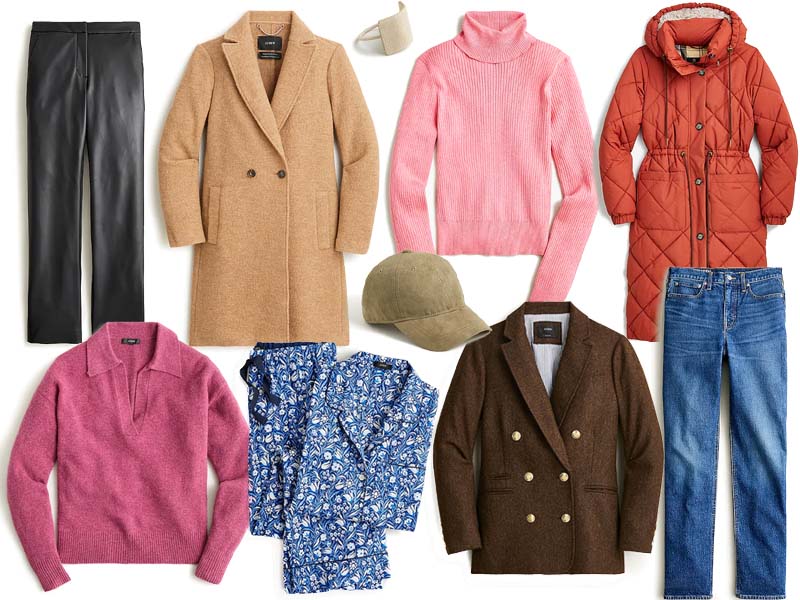 Today's round up includes a variety of categories and price points. With some new pieces we'll work with over the next few weeks in upcoming posts.
Most styles include petite and tall options, and range from an XXS – 3X.
And almost every item is an extra 30% off with the code SHOPNOW.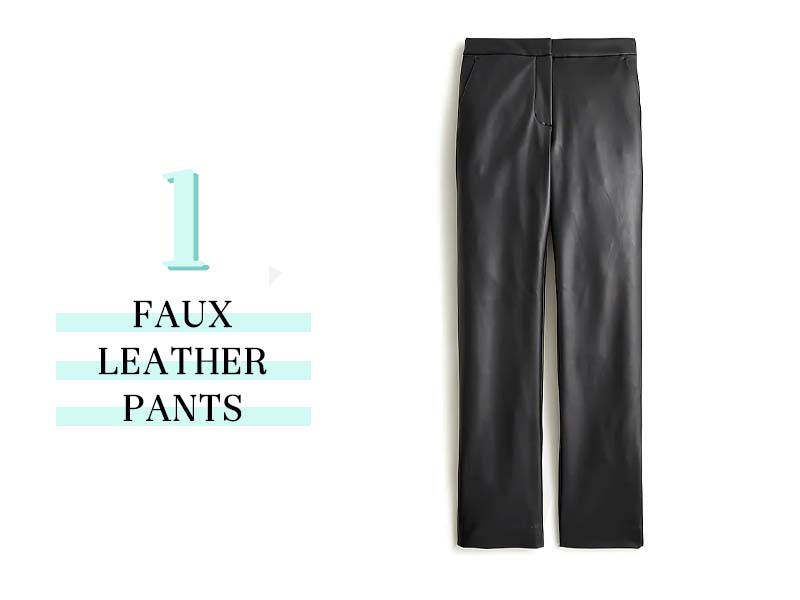 Faux Leather Pants, $148
These are proper trousers, not leggings, not coated jeans.
They are straight legged and will hit around your ankle.
Grab them in black, the other two colors are too limited, and pair with an elegant knit and low heels. Would be especially lovely around the holidays.
OR if you picked up their Cotton Cardigan Sweater, you could pair it with these.
Available in classic, petite and tall, in 00 – 24.
Not part of the promotion, but I think they are a good price for what they are.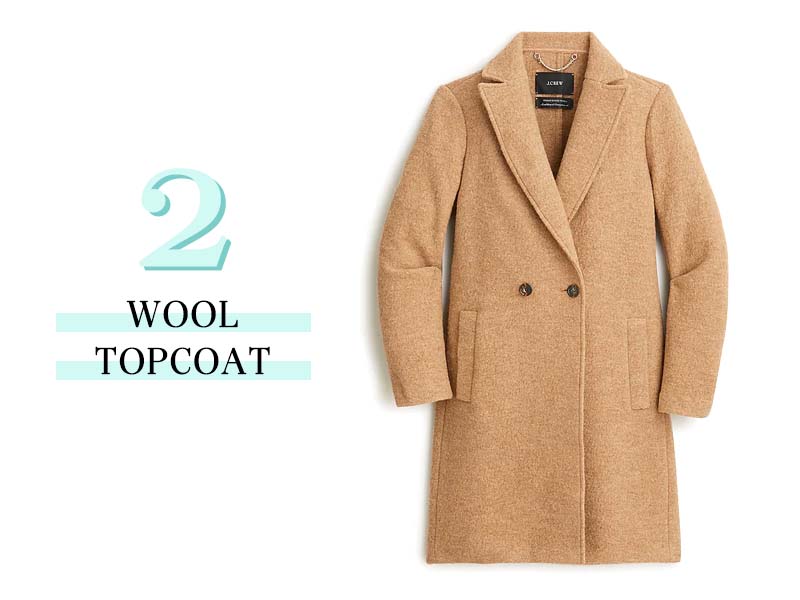 Wool Topcoat, $278
Many requests are coming in for a well-priced camel colored topcoat, and this one is lovely.
Right now, it's on sale for an extra 30% off, available in sizes 00 – 24 in regular, petite and tall. You can also pick it up in black or ivory.
It's nice length to wear over trousers or skirts and dresses. Runs slightly full.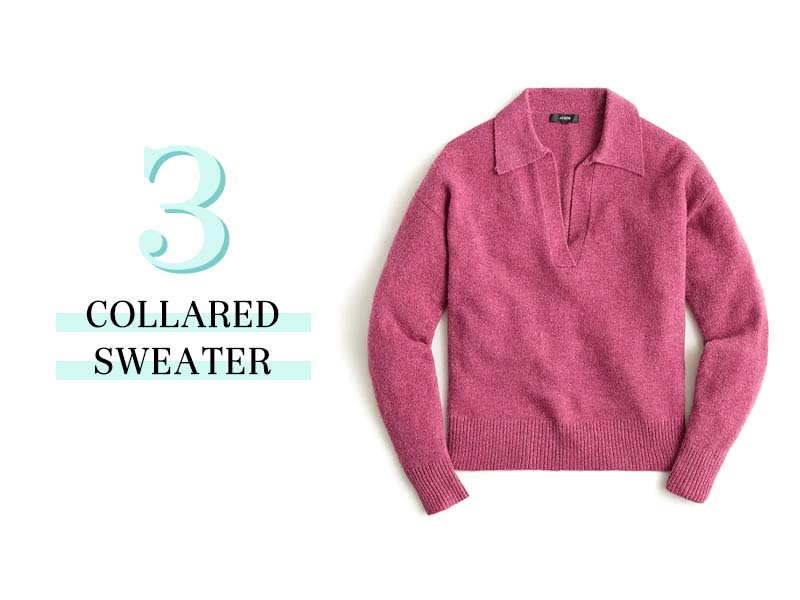 Collared Sweater, $98
I am really loving these collared sweater we're seeing this season. They are like a polo and v-neck hybrid, super flattering on all body types. The v-neck is elongating, and the collar finishes the knit.
You can wear these with any bottom, from casual jeans and flats to trousers with heel, or paired with skirt to the office.
This one is just under $100 with 30% off with the code SHOPNOW, in sizes XXS – 2X, in a range of colors. Above is my pick in "grapes." You can wear it with all sorts of neutrals, including denim and navy, black, tan, and ivory.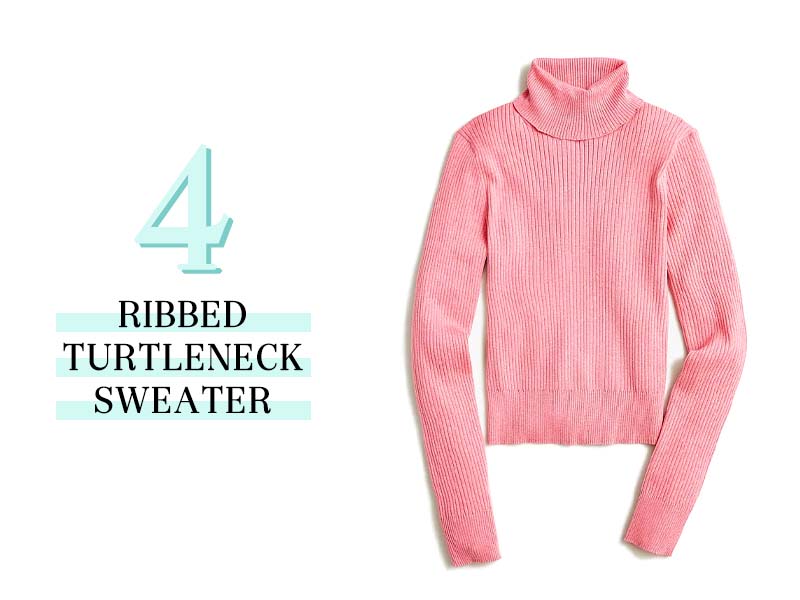 Ribbed Turtleneck Sweater, $118
Reviews on this sweater claim it is cropped, but it's not. I have teenage girls at home, I know what a crop top looks like.
This is a traditional, ribbed turtleneck, that hits just above your hip. So if knits feel too long for you, you might just like this one. It's especially nice if you wear mid or high rise bottoms.
We're showing it in pink, since it's a popular color this season, but you beat I ordered it for myself in black to wear with light washed, high-waisted jeans and ballet flats.
Available in XXS – 3X, I am sizing up one.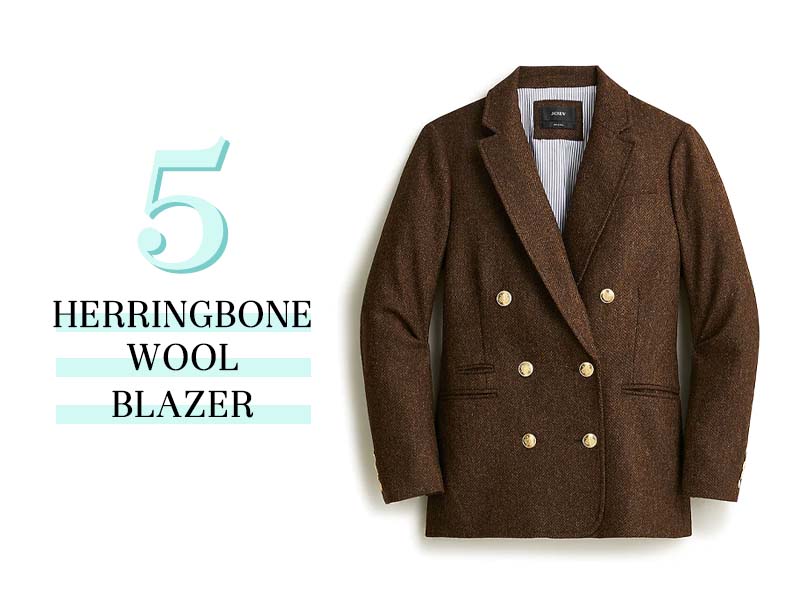 Herringbone Wool Blazer, $328
Speaking of color trends, chocolate brown is having a moment and I am here for it.
This gorgeous blazer is a combination of rich color and texture, creating a classic statement pieces that's also very modern and current.
And what's nice is we're seeing browns paired not only with denim, but also with black, so you can get real versatility out of it.
Available in regular, petite, and tall in 00 – 24. Take 30% off with code SHOPNOW.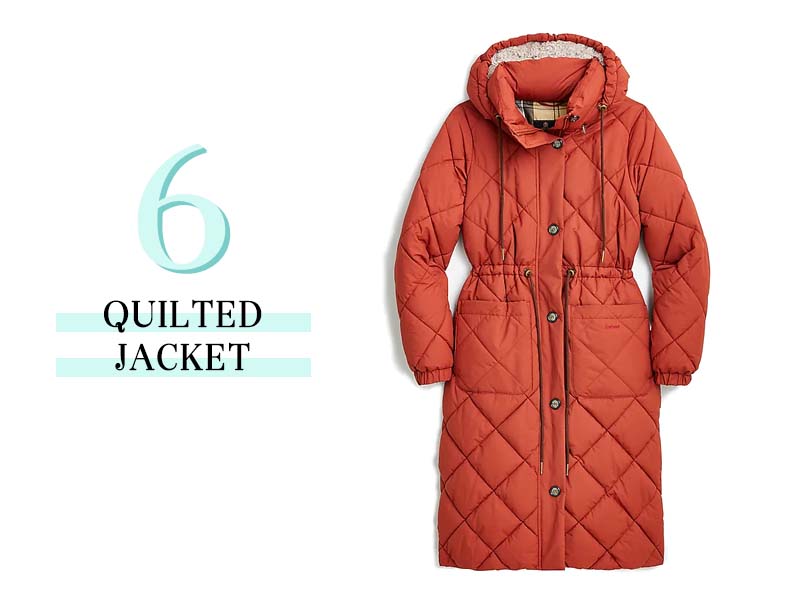 Quilted Jacket, $450
I am a true East Coast girl, so when I saw that J.Crew teamed with Barbour for this coat I had to share it. Sizes are limited and it's excluded from the promo code, but it's so good.
The color is stunning, l love the length, and yes, it looks like you're wrapped in a blanket. How is that a bad thing.
I do think it's hilarious that they styled it with a pair of block heel pumps, as if we're not wear this with fur lined boots.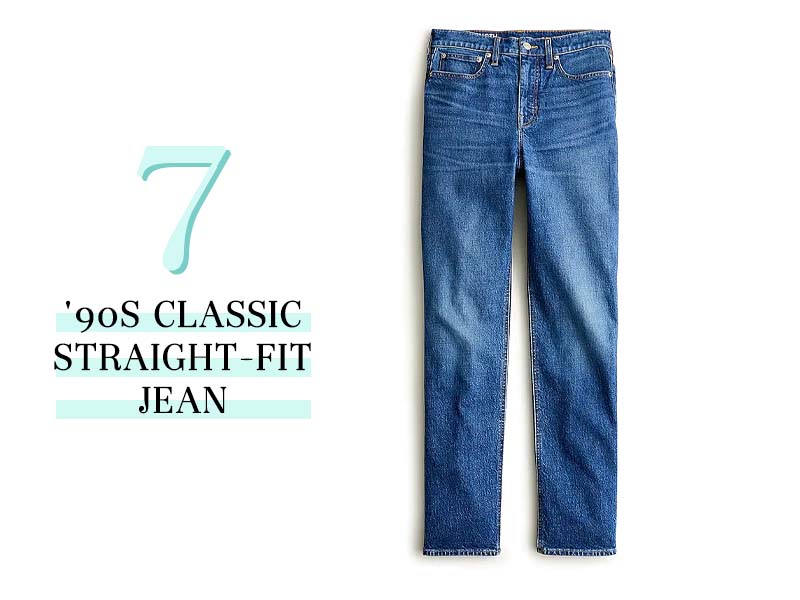 '90s Classic Straight Leg Jean, $138
There's a reason why 90s style has come back in such a big way.
The decade is the the definition of timeless style.
And so much of the looks from the 90s are from J.Crew. Like these straight leg jeans.
I like these as a skinny jean alternative because the leg is still slim, so they don't feel too full. Pair them with the ribbed turtleneck or chocolate blazer above.
Available in classic, petite and tall, in sizes 23 – 32. I sized up to fit my hips and am having the waistband taken in by a tailor.
Take 30% off with code SHOPNOW.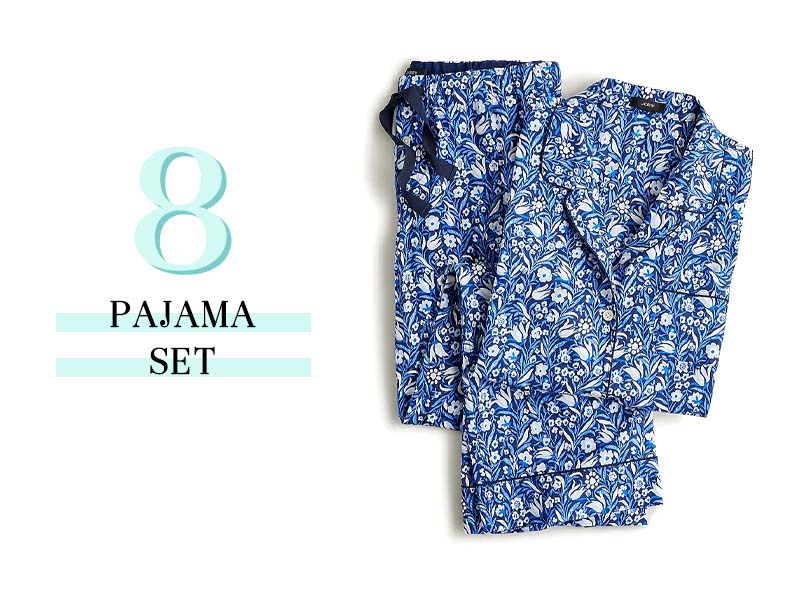 Pajama Set, $110
Preppy pajamas are my jam and this navy set is perfection AND on sale for 50% off, so they are $55. Buy for yourself, or pick up and put aside for a lovely holiday gift.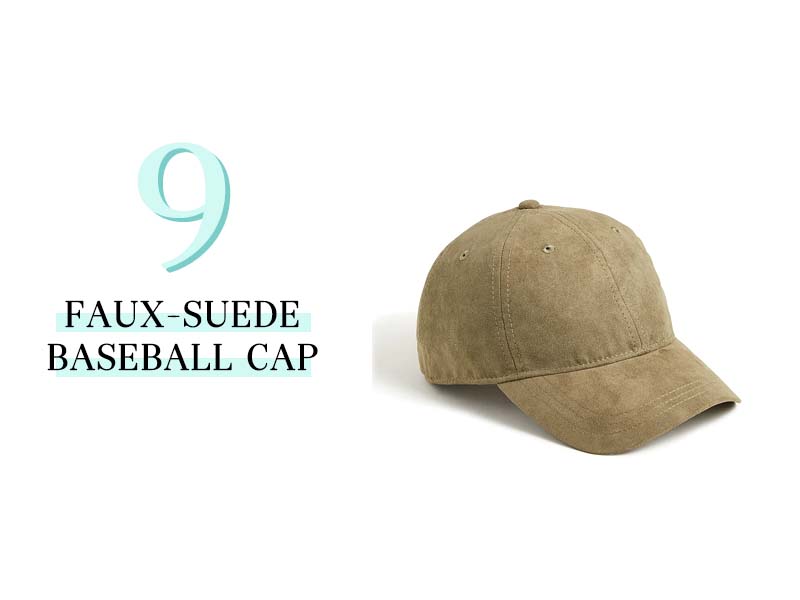 Faux Suede Baseball Cap, $59.50
This was an immediate add to cart for me. Nothing makes my morning easier that throwing on a baseball hat, and this faux suede option will elevate any look you throw together.
I'm showing it in green, but I ordered it in cognac, just because it will work with what I have better.
Love it with a stripe shirt and jeans, a navy sweater or you can wear it our Reader Favorite J.Crew Vest in Nutmeg.
And it's on sale for 50% off so it's about $30.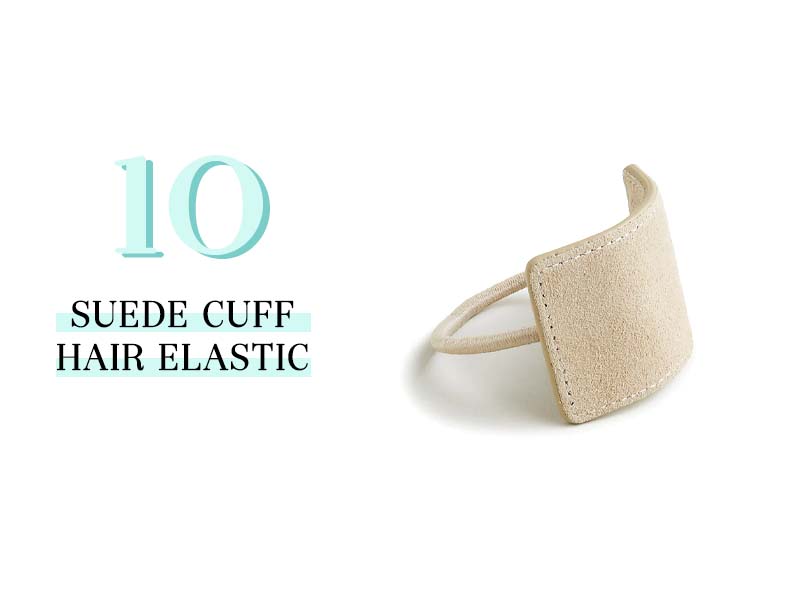 Suede Cuff Hair Elastic, $14.50
Finally, I always pick up hair elastics like this suede cuff to slightly upgrade my ponytail.
It's understated, and chic, and gives a clean, polished finish.
Registration Closes on Thursday!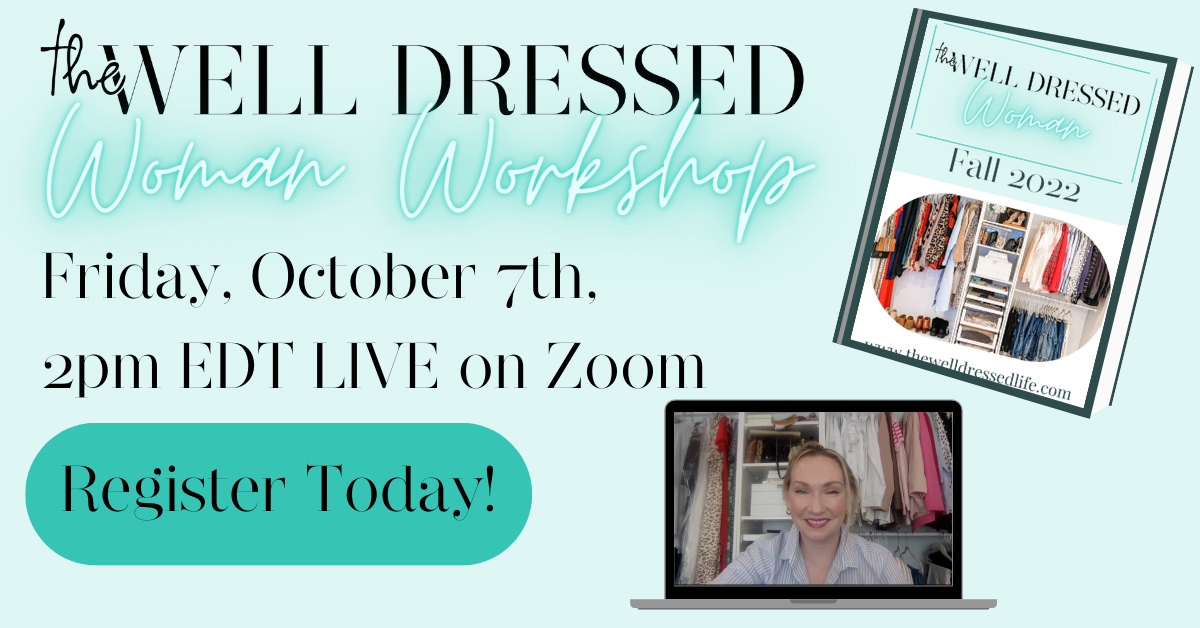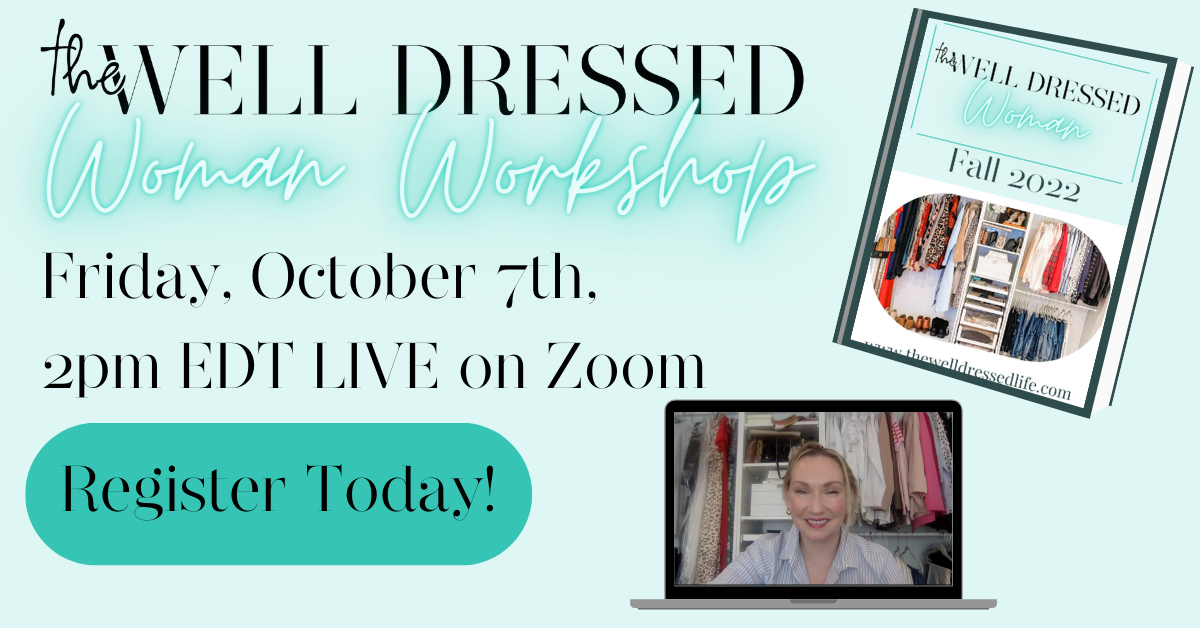 52 in 2022!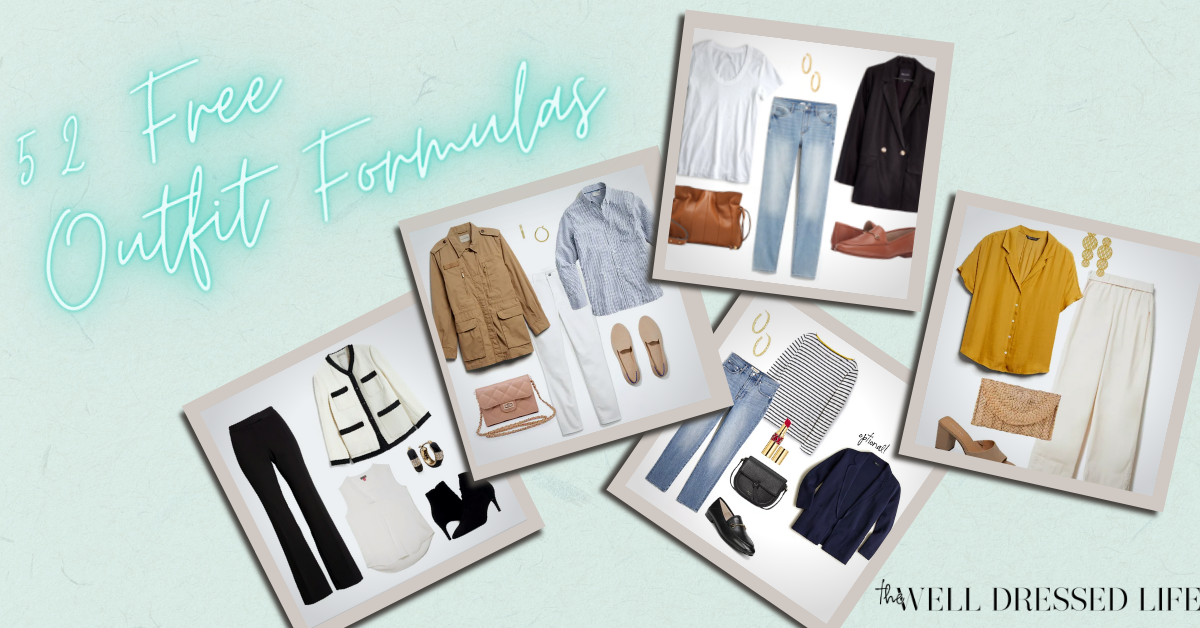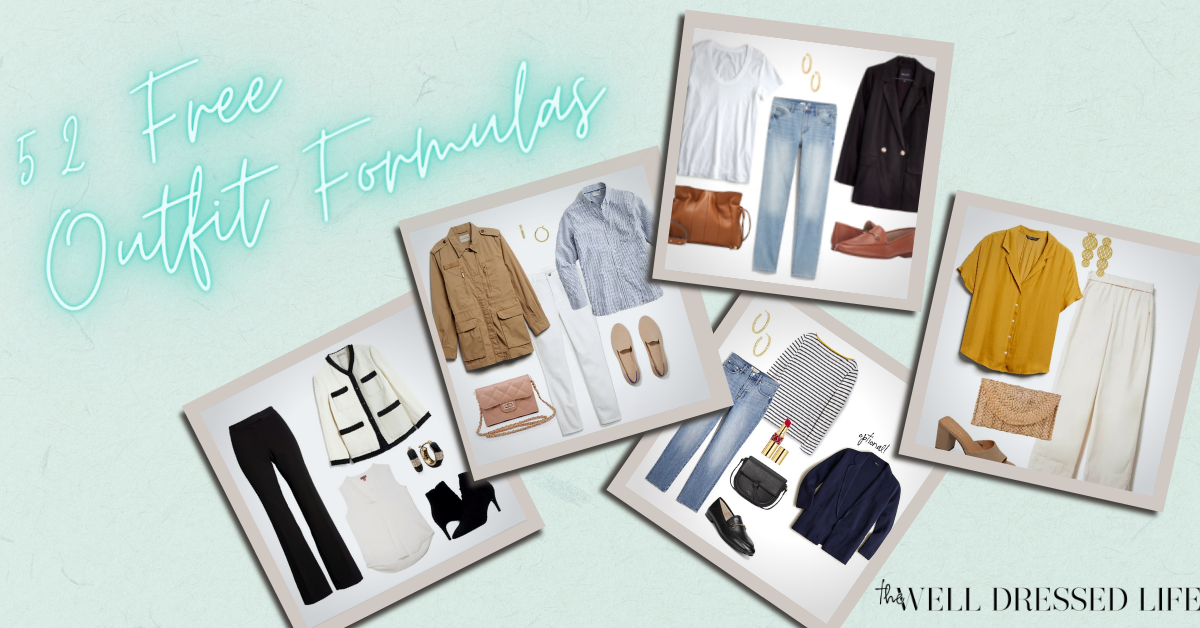 Follow Us on Instagram!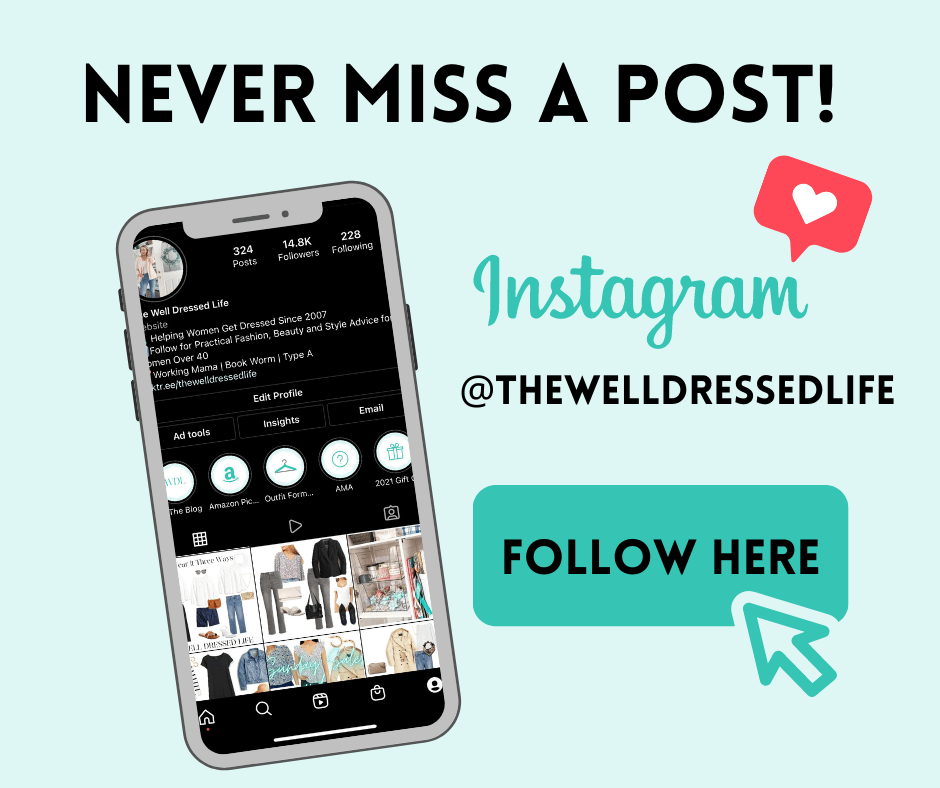 Our Style Content is Inspired by Our Readers
Our readership inspires all of our posts and is not sponsored or paid for by brands or retailers.
Recommendations are based on my experience as a personal stylist and wardrobe consultant for over a decade. I worked with busy, down-to-earth women who wanted to look chic and feel confident but were often confused by so much of retail.
Some links are affiliate links, which means if you purchase via our site, we receive a small commission.

If you enjoy our content and would like to help us grow, please follow on Instagram and join our Private Facebook Group to access more advice and exclusive in-depth conversations with other like-minded women.
Learn about our mission to help women look and feel their very best, every day, here.
Sign Up for Daily Content and Receive Our Free Classic Wardrobe Checklist