When the weather warms up, our handbags often get lighter and more casual.  For the last year, I have loved this Street Level Reversible Tote.  I bought it for our trip to Europe last summer. I wanted something I could use on days we were sightseeing so I could keep my essentials and oversized DSLR camera close by while still having room to carry things I picked up along the way. My only complaint was that, like all totes, it would turn into a jumbled mess of my stuff. I hate knowing I have my room key but having to dump everything out to find it.
Since our trip, I've used it on an almost daily basis.  The color is rich, and it's light on your shoulder, so you can load it up and not be weighted down. Still, I wished there was a way to corral my things better inside. Enter a middle of the Amazon search that led me to this purse organizer on Amazon. At first, I was skeptical. How many of these have we all bought, thinking they were going to change our lives, or at least our handbags, only to use them for a week or two and then move on.    For $22, I figured it was worth a try.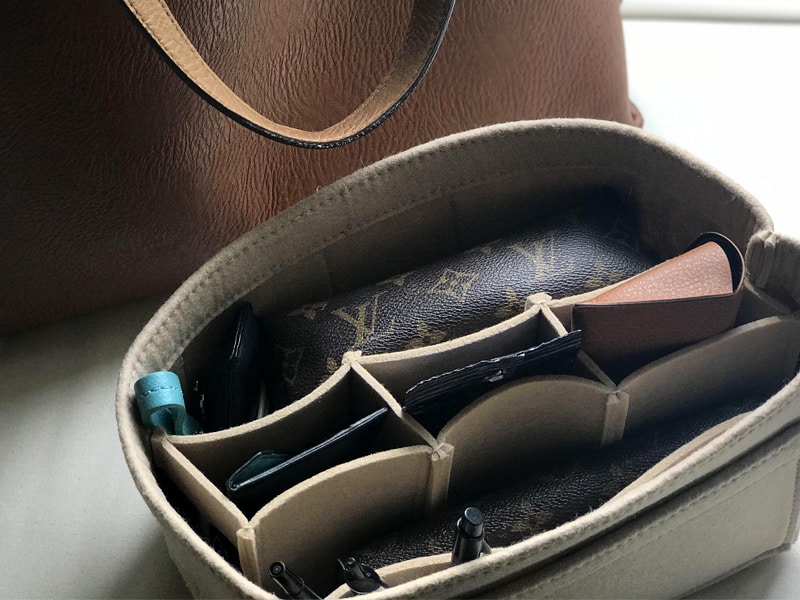 Organizer Insert: $22, Tote: $49
Ladies, it's fantastic.  First of all, it fits perfectly inside the Street Level tote and gives you a little room on the side for an oversized bottle of water.  All your essentials have a place because the compartments in the organizer are adjustable.  As you can see above, all of my things have place, making it easy to grab what you need quickly.
My husband had a conference in Vegas this week, so I flew out last night to meet him for a few days away together (kid-free weekend – yay!) and used the tote as my bag for the flight.  Without the organizer, it wouldn't have worked.  The insert not only keeps my things tidy, but it also adds some structure to the tote, so it sat neatly on my roller bag, and fit under the seat in front of me.  I included a book, giant bottle of water, a bag of gummie bears (my inflight guilty pleasure) and my oversized toiletry bag.
If you're looking for a way to make your tote bags more practical for you daily life, give this a try.  You won't be disappointed.