We've covered what to wear when you don't wear shorts, but I haven't shared a round up of options if you do.
So let's take care of that today by sharing great shorts for women over 40 who don't mind showing their legs but maybe do mind having their cheeks out;)
Personally, I love shorts.
Actually, "love" is probably too strong of a word.
Let's go with, I don't mind them.

I like them.
When styled well, they look cute, chic even.
And when it's 100 degrees in the dead of summer, I look past the fact that I don't like my knees, slap on on some self-tanner to boost my confidence and happily wear them.
So let's break down some super wearable options.
Great Shorts for Women Over 40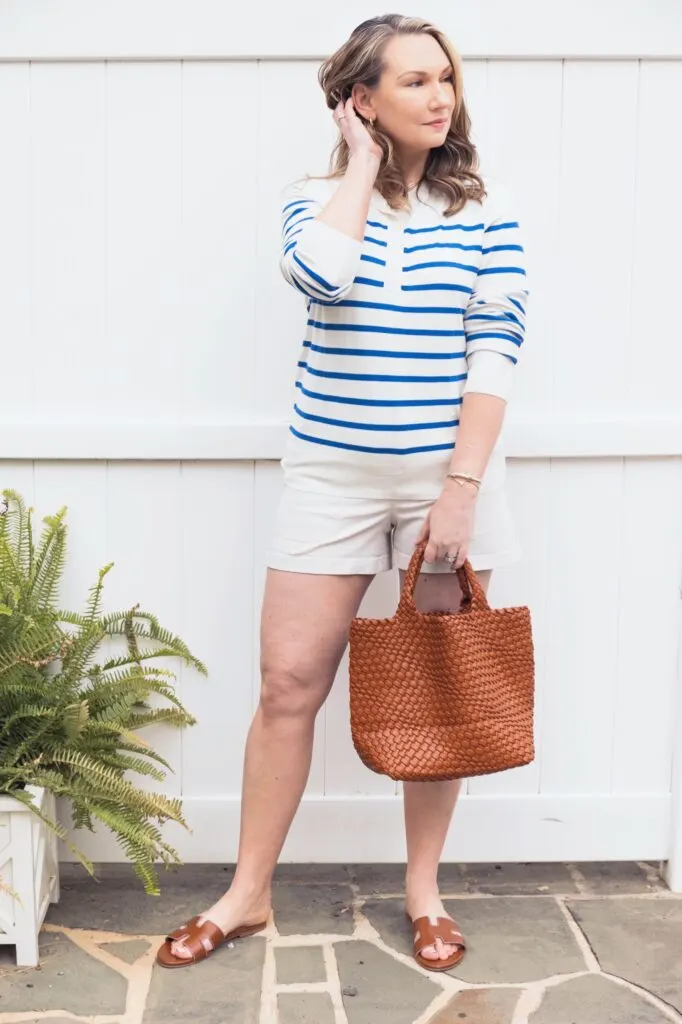 Top, Amazon, $32 | Shorts, J.Crew, Similar Here | Sandals, Tuckernuck, $155 | Woven Bag, Amazon, $70
Everyday Shorts
For an everyday, easy to wear, casual staple I like the Seaside Linen-Blend Short from J.Crew.
I call these my "Shore Shorts" because they are all I wear when we're at the beach.
You can throw them on in the morning with a tank and go for a walk, wear them to dinner, or to hang out a night.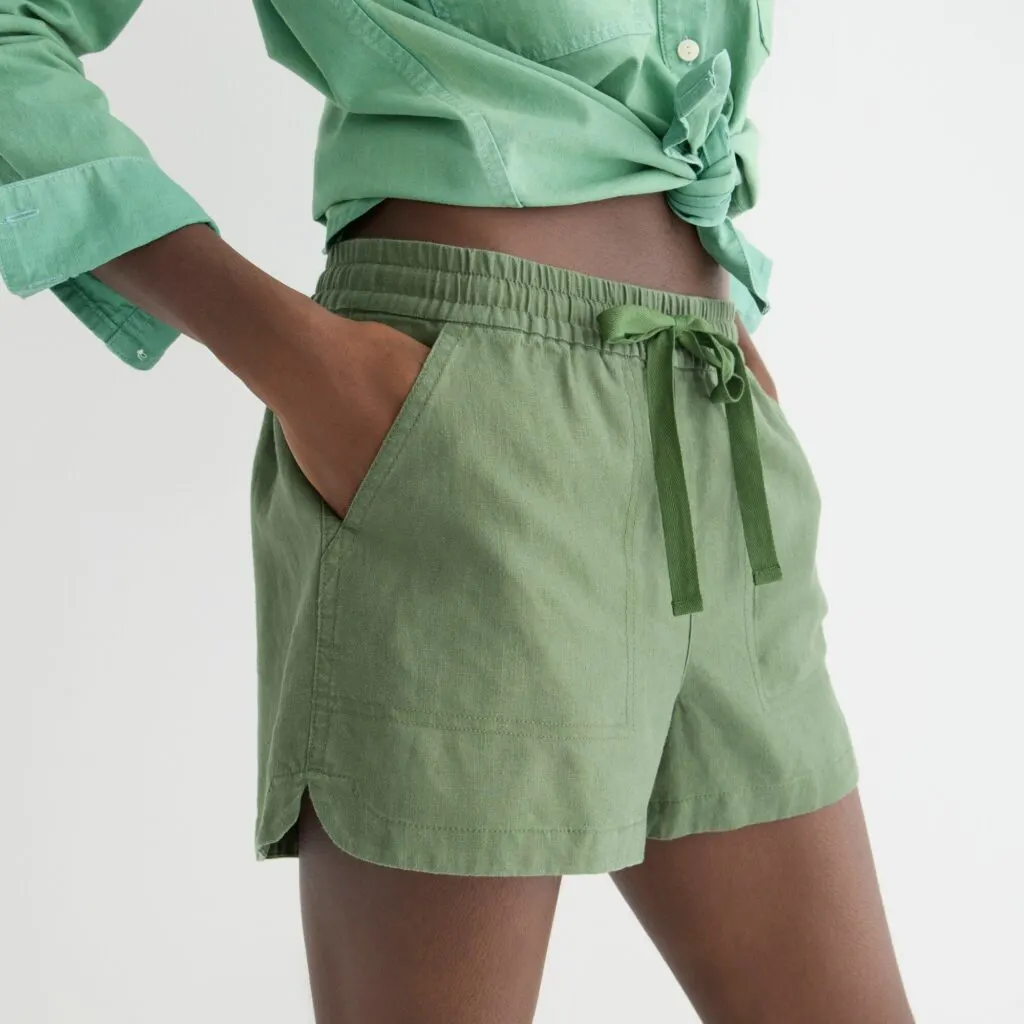 Seaside Linen-Blend Short from J.Crew
I picked up several colors for the summer, including black, navy, pink, and utility green.
Available in sizes up to a 3X, price varies on color but they are under $50.
Similarly, the drawstring pull ons from J.Crew Factory are nice alternative.
They are affordable, fit well, come in sizes up to 3x and available in a range of colors and inseams.
Currently priced at under $30 each or 2 for $50.
Between J.Crew and J.Crew Factory you have a nice assortment of casual options in a range of sizes.
Because I'm curvy, I go for standard J.Crew. The quality and fit is slightly better. I have more room in their drawstring short than I do in the Factory option.
Chino Shorts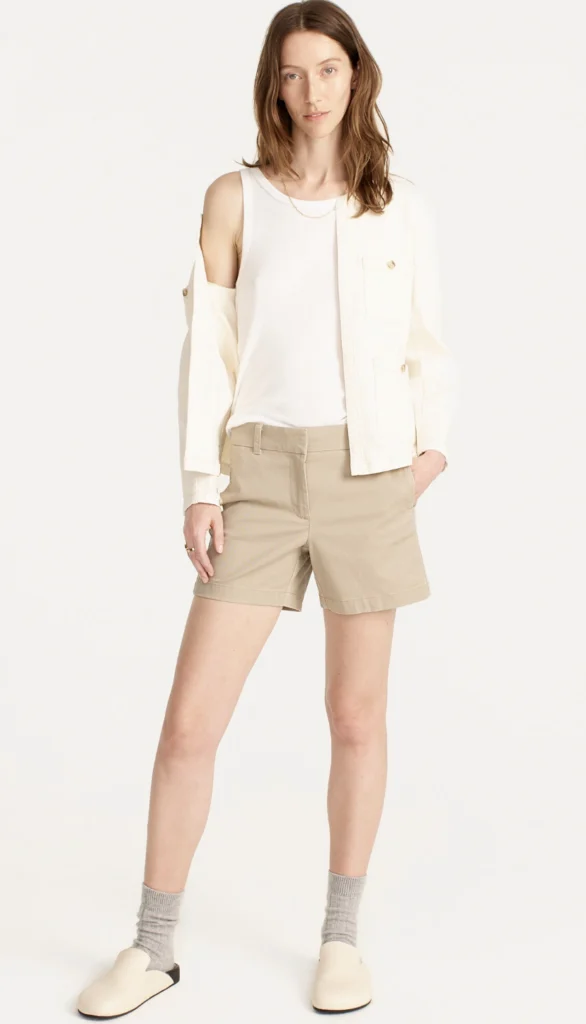 For a classic pair of chino shorts I also recommend J. Crew.
You just can't go wrong.
They are well priced, come in all sizes and have a nice range of inseams.
I'm 5'10 and wear either the 5″ or 7″ inseam their chino shorts.
These are their 5″, with a tab zip front, and a little stretch.
Quintessential J.Crew style, that lets you dress it up or down.
Tip: When dressing up shorts, I wear a top with either a 3/4 or long sleeve to balance the length. It just feels a little more pulled together.
They are on sale right now for just under $50.
Shorts with Stretch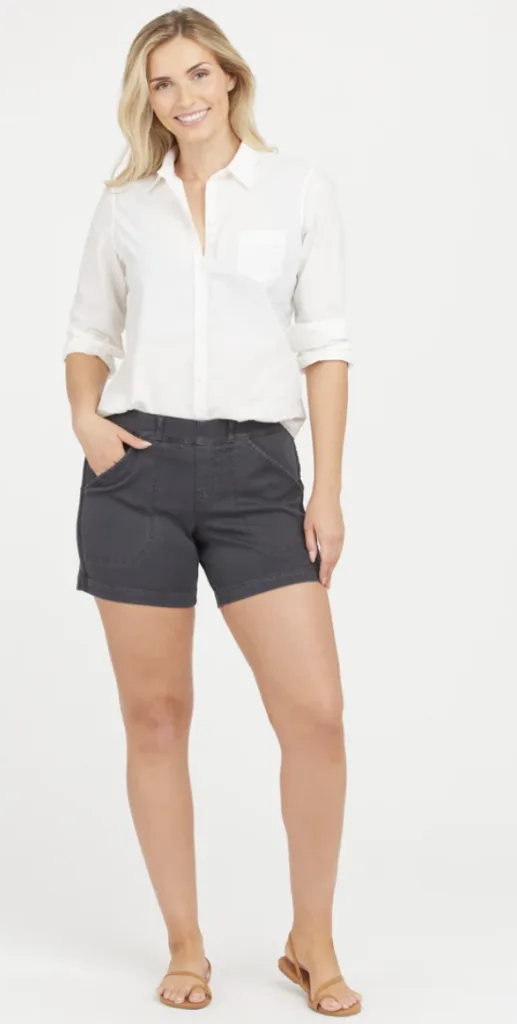 If you prefer more stretch, comfort and technology that "holds" you in, go with Spanx.
Their shorts are a bit more expensive ($78) but are awesome.
Available in a range of colors and in sizes XS – 3X.
Featured are their 6″ inseam, a nice in between length that gives you some coverage and still feels like shorts.
For a cleaner look, try their "On the Go Shorts."
These are also pull-on style, with a smooth front, and a 6″ inseam.
In sizes XS – 3X, in four colors including black, navy and a GORGEOUS red.
Bermuda Length
If you are looking for a Bermuda length (9″) short you have a few options.
For a really tailored style, try the Stretch Cotton Twill Shorts from Brooks Brothers.
NYDJ has a lovely linen blend in three colors for just under $70.
And you can try the Talbots Perfect Shorts, in a range of colors and all sizes including Misses, Petite, Plus, and Plus Petite. These have been a long time Reader Favorite, but the reviews say they changed the pockets. You might need to have them stitched down so they stay closed.
Trouser Shorts
Finally, if you want to get dressed in shorts, consider a pair of trouser style shorts.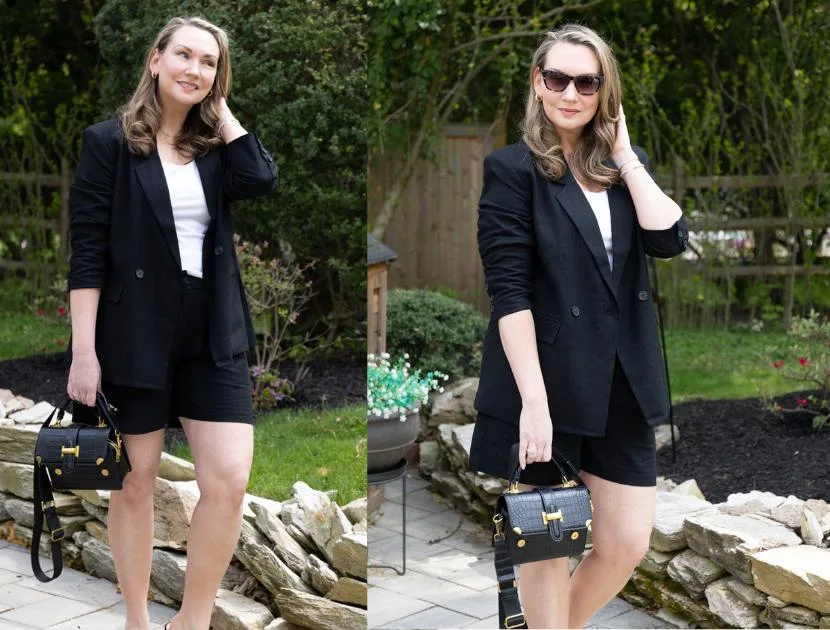 We featured this affordable pair from Old Navy last month.
They are their High Waisted, Linen Blend Trouser Shorts with a 6″ inseam. Paired about with the coordinating blazer.
These are super versatile, and not too wrinkly.
Available in XS – 4X in three colors.