This content has been archived. It may no longer be relevant
Continuing our conversation about age-appropriate dress, we're talking about white jeans. This time of year, nothing brightness up a look like a crisp, well-tailored pair of white jeans. Interestingly, we've received many requests for not only recommendations on the best pair, but questions about what age is too old to wear them.
So let's dive into the later. You're never "too old" to wear anything. If you want to rock a tube top and booty shorts, and you have the body and a place to wear that, be my guest. But, chances are, you're style has evolved since those days, and you're more interested in looking modern and stylish. The most important factors to consider when "dressing your age" is your body type, and then your lifestyle, and then the occasion.
Age is never a real factor.
But with age comes changes to our body and lifestyle, and hopefully, a little more budget.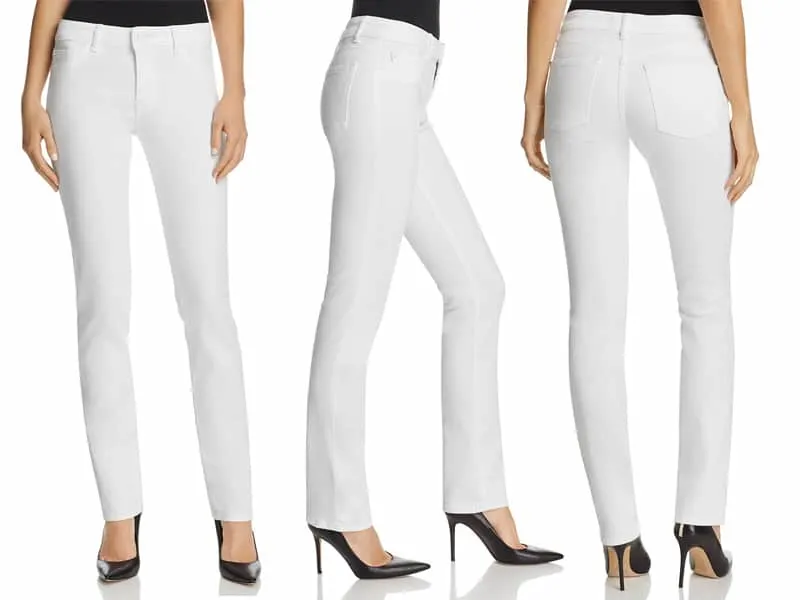 Jeans, $178
When it comes to white jeans, I spend. I find the quality so much better. You'll get coverage, proper pocket placement, fabric and overall fit. All of which are super important because white jeans can look bad real fast. In my early 20's, when I didn't have hips and a full bottom, any old $20 pair of jeans from H&M worked. I didn't even have to try them on in the store. These days, I need a little more to accommodate my grown woman body.
Generally, a straight leg will give you the most tailored look and go with any style top. My favorite style is DL1961's Mara jean in "milk." They give you a long slim leg without clinging to your body, and a higher waist for some added support and better fit. They're not cheap, but you just need one pair, and with proper care, will last season after season. Alternatively, these NYDJ are slightly slimmer through the thigh, but wider in the calf and available in missy and plus.
If you're looking for something a little less expensive, you can try these under $100 ankle length jeans from Talbots in a wide range of sizes, or these classic Levi's for under $60 .
Do you have to only wear straight leg? No, but they are the most universally flattering. I still wear skinnies, and also have a pair of skinny distressed .