This content has been archived. It may no longer be relevant
Today we are launching our age-appropriate series, "For the Ages." I've thought long and hard about how to organize and break these posts down. I decided against offering suggested based on a specific age. What one person can wear at 45 will look different than someone else. Instead, I want you to focus on fitting your body type.
I'm considering using myself as a model in the future since writing a post about age-appropriate classics feels a tad disingenuous when featuring a 19-year-old catalog model. However, the only person who can take my picture without requiring payment is my husband, so we'll see how that goes. I'll need wine, maybe a valium, and marriage counseling. Until then, we'll start with an emphasis on wardrobe basics, kicking off with the classic white button down.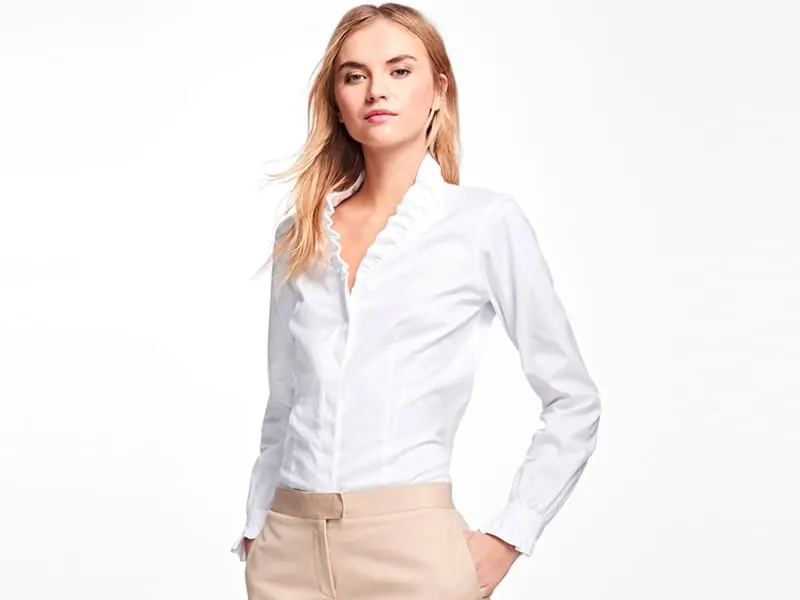 Brooks Brothers Non-Iron Ruffle Pinpoint Oxford Dress Shirt, Missy and Petite: $118.00
The classic white button down made famously approachable by the epitome of style herself, Carolina Herrara, should be a staple in your closet. You can wear it in a dozen different ageless ways to create a truly timeless look. My favorite combination is tucking it (full or half) into your favorite dark jeans (in whatever fit works best for you) and dark tan accessories, like a woven belt and block heeled sandals.
You can keep it classic with slim black pants and black mules for a more relaxed office ready outfit. Or use it as a layer under a long cardigan, or denim jacket. For the weekend, create contrast by pairing it with a sporty pieces, like these olive skinny jeans, or these preppy printed pants.
Scroll below for some of my favorite options for any size and age, and let me know in the comments what pieces you would like us to feature in upcoming posts.