Mondays are our Sundays, so they are busy, but I spend more time preparing for the week and cleaning up after the weekend than chained to my desk in my office.
I wore this for school pick up, a quick mental health stop by Homegoods, and then an early dinner with my gang at our favorite local restaurant.
Yesterday was beautiful but crisp and chilly.
As I dressed, I grabbed this olive green jacket and remembered its usefulness.
They are sometimes called "Field Jackets," or "Utility Jackets"; either way, they are that perfect third layer that pulls your look together.
And they are just as, if not more, versatile than a denim jacket, especially if you are like me and live in jeans.
So I wanted to round up a few affordable options that can easily slip into what you already have in your wardrobe.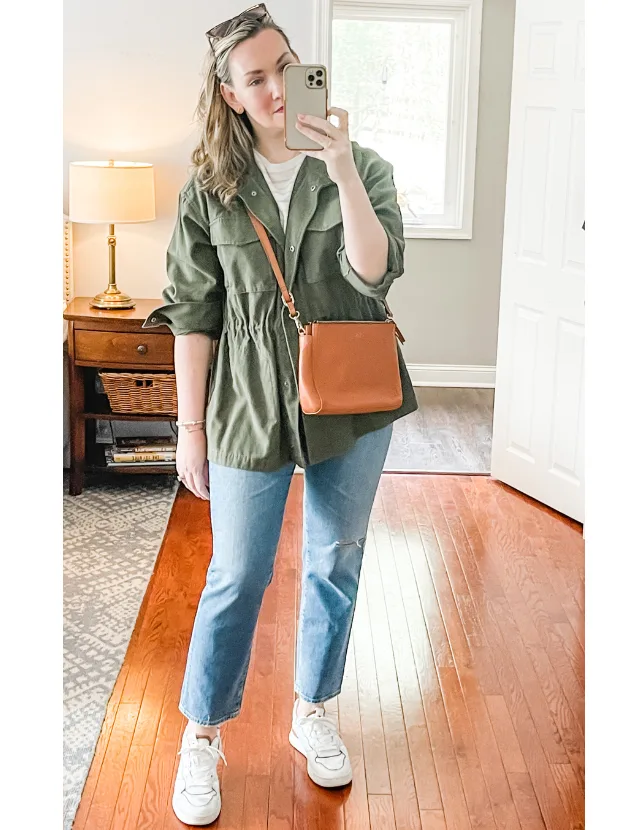 Jacket: $108, | Tee: $40 | Jeans : AG Phoebe High Rise Straight Leg Jeans (Sold Out) | Bag: $208| Sunglasses: $65 | Earrings: $65 Sneakers: Veronica Beard similar here
Whenever I share a picture of me in an outfit with a jacket, I get the craziest comments. lol.
So let me say before they start, no, I did not take it off.
I sat in car line, we stopped at some stores, then met the rest of my family for dinner.
And yes, I wore the jacket in the restaurant because I am always chilly.
If I have a day like yesterday where I am in and out of places, I will pick a jacket that elevates my outfit.
We talked about this in the winter, the idea of an "outfit coat."
It complements a style trick called "the third piece rule" which just means you add a final finishing piece to an otherwise basic combination.
So if you're wearing a top and bottom, your third piece could be a blazer, a sweater, a scarf, even a belt can count depending on the outfit.
A field coat is a great choice for the cool spring and fall weather.
And it works really well with jeans, white bottoms, a casual spring dress, even shorts!
Above I'm wearing this Utility Jacket by Gap available in sizes regular, tall and petite, in XXS -XXL.
Regularly priced at $108 it's now marked down 40% Off + Extra 20% Off With Codes GAPVIP & PERK.
I like that it has hidden buttons and a drawstring at the waist.
I'm wearing the large but should have went with the medium, I have a lot of room in the shoulders so consider that when ordering.
Also available in black.
I'm wearing it with a soft and simple tee from Faherty.
I bought this a while ago from the Faherty site, but found it currently on sale at Nordstrom Rack.
My jeans are also sold out so I'm looking for a new recommendation.
These are the AG Sophia Straight Leg.
I picked them up at Nordstrom, you can see their selection here, note they run very small.
I'm still getting use to this straight leg trend.
Something to note is the length of the straight leg makes a difference. You don't want these to break on top of your shoe, rather, have it skim your ankle.
Here I wore a fun sneaker, we featured these from Veronica Beard when they were on sale last year, so keep wearing them if you scooped them up.
For my bag, I love the Lo & Sons Pearl Crossbody, it's great for everyday use or if you are traveling.
And you can't really see them but I'm wearing the Julie Vos SoHo Demi X Stud Earrings for $65.
Other jacket options to consider:
J.Crew Factory has a dark green with gold buttons for $76.00 in regular and petite from XXS – 3X.
Talbots has a "cropped" option that is a little boxy in all sizes including petite, plus and plus petite on sale for $110.