I discovered Julie Vos Jewelry towards the end of last year and immediately loved it. It's everything I look for in a piece to recommend to our community. She makes high quality, timeless pieces with a twist.
Admittedly, I am a bit of a jewelry snob. My husband has worked for almost 20 years at Tiffany & Co, so I've not only learned so much about the industry but have been fortunate to receive incredible gifts over the years.
But this is the real world, and I don't have a drawer full of jewels. Instead, it's made me picky about where I spend. There is rarely a middle ground with me; I either want the real deal or a $20 necklace.
It's been my experience that the quality in the mid-range price point is always disappointing. Often, a $200 necklace feels just like the $20 one.
But over the last few years, I've discovered a handful of brands that offer more. I'm a huge fan of Kendra Scott. However, many of the designs are starting to look redundant. Gorjana is an affordable, perfect-for-work line of modern basics. And I often look to my former employer, QVC, for better quality staples at reasonable prices.
Today, I'm adding Julie Vos into the mix and rounding up some pieces that are part of her sample sale. This an excellent opportunity to discover the brand at a slight discount.
My Top Picks from the Julie Vos Sample Sale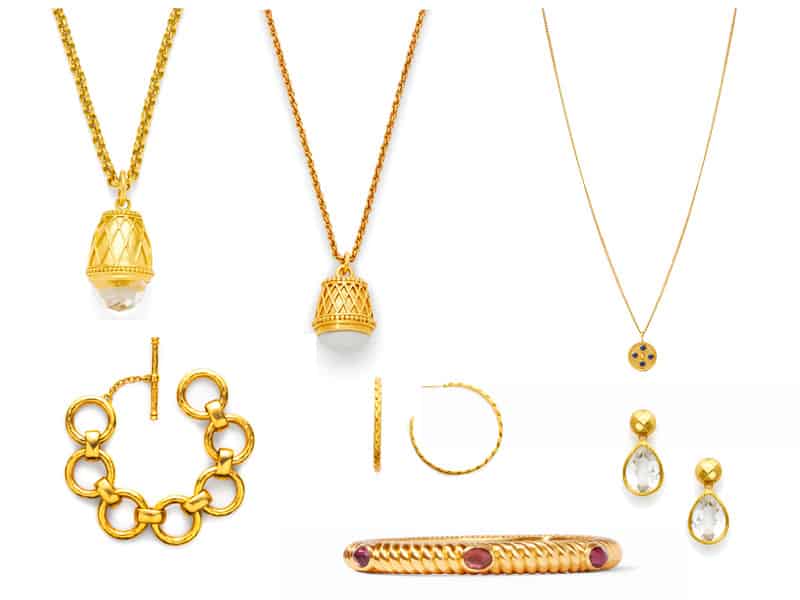 All of her pieces are gold plated with varying carat levels. These are substantial, they aren't too heavy, but they don't feel flimsy either. As you navigate her site, be sure to look at the piece on the model to you can get a sense of their scale.
Earrings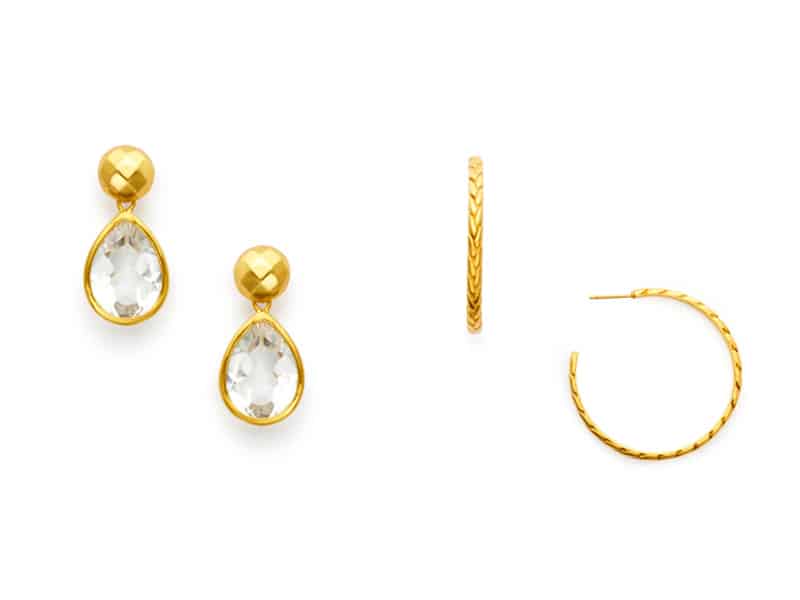 Drop Earring, $95 | Hoop, $55
These drop earrings are so fun for the summer! They are 24k gold plate, with an oversized clear crystal at the bottom. They are marked down to under $100.
If you are in the market for a good old fashioned hoop earring, these are fantastic. They have a pretty texture around the entire outside, also 24k gold plate and only $55.
Other earrings I love not in the sample sale, these Soho X earrings for $68 that I featured yesterday, are perfect for everyday wear, and these Penelope studs are also only $68 (in the small size) and a stunning update on a traditional pearl stud.
Bracelets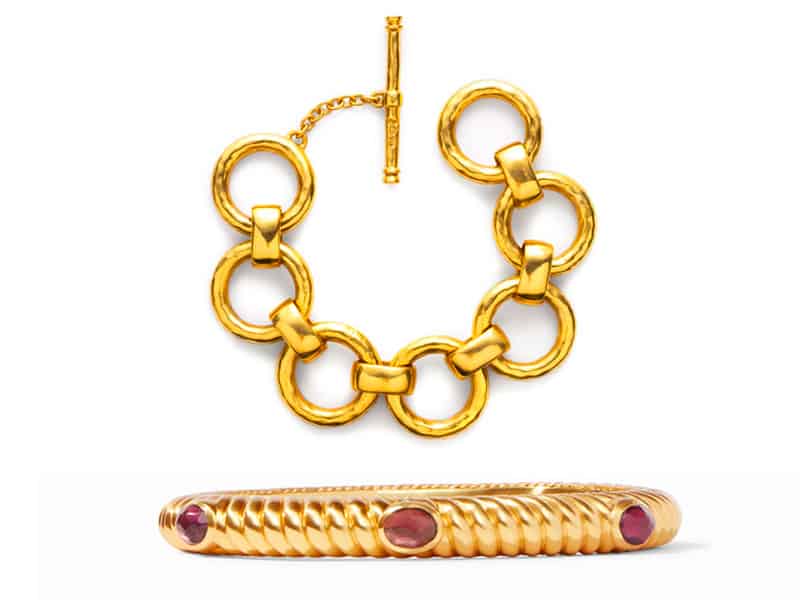 Link Bracelet, $295 | Hinge Bangle, $175
Her bracelets are more expensive, but pack a punch. This link bracelet might be the only bracelet you wear. It lays beautifully on the wrist, and is the epitome of everyday glamour.
If you like a bangle, try this lux hinge option. You can wear it dressed up, but I would wear it every day with jeans and a tee.
I just ordered this simple bangle with gemstone stations in CZ (not part of the sale) for only $75.
Necklaces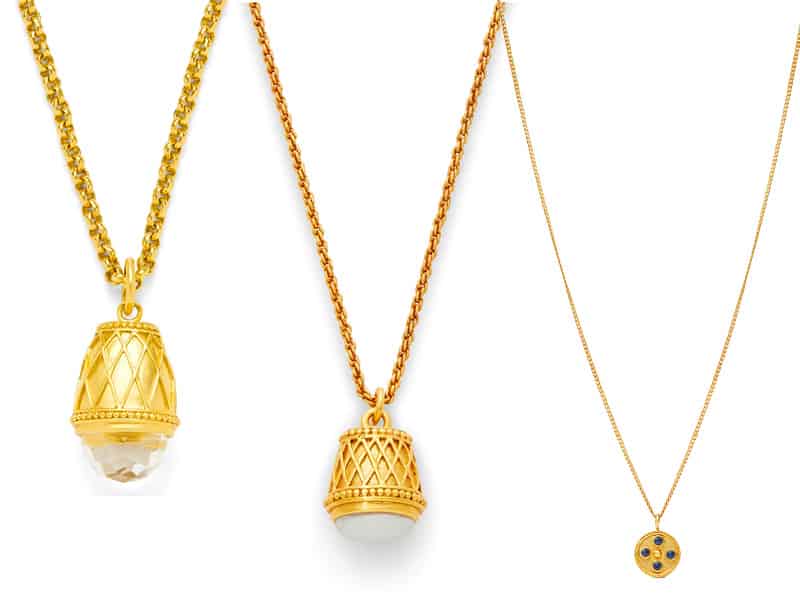 Pendant necklace, $195 | Charm Necklace, $110 | Delicate Necklace, $95
Finally, you know I love necklaces. especially ones that create length.
In the sample sale are some fantastic options, including this pendant necklace. It's BIG necklace, with a 36 inch chain, so you can wear it long or double.
Next is this charm necklace, which is my top pick. It's not as oversized as the pendant necklace but still gives you some length and movement. It would look gorgeous with a swing dress, long tunic, or even a sweater in the colder months.
Finally, this delicate necklace is sweet and simple. You can wear it alone or layer with other pieces you already have. It fills in a v-neck wonderfully or would sit over a crew neck for just a hint of detail.
---
Our Content is Inspired by Our Readers
Our readership inspires all of our posts and is not sponsored or paid for by brands or retailers.
Recommendations are based on my experience as a personal stylist View Post and wardrobe consultant for over a decade. I worked with busy, down-to-earth women who wanted to look chic and feel confident but were often confused by so much of retail.
Some links are affiliate links, which means if you purchase via our site, we receive a small commission.
If you enjoy our content and would like to help us grow, please consider following on Instagram and join our Private Facebook Group to access more advice and exclusive in-depth conversations with other like-minded women.
---